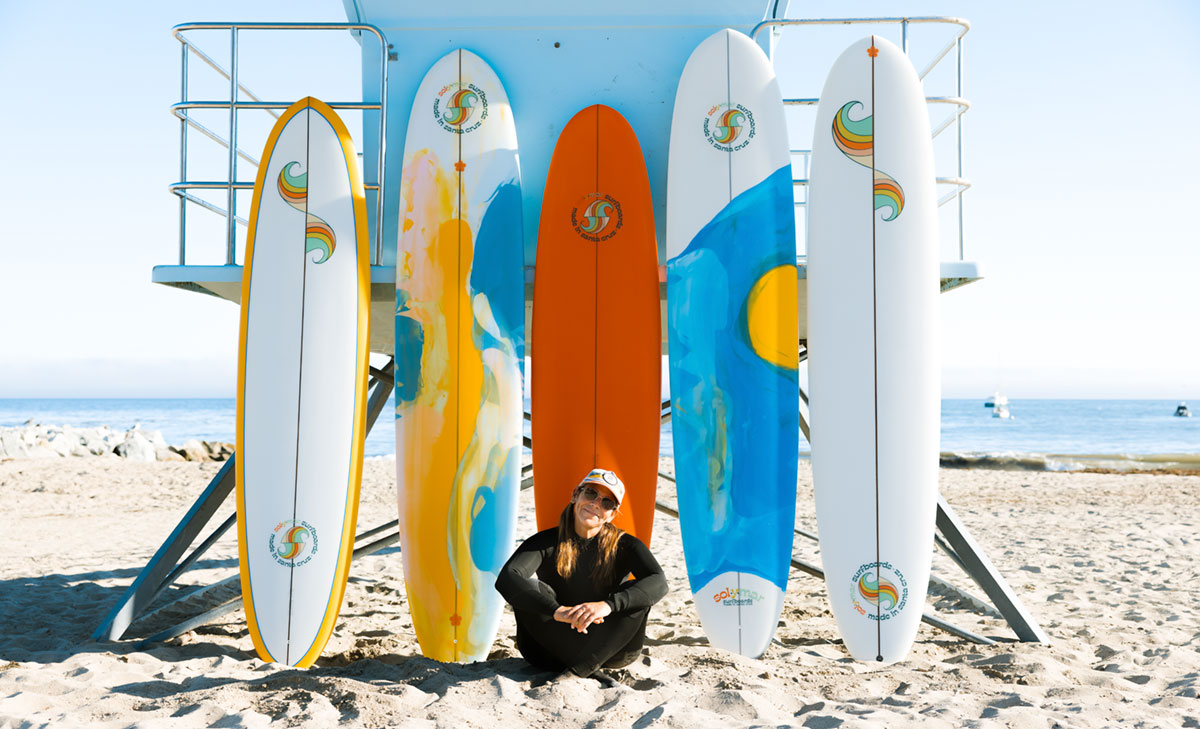 "I don't look like the 'typical' surfer," Marisol Godinez says. "At least not for people who are looking at surfing from further away." She was once one of those people, despite growing up by the ocean in Puerto Rico. She had seen boys riding shortboards and figured surfing was a sport for them—as the saying goes, if you can't see it, you can't be it.

Years later, nearing the end of her 20s, Godinez moved from Syracuse, NY, to San Jose, CA, with her husband. They visited Santa Cruz on the weekends, where, while walking along East Cliff Drive one afternoon, she saw surfers in the lineup at the famed 38th Avenue break and had a revelation. "I saw an 80-year-old and a six-year-old surfing, women and kids, and thought, wait a minute!" she says. Godinez knew then that her call to surf wasn't out of reach, but could be accessible. 
This realisation coincided with a challenge she'd then recently set for herself: try something new for her birthday for every year of her 30s. With that watershed moment approaching, the first opportunity had presented itself. She signed up for a lesson.
While the challenges of "learning to put on the wetsuit and surf in cold water" were real, the rest is history. "Becoming a surfer in Santa Cruz sparked the passion of this whole other part of my life," she says. "In Santa Cruz we have a lot of people that look like me too, but for people who only know a stereotypical image" — mostly white, mostly male —- "it's cool to show what we look like and how this is a different kind of beauty. That's a message that will hopefully get other people excited about trying surfing."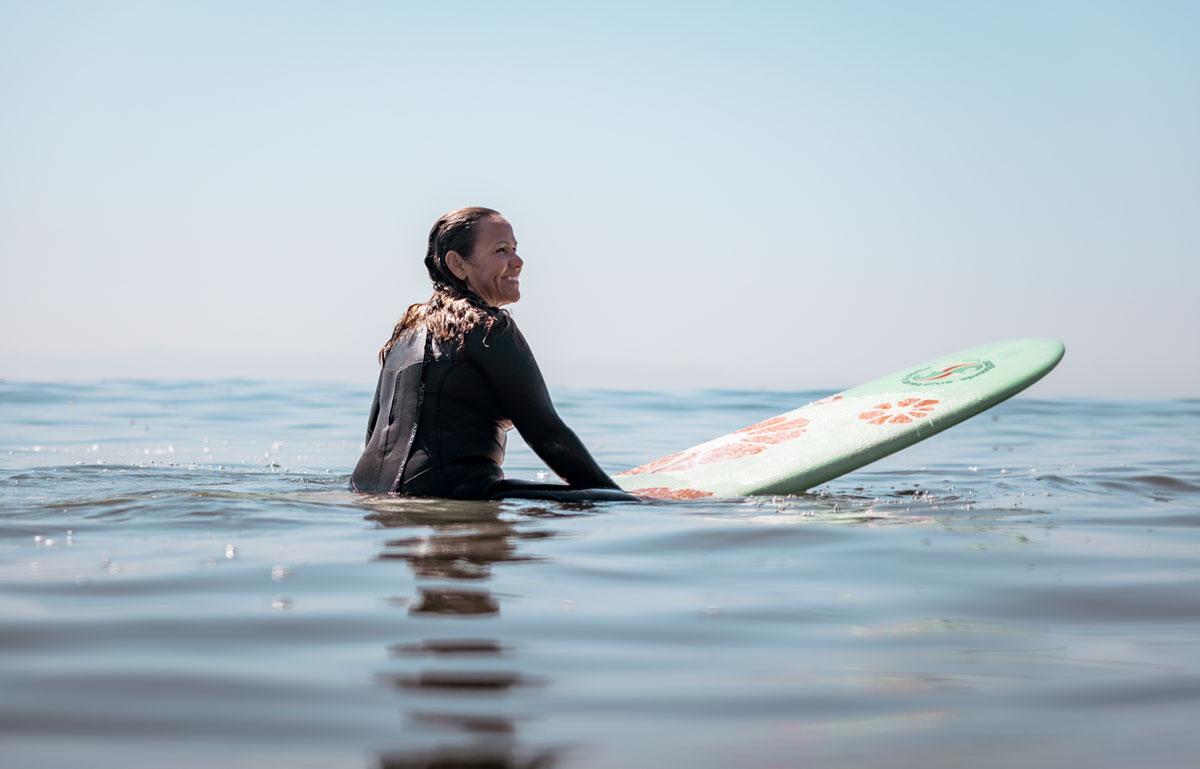 Representation and inclusion are themes deeply woven into the fabric of her life as an organiser, activist, and philanthropist. "I'm always aware that it's good to give back," she says. "I have what I need." In 2008, she took on a volunteer role spearheading Women on Waves, a women's community surf contest in Capitola, CA. Godinez sees WOW as a platform to amplify messages on work that still needs to be done in the areas of social and environmental justice, with beneficiaries, such as this year's Sea Hugger, working in the areas of ocean conservation and ridding the sea of plastic pollution. 
"[Women on Waves] was a surf contest. Now it's a surf contest with a purpose," she says. Originally, the contest's intention was to empower women. "Now we are in power, we have voices. We want to use them to deliver these different messages—underserved youth, diversity, ocean conservation. The event is evolving and morphing into something we haven't seen."

"People are connecting with us in the water and it's a very organic process."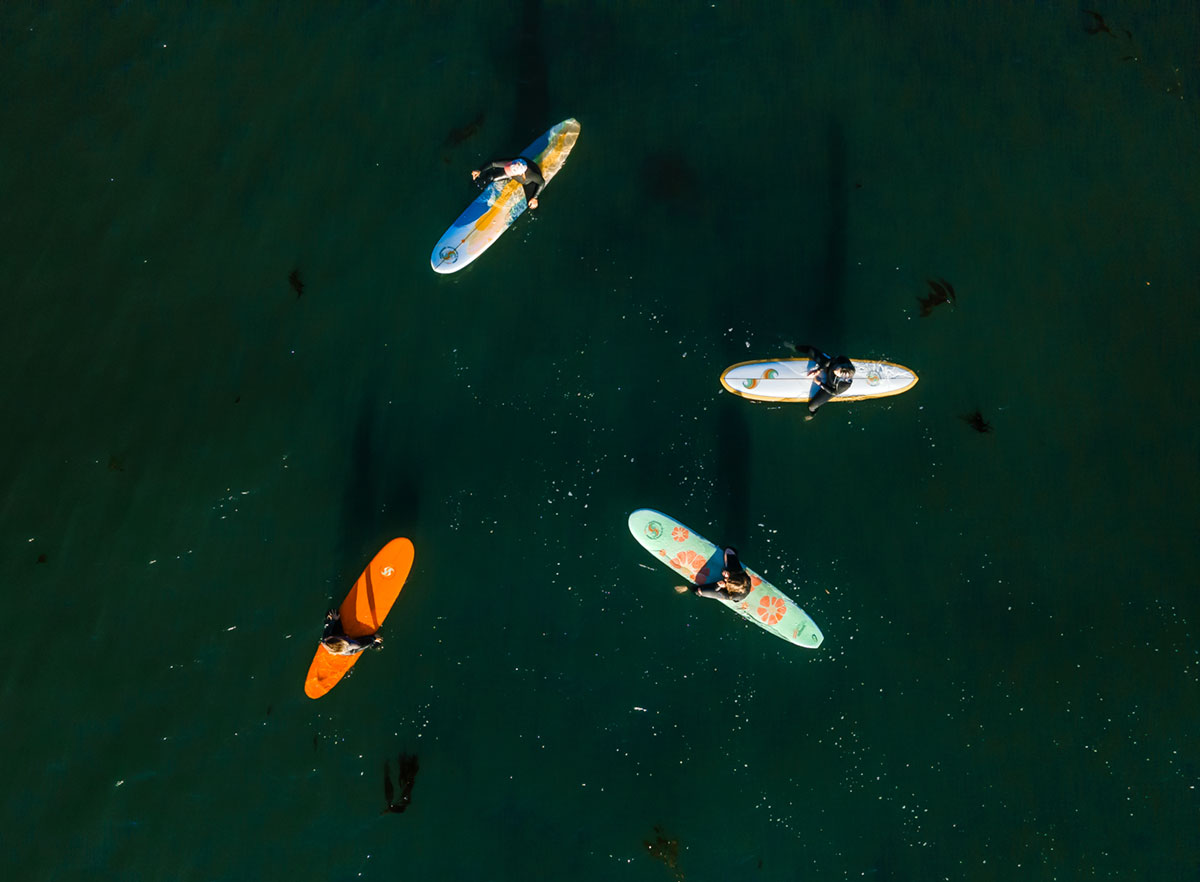 This year, after being a surfer and social justice worker for the past 20, the professional graphic designer brought her art to custom surfboards. She started Sol y Mar surfboards with her own longtime shaper Carl Gooding to make boards for women. Gooding, who started shaping not because he was a pro-surfer—he wasn't—but because he wasn't satisfied with the options he found for his two daughters, who had joined a surf club. Godinez's son was on the same team, so the two crossed paths. Gooding wanted some design help with his website, so Godinez created it, acquiring her first custom surfboards along the way. "He's an artist too," she says. Every artist loves creative control. "At some point I said, 'trust me. You hired me to do this, let's just see how it goes.'"
Godinez, who is inspired by the Curvy Surfer Girl Instagram and body-inclusivity movement, had previous experience working with shapers on graphics, but they were one-offs. With Sol y Mar, she's involved in all aspects of the process. The name of the company is a play on her own name spelled backwards—and means "Sun and Sea" in her native Spanish.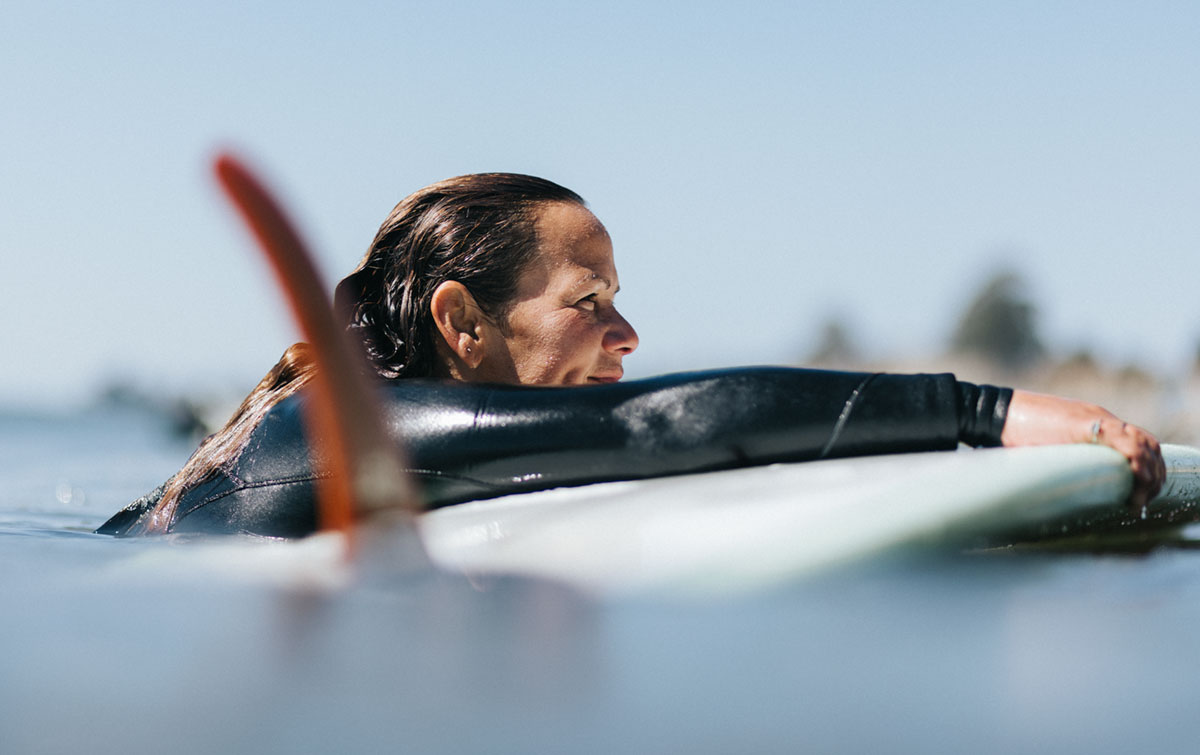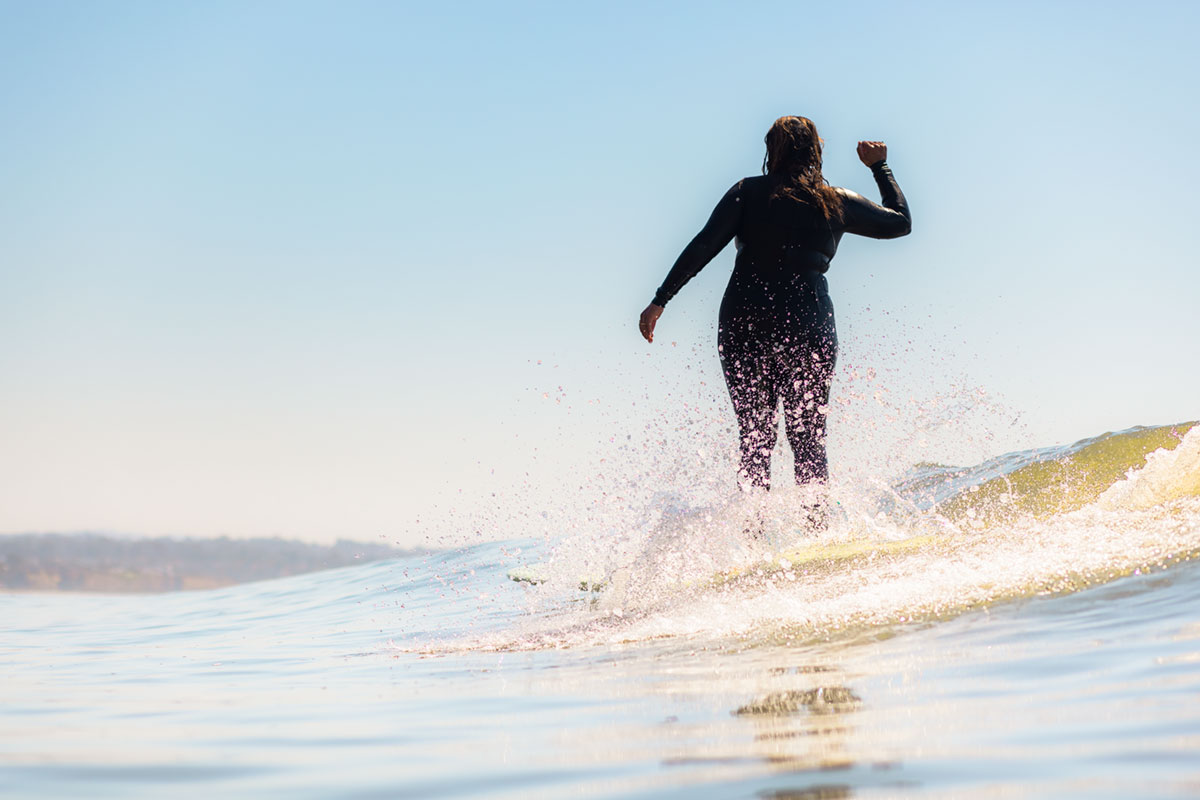 "There's room for everyone at the table in surf culture," she says, and she hopes Sol y Mar will contribute to that ethos. "This goes back to wanting to create spaces for women to feel comfortable," she says. "We carry more weight in our hips and are narrower in the shoulders, using our core and hips to move the board." 
Godinez and Gooding launched Sol y Mar with four models: a high-performance longboard, a noserider, an all-purpose longboard, and a midlength. "It's been super interesting to learn about all the details of shaping," Godinez says. There are so many technical aspects—rocker, concave, noses, tails, fin configurations—the details of surfboard-creation are endless and she's loving the process. "There's a margin of, not error, but of things that are going to change in the process. There's flexibility. I like that element of surprise too. It makes your board more unique. And glassers deserve a lot more credit. It's gnarly."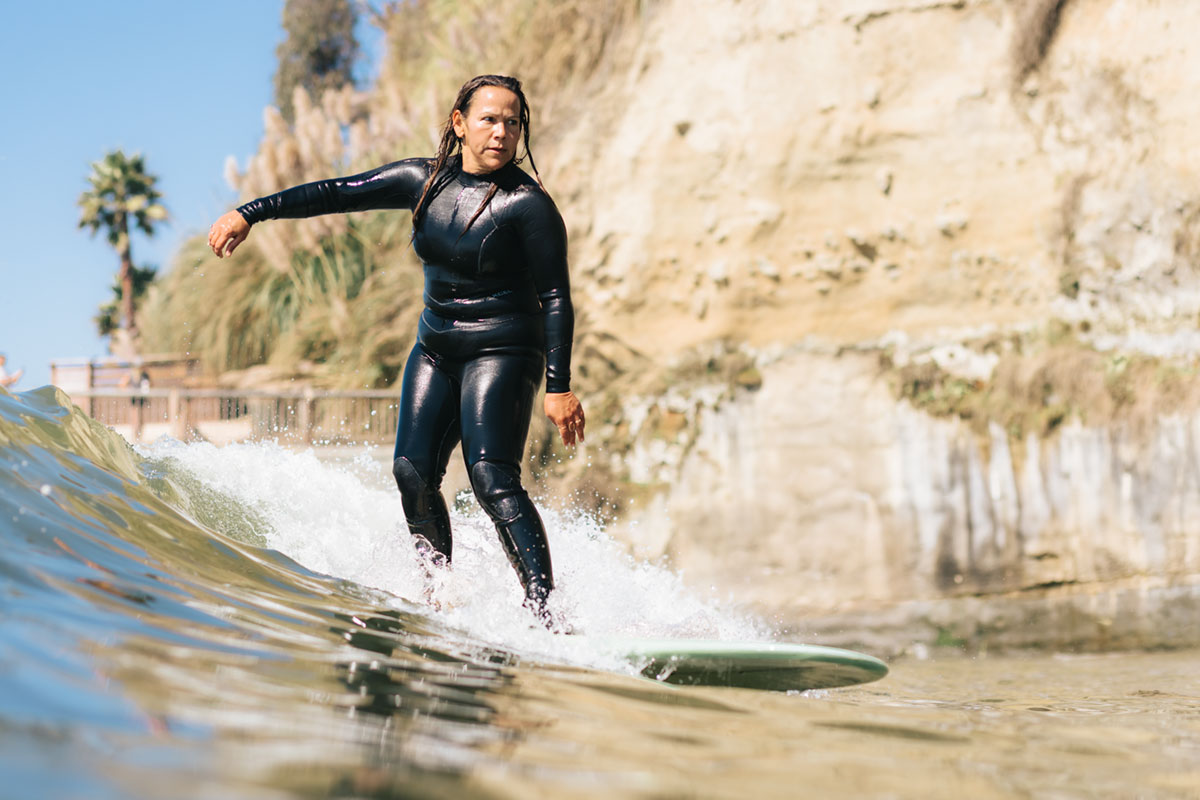 Regardless of who shapes their boards, the designer hopes surfers feel that the right equipment "brings you to another level, as does having a board you feel proud, identify with, and that makes you feel represented." Like the sea itself, her evolution with the new work has been fluid. "People are connecting with us in the water and it's a very organic process."
For her 50th birthday, Godinez's surf life came back around full circle. "We went to Puerto Rico so I could surf there. All I wanted was to be in the water there. We drove three hours to get to a spot that had a good swell. The planets aligned. My non-surfing friends were sitting there waiting for me, but it was all I wanted."

Marisol's Top 3 Tips for Ordering Your First Custom Surfboard
• Identify Your Goals
If you're a beginner graduating from foam to fibreglass, find information online about different types of surfboards. What's your immediate vs long term goal? Is it to have steady easy progress while having fun? Or do you want to learn cross stepping and hang 10? Move fast with cutbacks and turns? What do you visualise? Communicate that to the shaper or company selling you the board.
• Try Before You Buy
Reach out to your shaper about trying a demo board. You can't just tell people about it, you have to try it, and on the same day as trying another board because there are so many variables. Go out with a few friends and boards that day, share the same waves and conditions. That's a great way to get a feel for different boards.
• Ensure Your Stoke With Design
Once you have the kind of board you want, look into colours and artwork. You could be staring at the ocean too, but you're also looking at your board. Your board will become part of your surfer identity. Choose a style that makes you smile and feel proud while paddling out, that helps you get out there with the best energy in the lineup.