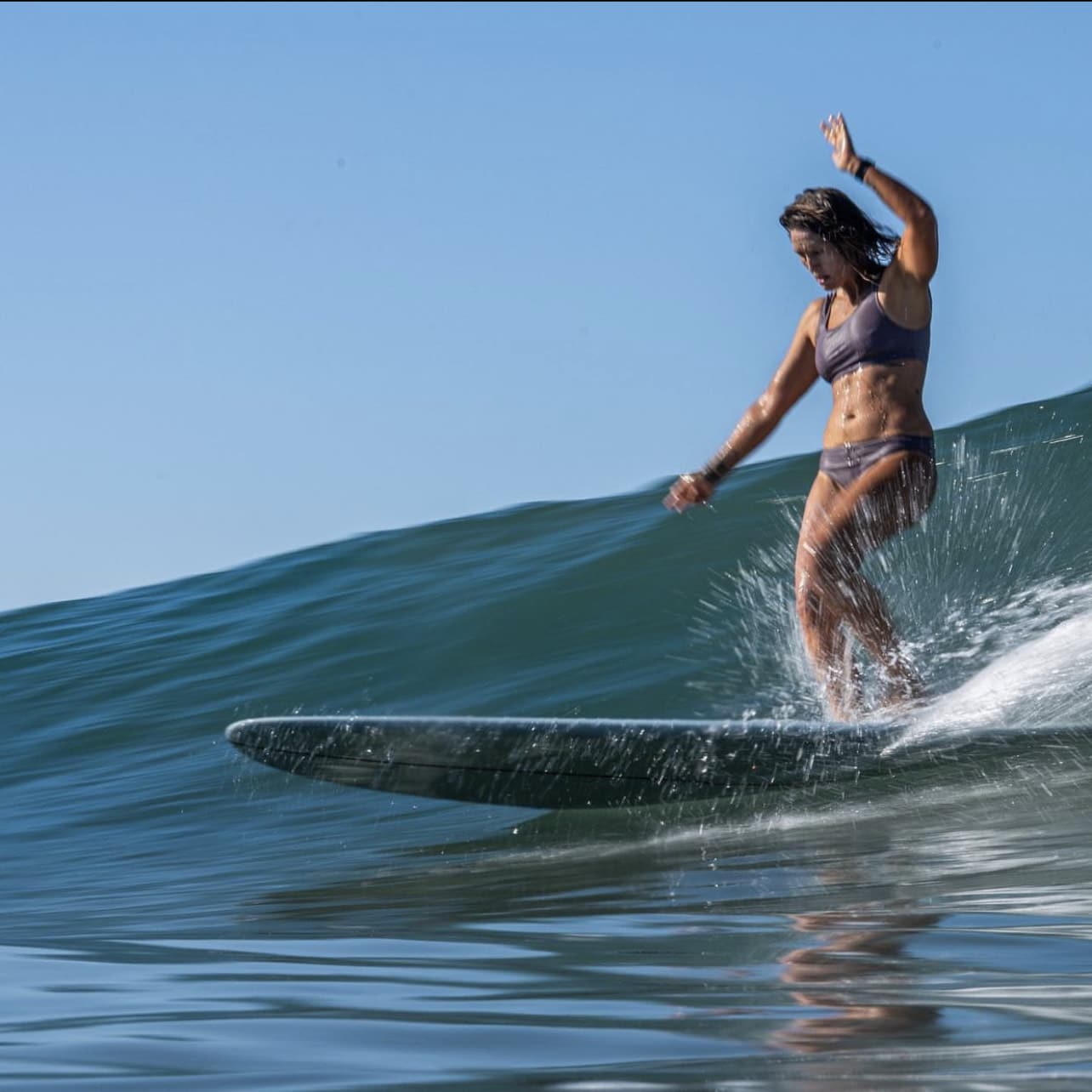 The style queens of surf, Kassia Meador and Leah Dawson head to Ireland this summer to run their retreat, Salty Sensations with Rebelle Surf who are based on the west coast of Ireland. We have a chat with the duo to find out what they've been up to and the inspiration behind their Irish surf trip.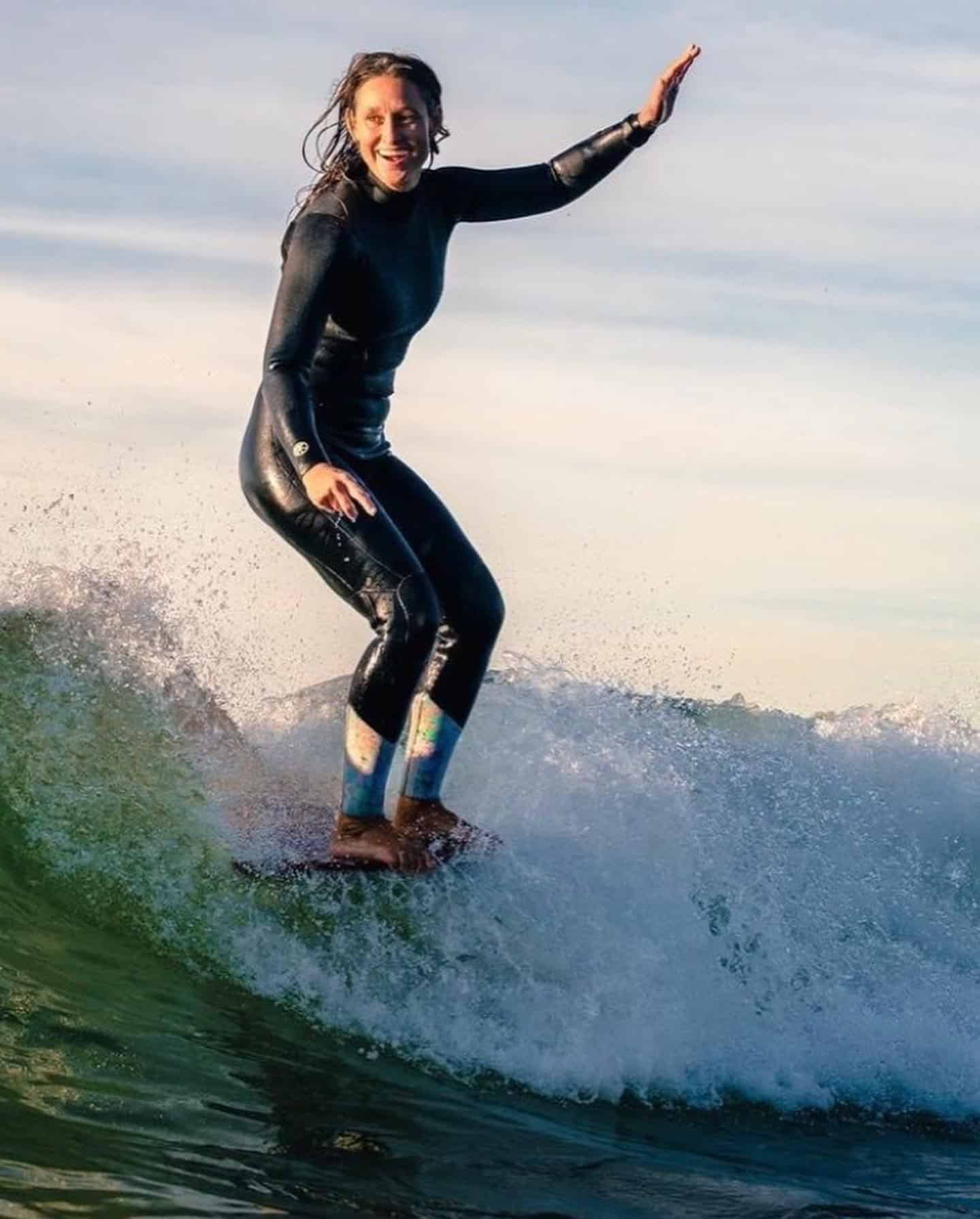 Kassia Meador – pro longboarder, actor, photographer, owner of KASSIA+SURF, environmentalist.
Kassia, tell us what you've been up to recently?
In a nutshell I have been quite busy with my brand KASSIA+SURF making the best women's wetsuits I can and doing collaborations with other brands and people I love working with. I have also been super stoked and inspired in co-creating  and growing Salty Sensations with my good friend of over 22+years Leah Dawson. She is one of my favorite surfers and we share so much of the same visions, inspirations and are very aligned when it comes to what and how we intend to share with the world. It all comes together with Salty Sensations, we create community, support each other, share and teach people what we have learned in our 45+years combined surfing experience. It has been a truly humbling and inspiring experience creating these containers for people to connect and expand through these experiences and I feel so very grateful for the opportunity to do this with one of my best friends.
Where have you been surfing?
I have been a bit all over the place really. I was in Costa Rica a lot these past few months and am now back in California. To be honest I love the Tropics but am a bit burnt out on it and am really inspired to come explore Ireland and some places I've never been to before:)

It's such just a joy to watch Kassia surfing with her classic smooth style in this short film. 

What's inspired you to visit Ireland? 
I was in Scotland about 22 years ago and loved it. Since then I've had Ireland on my list and am so very excited to finally be heading over to co-create these epic Salty Sensations x Rebelle Surf retreats. I can't wait to be breathing in that fresh air and exploring a coastline I have never been to.
What can you expect from the Salty Sensations  x Rebelle Surf retreat in Ireland this summer?
Salty Sensations is a time to work on and improve your surfing but truly it is so much more. These retreats will be a time to connect with like minded communities through your shared love of surfing and surf culture. It will also be a time to deeply nourish your mind body and spirit with the forest, the sea, beautiful acupuncture and healing sessions, local food, seaweed mineral baths and sound meditation sessions. These Experiences will be like no other than you have ever experienced and we can not wait to be with you all.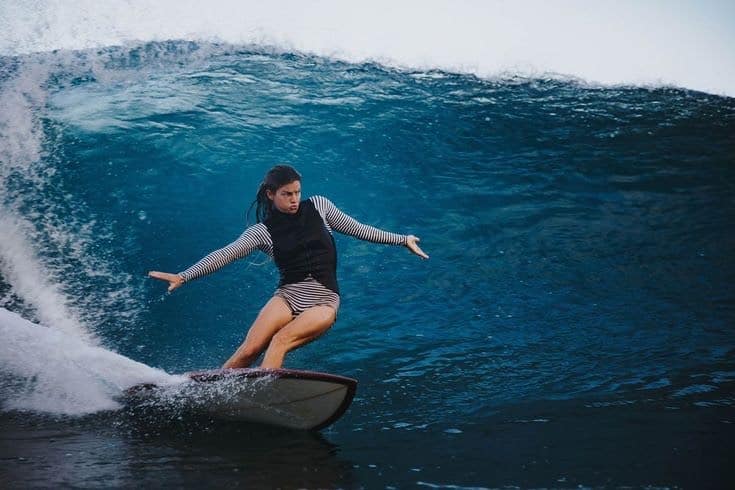 Leah Dawson – surfer, musician, filmmaker, co-founder of Changing Tides Foundation,  nuturer of nature. 
Leah, tell us a bit about yourself.
I'm a lifelong surfer raised in Florida, and have spent most of my adult years in Hawaii and California. I've long been passionate about our planet, and sharing in the wonderful world of surf community. I'm currently in El Salvador where I just finished filming the WSL event here, I've been a live camera operator for 15 years, so I have witnessed a great deal of amazing surfing. Throughout the years I've become dear friends with some of the best surfers in the world, including Kassia, who took me under her wing when I was a grom. I'm always enamoured by the community surfing creates.
Where have you been surfing lately?
I've enjoyed the heavy waves of Hawaii, the softer waves of California on my longboard, and have recently been enjoying the beautiful waves of El Salvador on a fun funky fish!
What's inspired your visit to Ireland?
I've a lot of Irish blood so it has always been a dream to visit my ancestors land as well as surf the magic waves. This will indeed be my first of hopefully many trips to the motherland!
Kassia and I have so enjoyed working with our Irish chef Aine, who has repeatedly told us how she dreams of having us in her homeland to host a retreat. With the power of attraction, we've been connected to magnetic women, Melanie from Rebelle Surf and Heather from AcuFive Healing, and between all of us we have organized an amazing retreat that we are all counting the days to.
How stoked are you about coming over and meeting the Irish surf community?
I've long heard stories about the magical isle and hearing stories about the surf community there has made me yearn to experience the stoke. Community is the most fulfilling aspect of surfing to me, so I am so thrilled that we have an opportunity to bring people together and celebrate the Irish surf community.

Julune: A Surf Dream In Indo
Watch this short film by Leah as she achieves her lifelong dream of traveling to Indonesia for the summer and captures the best barrels of her life on camera.

Which boards will you be bringing?
I think we will bring a range of boards from logs to mid lengths to fishes, and maybe even a soft finless board. I've always enjoyed riding a wide range of boards and love to encourage people to explore different shapes and the wild feelings each board can bring. I personally love riding soft finless boards because they keep the vibe super light and fun and full of wipeouts!
What can you expect from the Salty Sensations  x Rebelle Surf retreat in Ireland this summer?
Connection with new community will indeed be the highlight, as well as the food, and between Kassia, Makala, and I, we have a plethora of surf tips to help improve surf techniques and awareness.
To find out more about Salty Sensations x Rebelle Surf retreat in Ireland go to rebellesurf.com/salty-sensations