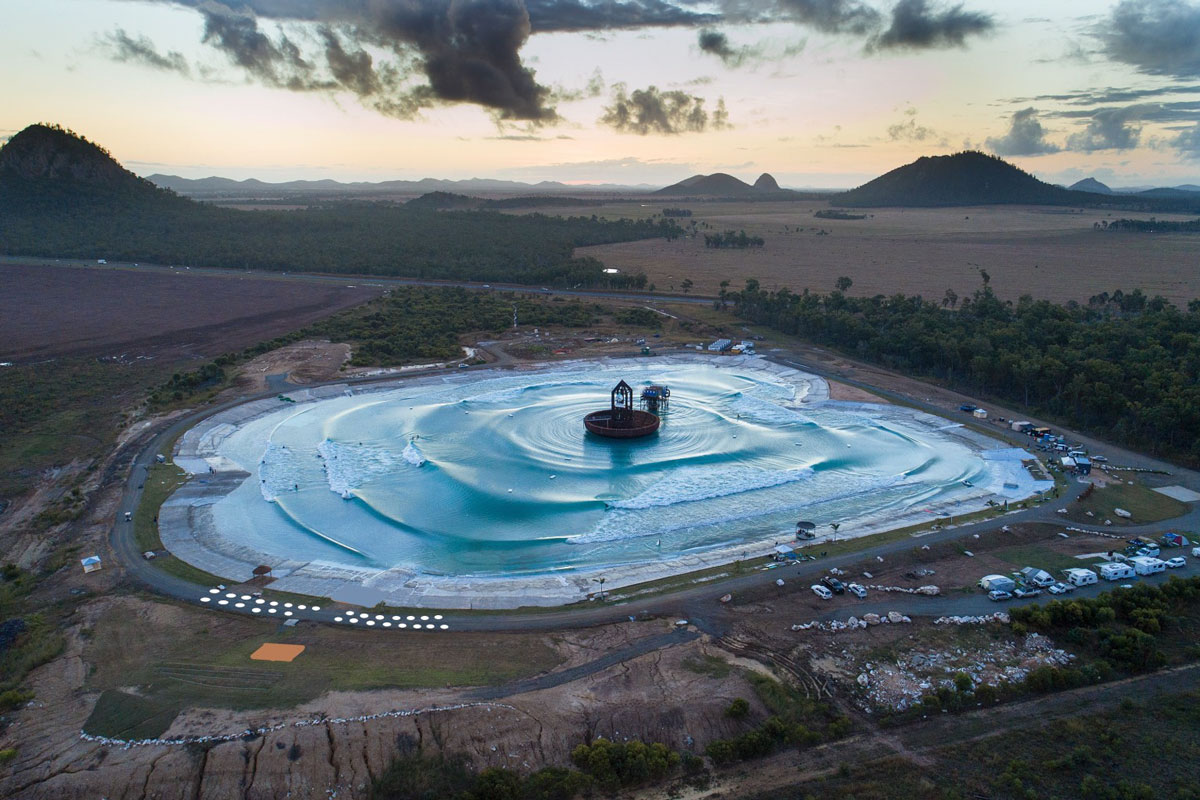 It's a new era of surfing … the wave pool era! This is a bonus for land-locked surfers as you no longer do you have to be located on the coast to enjoy a surf session. These artificially generated waves are replicas of the real-thing, although the experience is not exactly the same as the sea. The main thing is that wave pools produce a consistent wave so you can regularly practice your moves – for a price.
What is this voodoo we hear you cry? Using a variety of technologies, wave pools displace water to produce waves of varying height and shapes. There are several technologies, many different techniques and a variety of wave pools around the world. Here are a few of the wave pools out there and a bit of information on the different technology to make them fire …

Kelly Slater's Surf Ranch / Lemoore, California, USA
Created by pro legend Kelly Slater, the Surf Ranch uses a proprietary wave-generating technology called the "Kelly Slater Wave System." This offers long, powerful, and consistent waves that can be customised in shape, size and intensity. Primarily used for professional competitions and private events so it's tricky to get yourself a session here. £££££

Alaïa Bay / Switzerland 
Complete with breathtaking views Alaïa Bay is tucked away in the heart if the Swiss Alps. Powered by Wavegarden Cove Technology, producing between 300-1000 quality waves an hour and maintaining a constant height for the duration of your ride. Depending on your surfing ability, wave size, shape, power and frequency can be adjusted at the push of a button. Complete with surf school, rental and shop, plus lots of stunning accommodations options nearby.
££

The Wave / Bristol, UK
The Wavegarden Cove technology at this 150-meter long diamond shaped pool uses a number of piston-powered-paddles to push waves down a central pier. The wave maintains its size and power, from the back of the pool to the front as energy is continually added to the wave as it runs. This Cove technology offers multiple wave settings and shapes, including gentle waves for beginners and more challenging waves and barrels for experienced surfers. ££

URBNSURF / Melbourne, Australia
URBNSURF is Australia's first surf park, and the first full size Wavegarden Cove in the southern hemisphere. Features a 2-hectare surfing lagoon with different wave types for beginners, intermediates, and advanced waves. Coaching and lessons available. £-£££

Waco Surf / Waco, Texas
Powered by PerfectSwell, American Wave Machines answer to creating the infinite variety of surf found in the ocean. The technology "fires" air pressure from a series of chambers to create a swell that propagates toward the shallow side of the pool where it crests and breaks. Left and right-hand waves and private, beginner, intermediate and advanced surf sessions available. This is a full water park so there's lots to do on site! ££

Surf Lakes / Yeppoon, Queensland, Australia
The only wave creator based in a lake environment, Surf Lakes uses a hydraulic system to lift and drop a 'plunger' which then displaces water to create concentric swell lines. This process takes about six-seconds and is repeated multiple times to create a 'set' of waves. After each set, the compressed air recharges for the next set
Big negative here … this isn't currently open to the public, however it does hope to open in 2025 so stay tuned. NA

From Switzerland and South Korea to Brazil, Germany, Japan and more, there are plenty more on offer so have a search to see what's near you.
What are the advantages of surf pools?
Although being amongst Mother Nature is special, wave pools offer several advantages for surf training compare to natural ocean waves:

What are the advantages of surf pools?
Although being amongst Mother Nature is special, wave pools offer several advantages for surf training compare to natural ocean waves: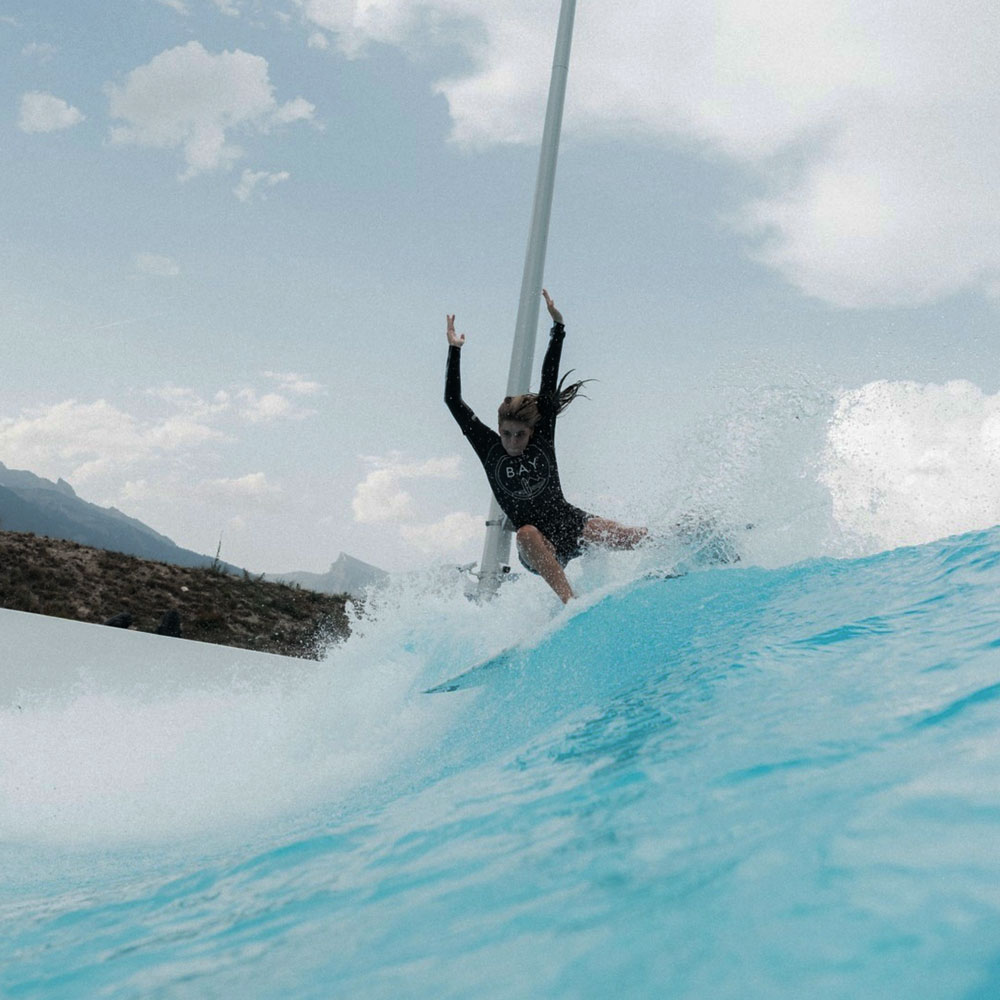 1. The waves generated are consistent with precise size, shape and timing. The predictable waves are perfect for learning the basics, working on specific skills and practicing manoeuvres over and over!
2. You don't have to account for changing ocean conditions and adapt to currents, tides and wind. 
3. Wave pools make surfing accessible to those who live far from the coast. Eliminating a long drive to the ocean to find there's no swell! 
4. Lifeguards and safety measures mean wave pools are a safe environment for surf training … plus no rocks, reefs, strong currents or marine life.
5. Many pools offer video analysis so surfers can analyse their performance in detail. 
6. The frequency of waves generated means more waves are ridden during a wave pool session than an ocean one. And more waves means more practice time. 
7. No jellyfish, sharks and seals for those who fear ocean life.