Saunton Surf Sisters held their inaugural International Women's Day paddle out in 2022, this year they're aiming to make it an even bigger event.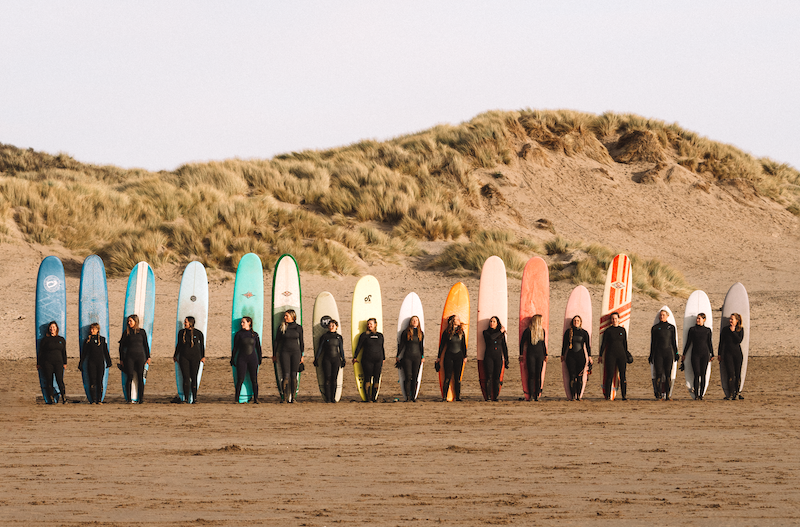 Photos: Louise Pamment @lou.lives.big
Community surf group Saunton Surf Sisters is calling on women across North Devon and beyond to join them for an all-female sunset paddle-out to mark International Women's Day. The event will take place at Saunton Sands beach on Wednesday, 8 March.
Established in 2021, Saunton Surf Sisters is a grassroots group that hosts meet-ups encouraging women to gain experience in the water with the support of fellow female surf enthusiasts. The group held its inaugural International Women's Day paddle-out last year, with an estimated 30 female surfers of all abilities taking to the waves. The event aims to empower women to feel more at home in the ocean. All proceeds from this year will go towards NDADA – North Devon Against Domestic Abuse.
International Women's Day is a global celebration of the social, economic, cultural and political achievements of women. This year's theme, #EmbraceEquity, highlights how the resources and opportunities required to produce equal outcomes differ for every individual. It is estimated that women make up just 19% of the global surfing community; while surfing is historically regarded as a male-dominated sport, community surf groups like Saunton Surf Sisters are working to help bring gender equity to local surfing lineups.
Ella Louise Sullivan, founder of Saunton Surf Sisters, says: "Surfing can be a challenging sport to master, especially when you're learning in the cold waters around North Devon. Now the area has been designated the first World Surfing Reserve in the UK; we're on a global stage. We have an opportunity to lead the change and set the scene for a more inclusive future for UK surfing."
Sister Motion, a local woman-led production agency, is contributing resources toward organising and filming the event. Sister Motion works with women and underrepresented talent to address gender bias in commercial film production and to create more authentic representations of women on screen. In making a short documentary about the event, the goal is to produce a celebratory, positive record of how surfing together benefits women's mental health and self-esteem.
Sister Motion founder Nicky Woodhouse says: "The paddle-out is about celebrating the community and friendships that have been formed in the sea since Saunton Surf Sisters started only two years ago. With the central values of collaboration and comradery, Sister Motion was compelled to get involved and lead organisational and production support. We're super excited to see it all come together and urge surfers and all beach lovers to come down and join us."
The event will open for registration on the beach from 3.30pm, with participants forming a circle in the sea from 5.30pm. It will be followed by music, drinks and food at local venue. (TBC)
To participate in the paddle-out, anyone over 18 can register on the Saunton Surf Sisters Facebook here All water women and sisters are welcome to the beach to watch.