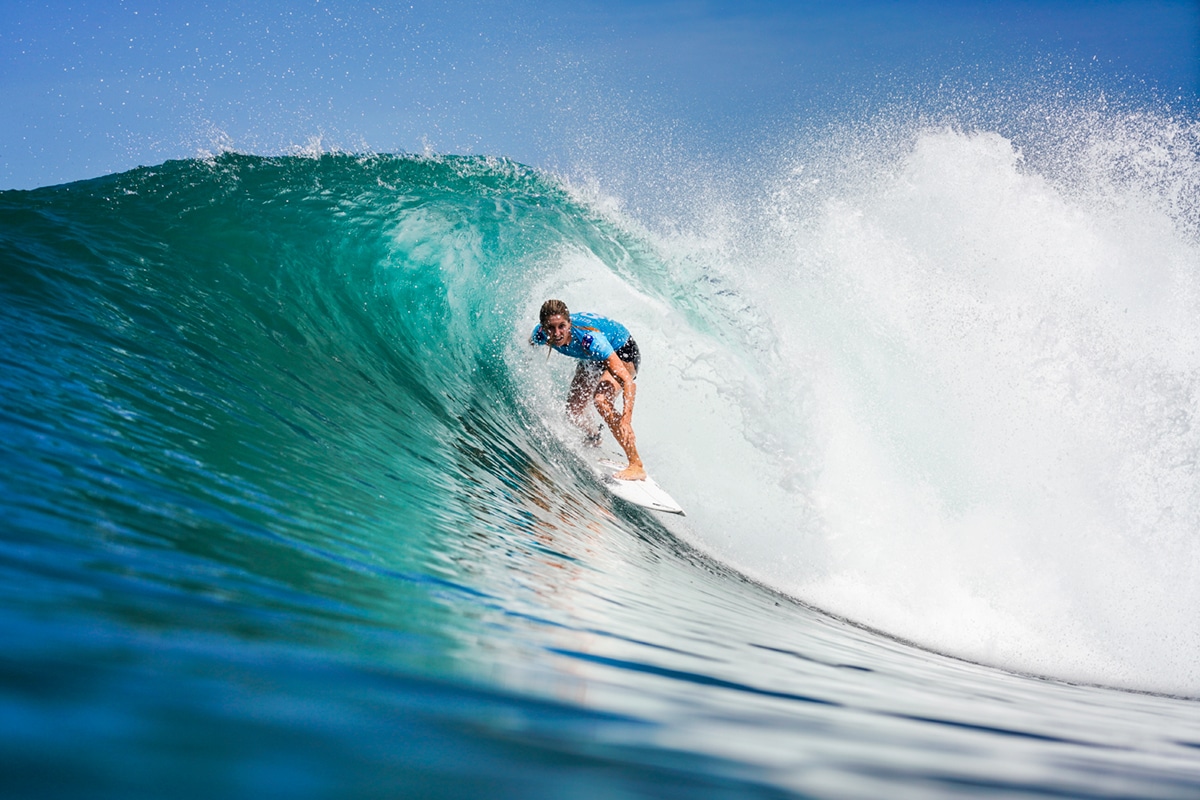 Stephanie Gilmore (AUS) won the Corona Bali Protected, the third stop on the 2019 World Surf League (WSL) Championship Tour (CT). Hosted at Keramas, one of the world's most high-performance waves, the Final Series concluded in the best conditions of the event's holding period with clean six-to-eight foot (1.8 – 2.4 metre) waves on offer. Gilmore charged through the pumping surf to take her 30th CT victory.
Gilmore, seven-time WSL Champion, came into the Corona Bali Protected sitting in 5th place on the Jeep Leaderboard, searching for a result above Equal 5th in 2019. Gilmore powered through the draw and defeated Sally Fitzgibbons (AUS) in the Final, Nikki Van Dijk (AUS) in the Semifinals, and Courtney Conlogue (USA) in the Quarterfinals.
Gilmore's Final with event standout Fitzgibbons was an epic battle in perfect barrels at Keramas. Fitzgibbons hunted the tubes but struggled to find an exit, leaving Gilmore to control the heat with two mid-range scores until the final minutes when Gilmore utilized priority to take off on a set, hit the first section, pull into the longest tube of the heat and come out to attack the closeout. Her wave was the first and only Perfect 10 point ride of the event and only the second of the 2019 season.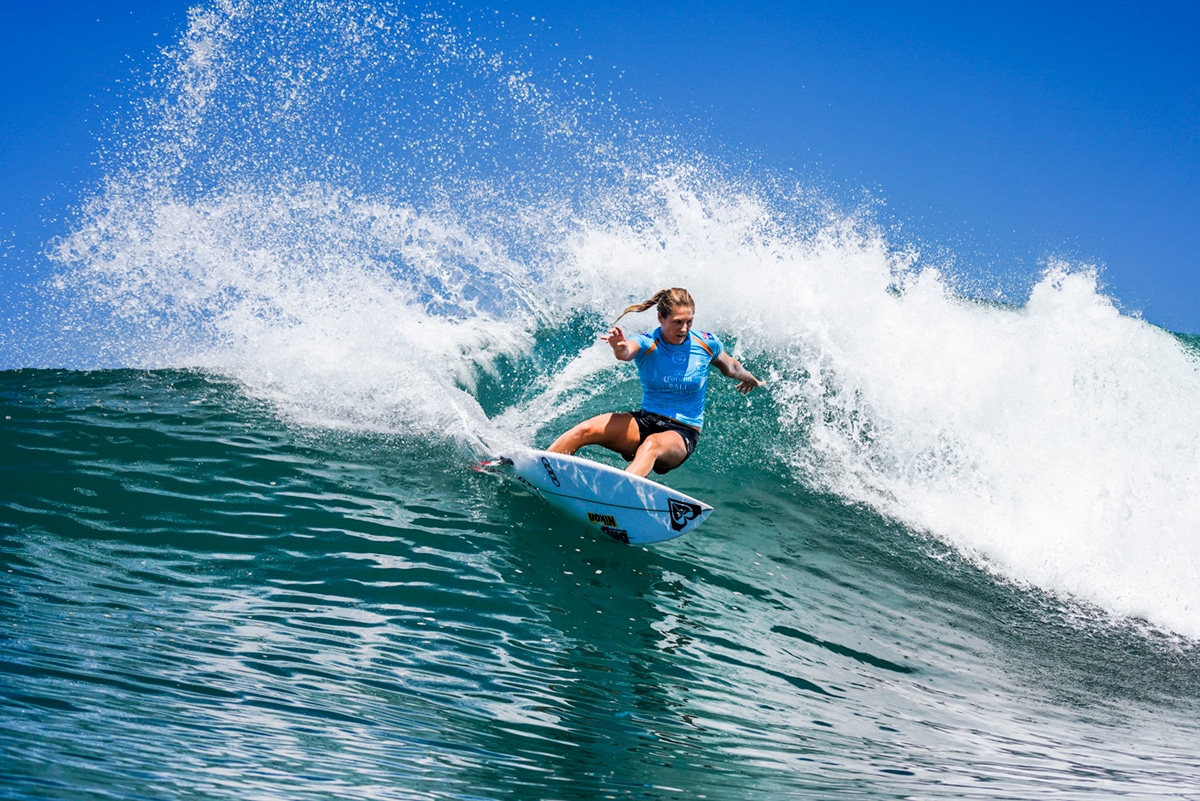 "I can't believe this, I just can't," Gilmore said. "I knew Sally (Fitzgibbons) was going to be out there looking for barrels, but I just had to stick to my game plan and find the right waves and make the best out of them. At the end, I was thinking 'Just get the excellent range' because I haven't really done that all event and I just kept thinking about then pulled the trigger on that one and just closed my eyes and held my line and then I came up. It was so cool."
Gilmore's impressive win in Bali was the 30th CT victory of her career and rockets her to World No. 1 on the Jeep Leaderboard, overtaking 17-year-old Caroline Marks (USA). The Australian now wears the Jeep Leader Jersey heading into the Margaret River Pro next week.
"I didn't know that it was possible for me to go to the top of the rankings, so I'm so stoked with that," Gilmore continued. "I was wearing yellow this week and painted my nails yellow so I made my intentions pretty clear. I don't know what Margaret River is going to deliver, but I'll be going there to do my best and just hope I can hold on to the yellow Jeep Leader Jersey all year. This is just amazing."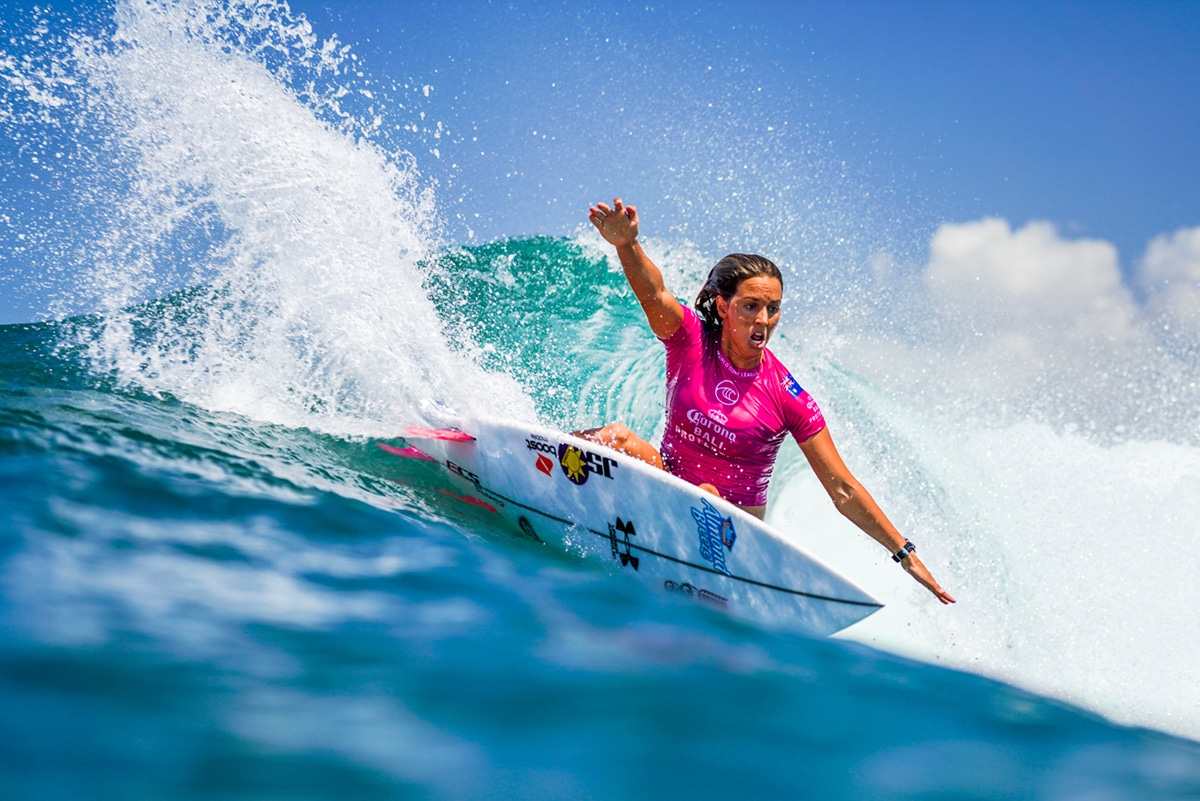 Sally Fitzgibbons (AUS above) finished a gallant runner-up in what was her first CT Final in 20 events when she took out the Margaret River Pro in 2017. Renowned for her ability and commitment in the tube, Fitzgibbons was always a threat at this event title. Fitzgibbons did progress through the Semifinals when she took down 2019 CT Rookie Brisa Hennessy (CRI) in a rematch of the World-Title-deciding Maui Pro in 2017. This result moves Fitzgibbons into 5th place on the Jeep Leaderboard and she still hunts for her maiden WSL World Title.
"Today was a super dreamy day," Fitzgibbons said. "It was an awesome build up with a few lack-luster days before this but due to the forecast, we waited a bit so there was some anticipation for sure. When you wake on finals day and there are barrels on offer there is this energy that's flowing around which is cool. At this point of my career, I just love being surrounded by amazing surfing as it inspires me as to what's possible and on a day like this to get some tubes and share a final with Steph was cool. Now I'm looking forward to getting back to Margies."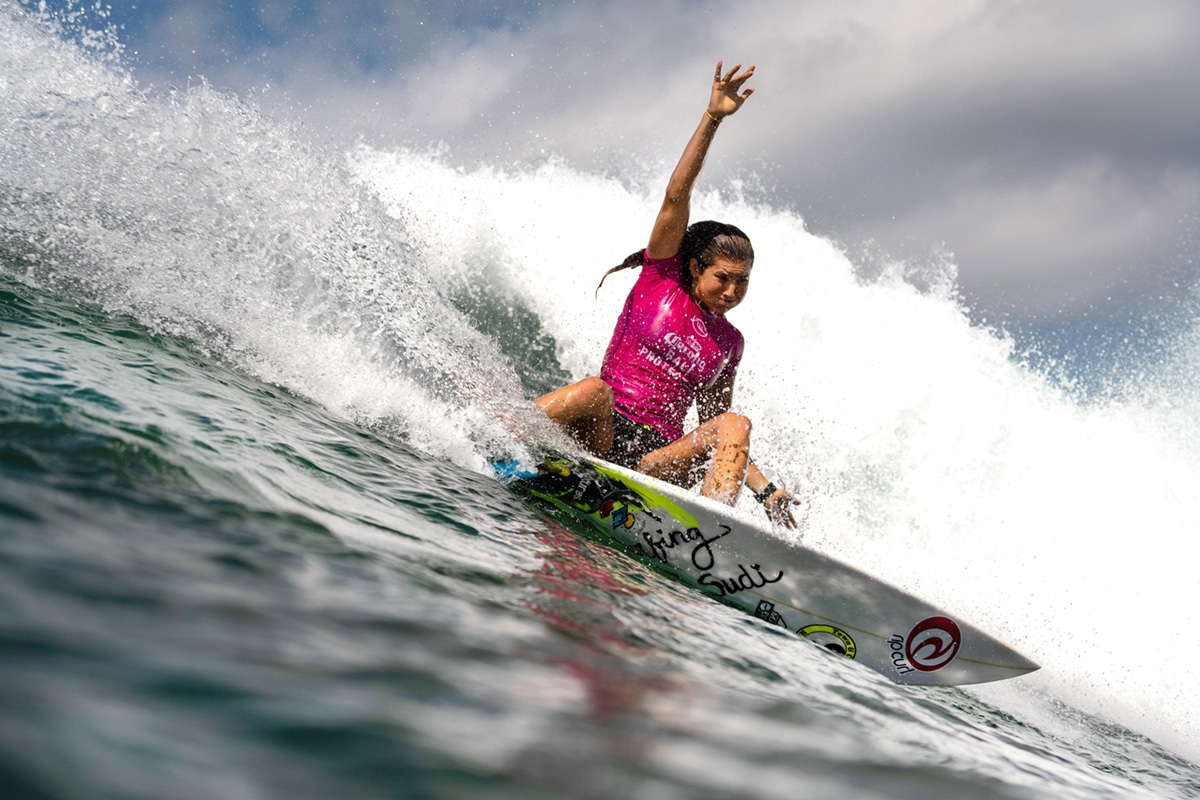 Rookie Hennessy (above) earned her career-best finish, 3rd place, after a stunning run at the Corona Bali Protected. Hennessy eliminated three-time WSL Champion Carissa Moore (HAW) and Johanne Defay (FRA), before falling to eventual runner-up Fitzgibbons in Semifinal 1. The 19-year-old has had a great start to her rookie season with a 5th place result at the Rip Curl Pro Bells Beach and 9th at the Boost Mobile Pro Gold Coast. Hennessy now heads to the Margaret River Pro where she will take on the wild and wooly conditions for the first time in a CT event.
"It's still pretty surreal for me," Hennessy said. "To surf out there with Sally (Fitzgibbons) at perfect Keramas was honestly a dream and I couldn't have wanted any other finish. It's just so special and I'm really grateful. I'm just taking it heat by heat and wave by wave and enjoying this moment. To be here surrounded by everyone I love and all of my idols, I have no words to describe it. Especially surfing heats with Sally and Carissa (Moore) who have always been my favorite surfers that I have always looked up to."
In their pumping Semifinal, Van Dijk locked into some big barrels but failed to overcome Gilmore. Van Dijk previously eliminated Bronte Macaulay (AUS) in the Quarterfinals. She now sits in eighth on the Jeep Leaderboard after her third place finish.
For highlights from the Corona Bali Protected, please visit WorldSurfLeague.com.
The next stop on the 2019 WSL CT is the Margaret River Pro in Western Australia. The event window opens on May 29 and runs through June 9, 2019. The fourth stop on the 2019 CT, the Margaret River Pro, will be broadcast LIVE on WorldSurfLeague.com and Facebook.com/WSL . Also check local listings for coverage from the WSL's broadcast partners. Photos: WSL/Dorsey
Corona Bali Protected Women's Final Results:
1 – Stephanie Gilmore (AUS) 16.83
2 – Sally Fitzgibbons (AUS) 7.00
Corona Bali Protected Women's Semifinal Results:
SF 1: Sally Fitzgibbons (AUS) 15.07 DEF. Brisa Hennessy (CRI) 12.86
SF 2: Stephanie Gilmore (AUS) 11.74 DEF. Nikki Van Dijk (AUS) 7.80
Corona Bali Protected Remaining Women's Quarterfinal Results:
QF 4: Nikki Van Dijk (AUS) 11.77 DEF. Bronte Macaulay (AUS) 11.66
2019 Women's CT Jeep Leaderboard (following Corona Bali Protected):
1 – Stephanie Gilmore (AUS) 19,490 points
2 – Caroline Marks (USA) 18,695 points
3 – Courtney Conlogue (USA) 17,355 points
4 – Carissa Moore (HAW) 17,290 points
5 – Sally Fitzgibbons (AUS) 16,495 points
5 – Malia Manuel (HAW) 16,495 points
Margaret River Pro Women's Seeding Round (Round 1) Matchups:
Heat 1: Caroline Marks (USA) vs. Johanne Defay (FRA) vs. Paige Hareb (NZL)
Heat 2: Carissa Moore (HAW) vs. Nikki Van Dijk (AUS) vs. Keely Andrew (AUS)
Heat 3: Stephanie Gilmore (AUS) vs. Coco Ho (HAW) vs. Mia McCarthy (AUS)
Heat 4: Courtney Conlogue (USA) vs. Brisa Hennessy (CRI) vs. Macy Callaghan (AUS)
Heat 5: Sally Fitzgibbons (AUS) vs. Tatiana Weston-Webb (BRA) vs. Silvana Lima (BRA)
Heat 6: Malia Manuel (HAW) vs. Lakey Peterson (USA) vs. Bronte Macaulay (AUS)

For more information, please visit WorldSurfLeague.com