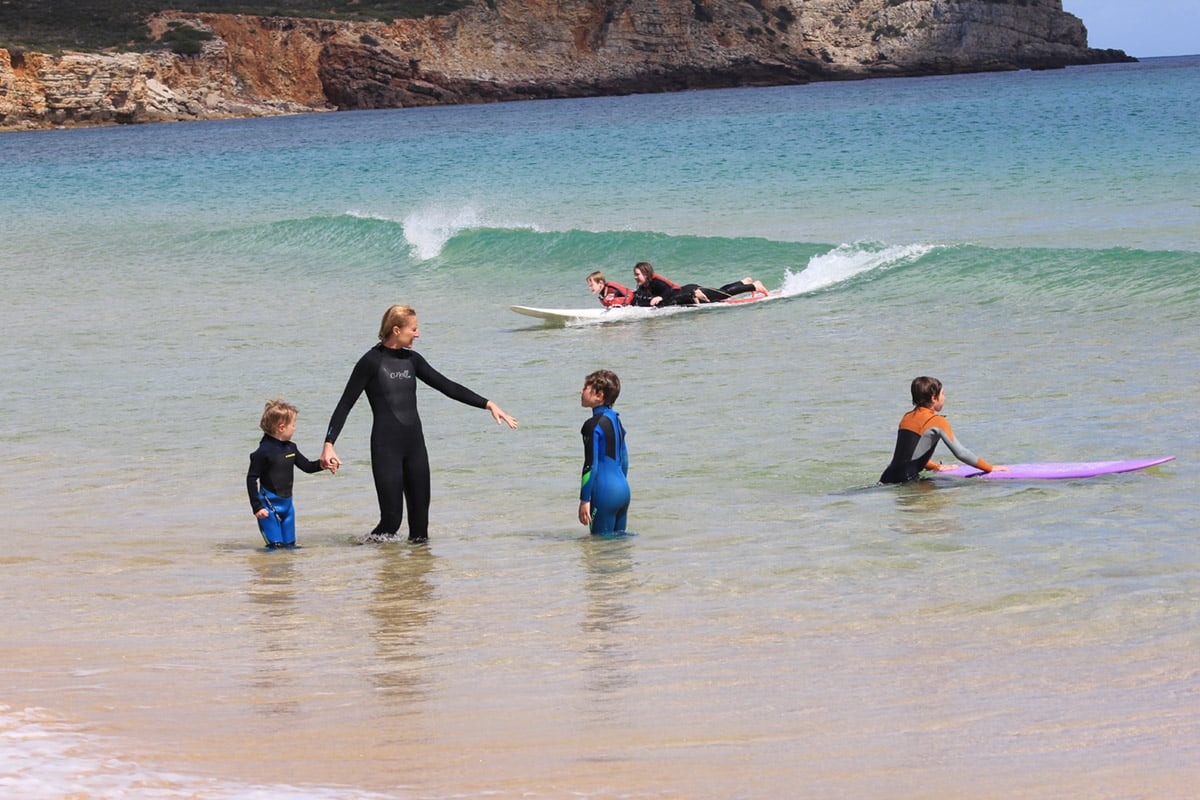 Portugal has long been one of our favourite family surfing destinations. Being so easy to get to, with beautiful beaches, a family-friendly culture and year-round sunshine, it's hard to beat. As a single mum of three boys, I go back year-on-year; so we can all get our fix of sunshine, saltwater and seaside living. And while the Cornish winter was still serving up a brain freeze with every duck dive, in springtime Portugal lured us with its blue skies, great waves and a diet of custard tarts, fresh seafood and cold beer.
Finding time to surf with three kids in tow has never been easy. So, on our recent trip to Portugal, I made it my mission to seek out stylish, family-friendly hotels by the waves, where we all had the opportunity to hit the surf in our own time, or as a family. It wasn't enough just to be by the beach; I wanted accommodation with surf instruction on tap, onsite facilities for active children, and kids' clubs or babysitters, so I could sneak out for a wave on my own or have some me-time in the spa or the bar.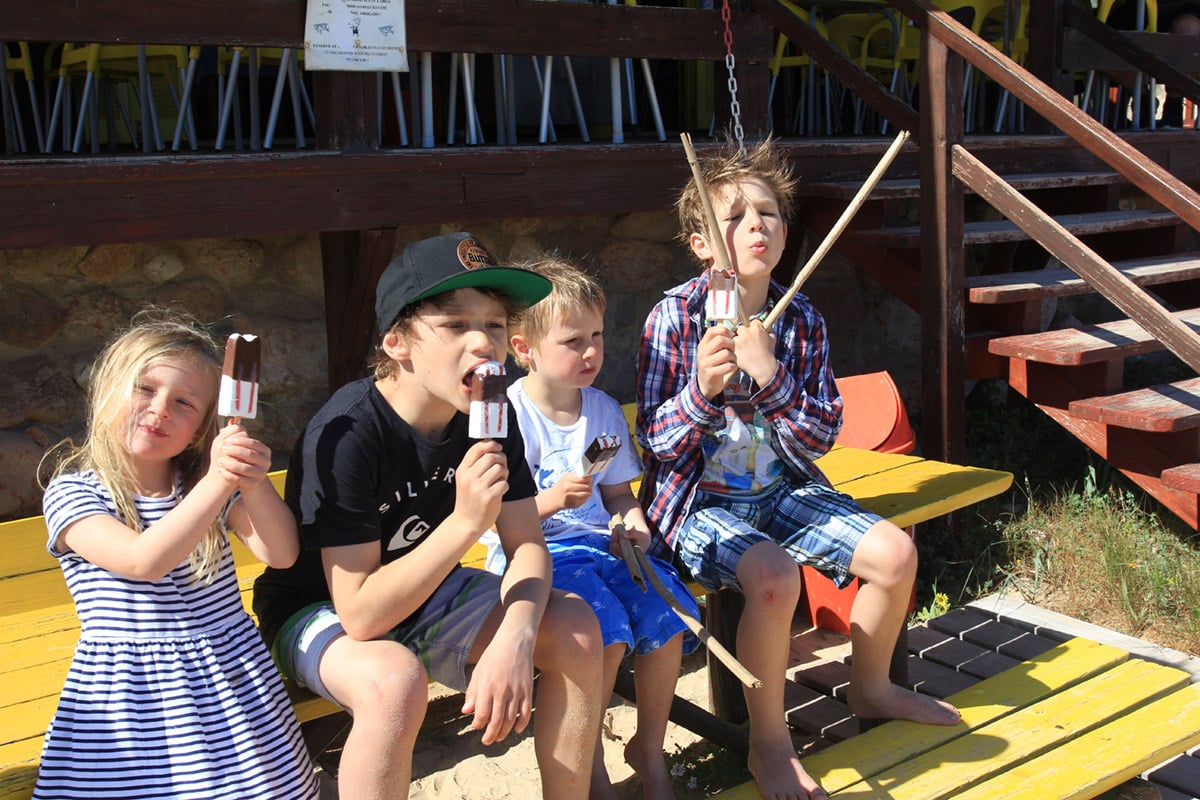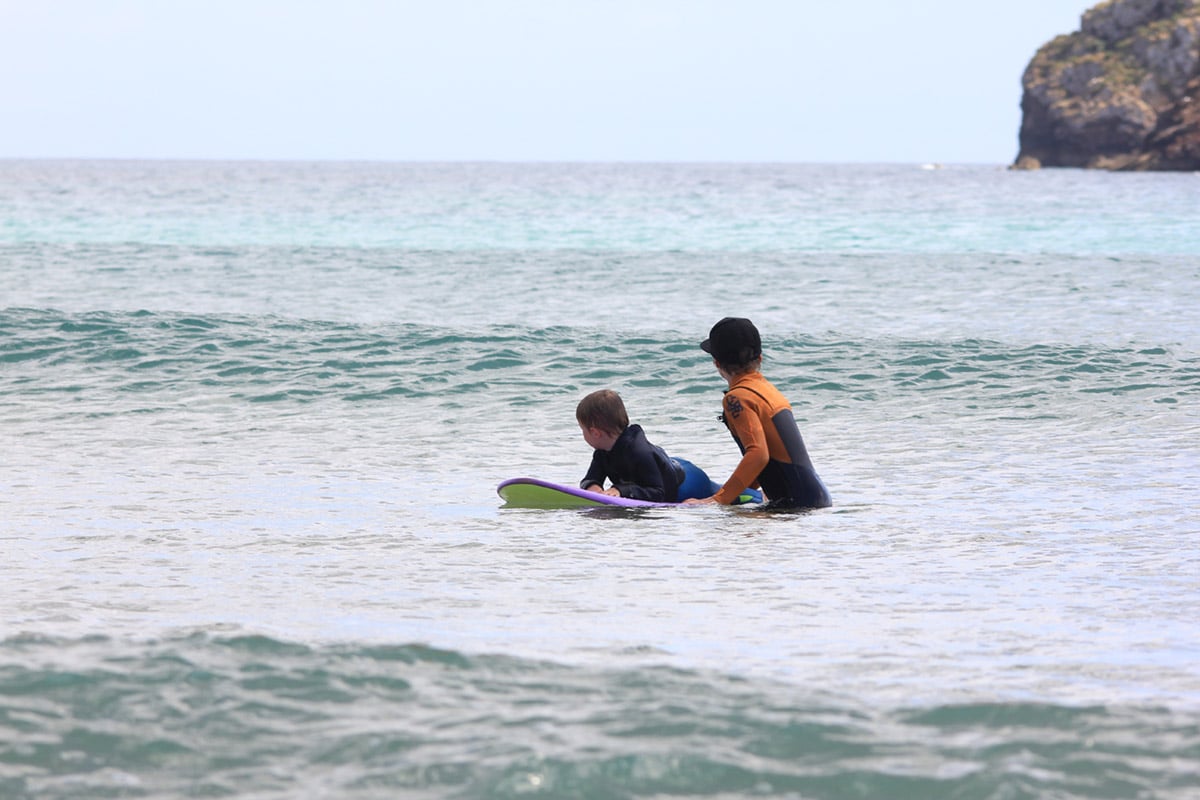 An easy hop from Lisbon, we started our journey in Peniche – a vibrant surf town boasting a break for every wind and swell direction. There's a string of breaks from the red rocks of Almagreira and the peaks of Baleal, to world-famous Supertubos and the sands of Consoloção. Every shop-front you pass is piled high with surfing paraphernalia or pastéis de nata (Portuguese custard tarts), and you're only ever footsteps from the waves. As a go-to surfing destination with everything at your fingertips, it's one of Portugal's finest.
Staying at Ride Surf Resort and Spa, we had much more than surf on the doorstep. Ride is a place where action and style merge seamlessly. As well as a surf academy with expert instructors, high-tech kit and a shuttle to the best waves of the day, there's also a skate academy and skate park. Then there's a slack line to get to grips with your balance, a bouldering wall for working on mind and muscle co-ordination, bikes for getting around and exploring the coast, and a heated outdoor pool for a dip between activities.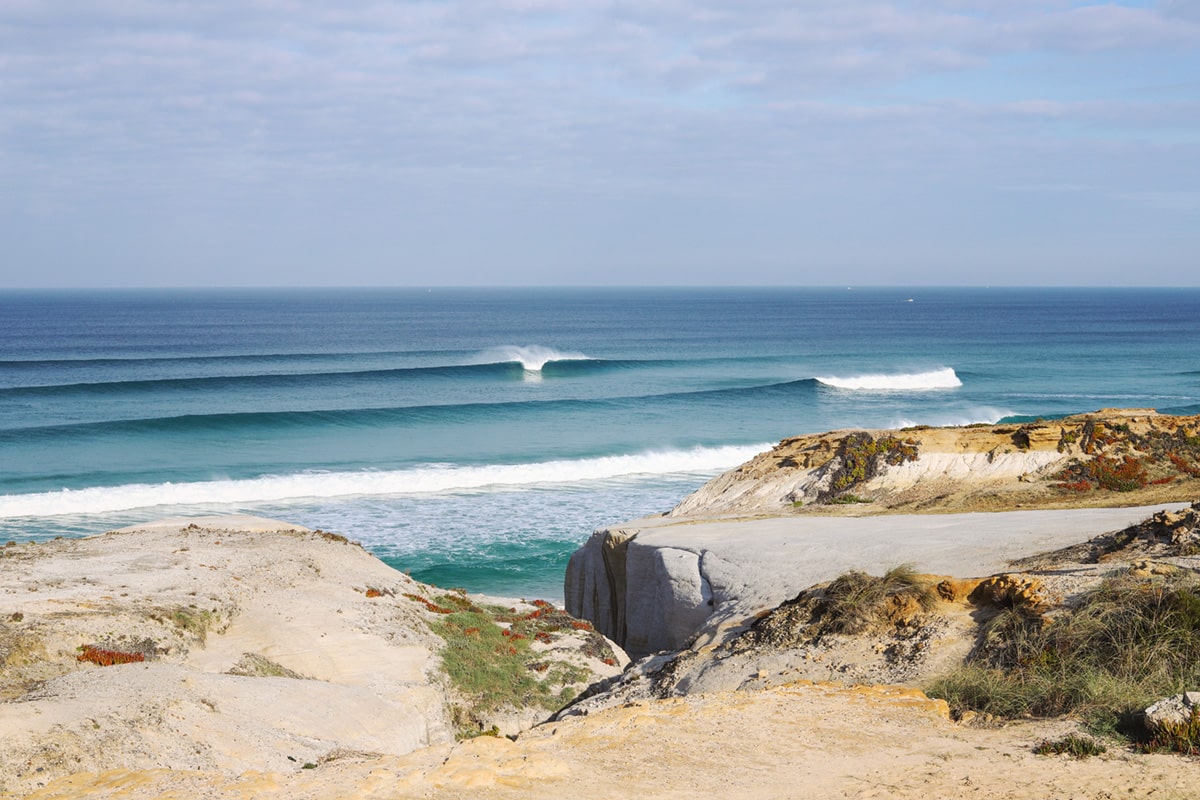 All this is enough to keep any family stoked
All this is enough to keep any family stoked – especially when the staff are happy to steal your kids off surfing or organise a babysitter so you can hit the waves for a solo sesh. Between activities the wild things flopped out in the lounge area in front of a surf movie, or spent the last of their energy playing table football, air hockey, snooker and table tennis. Meanwhile I was more interested in stretching out my surfing muscles at a pilates class, steaming in the Turkish bath and sampling the contemporary Portuguese cuisine with a glass or two of vino branco before hitting the king-size bed.
Having made ourselves at home at Ride, it was a wrench to pack up and continue down the west coast, but we eventually piled into the van and cruised onto Santa Cruz – the wave magnet that's home of the annual WSL Pro comp. Here, Noah Surf House brings together style and sustainability, in a designer ocean-side pad with a rooftop infinity pool, skate park, hot tub, fire-pit and organic veggie garden. With self-contained bungalows, private decks with surf racks and outdoor showers, and a dedicated surf school, it's made for families shy of slumming it on the road. The surf was big and blown out, but with a front-row view from Noah Beach Restaurant, we watched a handful of locals tackle the rollers while tucking into freshly caught fruits of the sea.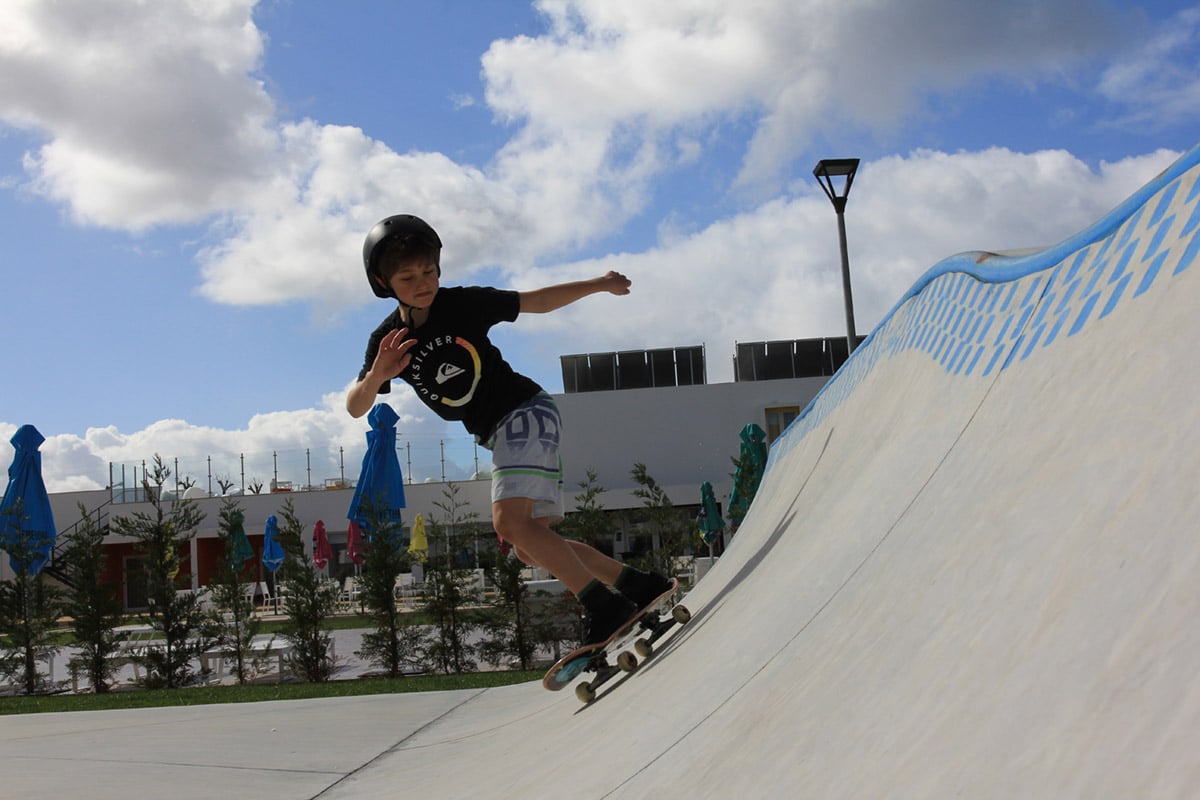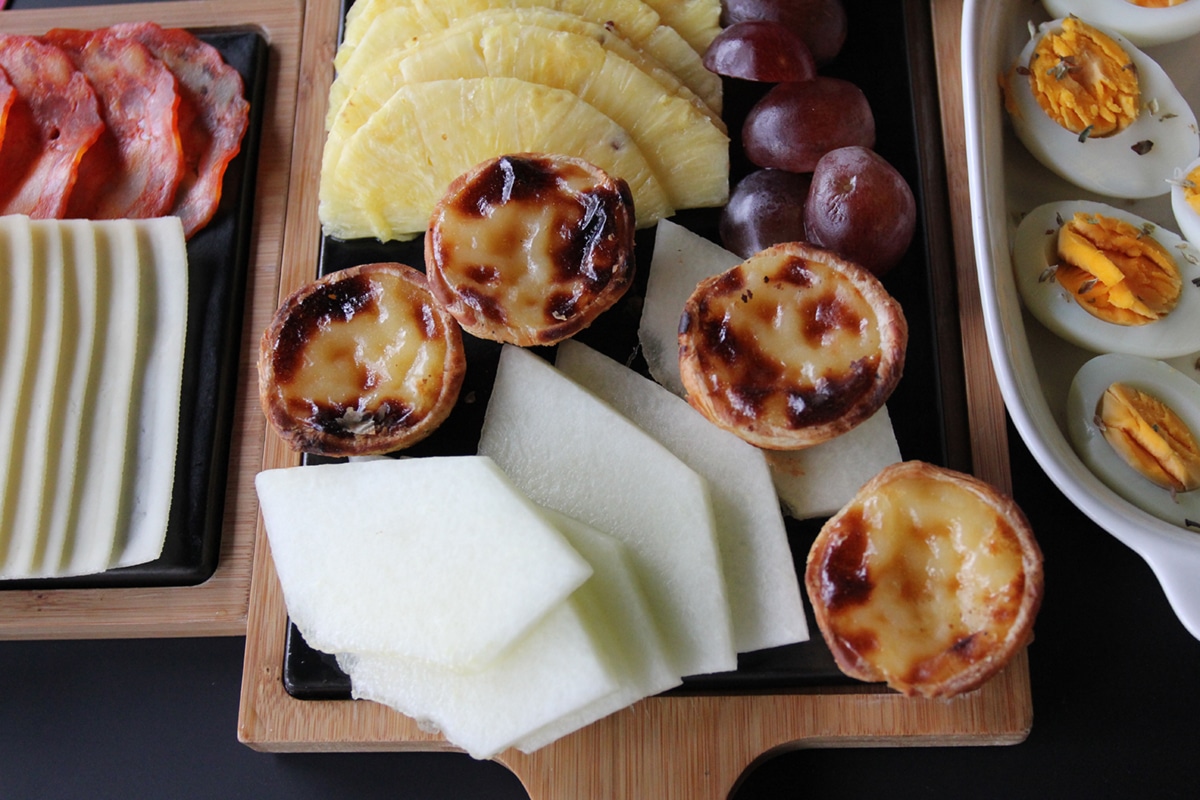 The next stop was Ericeira – where the skate and surf culture has infiltrated a traditional Portuguese fishing village that sits at the centre of Europe's first surfing reserve. Legend has it that the name Ericeira comes from the ancient term 'Ouriceira', after the orieço or sea urchin – a delicacy that you're just as likely to find on the rocks as on the menu.
While many of Ericeira's surf breaks are rocky and more suited to experienced surfers, there are plenty of sandy beaches and easier waves such as the popular Foz do Lizandro and, our favourite, São Julião. From our plush family apartment at You and the Sea, we could head out for daily surf lessons, or simply gaze out to the waves on Praia do Sul, where the kids paddled in flat-water lagoons while surfers glided down waves reeling off the headland.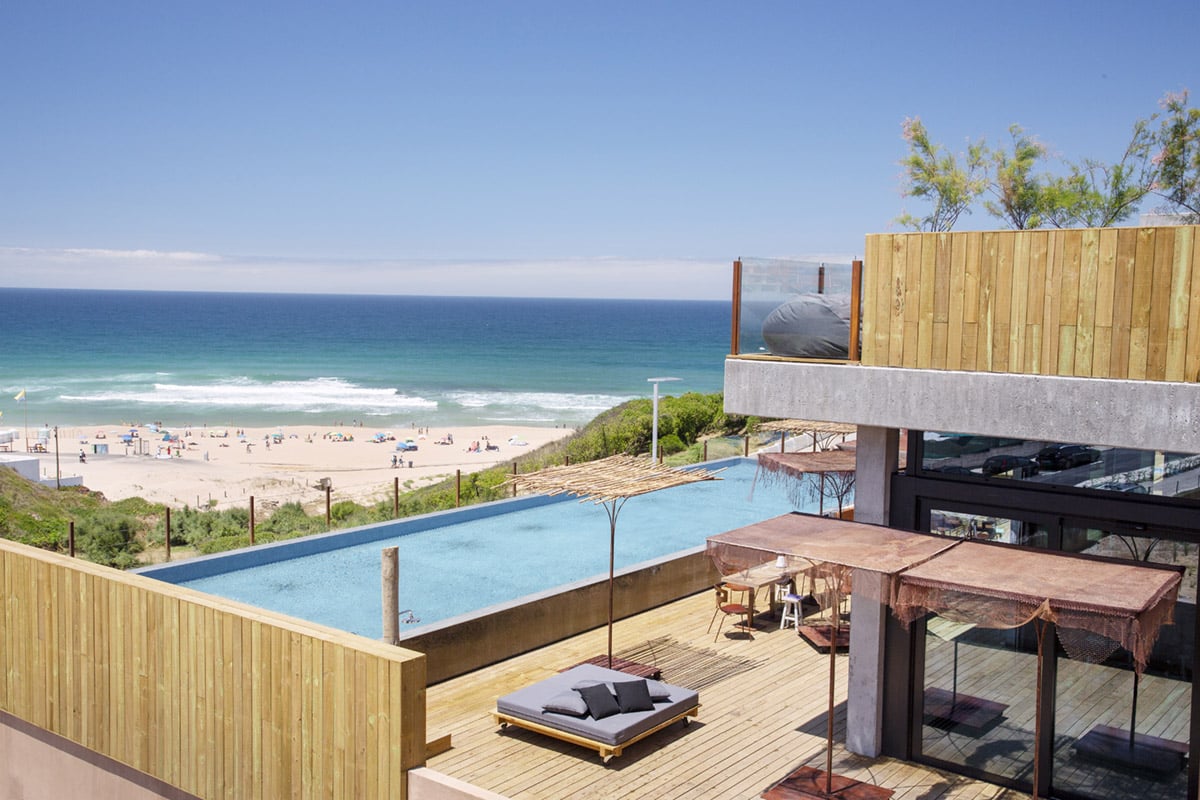 Leaving the cobbled streets and littering of surf breaks in our wake, and pushing on past Lisbon (worth a pit-stop if you have time), the rest of the west coast is an intrepid surf trippers' dream. Forget about taking the fast track to the Europe's south-westerly tip along the motorway, and hug the coast road, where every turning towards the Atlantic leads to a wave-lashed shoreline or stunning viewpoint along the rugged Costa Vicentina. Our favourites for family beach days include Praia Bordeira, with its lagoon protected from the waves, and Praia Amado, where you can surf a sandy-bottomed wave, take on the reef break, or simply bask on the sand until sunset. Amado is also set up with plenty of surf schools and beachside amenities, so you can arrive hands-free and rent all your equipment or bag an instructor if you need one.
Travelling with children it's not easy to spend hours exploring every dirt track, and road trips have been curtailed to deal with the constant feeding times and general mayhem of having kids in tow. Which is why the surfy hub of Sagres – with its huddle of surf breaks to suit all wind and swell directions, and cluster of cool venues for food and drink – makes an ideal base for a family surfing holiday. Once you're in Sagres, everything you need is just a stroll or tuk-tuk ride away: There are sandy beaches for swimming and surfing, family-friendly restaurants serving up fresh fish beside the water, and awesome sights including a historic fortress and a lighthouse that stands at what was once thought to be the end of the world.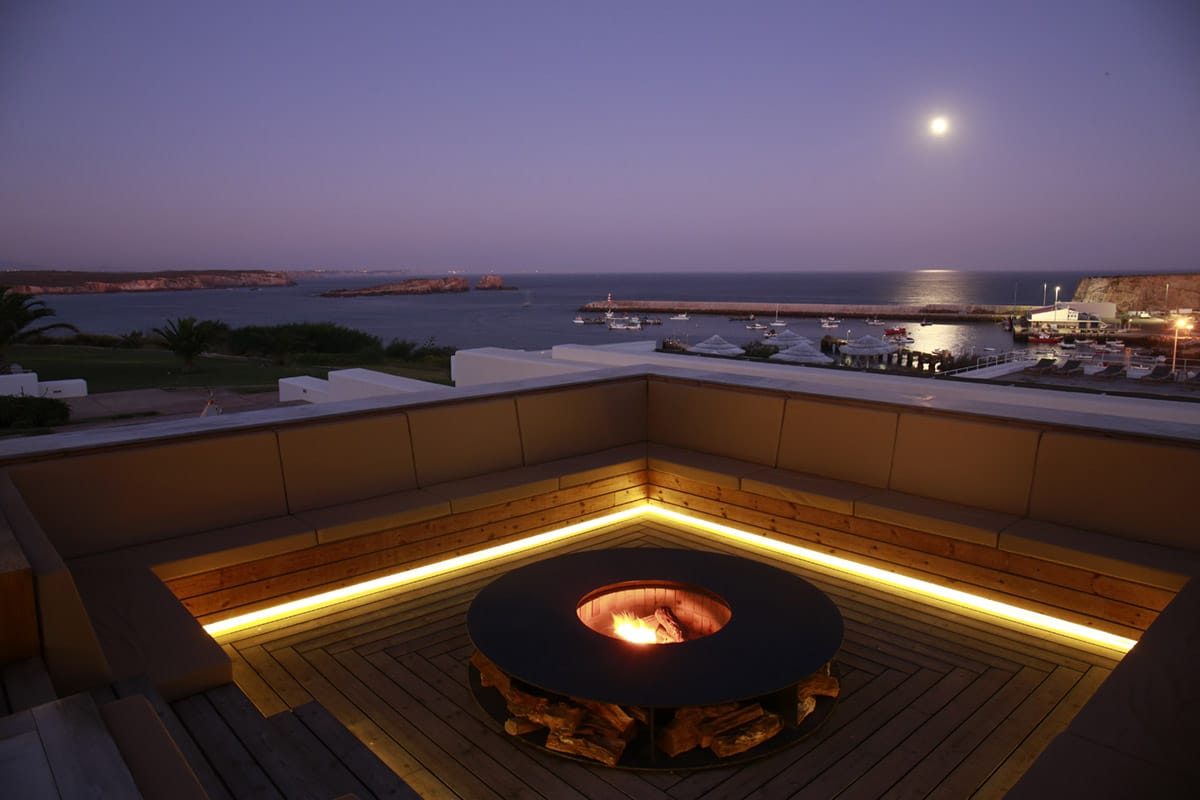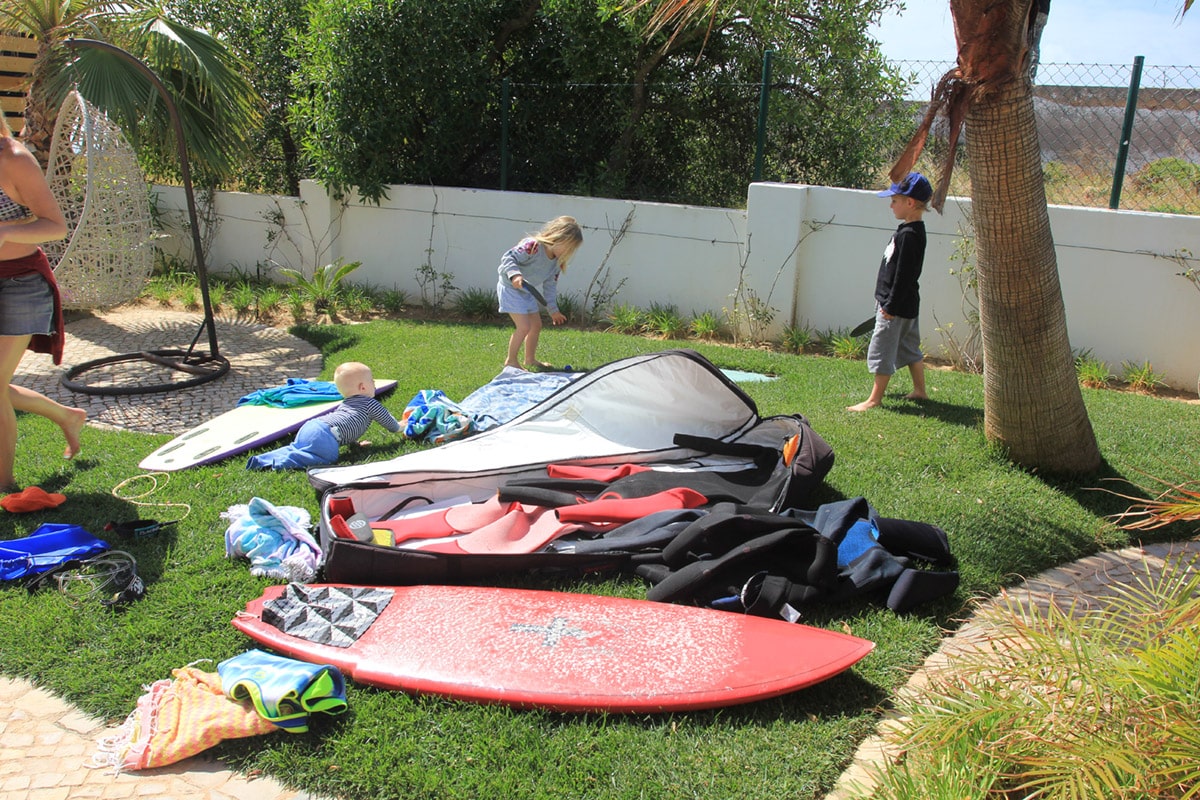 Beginner-friendly waves peel onto Praia Mareta, where we hunkered on the sand between boulders and took turns on the boards, before ice cream and cold beer in the line-up of beach cafés. Nearby Tonel is perfect for rock-pooling and wave-riding, while beautiful Beliche can throw up world-class waves on its day. There are surf schools aplenty, but if – like us – you choose to stay in the luxury of the Martinhal Sagres or Memmo Baleeira, surf lessons are just one of the activities that can be organised as part of your stay. Both hotels are based on sublime sandy beaches, where you can castaway on a SUP and swim in the glassy ocean, with the surf beaches just minutes' away in each direction.
Kicking off the day with a galão and a gut-full of pastéis de nata, filling sunshine hours with surf and sand between our toes, then ending the day with salty hair, seafood and a cold Sagres lager, became routine on our road trip. Slipping into the Portuguese beach lifestyle, while also having comfy beds and creature comforts at our fingertips, made road tripping with a family easy. What with cheap flights to Faro and Lisbon, consistent waves and delicious (cheap) food, Portugal is a winning family surf destination over and over again.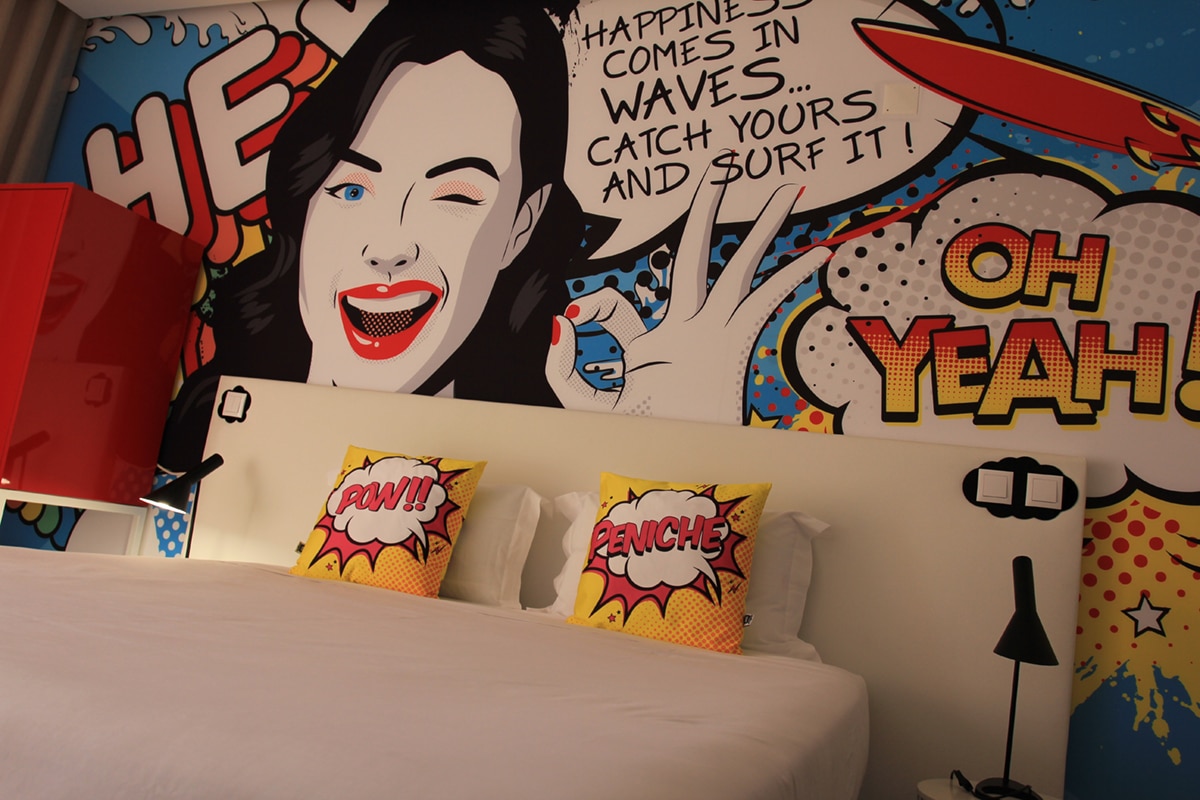 Plan your family surf holiday with Family Surf Co. – the UK's first specialist family surf travel company, offering bespoke family beach holidays to bucket-list surfing destinations, including Portugal, Barbados, Cornwall and Sri Lanka. Family Surf Co. was founded by two Cornwall-based surfing mums, to encourage more families to spend quality time together by the sea and go surfing on holiday. Finding it a challenge to pursue their own passion for surfing when travelling with young children, Hayley Lawrence and Celine Bennet set about finding the finest family hotels in some of the top surfing destinations – including Portugal, Barbados, Costa Rica, Sri Lanka and Cornwall. Family Surf Co. launches on 20 June 2019 – International Surfing Day – offering a handpicked collection of stylish, family-friendly accommodation beside the waves.