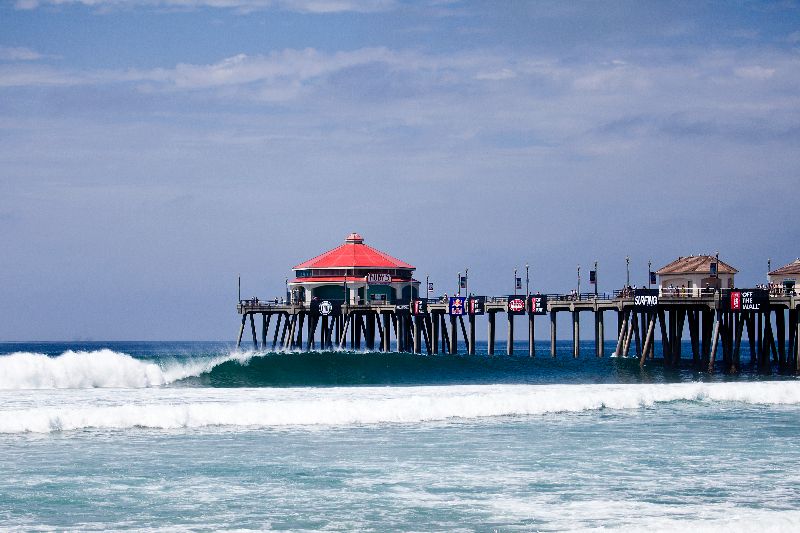 The 2021 Challenger Series will start in September at the US Open of Surfing Credit: © WSL / Rowland
The World Surf League (WSL) announces the calendar for the upcoming 2021 Challenger Series, the ultimate battleground for surfers to showcase their talents for the chance to qualify for the following season of the elite-level Championship Tour (CT). The Challenger Series will include four stops this condensed season with events in California, Portugal, France and Hawaii.
"We're very excited to bring the Challenger Series to life in 2021," said WSL CEO, Erik Logan. "These four events will not only provide an enhanced showcase for the up and coming surfers, but will also allow those who fail to requalify through the CT the opportunity to perform well and requalify for the 2022 Championship Tour."
"This new level of competition will provide greater opportunity for CT qualification as well as give visibility to the next generation of surfers," said Jessi Miley-Dyer, SVP of Tours and Head of Competition. "I can't wait to see who will qualify for the tour in 2022."
The 2021 Challenger Series will kick off with the US Open of Surfing from September 20 – 26 in Huntington Beach, California. The WSL, Vans, and IMG look forward to returning the Vans US Open to its regularly scheduled spot in August 2022. Surfers will then head to Europe for the MEO Pro Ericeira, scheduled for October 2 – 10 in Portugal, followed by the Quiksilver and ROXY Pro France, from October 16 – 24 in South West France. The season will wrap in Hawaii, at the Haleiwa Challenger, from November 25 to December 7.
The 2021 Challenger Series calendar will run as follows*:
– US Open of Surfing: Huntington Beach, California, USA
September 20 – 26, 2021
– MEO Pro Ericeira: Ericeira, Portugal
October 2 – 10, 2021
– Quiksilver/ROXY Pro France: Capbreton/Hossegor/Seignosse, Landes, France
October 16 – 24, 2021
– Haleiwa Challenger: Haleiwa, Hawaii, USA
November 25 – December 7, 2021
*All tour stops and dates are subject to change due to applicable COVID-19 related restrictions, including global travel restrictions.
The Challenger Series field will include 96 men and 64 women, made up of 34 men and 17 women from the CT, 58 men and 44 women that are allocated by the WSL regions, two men's and women's World Junior wildcards, and two men's and one women's wildcards. Any unused CT spots will become wildcards.
This season, athletes will be able to roll over points from their best Qualifying Series event in 2020. The 2021 Challenger Series rankings will be comprised of a surfer's best three results out of five events, the four 2021 events and one 2020 event.