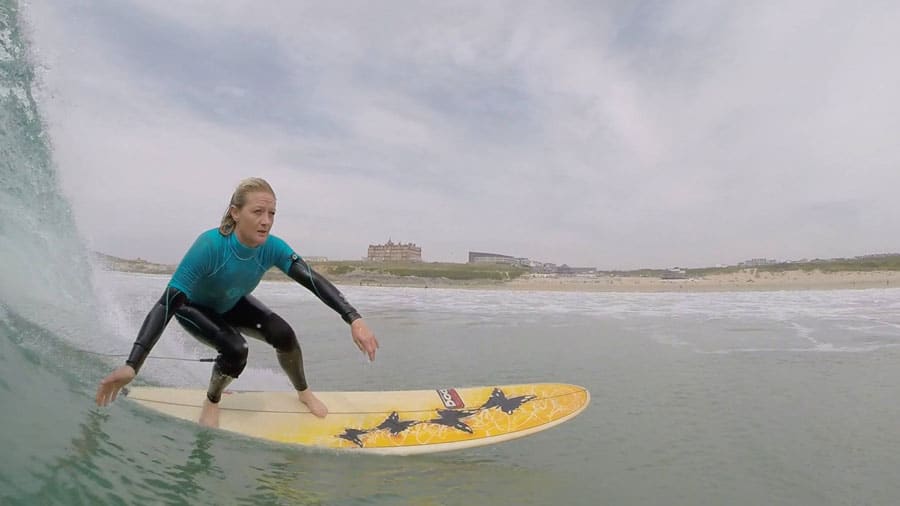 Running Newquay Women's Surf Club since 2009, Rosa is an inspiration around Newquay and beyond, motivating countless women to take up surfing. We find out more about the irrepressible Rosa.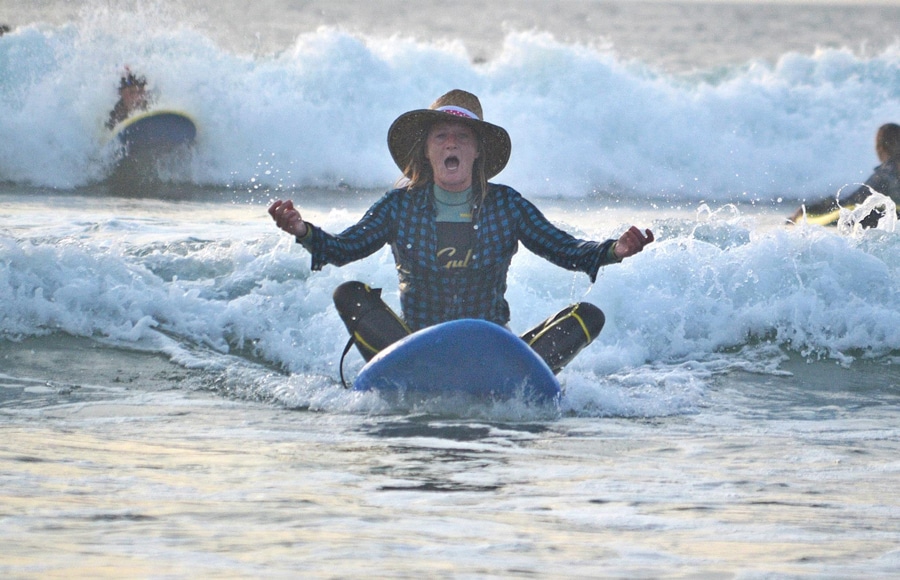 Rosa, where are you from originally and what made you move to Newquay?
Originally I'm from Wigan in the North West of England. I moved to Cornwall about 20 years ago to work in a multi-activity centre.
How did you get into surfing/surf instruction?
I had a go at surfing on mini holidays to Cornwall in the early days and I loved it. Then whilst working at the activity centre, I got more surfing tuition. This then led to me getting my surf coaching qualifications so I could share this new found love. I can't believe how long ago that seems now.

Tell us a bit about what the Newquay Women's Surf Club does and when did you start it?
We are a community interest non profit company, encouraging women to stay active and take part in surfing. Newquay Women's Surf Club is an all women's club who have a passion for surfing, the ocean, travelling and having fun. The aim of the club is to promote surfing for women in a safe and inclusive environment whilst also providing a support network within the women's surfing world. Our emphasis is on fun and creating a community of confident, sea savvy women. All women are welcome to join, whether you attend one surf session or you are a regular face at the club. There is no pressure. The club was founded by 3 of us and has kept on growing since. It originally started back in 2009 by a good friend of mine Sophie Skinner. Myself and Jen Pendlebury then took over the club two years later in 2011. We all felt that it would be a great place to help share our experience of learning to surf and wanted to create a supportive and motivating environment in which women could thrive.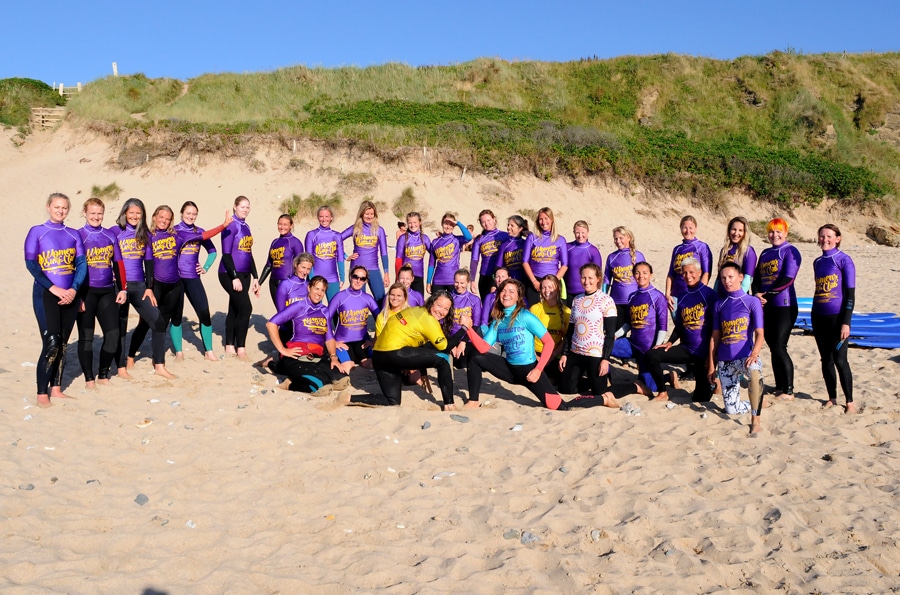 Who is the Surf Club aimed at, complete beginners or people wishing to improve their surfing?
The club is aimed at everyone. Whether a complete novice or someone that just need to refine their surfing ability. We try and tailor our sessions for differing abilities. Generally we have three groups in the session depending on experience and skill level so that everyone can improve.
In general how long does it take for someone to move from the beginners to intermediate class?
This depends on the person, each person is different. Some people take to it like a duck to water where others can take a few sessions to build up the fitness, water confidence and flexibility needed to progress.
Is it a better way to learn to surf than going out on your own?
It is a great way to start building a solid foundation to improve on. Giving our members the opportunity to learn the basics of surfing skills and etiquette, water safety and general awareness in the sea. All of this within a fun and supportive environment. These foundations will allow any surfer to get the most out of the sport. The beauty of the club environment is that it allows women to form surf buddy friendships so that they can practice safely and progress in their own time. Going out surfing on your own is an important part of building on these surfing skills and self confidence .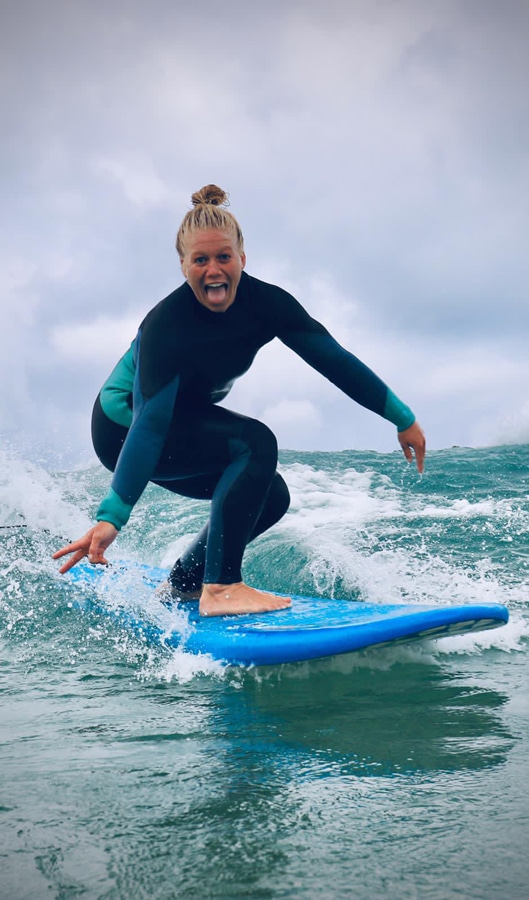 Sarah Thompson – Ben Souriac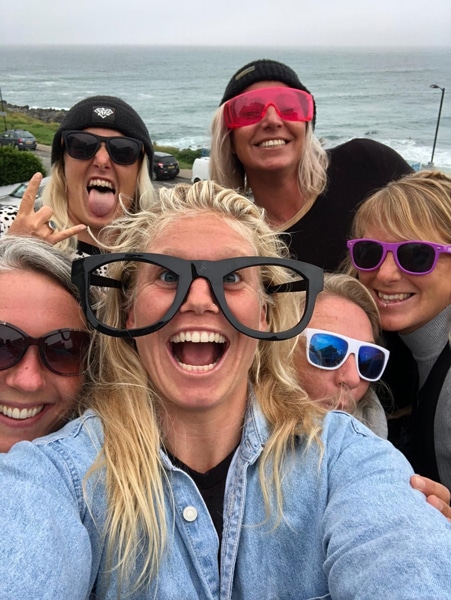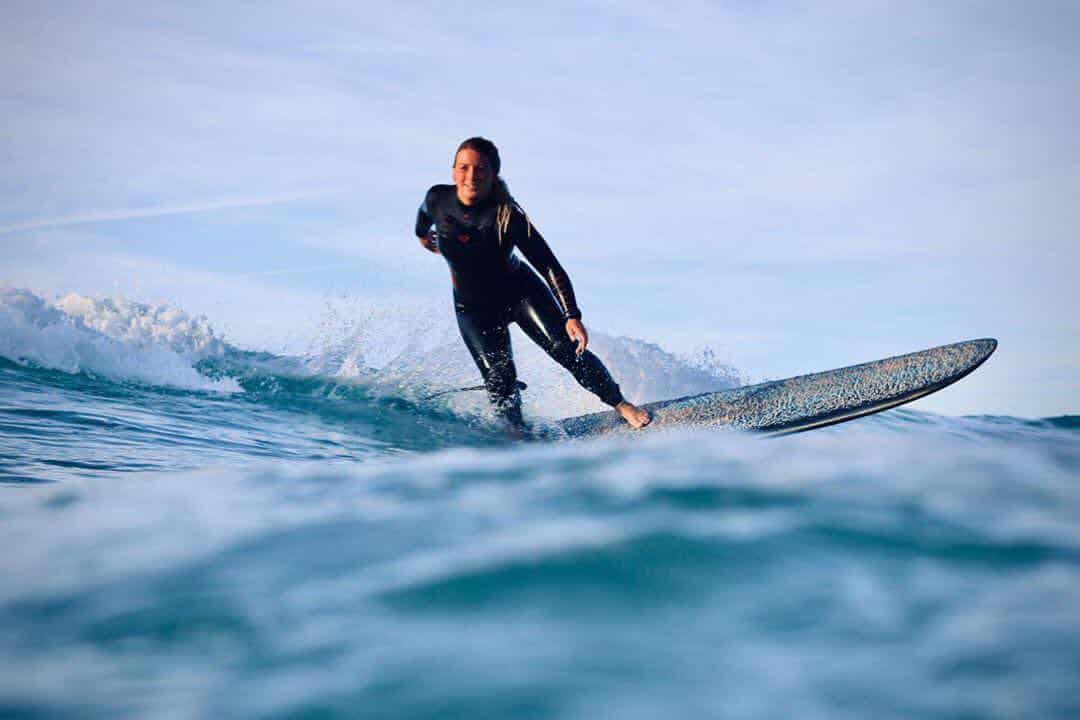 Jen Pendlebury – Ben Souriac
What do women love most about being taught to surf in a group?
It's sometimes easier for women to stay in their comfort zone when they're learning new skills, but being around so many inspirational women can help push the boundaries of their comfort zone. Allowing the freedom to explore their own abilities and have the confidence to try new skills. We are lucky enough to have some of the best female surfing coaches in the country who can truly appreciate the struggles for women in a new sport. We love to share waves.
When you're teaching at the Club, what are the common surfing problems you come across?
Some of the most common technical issues are things like not being able to 'pop up', looking down once they are up and incorrect stance. However, most of these problems boil down to a lack of confidence, lack of general fitness/flexibility and a fear of embarrassment. The club environment we have helps to remove some of the fear and confidence issues, including body confidence and the fear of failure, whilst the sport itself improves personal fitness.
What's your plans for the future?
We are currently expanding our staff team within the club to enable us to meet the demand from our members, in particular for our little ladies club (7 – 14 year old). We are in the planning stages for the future within the club including charity fundraising within the community, competitions and social events. In the long term it would be really nice to work with some of the other women's surf clubs around the country possibly to organise inter club competitions or social surfing sessions.
If this sounds like the kind of thing you'd like to get involved in, follow the Club @womenssurfclubnewquay and go to the website for more info  www.newquaysurfclub.co.uk