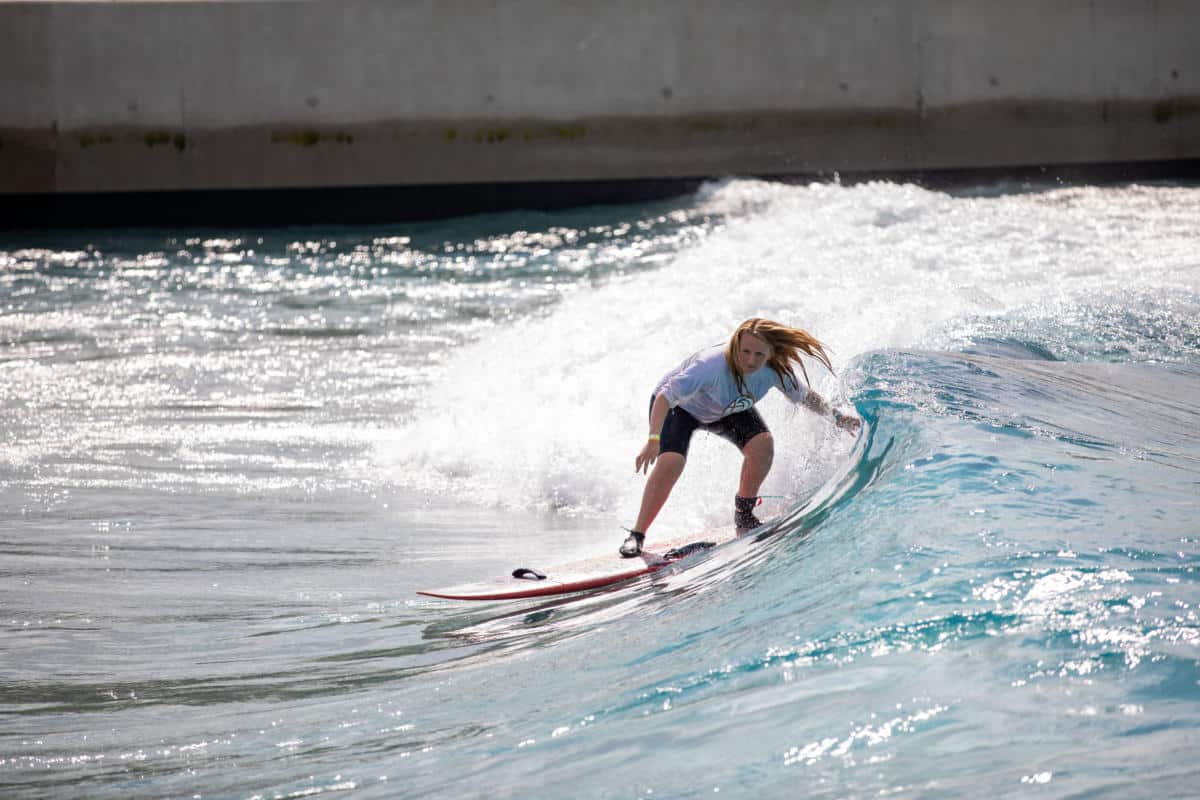 Charlotte Banfield, a regular in the Newquay surf,­ was crowned Women's Open Champion at The Dryrobe English Adaptive Surfing Open, which took place last week at The Wave in Bristol.
The competition, organised by Surfing England, was an inspirational event, with international as well as English & Welsh surfers taking part and pushing the boundaries of Adaptive Surfing.
Charlotte, 23, who trains in Newquay with Mike Young from Escape Surf School, is a previous holder of the Women's Open title, having won it in 2019. She competed in 2 divisions: The Women's Open, which included a field of standing, prone and assisted surfers. She also competed in the Standing Open, a division open to all standing surfers with disabilities.
Charlotte showed great determination and courage to take the win, with some fantastic scores on both the Left and Right at The Wave, an inland surfing destination in Bristol.
She told us "I really enjoy surfing at The Wave. The consistency of the waves means I can focus on particular manoeuvres and keep practising them. It's different in a competition environment though, as there are other pressures and lots of people watching! I was very happy with my scores, especially on the right, as in previous practise sessions I've found it quite tricky"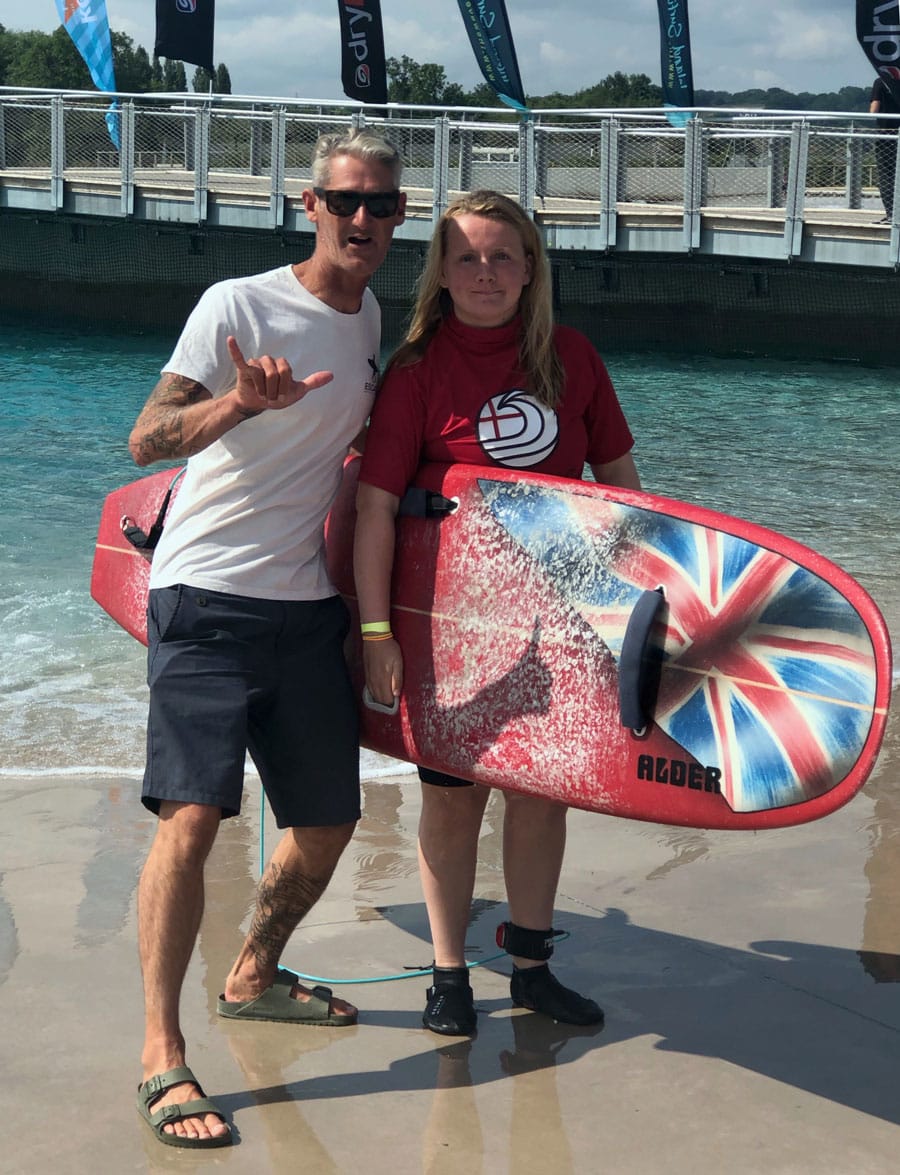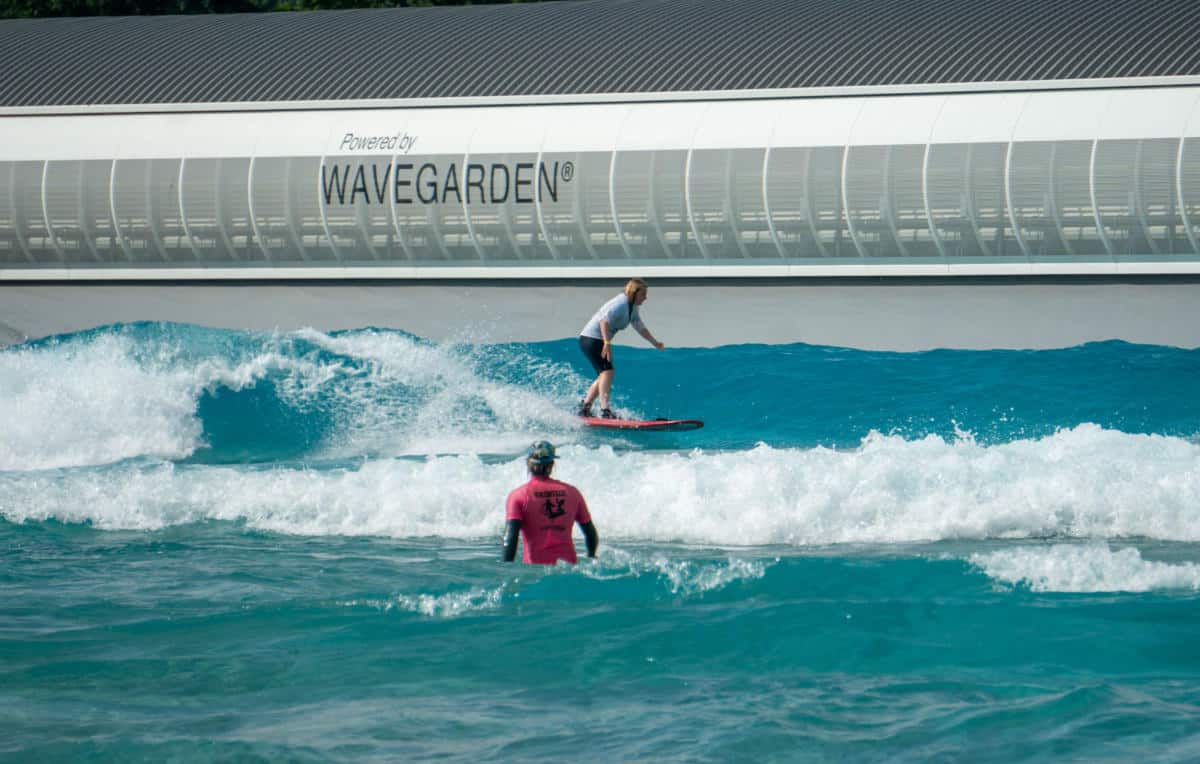 Charlotte, who suffers from Cerebral Palsy, Epilepsy, Dystonia & Autism, as well as other health conditions, is not a stranger to Adaptive & Para-Surfing Competitions, having competed on both a national and international stage since 2017. In 2020, she competed in the ISA Ampsurf World Para Surfing Championships where she brought home a Silver Medal for Team England.
She is also preparing for 2 more para surfing / adaptive surfing events to be held in 2021. First it's  the US Open Adaptive Surfing Championships, from the 9th – 12th September, then the Nissan Super Girl Surf Pro from 17th September – both held in Oceanside California.
Later in the year, although yet to be announced is the big one: the ISA World Para Surfing Championship.
We caught up with Mike Young, Charlotte's Surf Coach and Owner of Escape Surf School
"Charlotte really enjoys competing, it gives her a focus, and helps her deal with the issues she experiences due to her health conditions. Charlotte hadn't surfed a huge amount in the build up to this competition, so I was super proud of her when she nailed all her heats and dropped some big scores. We will now be working towards the events in America in later in the year"
Charlotte has come a long way in her surfing journey. 10 years ago she was afraid of the water, however after enrolling on a Surf Therapy Course, delivered by The Wave Project, she has gone from strength to strength.
Charlotte told us
"Surfing has had a hugely positive affect on my life. Prior to my experience with the Wave Project, I was withdrawn, anxious & suffered from depression. Surfing has allowed me to overcome these challenges, to gain confidence and take part in disability sporting events".
"It was really great to compete again and to catch up with all the adaptive surfers as well as the Surfing England crew and all the helpers and volunteers. We are like a big family"
"I'd like to thank my sponsors, friends and supporters, as well as Surfing England and all the sponsors of the event. It's great to see adaptive surfing getting bigger and better in the UK"
Here's the contest results
Men's Open 1 Adi Klang  2 Llywelyn 'Sponge' Williams  3 Pegleg Bennett  4 Martin Pollock 
Women's Open 1 Charlotte Banfield  2 Natasha Davies  3 Juliette Friedlander  4 Katie Richards 
Assisted 1 Mark Hagger  2 Juliette Friedlander  3 Mark Bowra  4 Natasha Davies 
Sitting/Kneeling 1 Llywelyn 'Sponge' Williams  2 Martin Pollock  3 Isaac Heaher 
Standing  1 Adi Klang  2 Nachman Yariv Balaulu  3 Pegleg Bennett  4 Louis Sutton 
Click here for full contest report.