As the Masked Ball reveals it's biggest line up ever we have a pair of tickets for you to win.
The Masked Ball has unveiled its biggest line-up to date ahead of its 'decade of decadence' tenth anniversary edition on May 20th-22nd which sees 2ManysDJs, Groove Armada andBasement Jaxx headline – but these stellar acts only provide the soundtrack for what is essentially a no-holds-barred party with pizzazz, perched on a Cornish cliff top.
Over the past ten years the group of friends behind the festival calendar's funkiest and freakiest event have let their imaginations run riot, sending revellers on immersive adventures where senses are dazzled. The Ball is a cornucopia of creativity and the multitude of individually-themed venues, together with the crowd itself, are as much the stars of the show as the headliners.
This year, 'Ballers' are cordially invited to attend a soiree at 'The Manor'- a colonial-style mansion that is home to the most demented and debauched members of the aristocracy. These landed gentry, who prove there truly is low life in high society, will be hosting three diverse days and nights of Cornish chaos – including a long table dinner, the 'Ball' itself and the most surreal village fete ever staged.
We have a pair of tickets to give away for the Masked Ball. To win the tickets just answer this question.
How many years has the Masked Ball been going?
Leave your answer in the box below. The winner will be announced via Facebook on Thursday 12th May. You need to be able to make it to the venue in Cornwall on the weekend 20-22 May to win the prize, no cash or prize alternative available. Good luck!
(By entering this competition, you agree to receive Masked Ball newsletters : )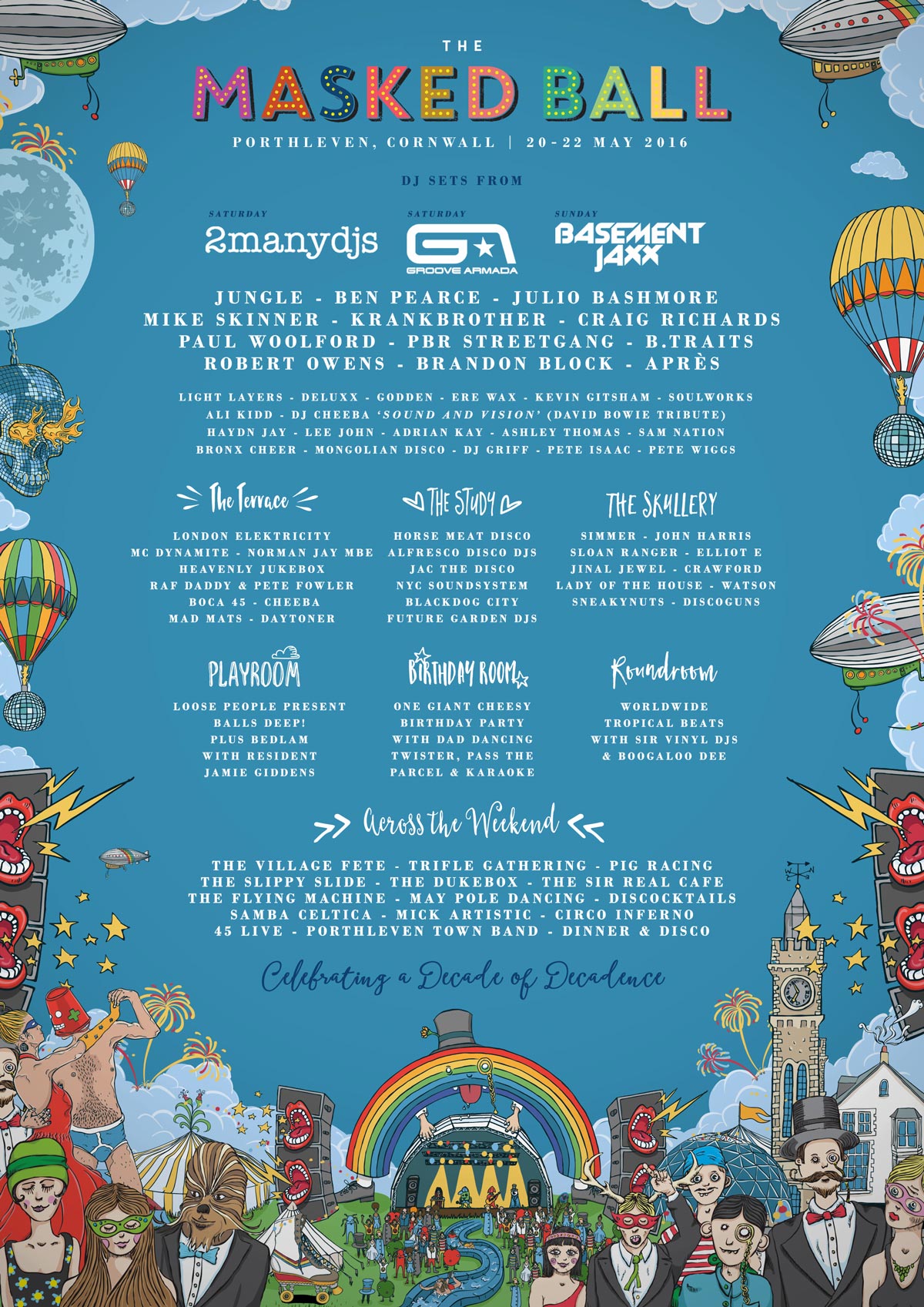 Date: 20 – 22nd May 2016
Location: Porthleven, Cornwall
Ticketing info: http://summer.maskedball.net/tickets
Line-up:
2MANYDJS, BASEMENT JAXX, GROOVE ARMADA (DJ), CRAIG RICHARDS, B.TRAITS, BEN PEARCE, JUNGLE (DJ), JULIO BASHMORE, LONDON ELEKTRICITY & MC DYNAMITE, MIKE SKINNER (DJ), NORMAN JAY MBE, PAUL WOOLFORD
ALFRESCO DISCO DJS, APRÉS, BOCA 45, BRANDON BLOCK, DAYTONER, DJ CHEEBA 'SOUND AND VISION' (A TRIBUTE TO DAVID BOWIE), DAYTONER, DJ GRIFF, FUTURE GARDEN DJS, HEAVENLY JUKEBOX, HORSE MEAT DISCO, JAC THE DISCO, KRANKBROTHER, MAD MATS, THE MONGOLIAN DISCO, PBR STREETGANG, PETE FOWLER, PETE ISAAC, PETE WIGGS, RAF DADDY, ROBERT OWENS
Tickets for 2016 are available now through See Tickets. Masked Ball operates a tiered ticketing system with price bands for tickets changing over time – the sooner you buy, the cheaper it is.
Entry is strictly 18+ only.
For more information and tickets visit www.maskedball.net and follow festival news on Facebook@TheMaskedBall