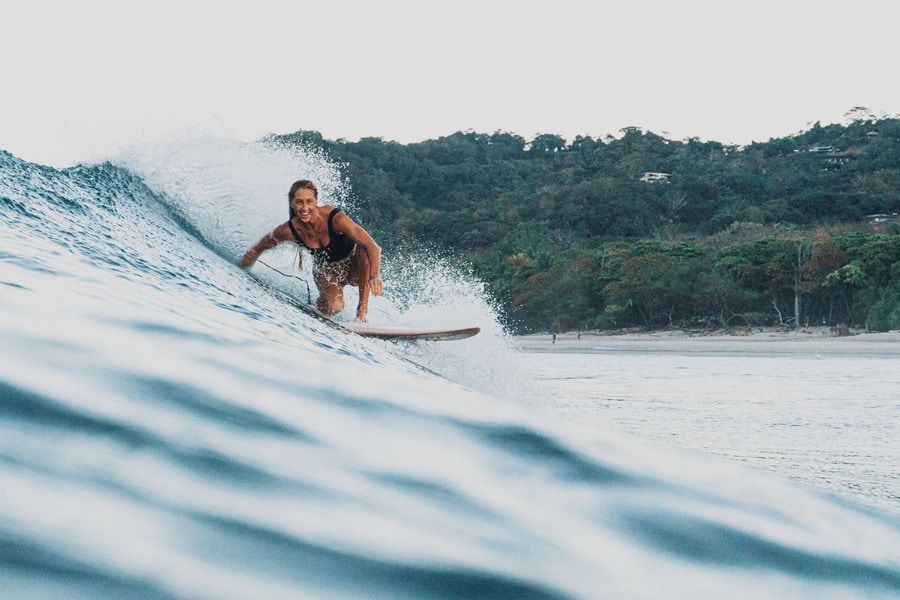 Photo @lilahassonphotography
Tall, toned, tanned with sun-kissed blonde hair and a huge smile, Evie has worked hard to achieve her success as a lifestyle and travel photographer. And to coincide with this busy lady becoming the new Reef UK Ambassador there's a treat in store for SurfGirl readers, so read on!

Evie, you're a talented surfer, photographer, stylist, traveller – y

ou've acheived so much, what inspires you? 
I've always lived by the sea and surfing has played a huge role in my life since a very young age, so a lot of my inspiration and energy comes from the ocean and the surf.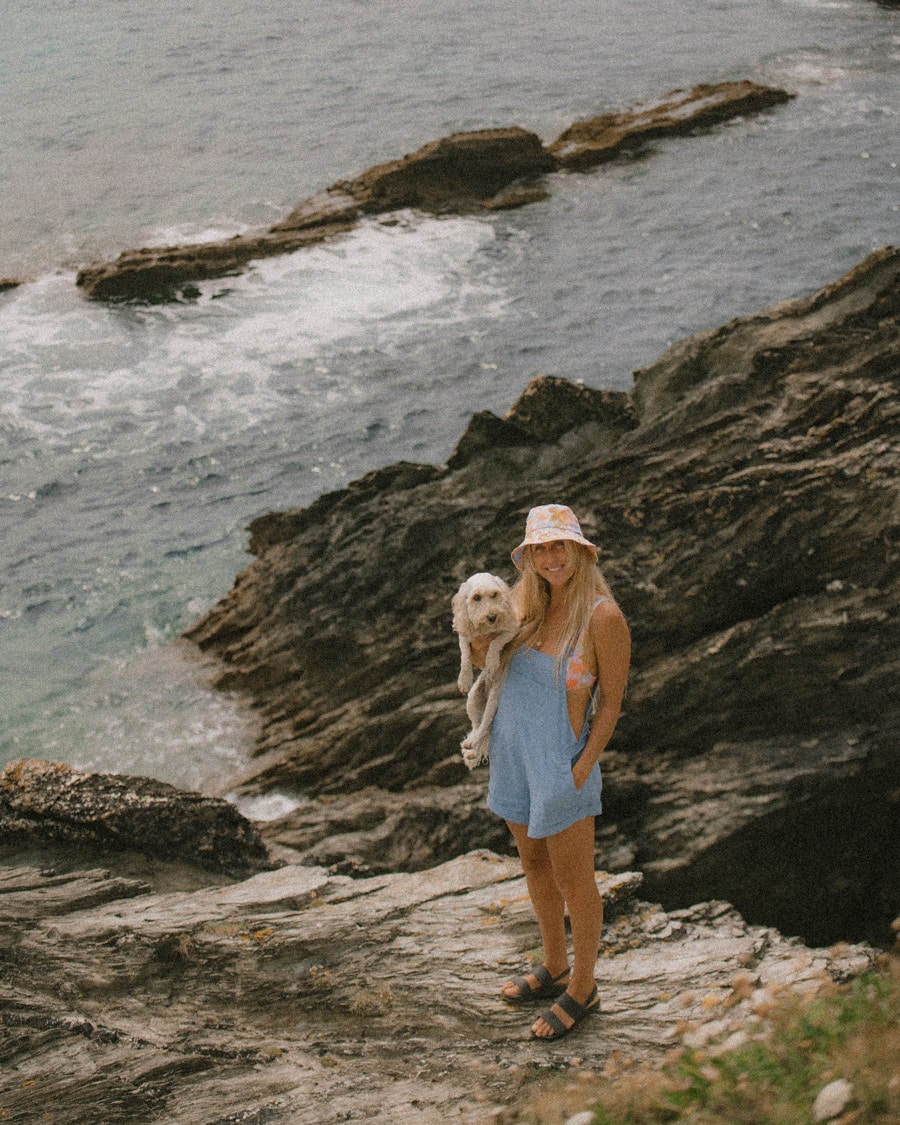 What's a typical day for you? 
I would say my day to day are pretty varied to be honest, and I really like that about my lifestyle and work. Each shoot is very different depending on the client/brand- one day I'm in Cornwall and the next day Ibiza. The weather and light play a huge role in photography, especially with how I shoot, so each week before it begins we look closely at the forecast and make plans from there. It can change in a heartbeat! If I'm having time off at home, I'll be checking the swell and winds and getting ready for a day of surf with my friends. You can't beat chasing waves with your mates. My morning routine consists of strong black coffee and a walk up the headland with my doggie Skylar. If there's no surf I spend my time editing photos and playing with new techniques which I adore, I'll also look to catch up on emails and reply to messages which is definitely my worst/slowest trait ha,ha!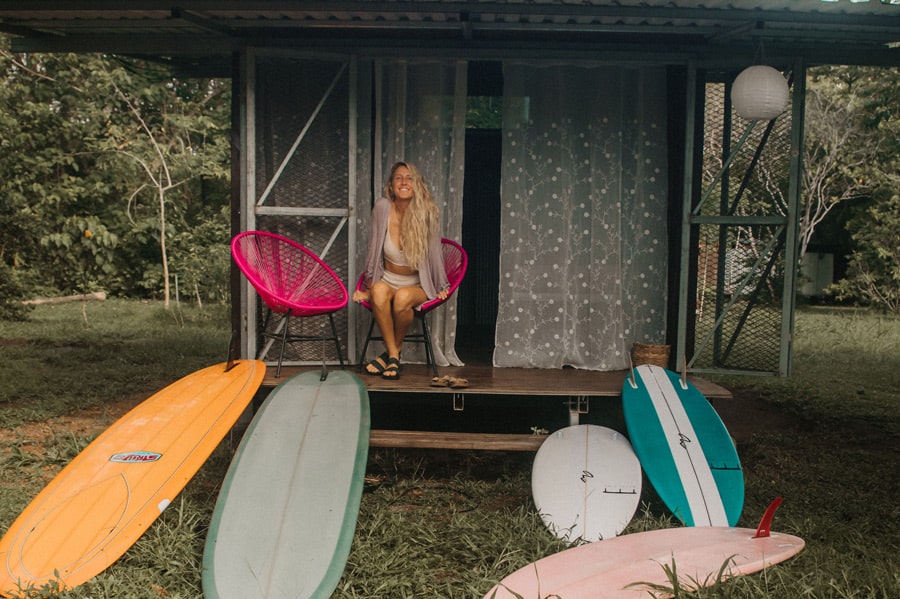 Your photography is so in-demand right now, how did you get so good at it and find your style? 
I'm self taught in photography. With the likes of instagram, youtube and pinterest there's so many ways to find inspiration now and watch videos to learn. There's a video for everything. I guess when you find something you love and are passionate about, learning never seems boring or dull. In my free time I'm shooting and learning because I love it so much, and I think that's why turning your passion into a career can be so successful – there's so much love!
What's the one thing you wish you knew when you started taking photos?
To be honest, I never really thought it could have been a career for me, if I did know that I would have started a lot earlier!
What do you love about surfing and where's your fave waves?
Surfing is everything ha,ha! It makes us feel so good. It's a quiet place where we can be alone with our thoughts, it's a playground we can enjoy with our friends, it's a place that makes us feel excited and energised, or a place that makes us feel nervous and pushes our boundaries. It's a never ending learning curve, you can never complete it, and for me it just seems to get better and better. I like surfing all waves really, there have been stand out moments at home when surfing with friends because the stoke is so high, and also some waves in Mexico that I will never forget. It's all about the conditions and the company on the day 🙂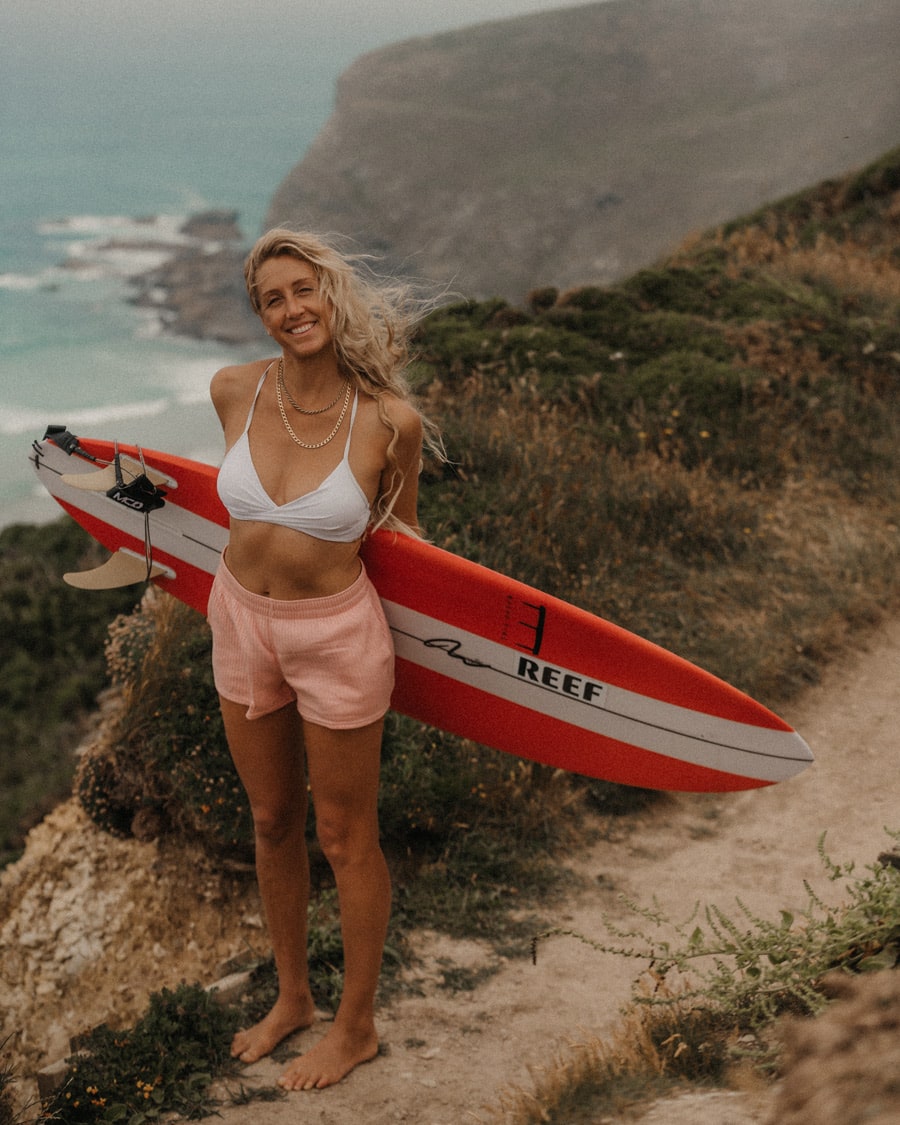 You've recently come back from a trip to Costa Rica – a place you've visited many times – what's so special about it for you? 
Costa Rica holds a special place in my heart for sure. I got a one way ticket over there when I finished school at 17 to pursue the waves and a lifestyle that I wasn't able to fulfill here in the UK. It gave me everything I wanted and more, and I spent seven years living there. It definitely sculpted a lot of who I am today, in my beliefs, my life choices and of course my surfing.
What are your beach day bag essentials and what do you pack on a surf trip other than your board and wetsuit? 
On a day trip I'll grab a couple of boards, wetsuit, wax, bikini, water, my Rae umbrella which I can tie Skylar up under and give her shade while I'm surfing, doggie bowl, sunscreen, snacks- all the snacks- and a big beach rug.
If I'm travelling, I'll mainly pack all the above but more bikinis because I'll definitely be travelling somewhere hot! Plus a couple of oversized tees and jean shorts, my Reef sandals of course and my fully loaded camera bag.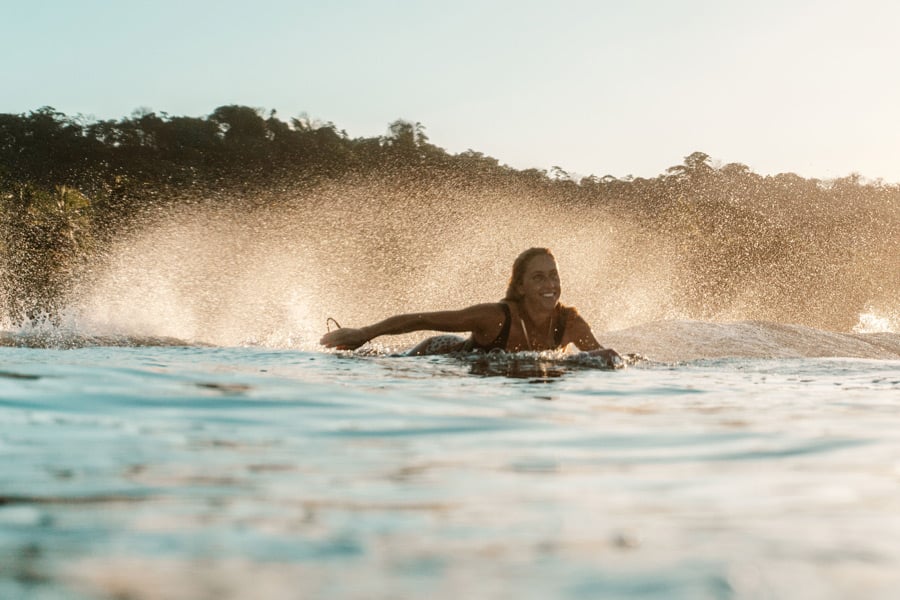 Photo @lilahassonphotography
How stoked are you to join the Reef team and what does that mean to you? 
Insanely stoked! I chased the professional surf career as soon as I finished school, it had always been my dream since I was a kid. I looked up to Reef as one of the iconic brands growing up. It's a dream come true to be joining the team now 15 years later as a creative and surfer within an industry that I am so passionate about. I'm really excited to see what this year is going to bring and look forward to working with such a great brand.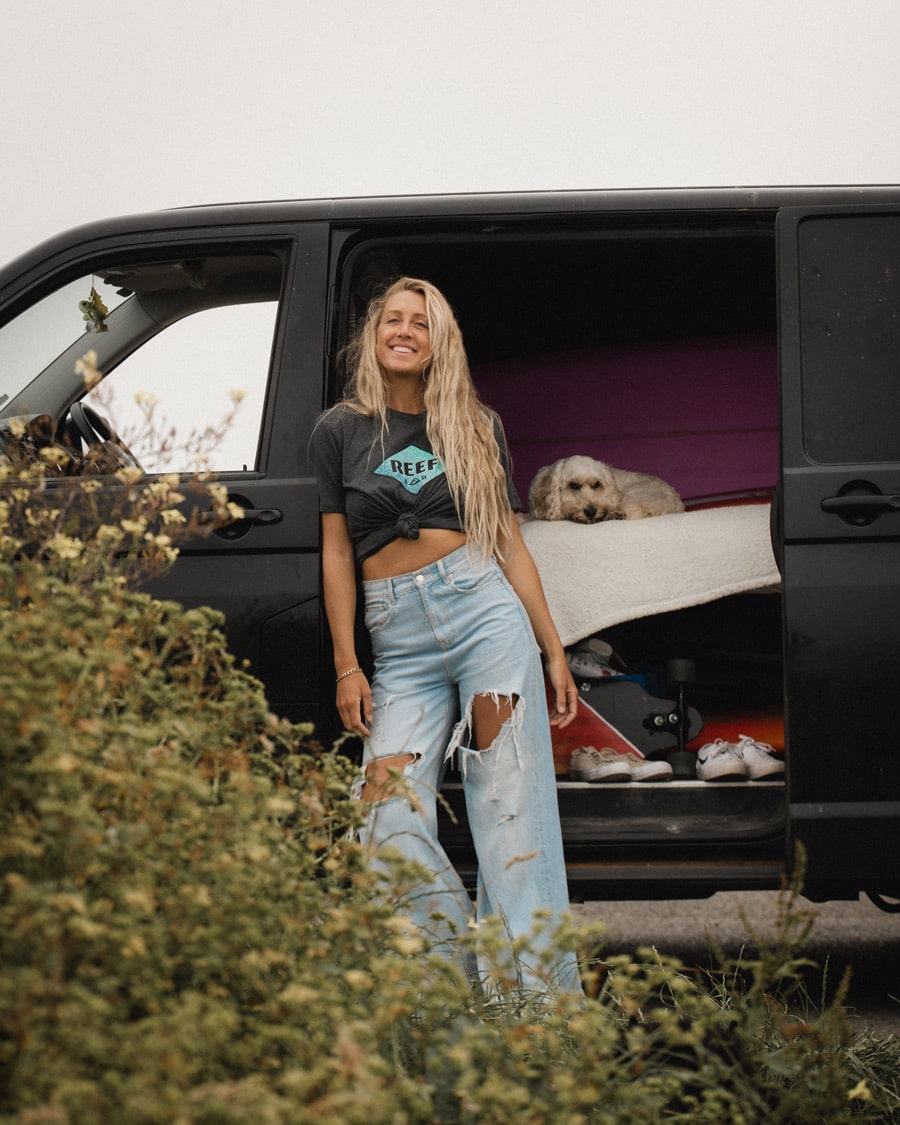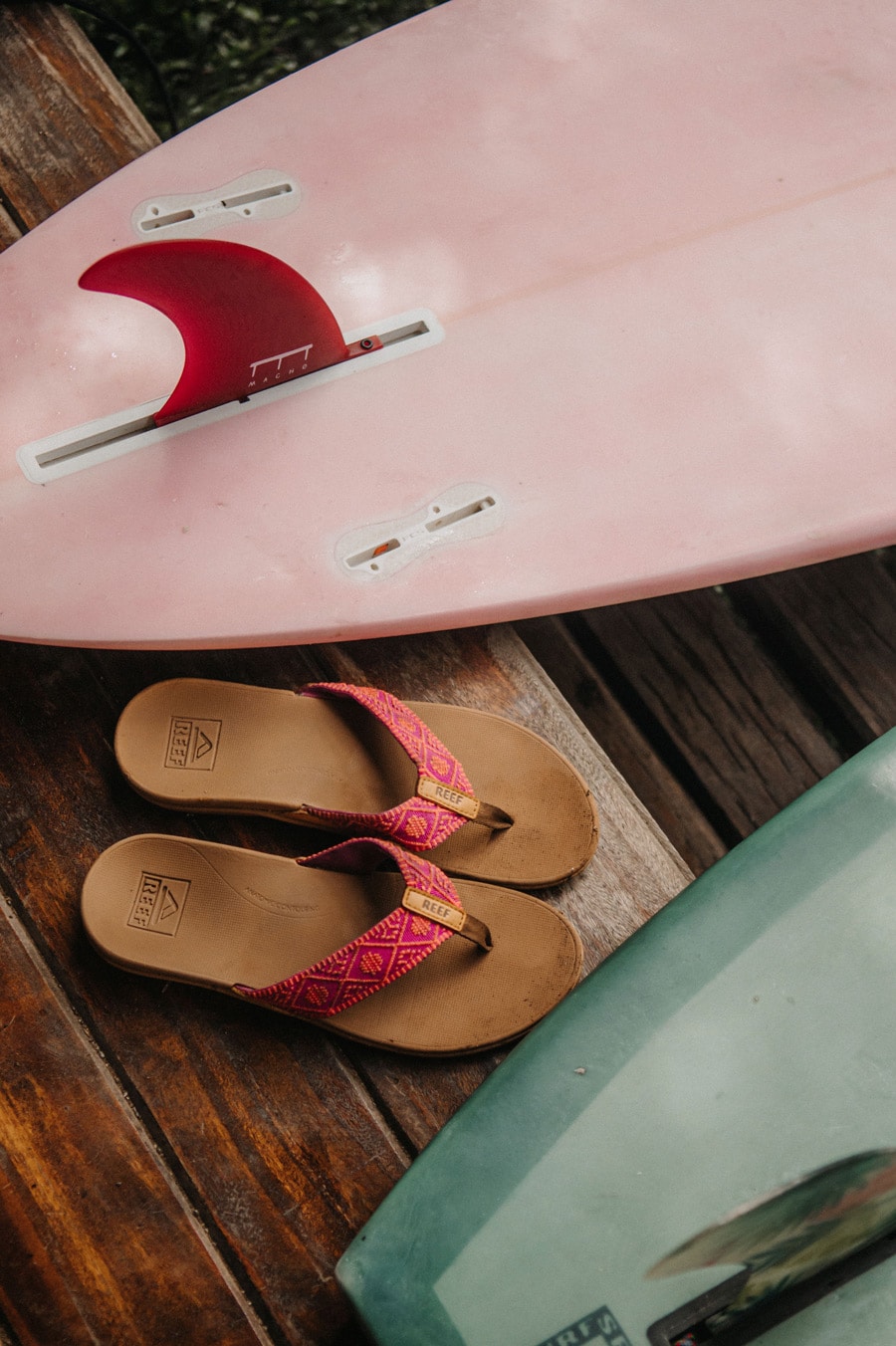 Lastly

,

i

f you could be a super power what would you be? 
I think I would like to be able to hold my breath and swim super fast under the sea. I could swim all the way to secret islands and surf the best waves and I'd never be scared of a wipeout because I can breathe underwater. I'd just roll around in the wipeout zones and swim with the dolphins – just imagine how fun!
Follow Reef @reef.uk and Evie @evie.johnstonestylist