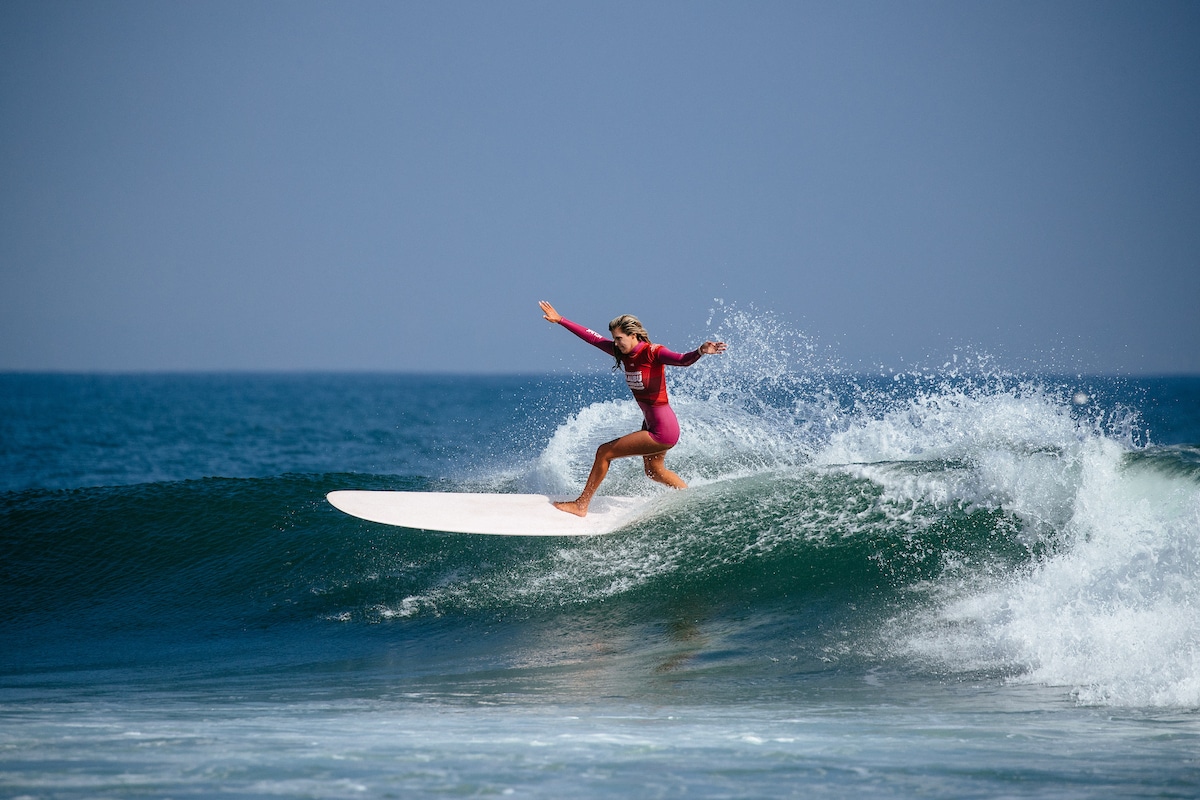 Soleil Errico / Aaron Hughes
Soleil Errico won the 2022 Longboard World Title at the Cuervo Classic Malibu Longboard Championship Presented by O'Neill, the third and final stop on the 2022 World Surf League Longboard Tour, in world-class, three-to-four foot conditions at First Point in Malibu, Calif. Errico claimed her second World Title at her home break.

Malibu's Soleil Errico Claims Second World Title at Home
Today, Errico got to celebrate her second World Title alongside family and friends at the wave that helped shape her as a surfer. She got off to a quick start in her Finals matchup against an in-form Sophia Culhane (HAW), dropping a 6.83 (out of possible 10) in the opening minutes. A solid set offered a huge opportunity for both competitors with Culhane earning a 5.67 and Errico an excellent 8.67. A brilliant exchange between the two world-class competitors then saw Errico's footwork and transitions lead to an 8.10 as Culhane's 7.33 kept her out of a combination situation, but Errico's finishing 8.37 secured her win and the World Title.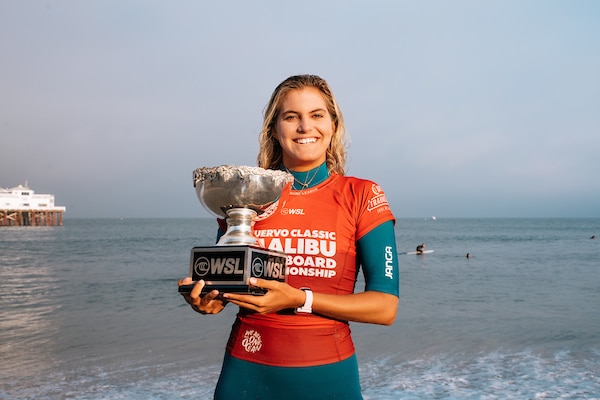 "I've been visualizing this for the last three months," said Errico. "Winning on my home turf couldn't be any better and I'm just so happy that all the dedication and sacrifice I've put into this paid off. I'm so thankful for the friends and family I have, my dad, my mom, CJ Nelson. I'm just so thankful for everyone who has supported me through the last couple days, and I'm just so happy."

Errico's immaculate Finals Day run began with arguably the heat of the 2022 Longboard Tour season, with Errico taking on reigning event winner Alice Lemoigne (FRA). Both surfers turned in excellent 16-point-plus heat totals (out of possible 20), and traded off as the heat leader multiple times. Needing a 7.70 (out of a possible 10) in the final minutes, Errico was able to take the win with a 7.80, landing herself a spot in the Semifinals.
Errico's momentum was unstoppable, carrying it into a critical Semifinal heat against event dark-horse Mason Schremmer (USA), where she accrued yet another excellent heat total of 17.57 before the decisive Final against Culhane.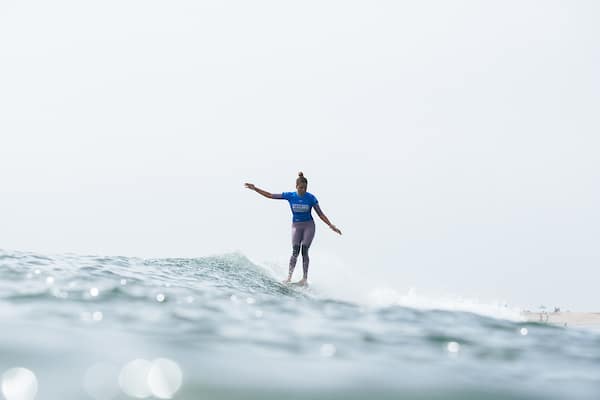 Alice Lemoigne / Aaron Hughes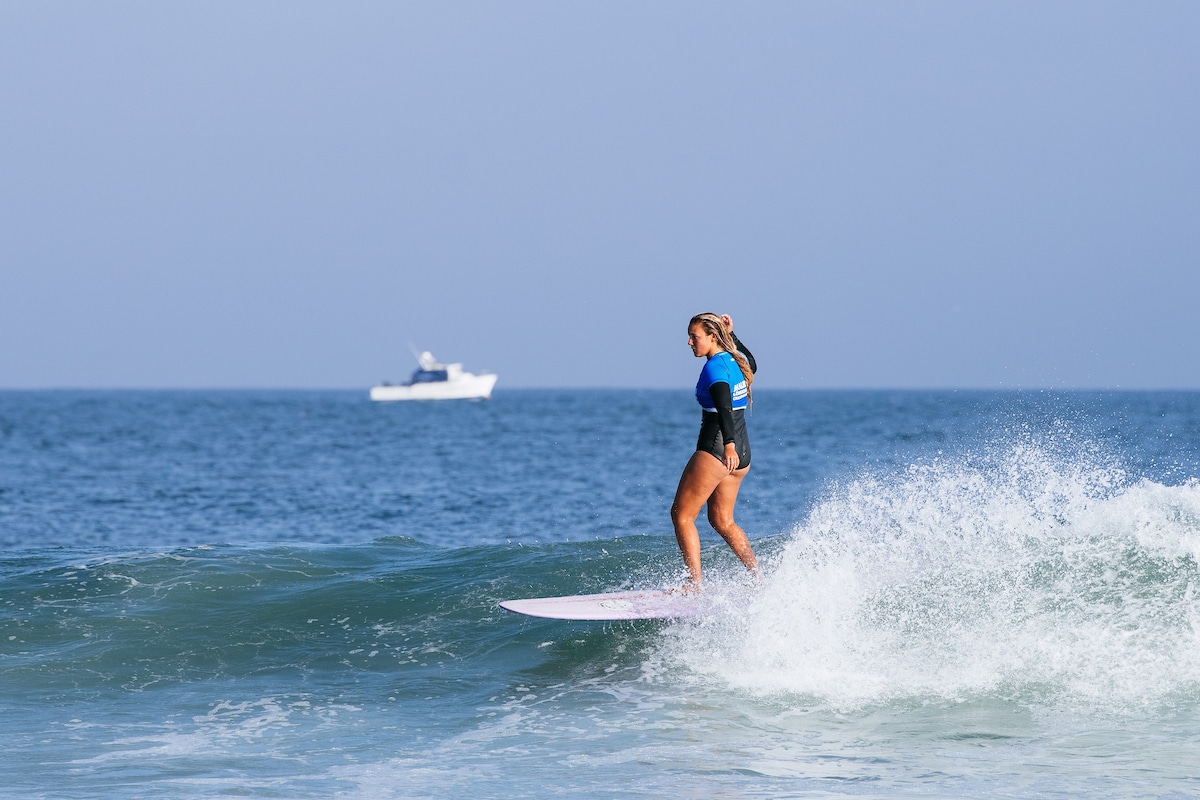 Sophia Culhane / Beatriz Ryder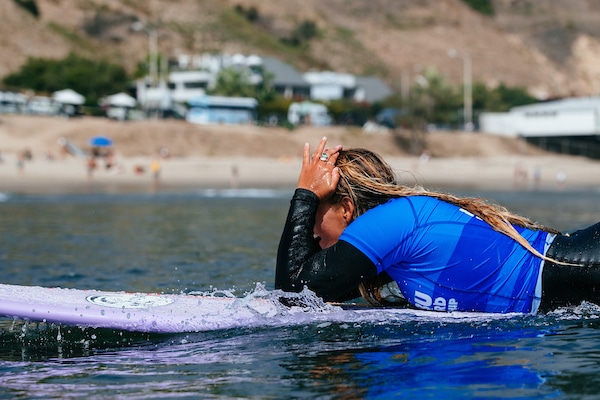 Sophia Culhane (HAW) in disbelief after taking the win over Honolua Blomfield (HAW) in Heat 3 of the Quarterfinals at the Cuervo Classic Malibu Longboard Championship.  WSL / Hughes
Sophia Culhane Leads Day of Upsets For a Dramatic Conclusion to 2022 WSL Longboard Tour Season
A history-making run for World Title longshot Culhane came to fruition after she had two incredible performances, beginning with a Quarterfinal dual against three-time WSL Champion Honolua Blomfield (HAW). Culhane left Blomfield in need of an excellent 8.10 as time expired, eliminating the former rankings leader. She then went on to overtake another World Title threat, Kelis Kaleopa'a (HAW), in the Semifinals with an awe-inspiring display of style and flow.

Cuervo Classic Malibu Longboard Championship Women's Finals Results:
1 – Soleil Errico (USA) 17.04
2 – Sophia Culhane (HAW) 13.00
Cuervo Classic Malibu Longboard Championship Women's Semifinals Results:
HEAT 1: Soleil Errico (USA) 17.57 DEF. Mason Schremmer (USA) 12.43
HEAT 2: Sophia Culhane (HAW) 14.00 DEF. Kelis Kaleopaa (HAW) 13.46
Cuervo Classic Malibu Longboard Championship Women's Quarterfinals Results:
Heat 1: Soleil Errico (USA) 16.53 DEF. Alice Lemoigne (FRA) 16.43
Heat 2: Mason Schremmer (USA) 16.00 DEF. Chloe Calmon (BRA) 12.60
Heat 3: Sophia Culhane (HAW) 15.27 DEF. Honolua Blomfield (HAW) 13.23
Heat 4: Kelis Kaleopaa (HAW) 14.07 DEF. Rachael Tilly (USA) 12.57