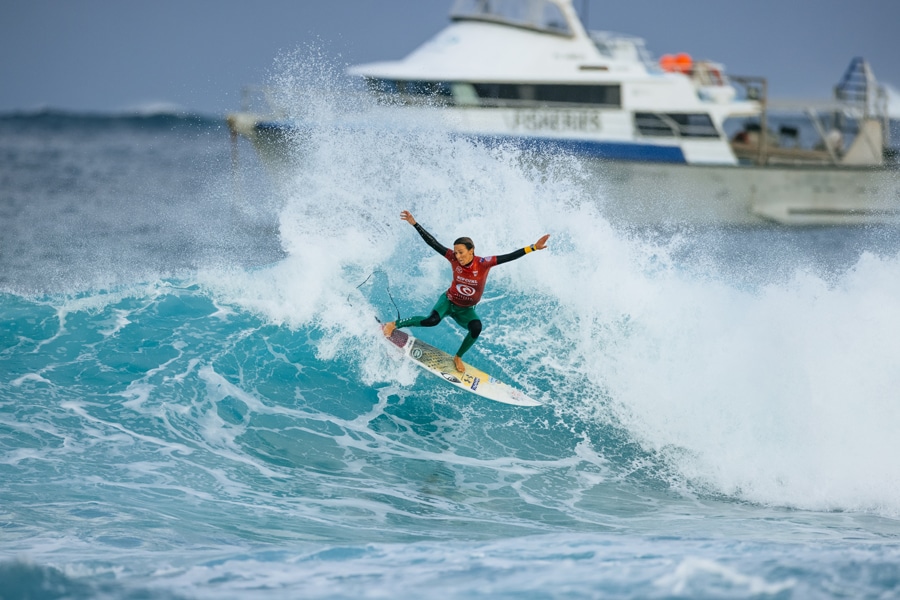 Sally Fitzgibbons (AUS)has won the Rip Curl Rottnest Search presented by Corona, the fifth stop on the 2021 World Surf League (WSL) Championship Tour (CT) and the final event of the Australian leg. Strickland Bay turned on once again with four-to-six foot waves on offer for what was an epic final day of not only this event but also the four-event Australian leg.
Fitzgibbons Earns 12th CT Victory, Climbs to World No. 2 on Rankings
Sally Fitzgibbons (AUS) earned her 12th CT victory today after defeating Johanne Defay (FRA) in the Final. The win now puts Fitzgibbons up to World No. 2 on the rankings, behind Carissa Moore (HAW). En route to the Final, Fitzgibbons eliminated two-time WSL Champion Tyler Wright (AUS) in the Semifinals.
"It feels so good to be back in the winner's circle," Fitzgibbons said. "I set a goal to be in the Final 5 at the end of the year and I've been outside of it for a few events, so it's amazing to be rewarded for the work. If you give yourself every opportunity, every now and then the planets align and you can come out with the win."
Fitzgibbons is a 12-year CT veteran who has come in second in the World Title race three consecutive times from 2010 to 2012. Now in 2021, this victory is critical to the Australian's World Title hopes as this season will host the new one-day format to decide the World Champions with the Rip Curl WSL Finals. Only the Final 5 surfers on the leaderboard will qualify for the Rip Curl WSL Finals, and now at World No. 2, Fitzgibbons is well in the race to take her maiden World Title at Lower Trestles in September.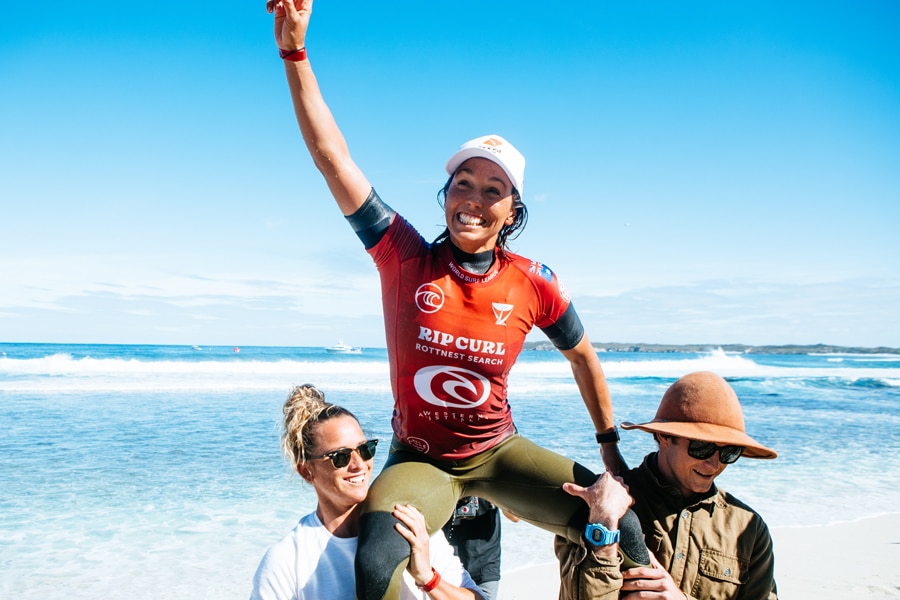 "I grew up watching the Rip Curl Search events," continued Fitzgibbons. "So many of them were in lefts, so it's cool to have one back and it be in a left. I don't get too many opportunities to use my strength, which is my backhand, and we may never compete back here on Rottnest, so this one really feels like a milestone. It just feels so good, I'm so stoked."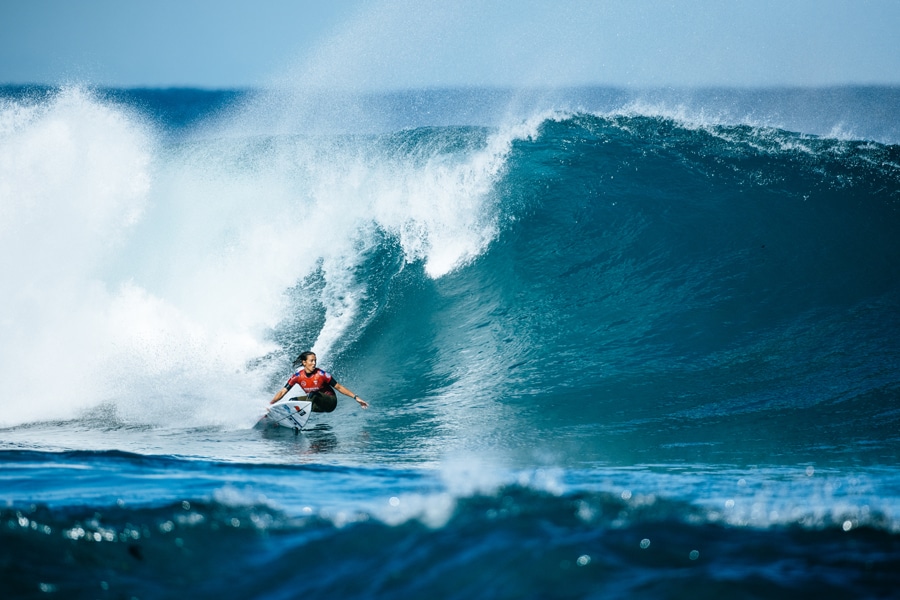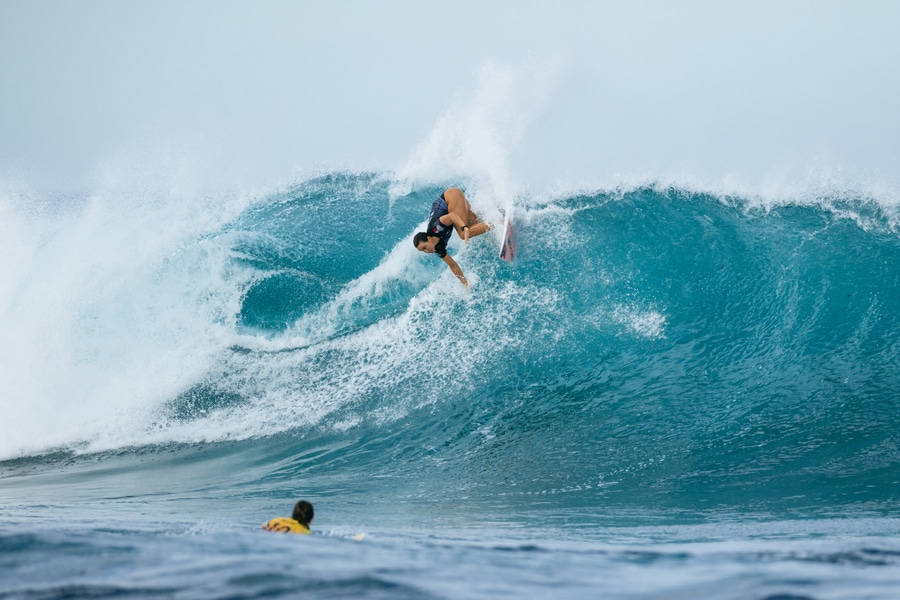 Johanne Defay Jumps Into Final 5
Fitzgibbons and Defay are renowned for their confidence and finesse in big, lefthand reef breaks, so it was no surprise to see them meet in the Final at Strickland Bay. In the Final, Fitzgibbons looked unstoppable, finding the best waves of the 40-minute heat and surfing them flawlessly to post a winning heat total of 15.10 (out of a possible 20).
"It would have been good to go one step further, but this is so good to make the Final," Defay said. "I'm already really happy with my Australian leg, so it's so good to finish like that. I'm going home now to rest up and get some rehabilitation for my knee and make sure I'm ready for the Surf Ranch and for the rest of the season."
Although Defay fell short in the Final, she didn't give up until the final minutes, posting a 7.23 and a 4.00 to almost recapture the lead in the dying minutes of the heat. This Final marked a breakthrough for Defay after three straight Quarterfinal finishes on the Australian leg. Defay now leaves Australia sitting in fifth on the rankings.
"It's not an easy lineup, but it was so good to have a good left on Tour this season," continued Defay. "Something that I have learned to appreciate whilst being on Tour is discovering new places, and coming to Rottnest was like that for everyone. It was also a level playing field, which is rare for us on Tour and made it such an interesting event. I've had a strong start to the year, so I'm feeling like if I keep the confidence and momentum I have now, I can have my best finish to the year and be inside the top five."
Rip Curl Rottnest Search Women's Final Results:
1 – Sally Fitzgibbons (AUS) 15.24
2 – Johanne Defay (FRA) 11.23
Rip Curl Rottnest Search Women's Semifinal Results:
HEAT 1: Sally Fitzgibbons (AUS) 15.43 DEF. Tyler Wright (AUS) 7.64
HEAT 2: Johanne Defay (FRA) 13.50 DEF. Carissa Moore (HAW) 12.83
WSL Women's Championship Tour Final 5:
1 – Carissa Moore (HAW) 36,055 pts
2 – Sally Fitzgibbons (AUS) 28,185 pts
3 – Tatiana Weston-Webb (BRA) 27,540 pts
4 – Tyler Wright (AUS) 26,050 pts
5 – Stephanie Gilmore (AUS) 24,645 pts
5 – Johanne Defay (FRA) 24,645 pts
 
Next Stop: Jeep Surf Ranch Pro
The next stop on the road to the Rip Curl WSL Finals will be the Jeep Surf Ranch Pro, which will run from June 18 – 20, 2021. The event will be broadcast LIVE on WorldSurfLeague.com and the free WSL app. Also, check local listings for coverage from the WSL's broadcast partners.