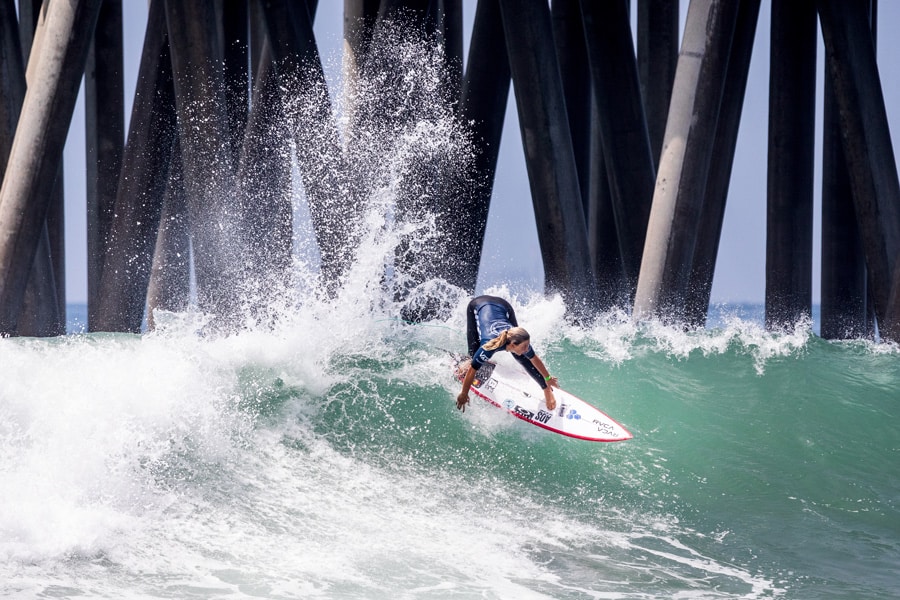 Erickson Claims Her Second Vans US Open Title, First-Ever Women's QS 10,000
The Vans US Open of Surfing presented by Swatch, a World Surf League (WSL) Men's and Women's Qualifying Series (QS) 10,000 event, crowned Sage Erickson (USA in solid, three-to-five foot (1 – 1.7 metre) swell. The 2019 women's event marked a historic milestone for the QS with the first-ever QS 10,000 and equal prize money at the Vans US Open. Erickson claimed the all-California Final over defending event winner Courtney Conlogue (USA) in incredible fashion with one of the day's best performances — a 15.43 (out of a possible 20) heat total. The Ojai native's backhand went to work while sitting in second place and smashed an excellent 8.17 (out of a possible 10) to push herself in the lead and leave Conlogue in need of an 8.90 for the remainder of the Final.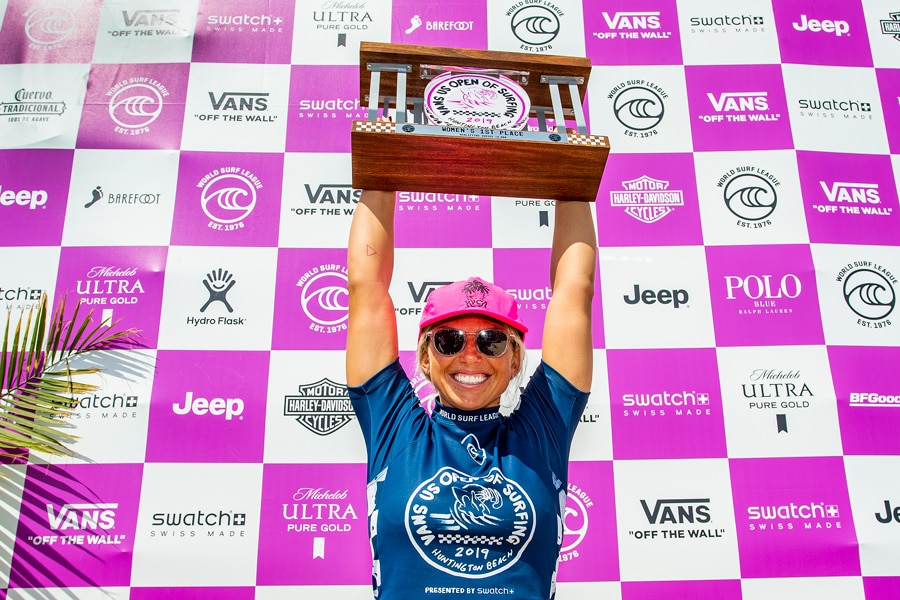 "I shed a lot of tears when I came in from the water and I just want to say this is dedicated to my grandma who passed two weeks ago," Erickson said. "It's crazy how it takes someone to leave for everything they're about to really set in. A lot of the lessons and things she believed in me, I have to speak over myself here for a second for her and it's just about the people you value in your life. Whether it's your friends or your family or even the people you can make a mark on and encourage."
Erickson had to deal with an all-star cast to get to the Final that truly showed the importance of this event with the competitors involved — defeating CT veteran Malia Manuel (HAW) and former Vans US Open winner Tatiana Weston-Webb (BRA) along the way.
"To be home in California, have a heat against Courtney and to be 10,000 — it's more than just points," Erickson added. "It's equal pay, it's a prime, it's a lot for us women and a big shout out to Jessi (Miley-Dyer) for believing in our sport and to Sophie (Goldschmidt) leading the WSL as a strong woman."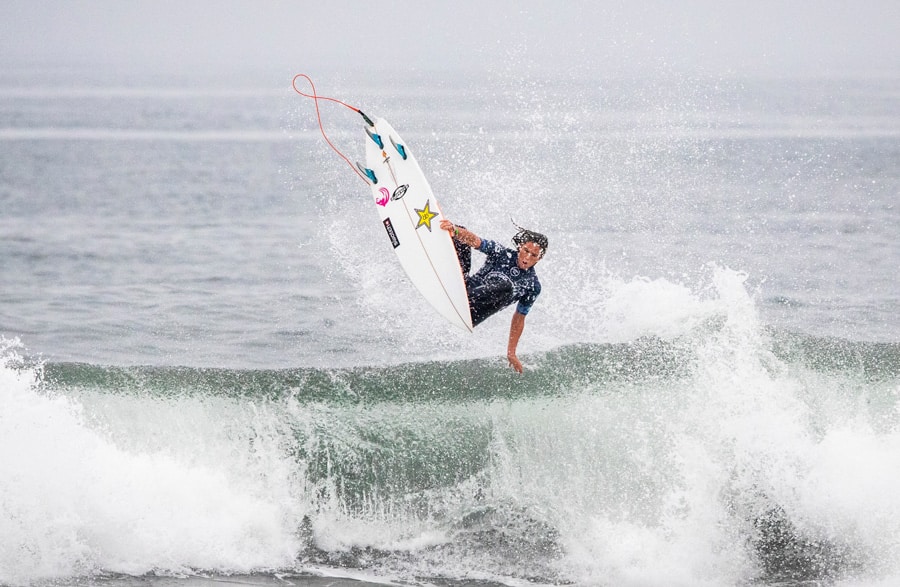 Conlogue's last-minute air-reverse stunned the hometown crowd and brought them to their feet.
The women's all-American Final had the crowd roaring for hometown hero Conlogue with every turn as she hoped to claim an unprecedented back-to-back title. But, it wasn't meant to be with Erickson in dominating form throughout finals day that forced Conlogue into attempting hail mary airs toward the end of the heat. Though a runner-up was disappointing for the Santa Ana, California, native, her explosive air-reverse in Quarterfinal Heat 1 against phenom Caroline Marks (USA) started the day off in amazing fashion that carried through to the end and the recent Huntington Beach Surfing Walk of Fame inductee can carry this momentum forward.
"This week has been incredible and anytime I have the chance to perform in front of my hometown it's just very special," Conlogue said. "I'm really happy for Sage, it was really well-deserved and a fun Final. Thanks so much to everyone who came down to cheer us on."
Vans US Open of Surfing pres. by Swatch Women's Final Results:
1 – Sage Erickson (USA) 15.40 10,000 points
2 – Courtney Conlogue (USA) 12.93 8,000 points
Vans US Open of Surfing pres. by Swatch Women's Semifinal Results:
SF 1: Courtney Conlogue (USA) 12.86 DEF. Brisa Hennessy (CRI) 11.36
SF 2: Sage Erickson (USA) 16.33 DEF. Tatiana Weston-Webb (BRA) 12.83
Vans US Open of Surfing pres. by Swatch Women's Quarterfinal Results:
QF 1: Courtney Conlogue (USA) 14.43 DEF. Caroline Marks (USA) 14.10
QF 2: Brisa Hennessy (CRI) 12.86 DEF. Sally Fitzgibbons (AUS) 8.93
QF 3: Tatiana Weston-Webb (BRA) 14.16 DEF. Bronte Macaulay (AUS) 11.73
QF 4: Sage Erickson (USA) 11.36 DEF. Malia Manuel (HAW) 8.83