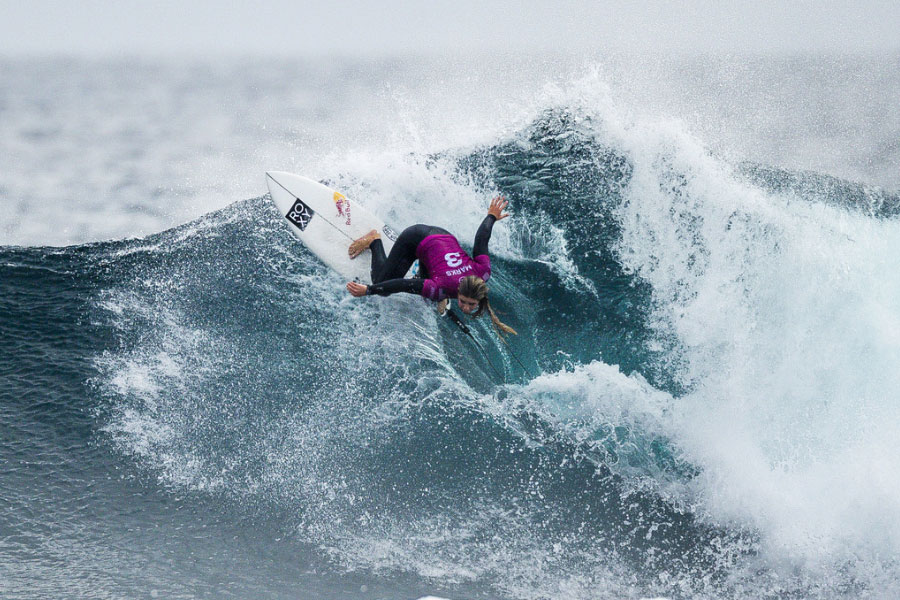 The Margaret River Pro, Stop No. 4 on the 2019 World Surf League (WSL) Championship Tour (CT), completed the women's and men's Elimination Rounds and the first five heats of the Round of 16 in three-to-five foot (0.9 – 1.5 metre) waves at Margaret River Main Break. Today's first eliminations said goodbye to 11 surfers, including locals Mia McCarthy (AUS) and international competitors Johanne Defay (FRA).
World No. 2 Caroline Marks (USA) showed that she means business here in Margaret River with the highest two-wave total of the entire event so far, an excellent 17.60 (out of a possible 20). The 17-year-old utilized her powerful surfing against the Main Break's heavy walls, attacking the lip on her backhand to progress into the Quarterfinals where she will take on 2017 Margaret River Pro winner Sally Fitzgibbons (AUS).
"The conditions during our heat were so fun," Marks said. "Having a jersey on just gives me so much confidence. I'm having the time of my life. I gave that heat my all, but I still have more left in the tank. Hopefully, the waves stay this good. I've been paddling out every day no matter what the conditions. I just want to spend as much time out there as possible. I'm still figuring this place out during my heats, but it has been working so hopefully it keeps working."
Fitzgibbons eliminated Johanne Defay (FRA), winner of the 2019 Uluwatu CT, in the Heat 6 of the R/16. Fitzgibbons earned a 6.83 (out of a possible 10) and a 7.27 to leave Defay searching for excellent rides to boost her 9.20 two-wave total (out of a possible 20). Defay now leaves in Equal 9th place for the third time in 2019.
"It's awesome to walk up those stairs with all of the names of the past winners," Fitzgibbons said. "It's very humbling to see my name there amongst all of those legends of the sport. To come back here reminds me a lot of home on the South Coast of NSW, so it's very homely and a lot of warm energy. I've got a good team here with the Micro crew and Surfing Australia. I'm surrounded by a lot of love on the road, which is great."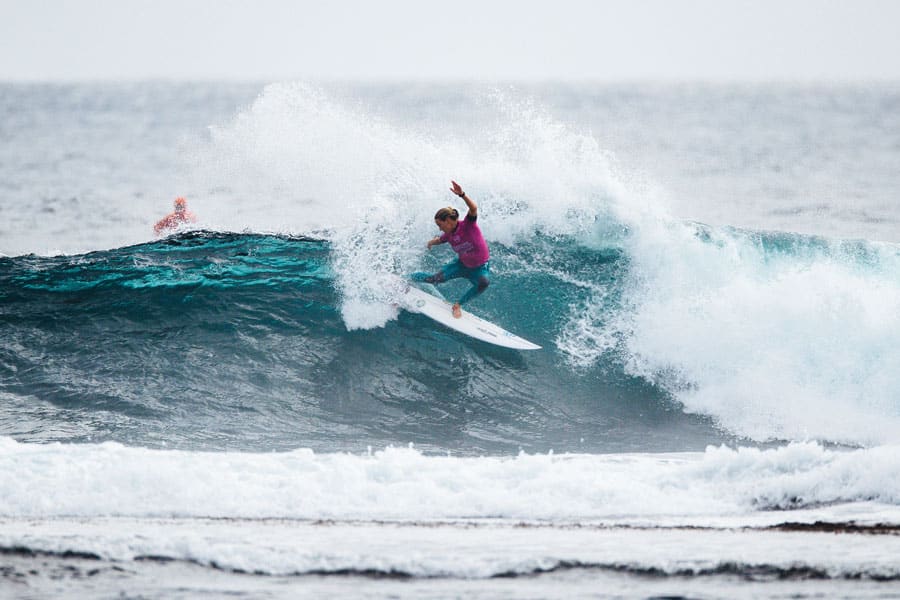 Courtney Conlogue (USA), current World No. 3, dispatched Silvana Lima (BRA), current World No. 15, in the opening R/16 heat. Lima got to an early lead, but Conlogue closed the door on the Brasilian with an increase to her scoreline (an 11.44 heat total to Lima's 6.33 heat total) in final five minutes of the matchup. After a sidelining injury last season, Lima returned to the surfing's elite stage earlier this month at the Corona Bali Protected and earned a 5th place result. Unfortunately, Lima was unable to take down the former Margaret River Pro winner and exits in 9th place.
Wildcard McCarthy and Rookie Callaghan Exit in Equal 17th. Trials winner and Margaret River local Mia McCarthy (AUS) put up a valiant fight against two seasoned CT veterans, Defay and Lima, in the opening elimination heat of the day. McCarthy showcased her sharp form but faced elimination as their experience prevailed. After a disappointing opening round heat, Bronte Macaulay (AUS) came swinging back with a 7.33 to start her redemption run. Macaulay held her lead through the majority of the heat until fellow Australian Nikki Van Dijk scored a 7.00, in addition to a mid-range back-up score, to earn first and deal rookie Macy Callaghan (AUS) back-to-back last-place finishes after the Corona Bali Protected.