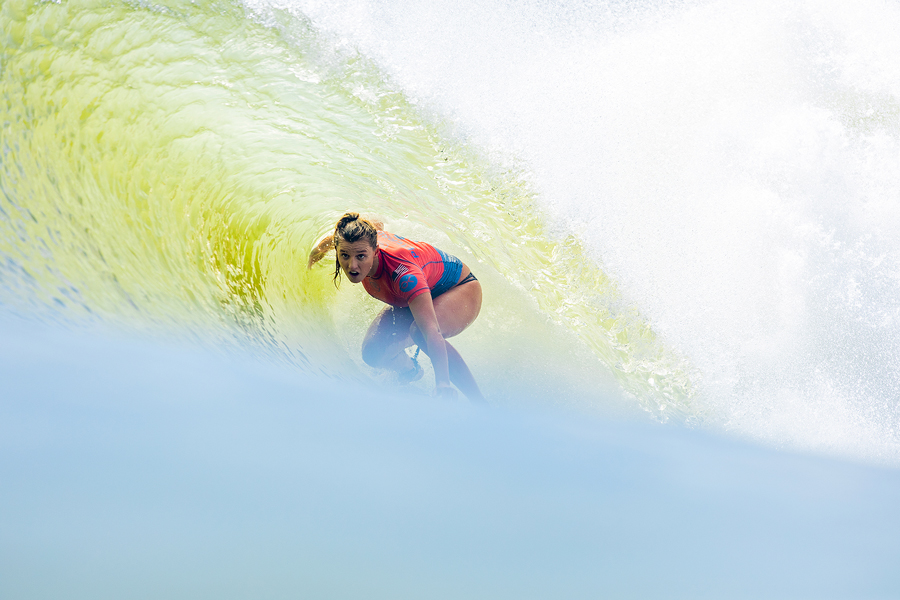 Lakey Peterson (USA) won the World Surf League (WSL) Freshwater Pro presented by Outerknown today. Peterson bested their respective fields at the Surf Ranch in Lemoore, California for the seventh stop on the women's Championship Tour (CT).
Peterson's win put the 2019 World Title race in full swing with Peterson vaulting up to No. 2 on the World Rankings. The 2019 CT will not only decide the prestigious World Title but will also determine who from the world's elite will qualify to represent their country at surfing's Olympic debut in Tokyo next year.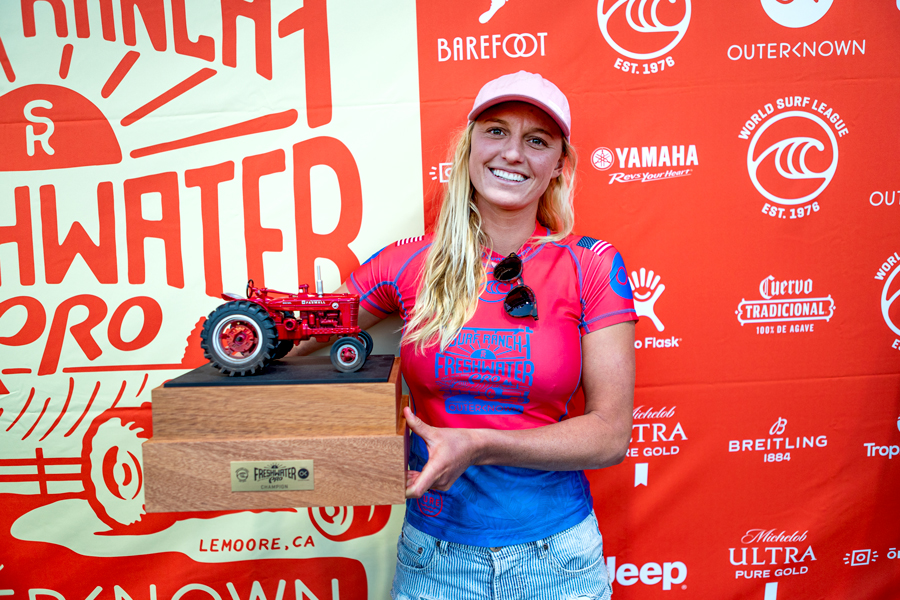 "I just can't believe it, I feel like God was just with me on that one and I gave it everything I had," Peterson said. "It all just came together today and it's super special. I want to dedicate this win to everyone who was a part of the climate strike after watching everything on TV yesterday and how much our Earth needs our help right now."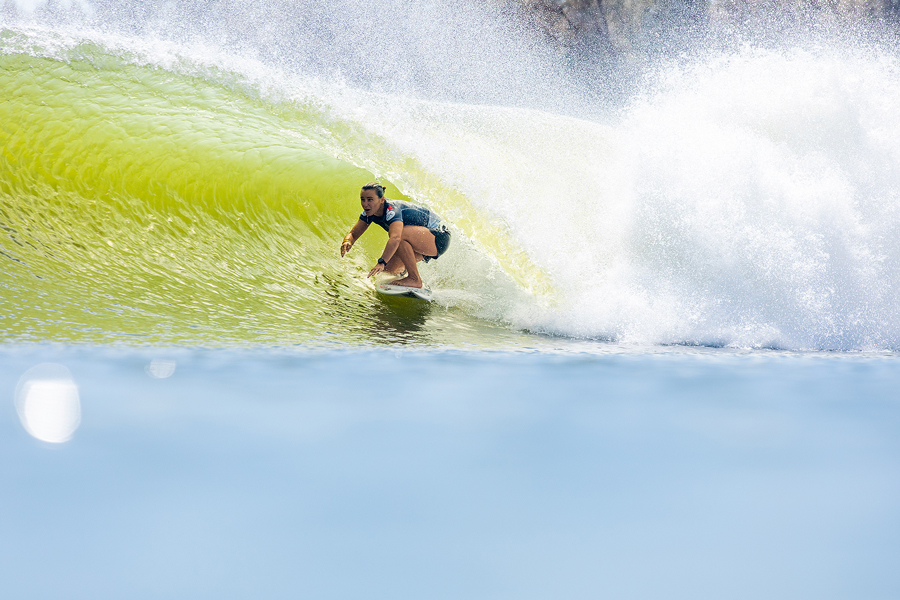 Defay's barrel-riding went unrivaled from the women's contingent and left spectators in awe.
A heated Final came alive between the remaining Top 4 women and event standout Johanne Defay (FRA) shined bright right away with another near-perfect score of a 9.00 (out of a possible 10) on the righthander. In the end, it came down to Peterson and Defay as the last two women standing and fireworks ensued on the bonus waves to determine the 2019 winner. The Santa Barbara, California native brought her clutch form from overtaking Courtney Conlogue (USA) to earn her spot into the Final and did so once more with an incredible air-reverse, earning a 9.33 when needing an excellent score, on her final attempt to capture the win.
"That one was just so close," continued Peterson. "The year's been so up and down with so many different emotions. Obviously, for the World Title, this was huge to win it and with Caroline (Marks) and Carissa (Moore) right there for the Olympics, there's a lot going on. I'm just so thankful."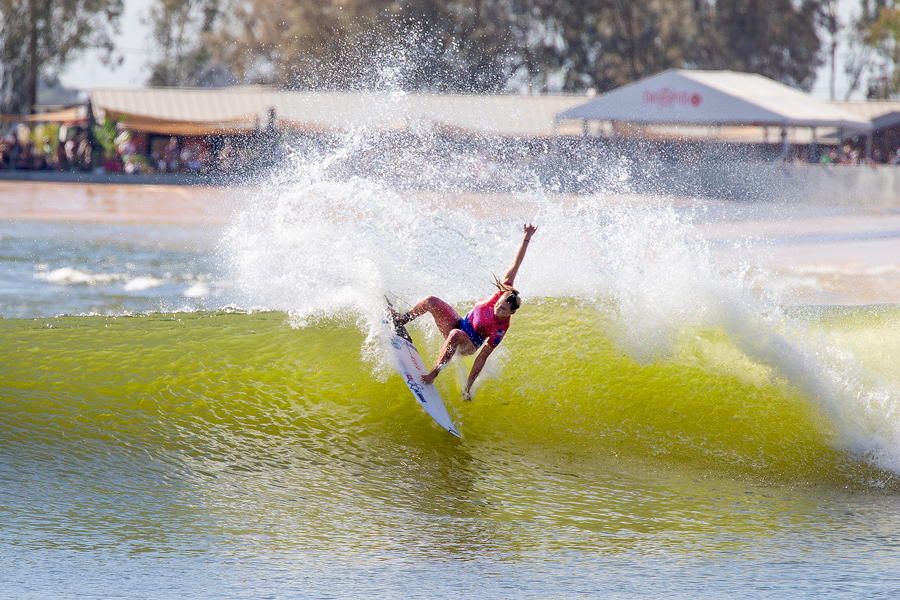 Lakey Peterson
Defay's runner-up finish marks her best result of the season. Defay moved up one spot to No. 9 on the Jeep Leaderboard and is in a great position to represent France at the Tokyo 2020 Olympic Games. The Frenchwoman's composure throughout the event was unbreakable, even heading into the Final alongside Peterson, over eventual fourth-place finisher Caroline Marks (USA) and three-time WSL Champion Carissa Moore (HAW), who exited in third place.
"I knew Lakey (Peterson) would put on such a show and she deserved it," said Defay. "Her surfing above the lip was crazy and I'm happy for second place. This is going to be good for my confidence heading to France and this year I've felt like things haven't gone my way with opportunities, which put me down in the rankings. It's going to be difficult, but it will definitely be good so hopefully I can stay in this mood. Surfing is going in such an incredible direction and I'm happy where I'm at."
Freshwater Pro pres. by Outerknown Womens' Final Results:
1. Lakey Peterson (USA)
2. Johanne Defay (FRA)
3. Carissa Moore (HAW)
4. Caroline Marks (USA)
2019 Women's Championship Tour Jeep Leaderboard Following Freshwater Pro
Carissa Moore (HAW) – 47,260
Lakey Peterson (USA) – 43,850
Sally Fitzgibbons (AUS) – 42,070
Stephanie Gilmore (AUS) – 39,810
Caroline Marks (USA) – 38,220
One-Year Anniversary of Equal Prize Money
The Freshwater Pro marks the WSL's one-year anniversary of announcing equal prize money across all WSL owned and controlled events. To celebrate, the event hosted two editions of WSL's Rising Tides program, a women's roundtable and a celebration of 1982 World Champion Debbie Beacham. Rising Tides, which is set to expand in 2020, is a global beachside engagement program for girls that kicked off in Australia at the start of this season in an effort to inspire the next generation to take to the surf.
efore the event started, Rising Tides hosted the women's Freshwater Pro Trials and saw seven of the best up-and-coming American surfers compete at the Surf Ranch to battle for the event wildcard. Today, as part of Rising Tides, the next generation of young Californian talent were first to take to the water and Sierra Kerr, Kirra Pinkerton, Caity Simmers, Sawyer Lindblad, Samantha Sibley, and Alyssa Spencer had the opportunity to surf the wave while wearing the jersey of their favorite CT surfers.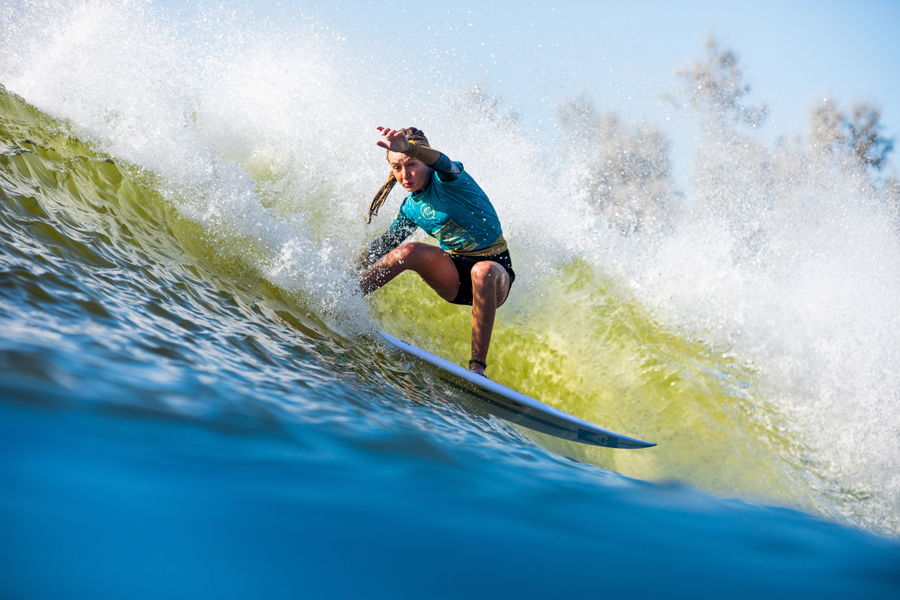 "When I heard that they were going to pay men and women equally I was so excited," said Sibley. "As a young girl, it's just so much more inspiring to see the men and women being on an equal platform. It's so exciting that we are the only sport that is equal like that and I'm stoked that I chose surfing, and to be a part of the community is awesome."