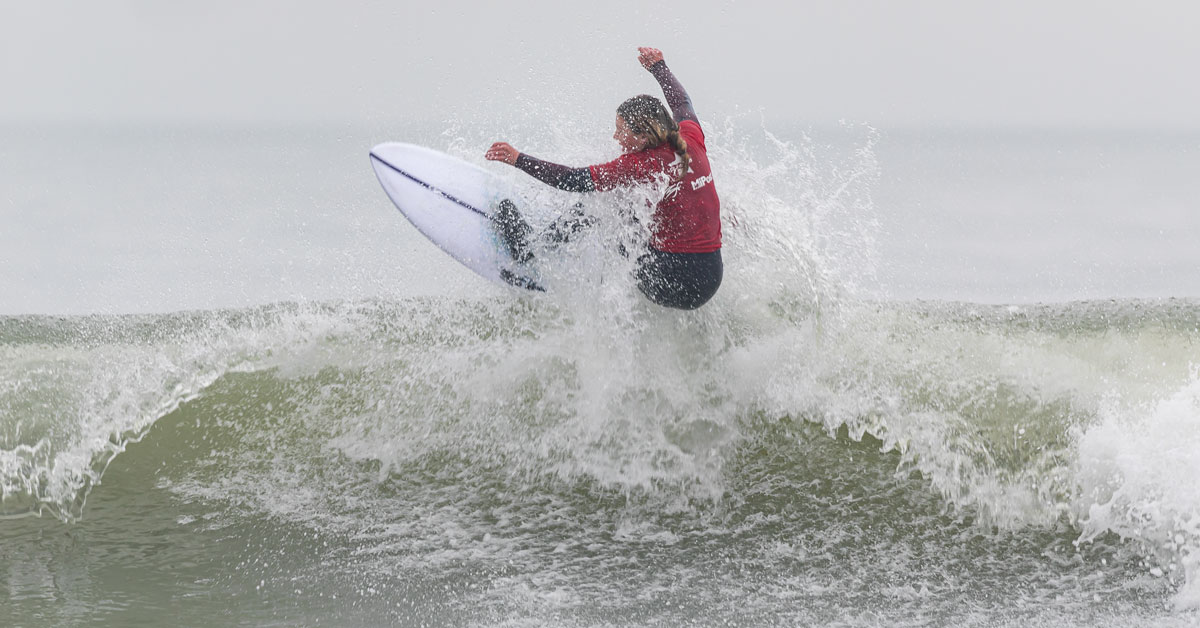 WSF decision to run the Welsh National Surfing Championships at Llantwit Major, for only the third time in the event's history, pays off as Llantwit's sculpted reef and well-shaped waves win a swell that provided rippable conditions throughout the three-day event.
Words: Steve White Photos: @photodotcymru
Held over Saturday 29th-30th April and Monday 1st May, the Welsh Surfing Federation's showpiece event played out in small surf that built into glassy head-high walls through the weekend.
To sum up Emily Williams (below) fights off the charge of another youngster in Katie David to take her eighth Women's title. Pembrokeshire grom Josie Hawke cleans up, becoming the first Welsh girl to win the U14, U16, 18 Girls' divisions, and deservedly takes the Paul Ryder memorial award for most promising young Pembrokeshire surfer.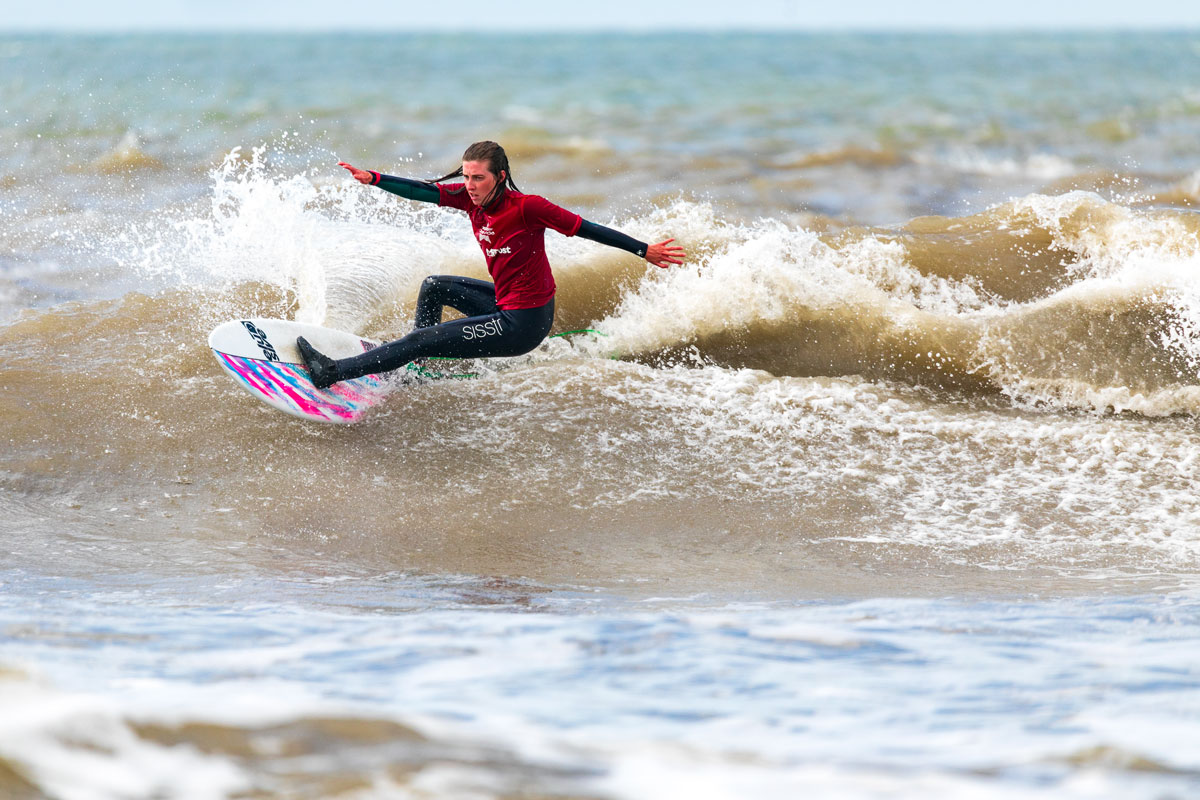 The U18 Girls heats got underway mid-morning with Charlotte Eales (WSF Training), Josie Hawke (PSC) and Indi Lynch (PSC) finding the best of the weak swell to move forwards in the competition.
Day 2 saw clean 2ft low-tide Llantwit develop into 3ft+, windless surf through Sunday afternoon.
Junior heats were held in the building surf that turned mirror-smooth for the U18 Girls final. Josie Hawke (PSC) headed straight out to attack the set waves.
At just 12 years of age, Josie's composed top-to-bottom surfing belied her age and showed how much work the Pembrokeshire grom has been putting in of late, her final average hitting 12.10 to win the division.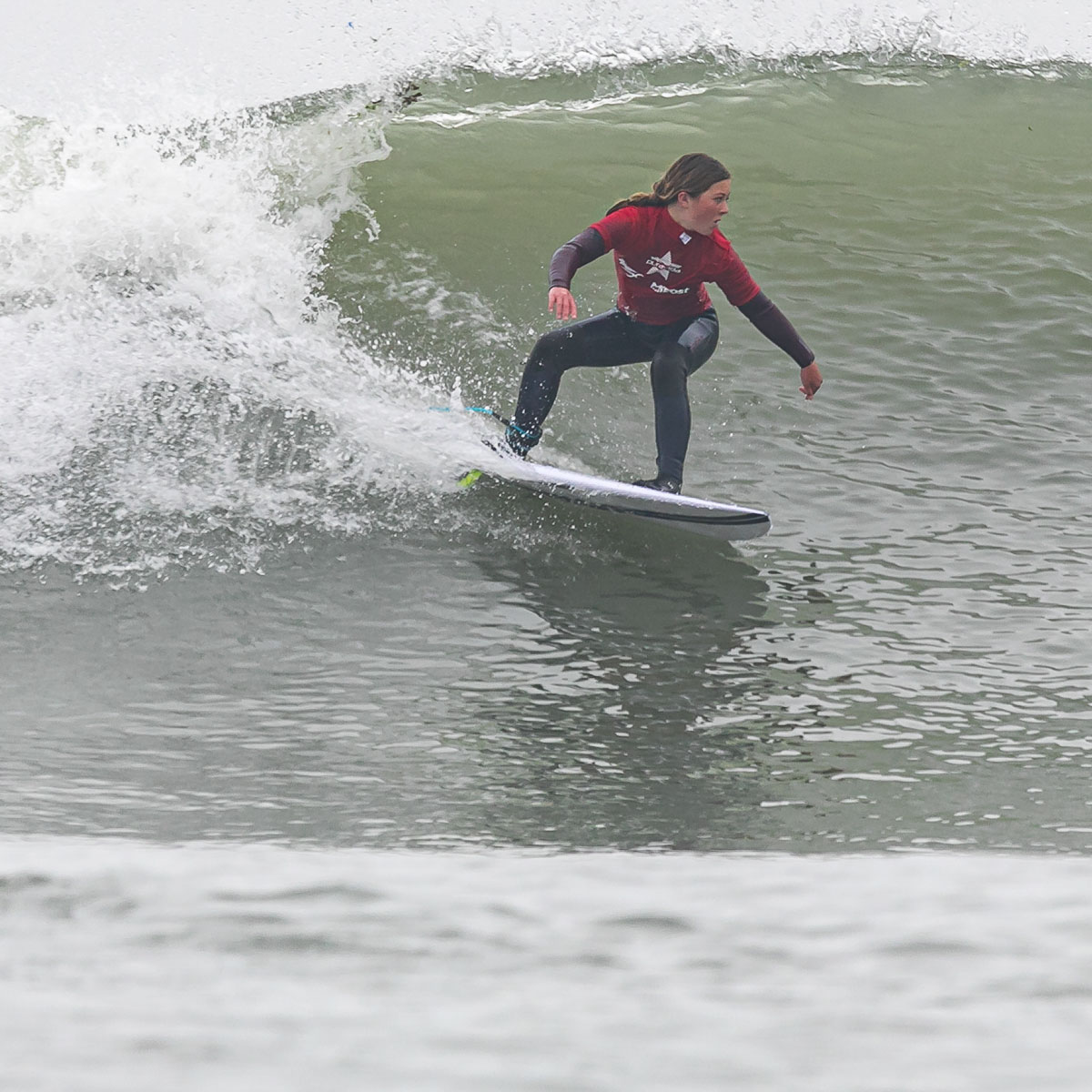 PSC's Katie David's smooth top-turns earned her a 9.04 overall. Charlotte Eales (WSF Training) and Indi Lynch (PSC) had less luck with wave selection to come in 3rd and 4th respectively, but both topped off a solid contest campaign with stylish rides.
U18 Girls champion, Josie Hawke said:
"I was thinking of going out back and getting the bigger waves because they had better shape and more power. At first there weren't many coming in but then I got that first right, took it easy at first and built the score then paddled back out looking for a good back-up score. I took a risky left which was backing off a bit but I got some good turns in. The rest of the heat was a bit quiet for me until the last five minutes when I got a right and really went for it but unfortunately didn't manage to land my last manoeuvre. It feels amazing to be champion. Last year I wasn't as good so it's lovely to be back out there and doing well. The waves were fantastic and it was great to have surf where you could showcase what you can do."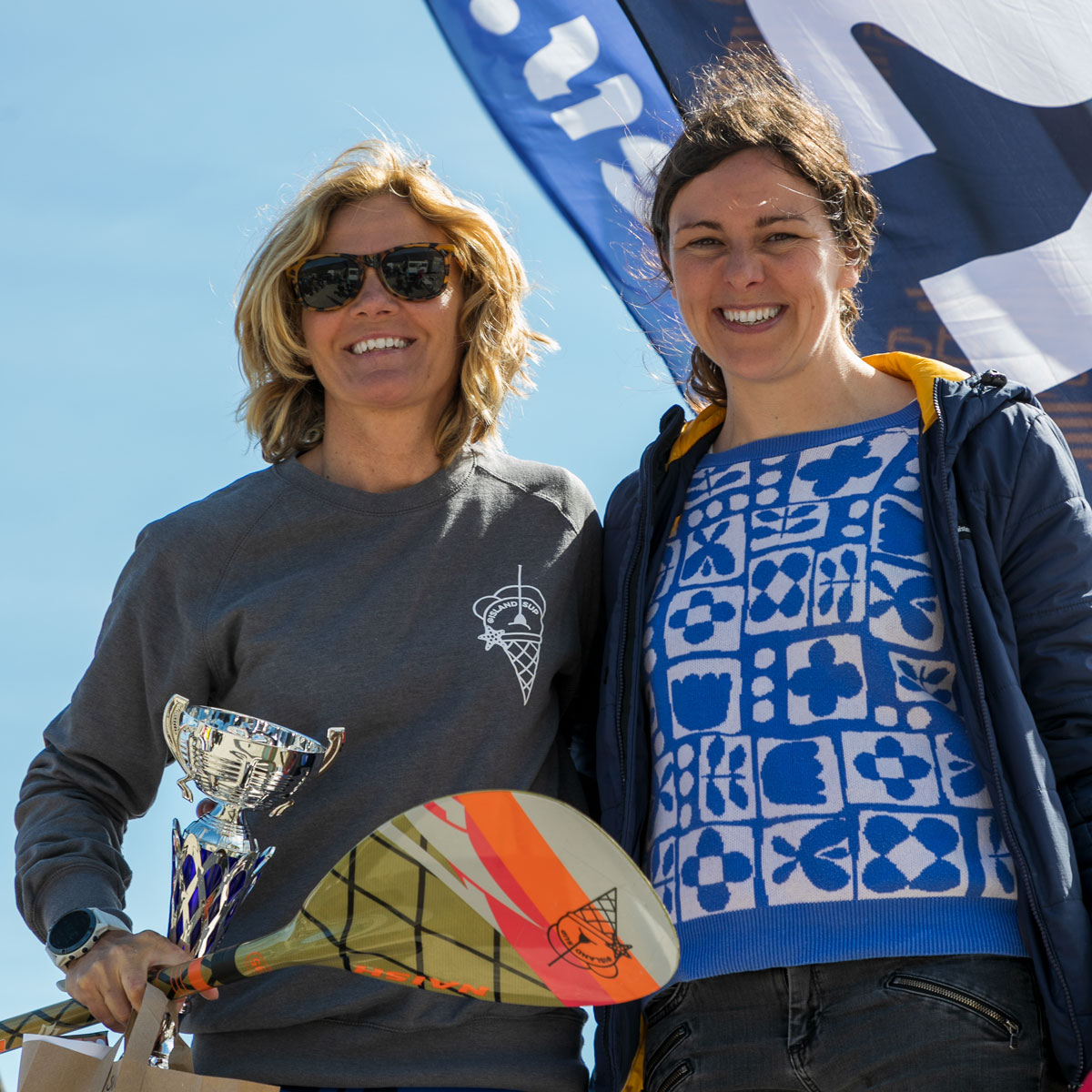 Kerry Baker (Island SUP, above) became Women's SUP champion after giving spectators and judges alike an elegant performance in her division's final. Breige Lawrence (WCSC) caught a few nice rides under the Llantwit spring rays and topped the podium in the Women's Masters (35+).
Good conditions held for the Women's longboard division. Local, Angharad John (Aberavon Surf Club, below) demonstrated nifty footwork on a lovely early right which she later bettered with a 7.5 thanks to beautifully surfed left, for a total score of 13.83.
Jasmine Seager (PSC) surfed well to land a 5.87, and Fi Campbell came in third with a 3.30.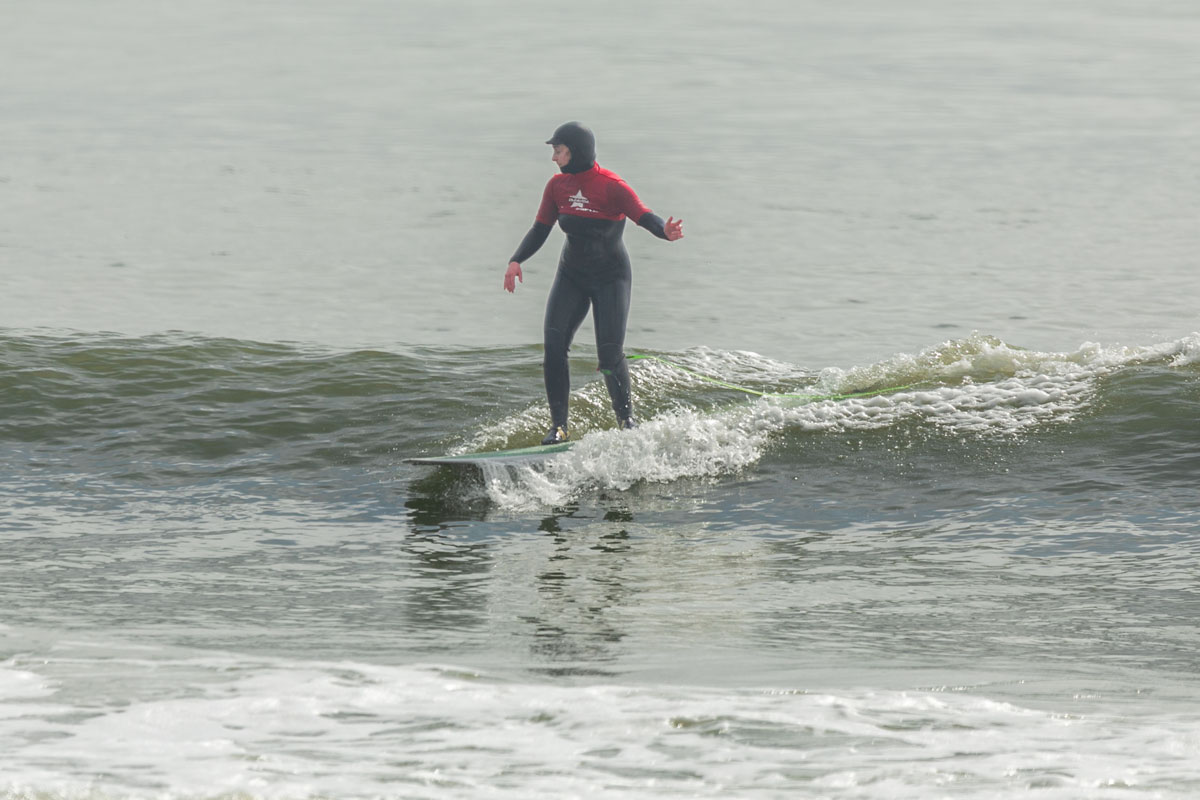 Josie Hawke picked up where she'd left off for her U14 Girls final, gaining a 4.27 on the judges' scorecards with her first ride. A reeling left followed, decorated with transitions and off-the-tops that drew a loud cheer from the beachside crowd.
Caitlin Bazely (CCSC) stuck decent drops and bottom turns and could have scored big had she made it around a closing section on a clean right. Taylor Shelmerdine (LBR) collared a few small ramps but couldn't quite find the higher scores needed.
On the Monday morning, Emily Williams (CCSC) started as favourite in the Women's final, but the Llantwit local had to show patience as fellow finalist Katie David (PSC) sliced up a clean right to get the scoreboard ticking with a 4.67.
Poppy Owen (PSC) registered next with a controlled bottom turn and nice rail work to keep the pressure on the multiple champ.
Williams then used her priority to launch down a right, gaining speed to attack a lip on the inside, a 4.47 her reward. She built on this with a further four-pointer to end on a championship-winning 9.83. The Newport-born ripper is now an eight-time winner of the Women's Open at The Welsh.
Indi Lynch (PSC) dropped into a few shallow runners, finishing in fourth place with 5.40 overall, while Gwenan Morgan (WCSC) came in 5th with a 2.90.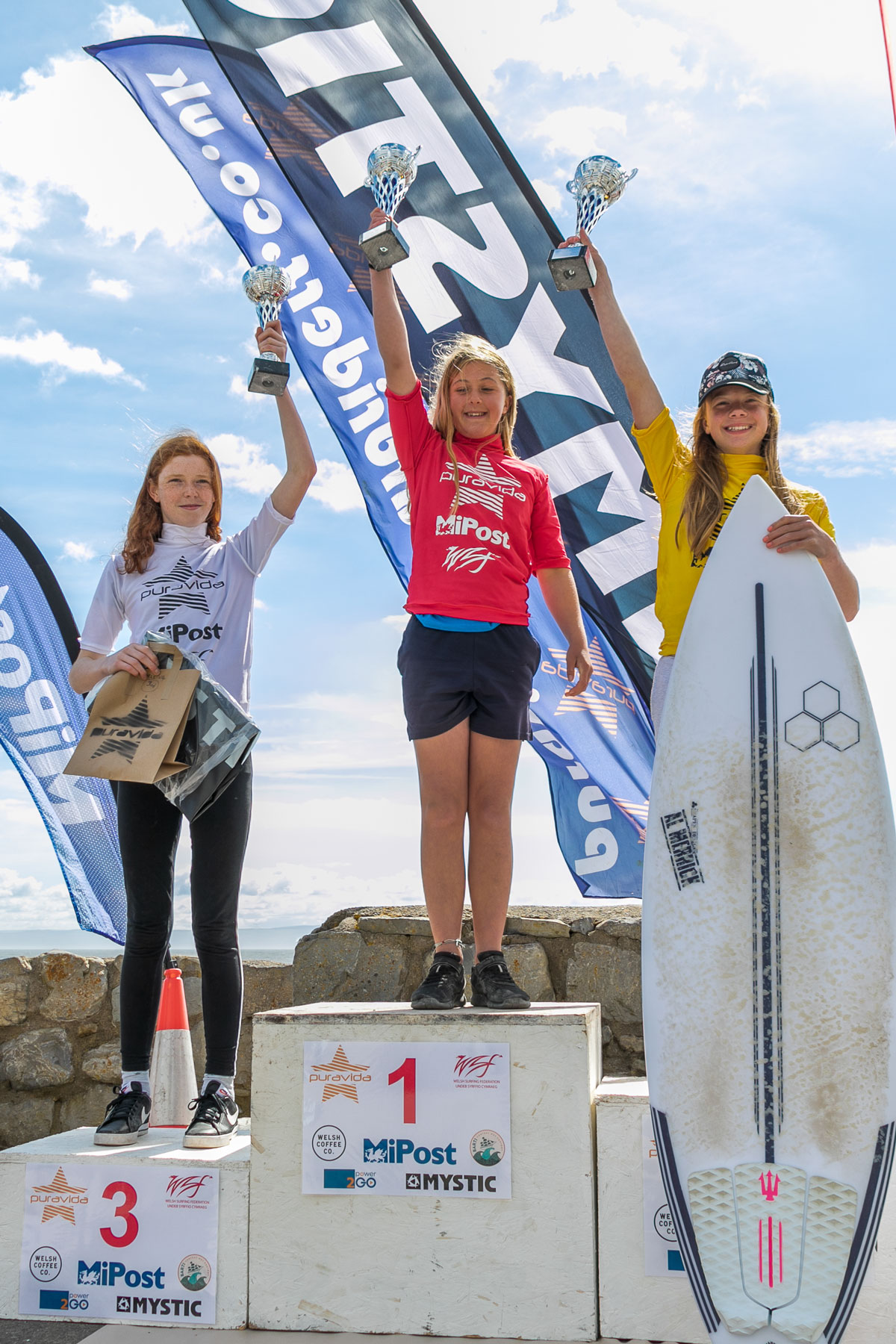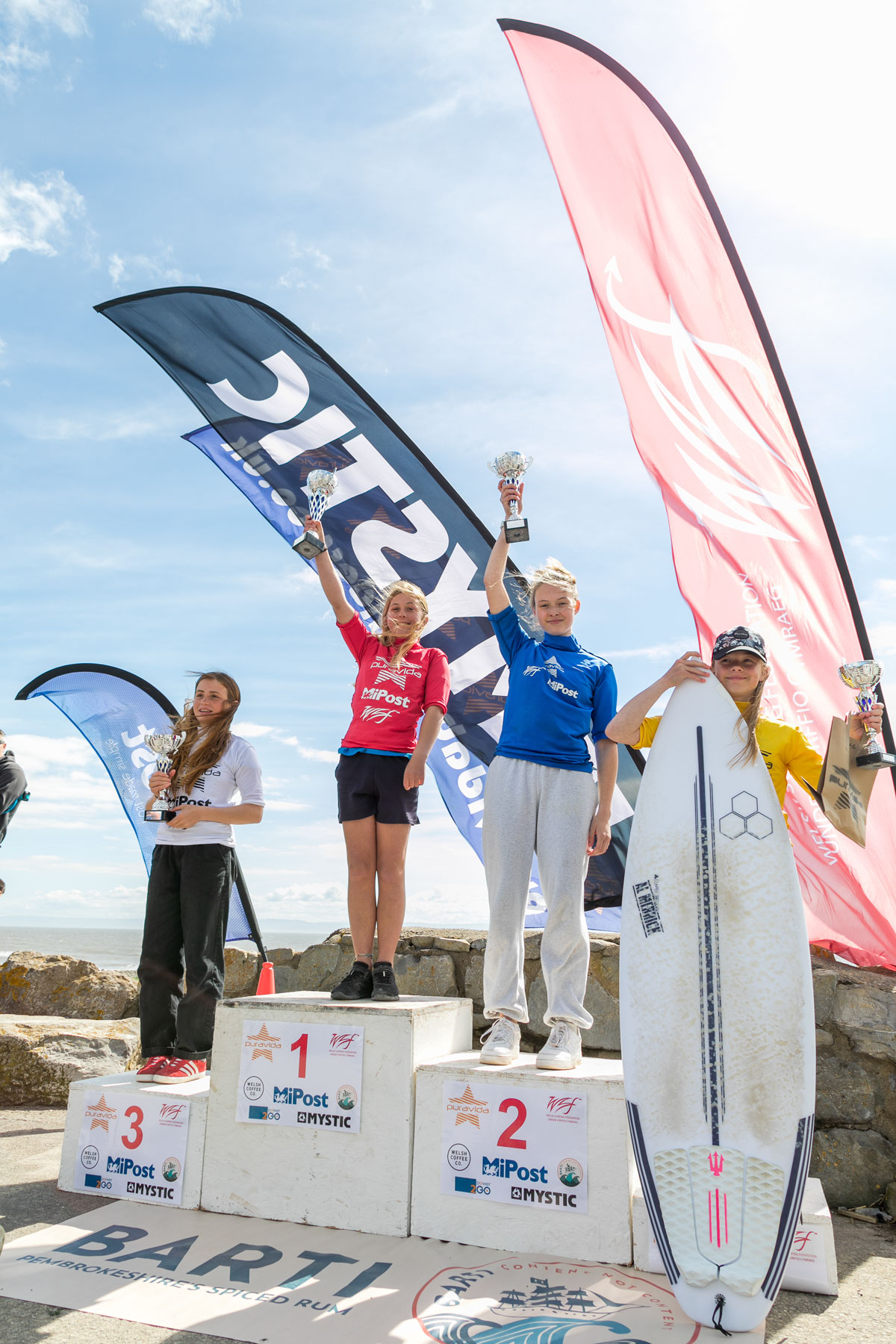 Midday on Day 3 at The Welsh saw Josie Hawke paddle out for yet another final in the U16 Girls category. Could Josie make it three from three? She could indeed. The Pembrokeshire prodigy wasted no time in racking up scores in the average-to-good range, while finalist Poppy Owen also put on a good show, her best wave hitting 2.9.
LBR's Taylor Shelmerdine worked hard in the unfavourable conditions but had a few nice drops, and Charlotte Eales (WSF Training) demonstrated controlled backhand top-turns to pick up a 2.37. Josie's trio of gold medals also won her Pembrokeshire Surf Club's Paul "Spyder" Ryder memorial award that goes to the best up-and-coming Pembrokeshire surfer at the Welsh Nationals.
Reacting to her phenomenal weekend's work, Josie modestly said: "It feels amazing to get the three wins, especially as it's the first time it has happened. It's just lovely to have won."

"It feels amazing to get the three wins,
especially as it's the first time it has happened. It's just lovely to have won."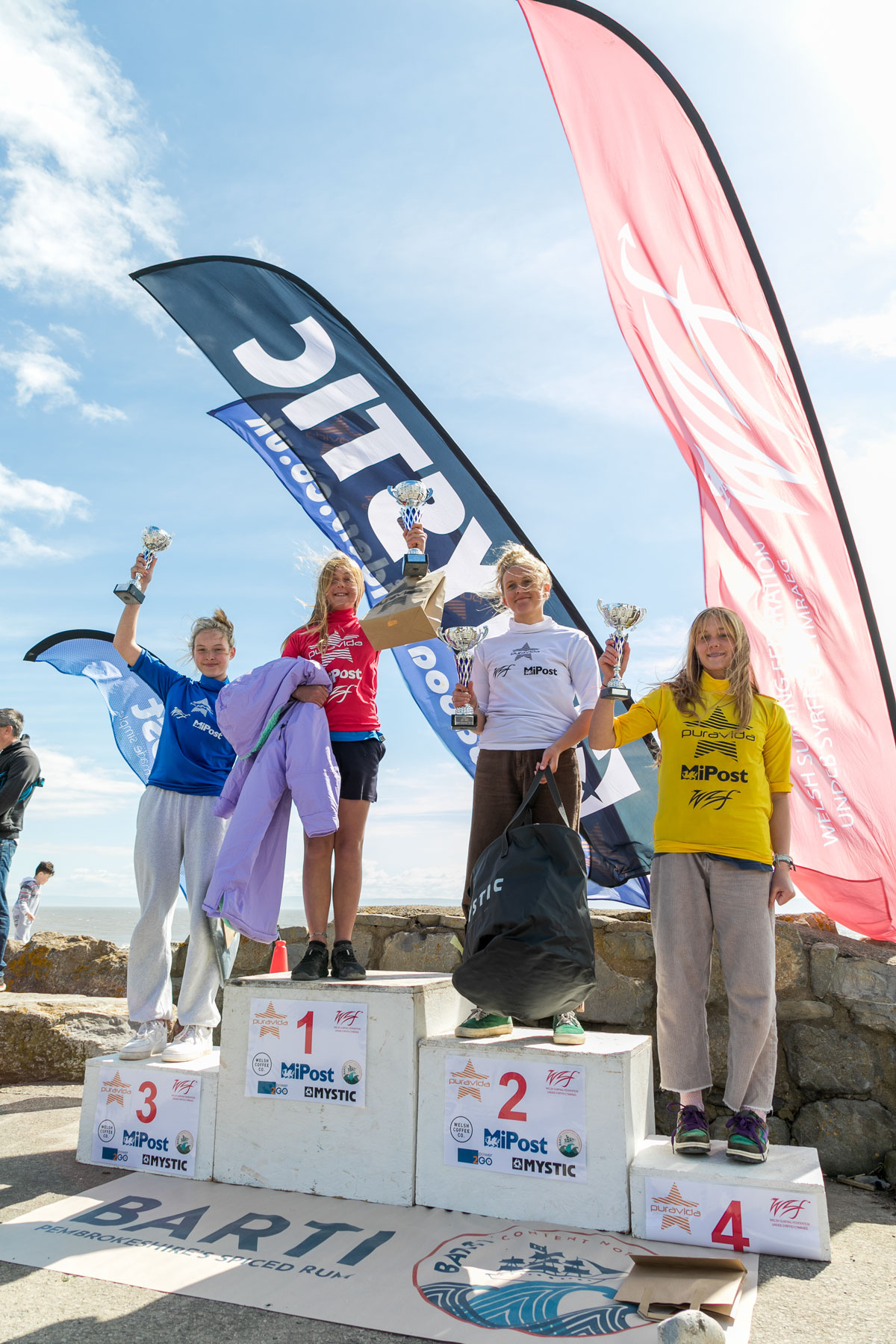 2023 marks 50 years of the WSF – a period that's seen WSF start from holding Wales's first National Surfing Champs for just men, to now hosting an Olympic pathway event with nearly 20 categories. The live stream technology and stunning drone footage helps to showcase this beautiful coastline, top quality officiating and outstanding levels of surfing in this country.
A massive thank you to the legends that are Linda Sharp and Huw John who are almost entirely responsible for the past 50-plus years of the WSF.
Women's Open
1. Emily Williams (CCSC)
2. Katie David (PSC)
3. Poppy Owen (PSC)
4. Indi Lynch (PSC)
5. Gwenan Morgan (WCSC)
SUP Women
1.Kerry Baker (Island SUP)
Women's Masters (35+)
1. Breige Lawrence (CCSC)
Women's Longboard
1. Angharad John (ASC)
2. Jasmine Seager (PSC)
3. Fi Campbell
U18s Girls
1. Josie Hawke (PSC)
2. Katie David (PSC)
3. Charlotte Eales (WSF Training)
4. Indi Lynch (PSC)
U16s Girls
1. Josie Hawke (PSC)
2. Charlotte Eales (WSF Training)
3. Poppy Owen (PSC)
4. Taylor Shelmerdine (LBR)
U14s Girls
1. Josie Hawke (PSC)
2. Taylor Shelmerdine (LBR)
3. Caitlin Bazley (CCSC)