What a weekend! The 2023 Caravan and Motorhome Club English National Surfing Championships was a triumph. Competitors from around the country joined us at Watergate Bay, battling it out for the chance to win junior and senior age-group national titles in shortboard and bodyboard.
Nearly 140 surfers congregated at Watergate Bay, all with their eyes on the prize of the prestigious English National Titles across the 14 different age-groups. The event saw two -days of double peak action unfold, and here is what went down…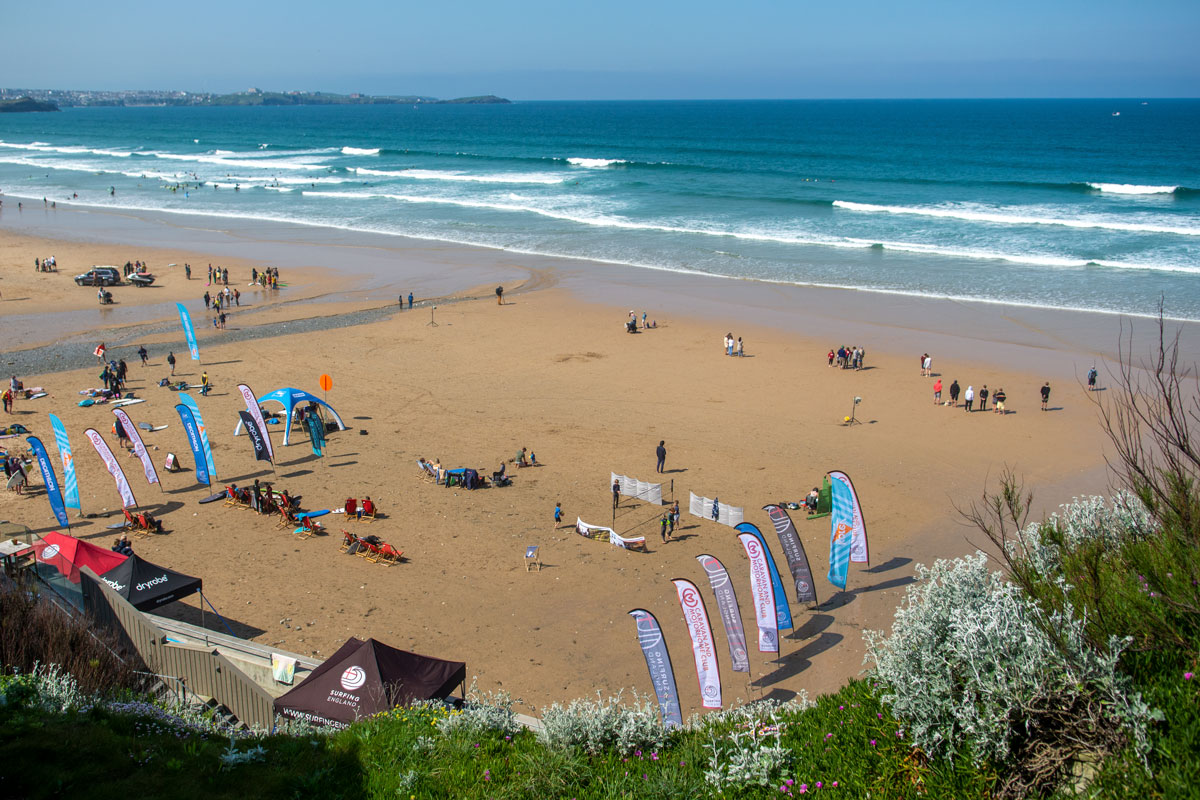 We were lucky to arrive on Saturday morning to sun and small peelers, perfect conditions for our under 12s to kick off the competition. As midday hit, the bay delivered a bigger swell pulse, waves increasing up to head high. U14s, U16s, U18s and Kahuna categories took to the water, displaying their talent. A long day of impressive surfing took place, stand out scores dropping across the board, and plenty of close battles between surfers itching to go through to their respective finals.
The glorious weather brought hundreds of beachgoers down, bringing a buzz of excitement with them and creating a fantastic atmosphere. The event was enhanced by beach volleyball, chalk art and beach cleaning activities from our headline sponsors, the Caravan and Motorhome Club. Tote bags were given out to competitors at check-in and winners of the event all received a club membership. We are stoked to receive this support from the club who enable us to run this event.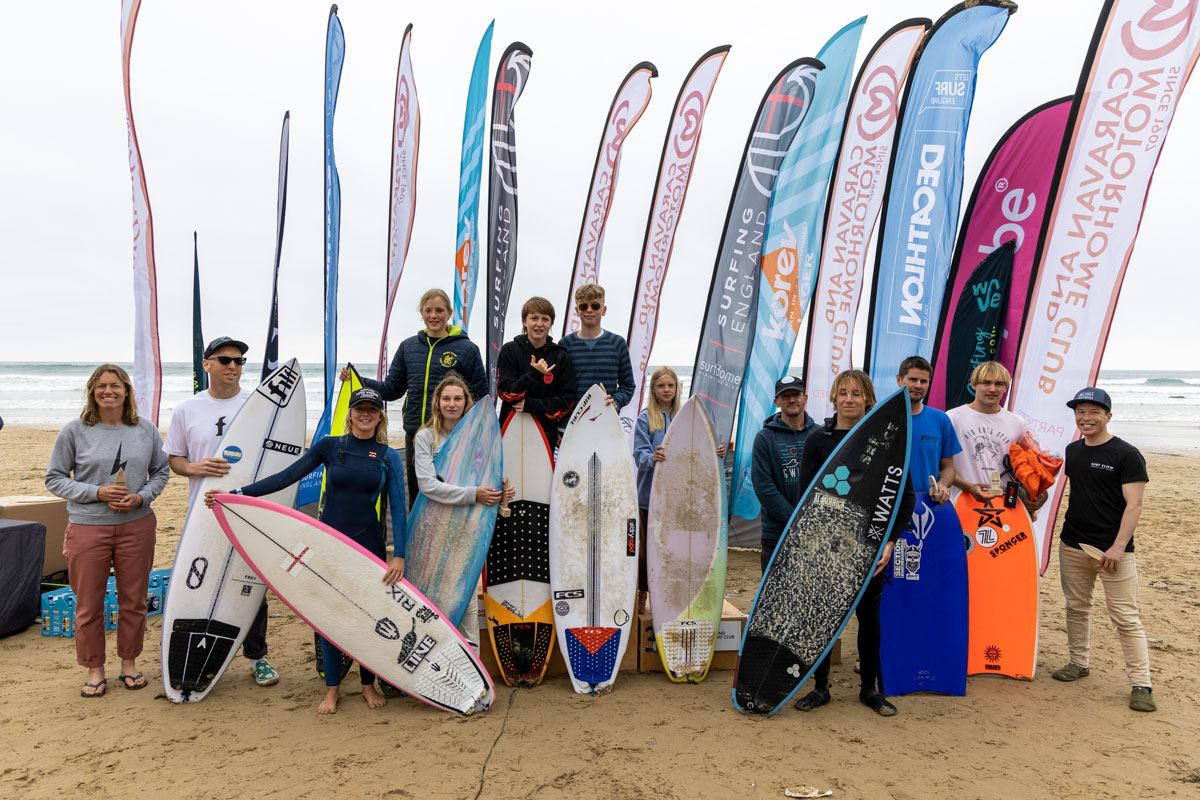 A misty morning first thing Sunday gradually cleared up and brought with it beautifully clean sets. 4ft waves rolling throughout the day provided epic conditions for a day of national's finals. Bodyboarding, a discipline that has not been integrated with shortboard surfing for a number of years, took to the stage. The Men's Open and U18 divisions demonstrated how thrilling and risky the sport truly is. This addition of bodyboard added a new dimension to this event, and it was awesome to bring the tight knit bodyboarding and shortboarding communities together. Congratulations to division winners, Brooke Joseph Mason, and Tom Catten, who have set a standard and created history for National bodyboarding for years to come.
The junior ladies ripped on the Sunday, a tight final in the U12s saw local Ellie Hickie rise above her competitors to reach her a wave total a head of the rest. The U14 girls final was a particularly tight heat, all girls dropping some stellar waves, swapping in and out of the lead, Coco Arthur winning before the buzzer. Another close final in the U16s, Eva Blackford winning and adding the national title to her recent 2023 English Grom Search title. The day finished off by Team England athlete Georgie -May Hicks winning the U18 Girls just ahead of Lauren Sandland, who had recently claimed the 2023 Women's Open title, just four weeks prior. Performances amongst these girls were epic, and we are proud to witness such progression in English junior surfing.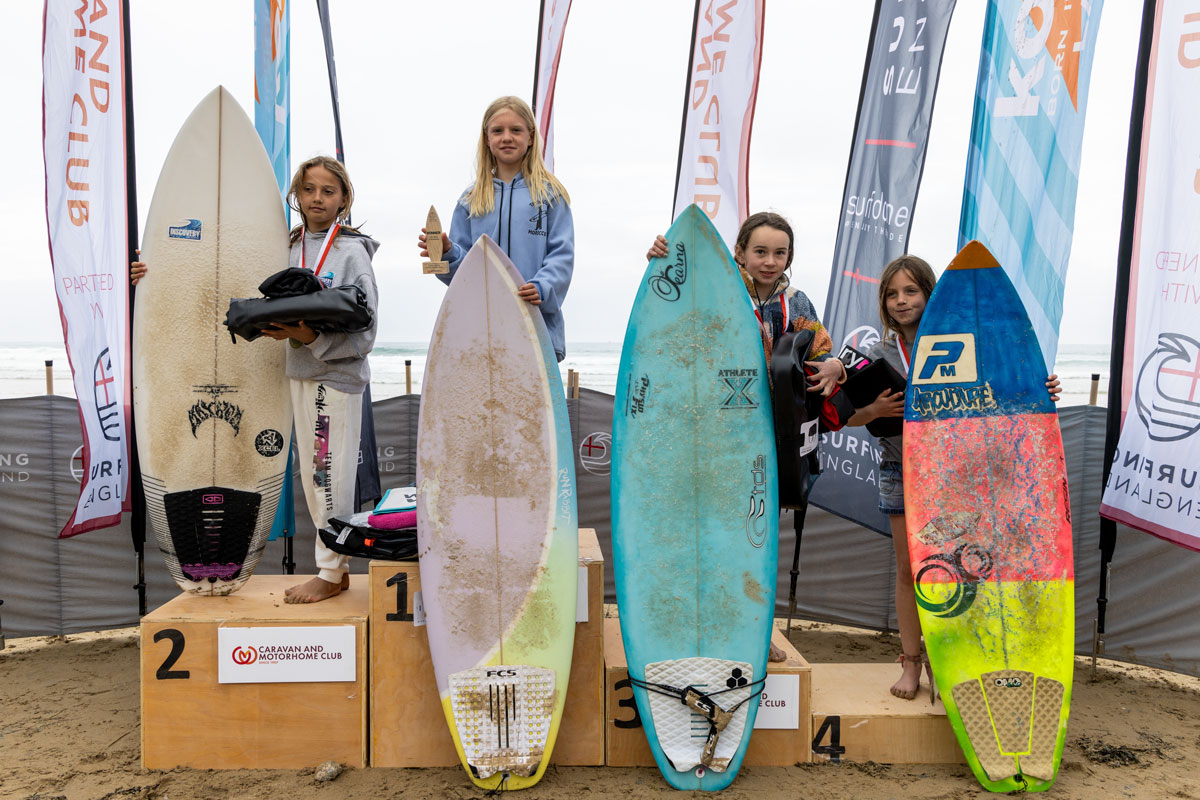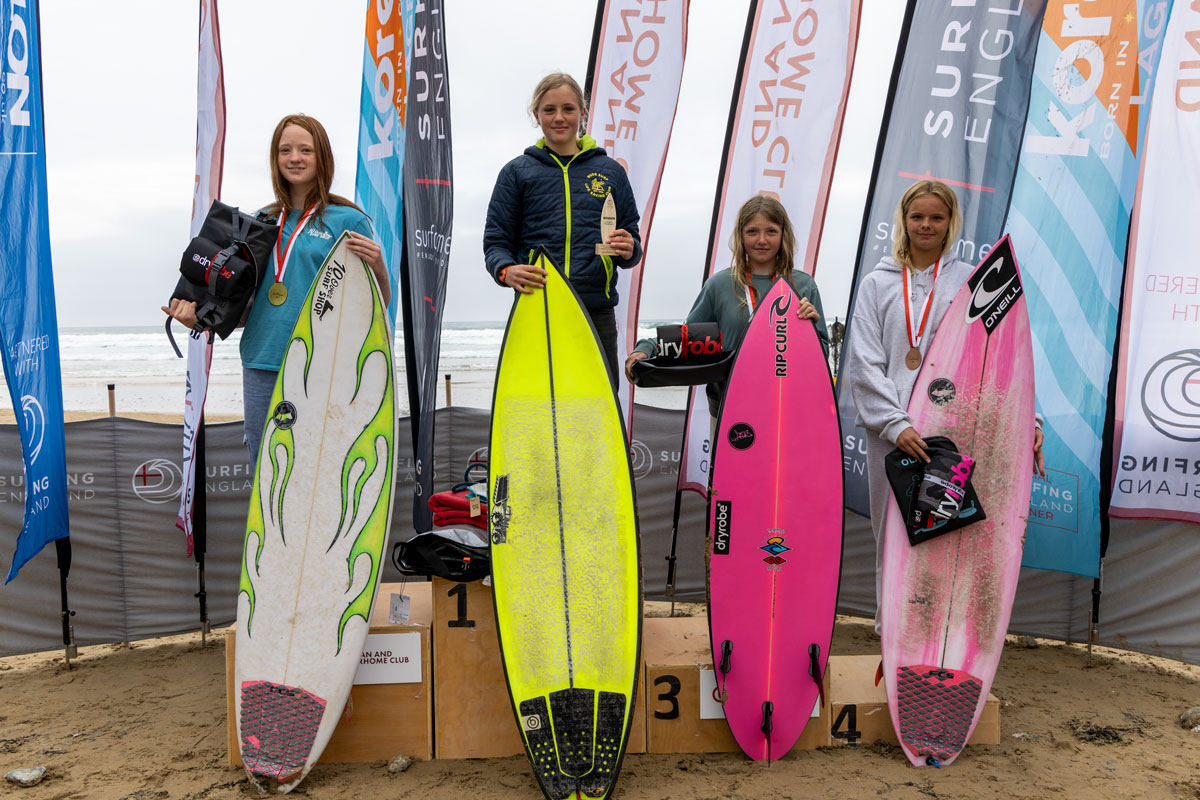 For the boys, there were more rounds to progress through, making Sunday's finals not only a test of surfing ability but also a test of endurance. Joshi James stormed through the rounds to claim the National title and repeat his success from the 2022 national surfing event. For the U14 boys, scores dropped in the final were close, Seb Whiteley took the win. Lukas Skinner followed on from his recent victory at the U16 Grom Search World Championships, cleaning up the U16 boys final and dropping some of the competitions highest scores. Noah Davis took the U18 boys titles, clinching first by 0.27 points above rival Fynn Gillespie.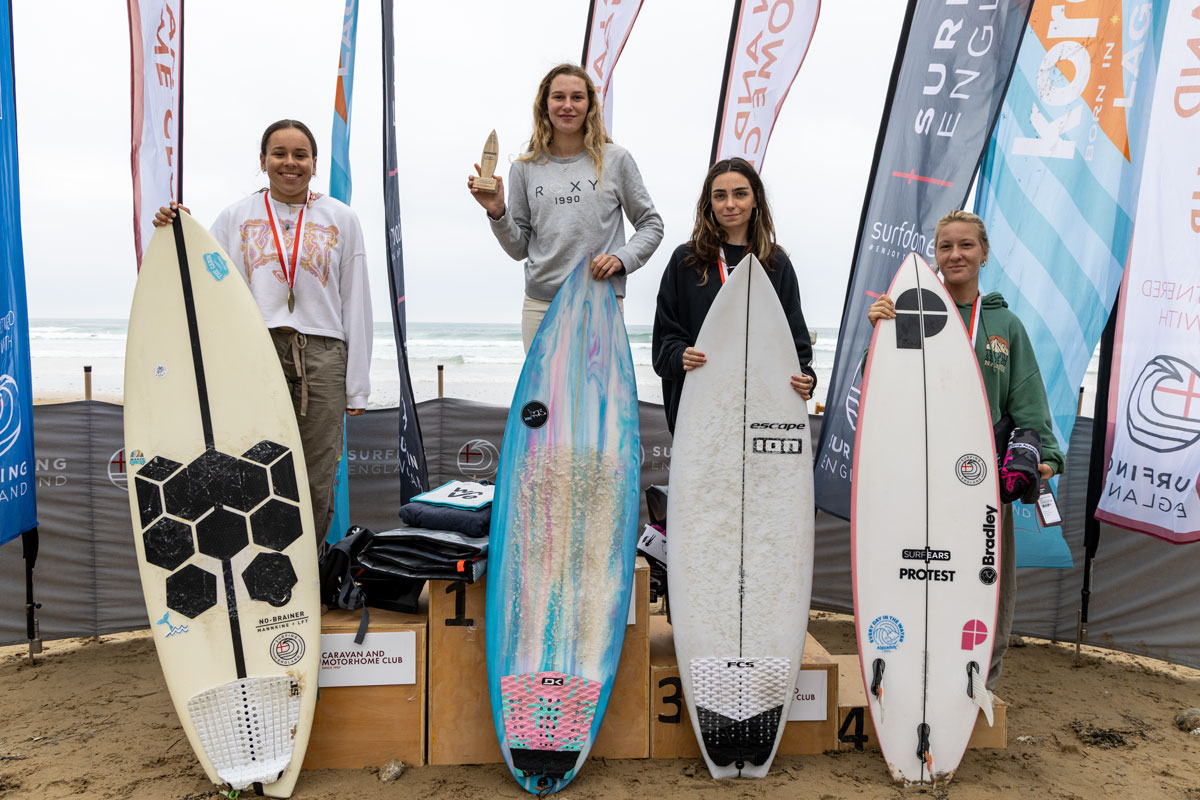 In the adult divisions, a straight final saw reigning Men's Senior (+28) champion Khan Thorne take the title once again. We hosted Women's masters category, for the first time in years, it was great to see ladies back in the water with Lisa Sutherland clinching first, with some impressive scores. The Men's Masters saw Mark Harris take to the water late for his heat, dropping a couple of beautiful waves, but it was Matty Bowling who took the win with a just a minute to spare. The Men's Kahunas (+45) was popular this year, many surf coaches and parents taking part. It was great to see such a stacked line up in this category. Tyson Greenaway won the final, surfing gracefully and finished the event with one of the highest scored waves of the weekend.
A huge thank you to all surfers, supporters, media team, judges, and event team for being a part of this epic weekend. It was an unbelievable weekend for English surfing, and we cannot wait for the next one!

Final Results:
U12 Girls Shortboard: 1 Ellie Hickie 2 Kira Connolly 3 Arabella Peres 4 Martha Edwards
U14 Girls Shortboard: 1 Coco Arthur 2 Willow Smith 3 Lila skinner 4 Sunny Ingram
U16 Girls Shortboard: 1 Eva Blackford 2 Ocearna Peres 3 Boe Howell4 Mia Olivia
U18 Girls Shortboard: 1 Georgie-May Hicks 2 Lauren Sandland 3 Tegan Blackford 4 Eva Moorcraft-Holland
Womens Masters (35+): 1 Lisa Sutherland 2 Annika Connolly 3 Sarah Howell
U12 Boys Shortboard: 1 Joshi James 2 Jensen Martin 3 Jack Strutt 4 Jago Boswell
U14 Boys Shortboard: 1 Seb Whitely 2 Noah Cerne 3 Sebastian Connolly 4 Isaac Friend
U16 Boys Shortboard: 1 Lukas skinner 2 Reen Bowden-Inoue 3 Finley Donovan 4 Heath Gillespie
U18 Boys Shortboard: 1 Noah Davis 2 Fynn Gillespie 3 Ishka Thres 4 Malakai Hagley
Mens Seniors (28+): 1 Khan Thorne 2 Simon Shields 3 Sam Coad 4 Ben Goosey
Mens Masters (35+): 1 Matty Bowling 2 Mark Harris 3 Andrew Stone 4 Michael Barton
Mens Kahunas (45+): 1 Tyson Greenaway 2 Dan Joel 3 Martin Connolly 4 Joel Gray
Bodyboard – U18's Boys: 1 Tom Catten 2 Darwin Tagholm 3 Alex Edmunds
Bodyboard – Men's Open: 1 Brooke Joseph Mason 2 Ross Littlejohns 3 Brendon van Rooyen 4 Phil Milsom
LiveHeats:
To see individual heat and wave scores, you can check out all the results on LiveHeats here.
A huge thank you to Watergate Bay who hosted us for our return of the English National Championships and ERA Adventures for the Lifeguard Cover.
A further thank you to our fantastic headline partners Caravan and Motorhome Club and to our amazing partners korev Lager, The Wave, dryrobe, Olaian by Decathlon UK, Clarke Willmott, Vospers.