We caught up with Coco & Maud to find out what they're up to. Plus we take a look at some great Volcom swimwear.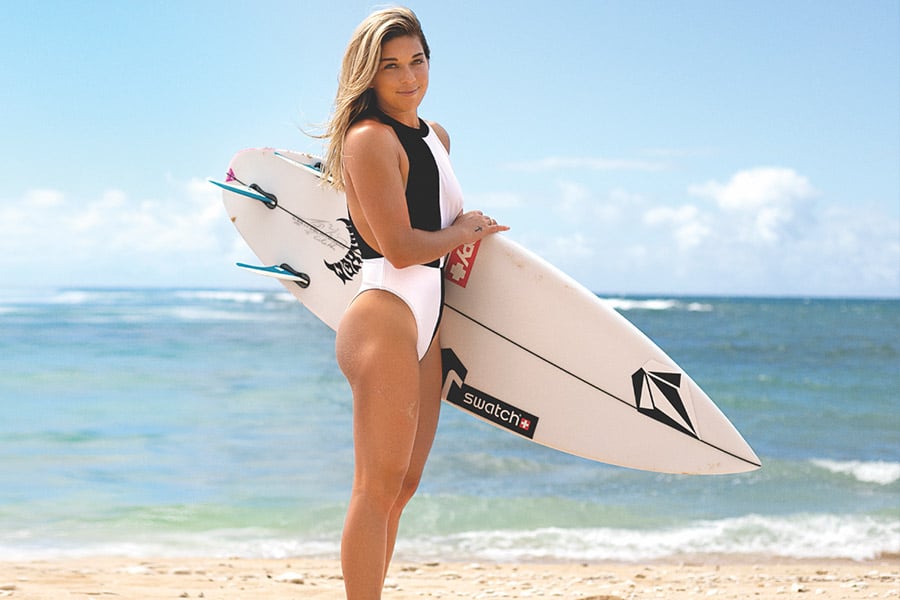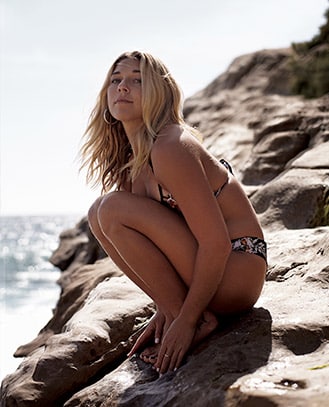 Coco,describe your perfect day
Good breaky and coffee, fun surf, yummy lunch, lots of laughs, some sweat and maybe tears (they're healthy/ strengthening), another successful surf, delicious dinner with wine and my best of best friends.
What's the best thing about being on the Volcom team?
We're tight knit! And immediate family forever.
Where's your favourite wave?
Anywhere on Oahu's north shore, Snapper Rocks and Winkipop.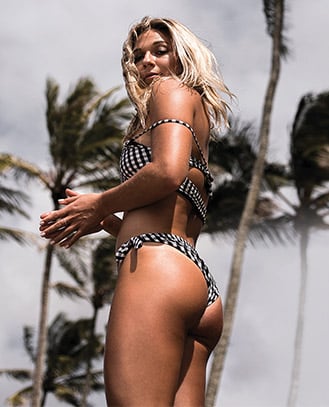 If you could meet one celebrity, past or present, who would it be?
Beyoncé!
Do you have a quote or mantra you like to live you life by?
Too many – I just love how you are drawn to certain mantras in different seasons of your life.
Advice to anyone who wants to learn to surf?
Pay attention to the ocean and learn about your surroundings before just trying to rip.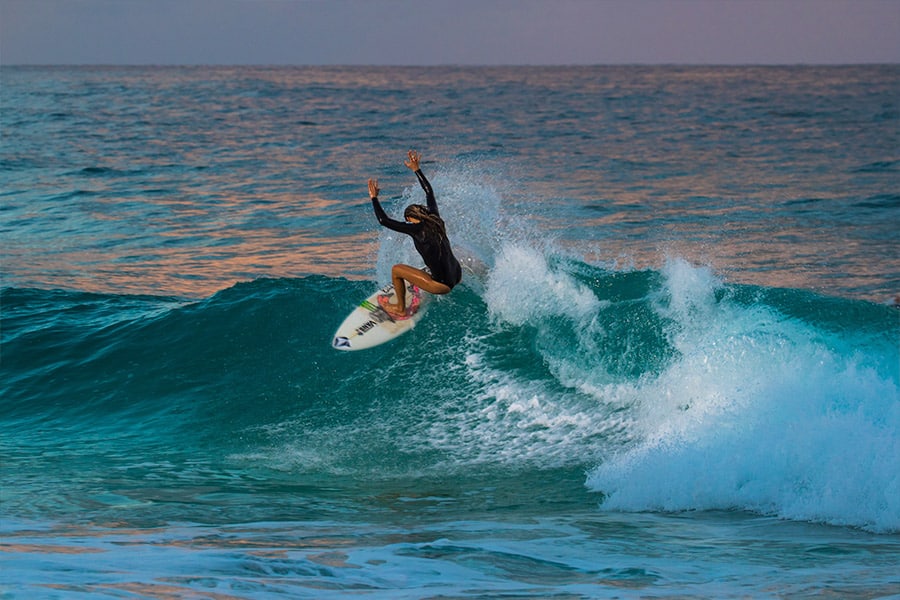 Maud, what does surfing mean to you?
Since the first day I started surfing I knew that I found "my thing", my escape and what I wanted my life to look like. Since that first ride my all life has been about surfing. The first thing I think about when I wake up are the waves and tides. Surfing brings so much happiness into my life there is no better feeling than riding a good wave or cutting water under your feet with speed and feeling connected with the ocean.
What's the surf like where you live?
I live in Seignosse France where we have some of the best beach breaks in the world, waves can be really fun if you go on the right time with the tides 🙂
How you you keep fit and healthy for surfing? 
I train physically four times a week out of the water to make sure my body stays but mostly I am aware of what I fill my body with, raw and natural food and a good hydratation is the key. I am vegan and that really helped me feeling healthy and maximize my energy when I'm going surfing.
Name your favourite places to surf and why are they so good?
My two favourite places to surf are in Caribbean, because it's where I come from. The waves can be really fun when the swell hits the Caribbean Sea and there is no one surfing so you can score super fun session uncrowded. Also Hawaii for the quality of the waves and to improve your surfing in powerful waves.
What tips do you have for someone looking to get into surfing?
Surfing can be hard specially when you begin you can feel like you are not improving but you are, just don't give up! Be patient and determined, I swear it's worth it!!
Which surfer past or present do you most admire?
My favourite surfer all time is Andy Irons I admire his style and grace and the way he surfed waves like no other.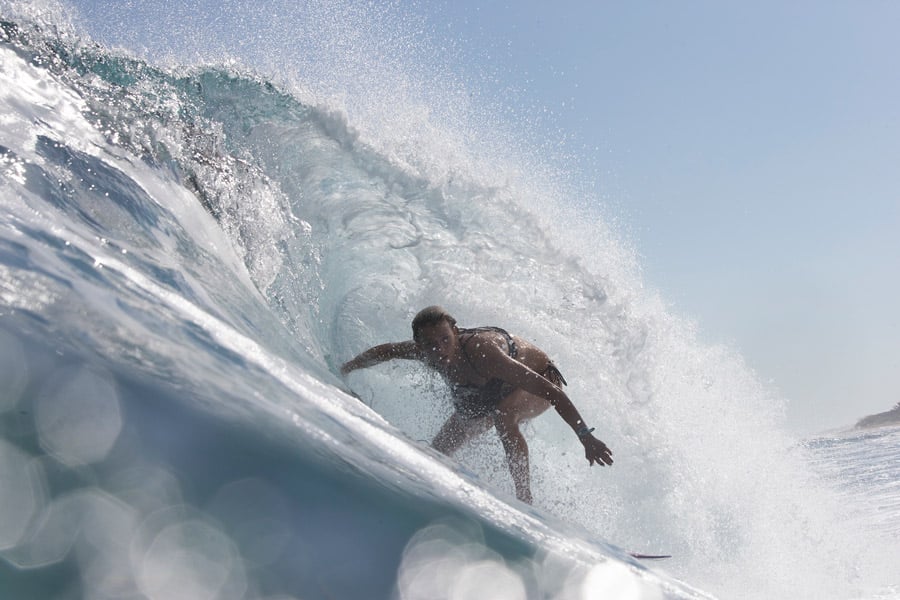 Are you worried about the oceans and what do you think we can do to help the marine environment/planet? 
It's honestly heartbreaking and scary when you surf every single day and see how bad the pollution are on our beach and in the water and this every where in the world! And I believe we can all make a difference if we change our own action by stoping using plastic and single use, recycle our waste, Supporting sustainable companies and brands who are actively reducing their carbon emissions, or share a ride in the car or use your bike instead of the car when you can, eating organic Because organic is healthier for our soil, our planet, and therefore, our ocean.  Also eat locally because locally produced food has a much lower carbon footprint than items that are shipped across the planet. Leaving every beach cleaner than you found it by picking up trash on the trail and avoiding walking over dunes and stepping on beachgrass which helps keep our dunes in place.
No action is too small to change all the pollution in our ocean!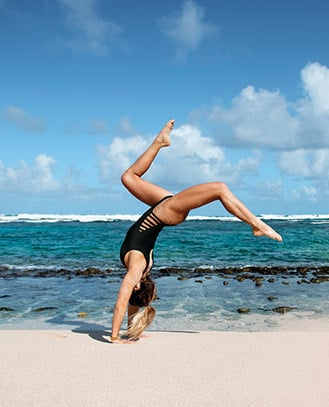 What are your plans for summer and where will you be spending it? 
My plan for this summer is half California where we have 2 main WQS and the rest at home in France where we have a lot of contest going on in Europe Anglet, Lacanau and Pantin.

 – SUMMER WITH VOLCOM – 
For summer 2019 we have a pallet of mellow pastels with a pop of red all grounded in classic Volcom black and white. Pretty florals clash with graphic plaids, and stripes to offer our girl a mix and match collection depending on her attitude. Throughout the line we have thoughtful details that elevate familiar silhouettes including smocking, mesh paneling and pretty elastic binding with bodies that cross over to be mixed with apparel. Lingerie has been an inspiration for feminine details while active wear has influenced new body styles. 
Sustainability continues to be a focus as we continue to use our Econyl regenerated nylon fabric introduced in new textures. To conserve water we are using multiple print techniques such as digital direct and digital sublimation.