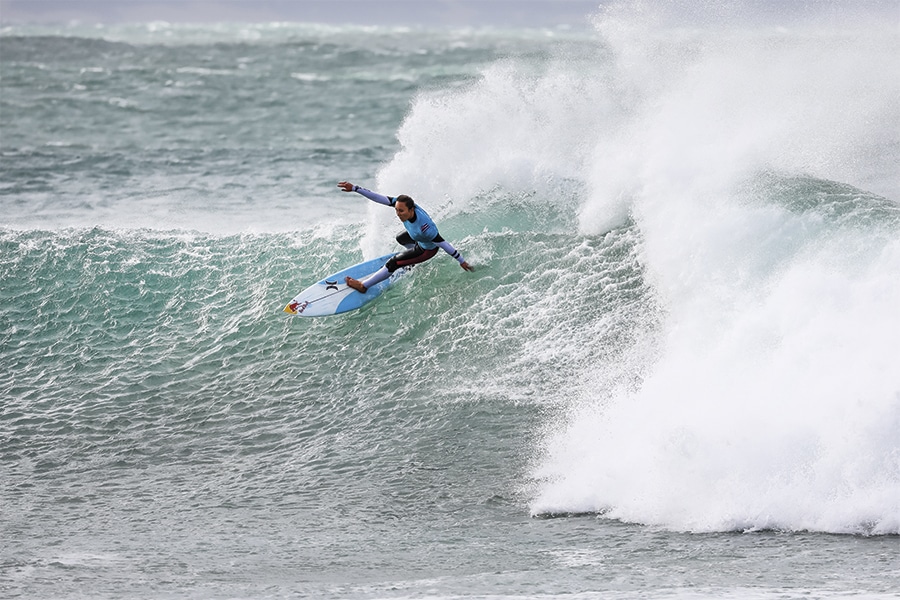 Carissa Moore (HAW) won the Corona Open J-Bay, the sixth stop on the 2019 World Surf League (WSL) Championship Tour (CT), in four-to-six foot (1.2 – 1.8 meter) waves at Jeffreys Bay in South Africa. The win is a first in South Africa for World Champion Moore and also marks her first CT wins this season to strengthen their respective World Title campaigns.
The action-packed Finals Day at the Corona Open J-Bay saw no shortage of drama and with six near-perfect 9-point rides and extremely close heats to complete the CT's halfway marker.
Event winner Carissa Moore (HAW) now leads the World Title race with Sally Fitzgibbons (AUS) in second, Stephanie Gilmore (AUS) in third, and Americans Lakey Peterson and Caroline Marks not far behind in fourth and fifth, respectively. En route to her victory today, three-time WSL Champion Moore defeated Peterson in the Final and Marks in the Semifinal.
"I haven't been in the yellow jersey in a few years, so it's extra special," said Moore. "I know there's a lot of work to be done for the rest of the year, but I'm just so excited! Getting to share this win with my support group, my husband, my dad, Duncan (Scott) who's been helping me here in South Africa, all my sponsors, I couldn't do it without them. South Africa didn't disappoint. I'm stoked to be back in the Title race with everyone. It's probably going to come down to Maui. I'm really stoked and couldn't have asked for a better end to the day."
Moore's 22nd CT win comes after an incredibly consistent season so far with no result below 5th place. The 26-year-old failed to take the win in two previous Finals this year on the Gold Coast and in Rio but now claimed her breakthrough result heading into the Freshwater Pro pres. by Outerknown, where she is the defending event winner.
"It's kind of come full circle for me from last year," continued Moore. "Just to come back and feel really good and happy, I'm ecstatic. I've been in the Title race from the very beginning. I just want to give my best at every stop and I'm just really happy. I'm super stoked to be in the yellow jersey. Of course, there's a lot of work that has to be done but it gives me confidence heading into a month break and I can breathe a little bit easier."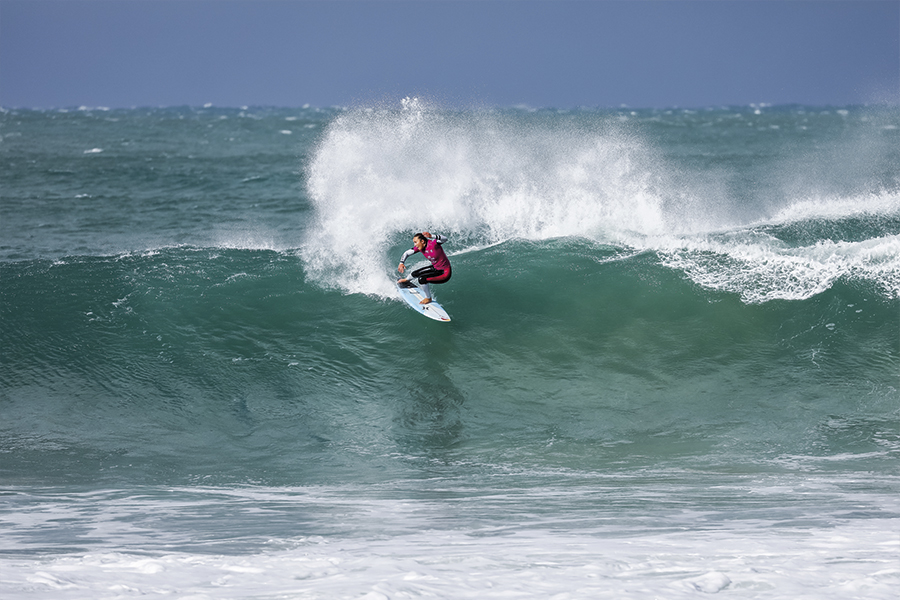 The Final saw Moore and Peterson go blow-for-blow in the Supertubes sets. Peterson stuck to her strategy of securing a good score on her first wave, opening with a 6.83 (out of a possible 10) in the first few minutes of the Final. Moore kept her focus and found a set wave, drawing out her signature carves, and the judges awarded her an 8.50 to jump into the lead. Peterson got a 7.27 while Moore was still trying to make her way back into the lineup. Moore improved her lead with a wave under priority to take the win.
Peterson's second Final at the Corona Open J-Bay fell just shy of the win again, but the American feels the momentum swinging her way into the final four events of the season. Peterson has one win so far this season at the Margaret River Pro and will be after her second at the upcoming Freshwater Pro from September 19 – 21, 2019.
"It was so awesome to finish with such incredible surf," said Peterson. "Thanks to everyone for letting us have the lineup the last couple weeks. It's truly an incredible place. It's awesome to come back this year and make the Final again and hopefully, I'll win it one day. Congratulations to Carissa (Moore). She is surfing unbelievably. She always pushes me to surf my best and brings the best out of myself so huge congrats to her, but I'm super stoked to keep rolling with the year now and hopefully get some momentum here and keep it going"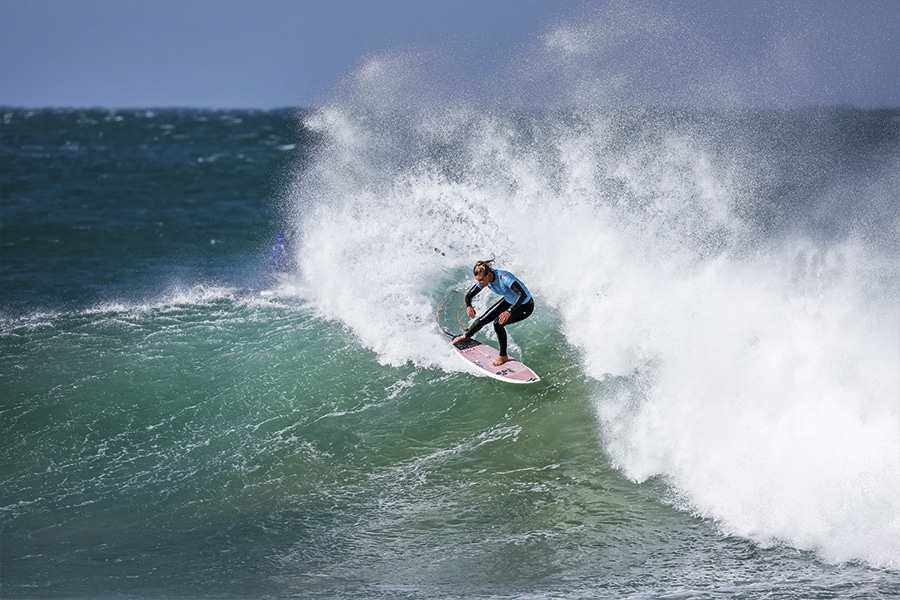 Corona Open J-Bay Women's Final Results:
1 – Carissa Moore (HAW) 15.47
2 – Lakey Peterson (USA) 14.60
Corona Open J-Bay Women's Semifinal Results:
Heat 1: Carissa Moore (HAW) 14.33 DEF. Caroline Marks (USA) 12.67
Heat 2: Lakey Peterson (USA) 15.27 DEF. Malia Manuel (HAW) 11.00
2019 Women's CT Jeep Leaderboard (following Corona Open J-Bay):
1 – Carissa Moore (HAW) 41,175 pts
2 – Sally Fitzgibbons (AUS) 37,325 pts
3 – Stephanie Gilmore (AUS) 35,065 pts
4 – Lakey Peterson (USA) 33,850 pts
5 – Caroline Marks (USA) 32,135 pts