Devastating news for many people as the hugely popular Boardmasters Music Festival was cancelled due to the bad weather conditions expected on Friday evening through to Saturday evening which made it unsafe to hold the event.
However the show goes on and the surfing action is taking place at Fistral Beach, Newquay as well as the Retail Village (when it reopens on Sunday) and parties throughout the weekend in the town and at Fistral Beach. The first two days of surfing two days of the in the Roxy Open and Longboarding events saw local surfers Peony Knight, Ellie Turner and Emily Currie compete against international talent such as Alice Lemoigne from Reunion Island and Ella Williams from New Zealand. Here's what's happened in the surfing competitions so far. 
"I'm stoked it's nice and warm today and I'm super happy to be back," Williams said. "Last time I was here was awesome I have many great memories, it'd be great to get a win again and that feeling back! I've also entered the longboard division this year, it's actually my first competition but I really like it and it was a perfect occasion to try both."
Competition wrapped up after Heat 4 of the women's second round, just in time for the defending event winner Juliette Lacome (FRA) and former runner-up Yolanda Hopkins (PRT) to advance into Round 3.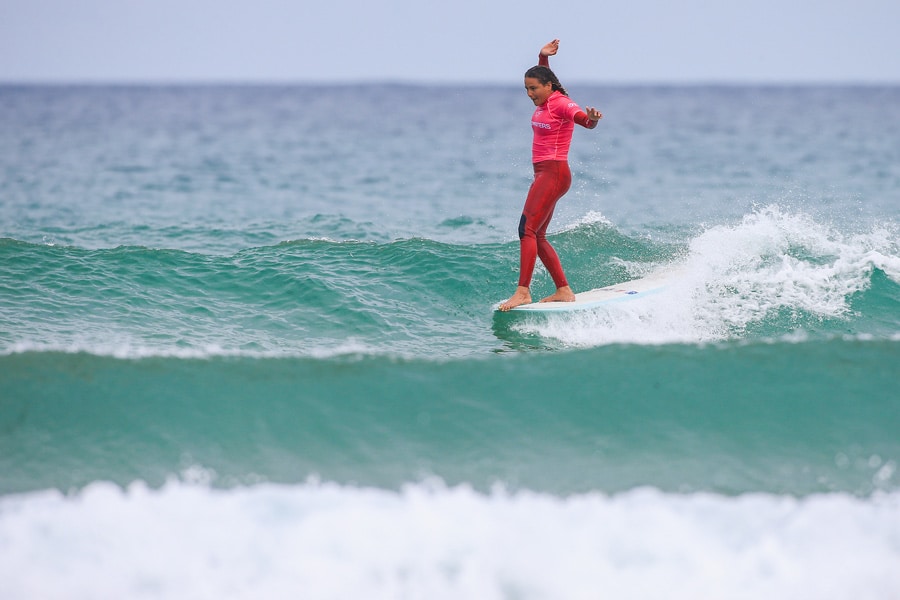 Alice Lemoigne (FRA) dominated her first two heats at Fistral.
The second day of surfing at Boardmasters focused on longboard action as waves got smaller and cleaner, and competition ran through the opening rounds and Quarterfinals of the Boardmasters Longboard Pro in men and women divisions. Former event winner Alice Lemoigne (FRA) launched her campaign with a brilliant display of graceful longboarding and excellent scores to advance into the Quarters. She later repeated the feat against French up-and-comer Zoe Grospiron and moved into the Semis where she'll face off against fellow Reunion Island surfer Ophelie Ah-Kouen (FRA) for a spot into the Final.
"I'm super happy to be back," Lemoigne said. "I didn't initially plan to come and compete here this year but I've come to realize that the European title is very important to me and I really want to try to win it again. Conditions were small and fun today, very nice on a longboard."
The 4-time European longboard title holder, French surfer from Reunion Island, claimed the amateur World Title earlier this year as well and continues to prove she belongs amongst the very best surfers on the planet on boards 9 foot and longer.
"I was really scared to get back to competing so I'm happy I started well today," Ah-Kouen stated. "This is the first step for me and I plan on competing in the bigger events in Galicia and New York later this year. It's my first time here and I'm loving the English vibe, it's all very pretty. The next heat will be tough, I grew up with Alice and I know she's a great surfer, but win or lose I'll be happy with my performance."
Surfers will be back on Friday for the next call of the QS action. Female longboarders will wait until Sunday for their finals.
More at WorldSurfLeague.com