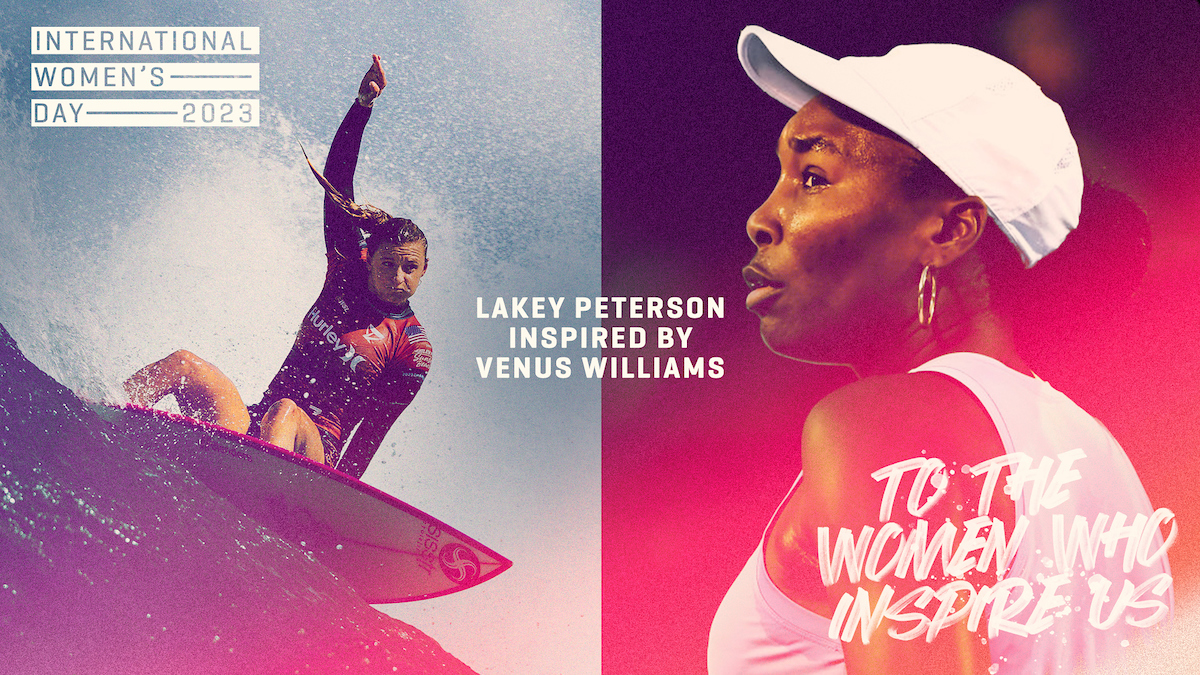 World Surf League To Honor Trailblazing Women in Sports with 2023 International Women's Day Campaign
Championship Tour Surfers to Celebrate Sporting Heroes on Competition Jerseys During MEO Rip Curl Pro Portugal

The World Surf League (WSL) will launch its annual International Women's Day campaign at the MEO Rip Curl Pro Portugal Presented by Corona, the third stop on the WSL 2023 Championship Tour (CT). In this athlete-led initiative, each WSL CT surfer will compete wearing the jersey of a woman in sport who inspires them. The WSL's 2023 campaign aims to celebrate sports' greatest icons, honor progress made within women's professional surfing, bring attention to the ongoing mission for equality in sport, and inspire the future generation of female athletes.
"We are deeply committed to equality and the progression of women's surfing," said Jessi Miley-Dyer, WSL Chief of Sport. "Our athletes and the WSL recognize the importance of using our platform to celebrate the values that make us unique in the sporting world. It is with great pleasure that we celebrate International Women's Day and honor the trailblazers who have paved the way for women. I am thrilled that our athletes have embraced this opportunity to use their voices to champion women's sports."
Every CT competitor has personally selected a woman to honor on the back of their jersey. The honorees come from a range of sports, countries, and backgrounds, showcasing the vast impact of female athletes around the world. The reasoning behind each selection is personal to every athlete. The WSL will be sharing these stories leading up to and during the competition. It was hard for some surfers to pick just one woman that inspires them. Lakey Peterson chose Venus Williams, but is also a big fan of Serena, so will have WILLIAMS on the back of her jersey, representing both sisters.
Peterson said, "Both Venus and Serena Williams are huge inspirations for me. I think they are two women who have busted down the doors of women's sporting areas, and have proven what can be done as females on the court. They are a great representation off the court too. I am honestly just a massive fan of the Williams sisters, grew up watching them on TV, and I grew up playing tennis, so that is who I decided to represent on my jersey this year for International Women's Day."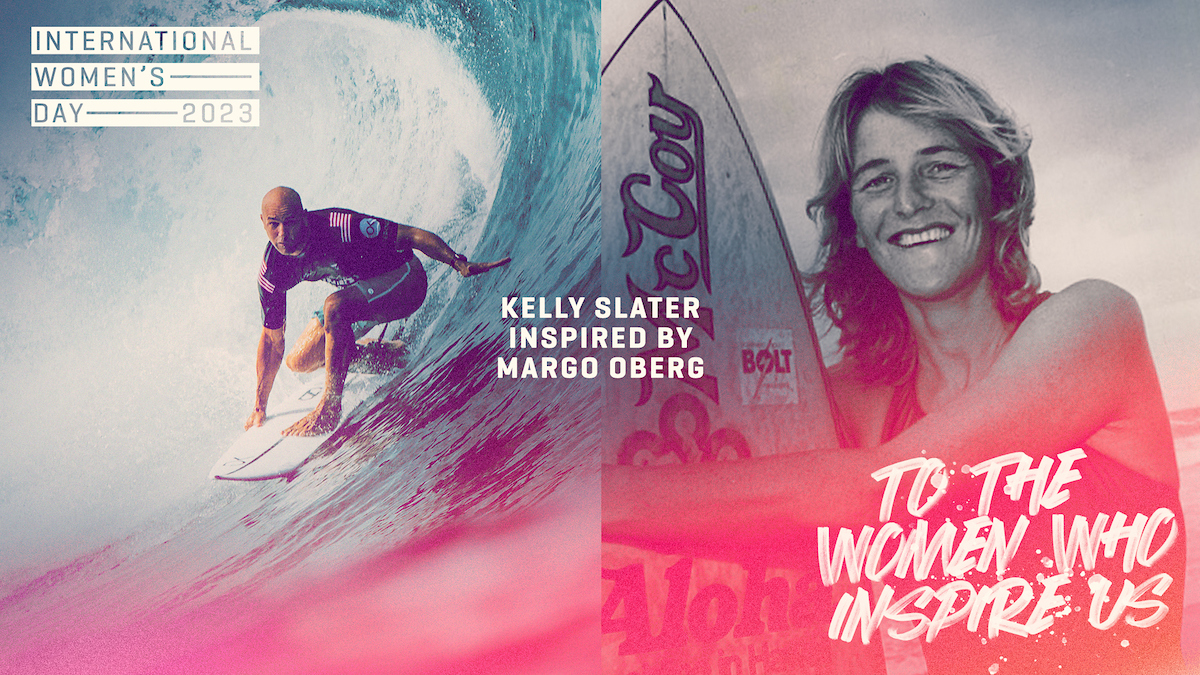 While some surfers find inspiration from current female athletes, others prove that a female athlete's influence transcends time. Kelly Slater has chosen surfing icon and fellow World Champion Margo Oberg as one female athlete who has significantly impacted him. Tyler Wright selected a fellow Australian athlete, Sam Kerr, who inspires her because of her skill and leadership ability.
"I chose Sam Kerr. She is an incredible Australian soccer player," said Wright. "She plays for the Matildas and Chelsea overseas. The World Cup is coming up in Australia, so it's a big year; the Matildas have been doing an incredible job. I think Sam is an inspiring athlete, sets an incredible standard, and captains Australia really well."

From history-makers and legendary icons to skateboarding phenomena and Olympians, there's no shortage of inspiration among the list of honorees by the surfers. Kanoa Igarashi selected fellow Japanese athlete Naomi Osaka as someone who truly inspires him in and out of competition. Rio Waida chose Greysia Polii and Apriyani Rahayu, who won Indonesia's women's badminton doubles Gold medal at the Tokyo 2020 Olympics. Gabriel Medina is inspired by Brazilian soccer star Marta, considered one of the greatest female footballers ever. Susie O'Neill, an Australian Olympic swimmer, constantly inspires fellow Aussie Stephanie Gilmore.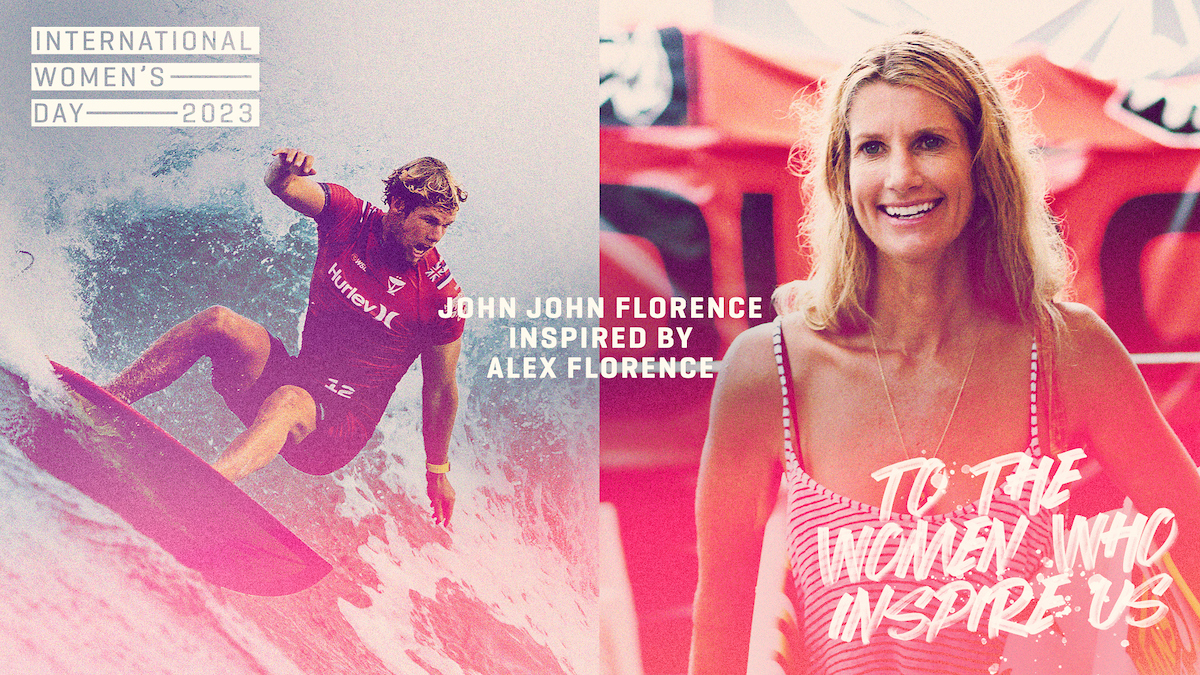 "We take pride in our efforts to promote equality and inclusion, not only as a global organization, but also as a sport and community," said Erik Logan, WSL CEO. "Our commitment to equal prize money and combined Tour schedules is a holistic approach that propels our sport forward and sends a strong message to up-and-coming surfers worldwide. As a league, we strive to set an example for other sports and act as a channel for ongoing transformation."

As part of the MEO Rip Curl Pro Portugal event takeover, the WSL will share one-of-a-kind International Women's Day content across all platforms. Those who tune into the event's live broadcast will see notable footage of WSL surfers sharing how their honoree inspires them. The WSL's Lineup Podcast will release a special episode with eight-time World Champion Stephanie Gilmore, honoring her impact in surfing and across sports. WSL Rising Tides will host a special edition of its beachside engagement program, led by Portuguese surfer Teresa Abracos. The activation will host up-and-comers of all abilities at the main event site, Supertubos. The lineup will be cleared for only the WSL Rising Tides participants so they can have the usually competitive and crowded lineup to themselves, with the CT athletes cheering them on.

The WSL has made impactful investments in the progress of women's surfing. Since 2019, the WSL has awarded equal prize money to men and women across every WSL-owned and operated event, becoming the first and only US-based global sports league to do so. Additionally, the WSL's season hosts combined venues and schedules for the men and women across the CT, Challenger Series, and Longboard Tour. The WSL also launched the Rising Tides program in 2019, allowing young surfers to meet CT athletes and share a platform to explore and learn from their heroes about pursuing their dreams in and out of the water.
The MEO Rip Curl Pro Portugal Presented by Corona is the third stop on the WSL Championship Tour. The waiting period will open on March 8 and close on March 16, 2023, where the WSL Tours and Competition team will determine the best days to run the competition within the window. This event will take place in Peniche, Portugal.