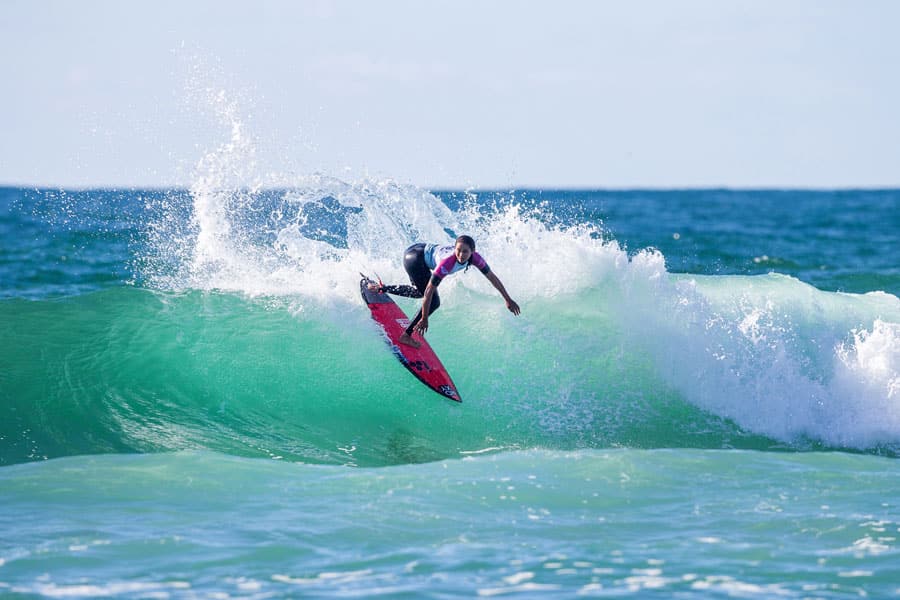 Pictured: Vahine Fierro (PYF) showed strong potential in her opening heat in Hossegor. Credit: WSL/ Masurel
The Quiksilver and Roxy Pro France launched today in quality three-to-five foot surf at the backup venue of Les Culs Nus. The competition ran through the opening round of both the men's and women's fields and showcased high-performance surfing at its finest with rail game and airs on display all day.
Stop No. 8 and 9 on the women and men's 2019 World Surf League (WSL) Championship Tour respectively, the Quiksilver and Roxy Pro France carry both World Title and Olympic qualification implications. As expected in Southwest France, surfers had to adapt to a multitude of conditions as the peaks moved around sandbanks through high and low tides and offshore to onshore winds.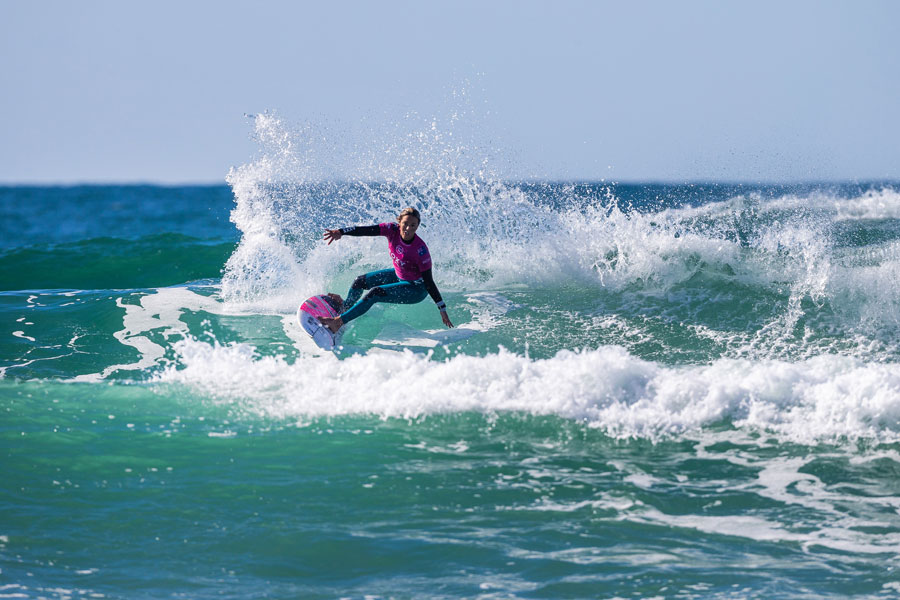 World No. 3 Sally Fitzgibbons (AUS, pictured above) got her campaign underway in the punchy little lefts and rights of Culs Nus to take the opening heat of the Seeding Round and move on to the Round of 16. The Australian played the patient approach, only riding four waves in her 30-minute encounter with Brisa Hennessy (HAW) and Paige Hareb (NZL) and made her scores count with a best ride of 6.50.
"It's a fun little puzzle you can't really hear your scores out there and it's just you and the ocean," said Fitzgibbons. "All the girls are ripping so it great to get away with the win in this one and I'm happy I got a couple of waves."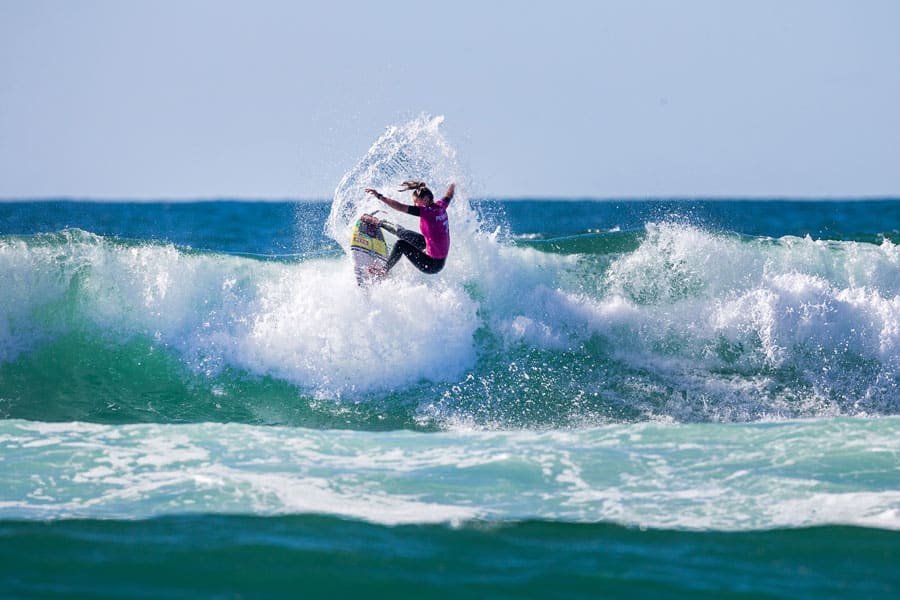 Things got a little tougher for the current Jeep Leaderboard No. 2 Lakey Peterson (USA, pictured above) who faced off with last year's event runner-up Macy Callaghan (AUS) and Bronte Macaulay (AUS) but the American managed to squeeze through in second position and avoided the treacherous Elimination Round.
Keely Andrew (AUS) got a come-from-behind victory in Heat 4, courtesy of a good 3-turn combo on her backhand for a 7.33. The Australian upset the 7X World Champion Stephanie Gilmore (AUS) and local favorite Johanne Defay(FRA), as the pair fought for second place. Eventually, it was Defay who skipped the Elimination Round and Gilmore will surf it for the first time since Bells Beach last season.
Tahitian Up-and-Comer Takes First CT Win Over World No. 1
Roxy wildcard and former World Junior Champion Vahine Fierro (PYF) posted her first-ever CT heat win over the 3X WSL Champion and current Yellow Jeep Leader jersey Carissa Moore (HAW) in only her second time performing at the elite level. The surfer from Tahiti has been turning heads as a standout at Teahupoo and is out to gain experience against the best in the world this week.
"It's always nice to win against the number one in the world," said Fierro. "Waves were tricky but I got a couple of turns on the rights and it was fun. Surfing Teahupoo is definitely a scary experience and I think it prepares me for anything. I was here surfing a couple of days ago when it was big and I honestly wasn't even scared so maybe surfing Teahupoo before every event is the way to go."
Results so far
Roxy Pro France Elimination Round (Round 2) Matchups:
HEAT 1: Stephanie Gilmore (AUS) vs. Nikki Van Dijk (AUS) vs. Paige Hareb (NZL)
HEAT 2: Tatiana Weston-Webb (BRA) vs. Bronte Macaulay (AUS) vs. Silvana Lima (BRA)
Roxy Pro France Seeding Round (Round 1) Results:
HEAT 1: Sally Fitzgibbons (AUS) 10.93 DEF. Brisa Hennessy (CRI) 9.70, Paige Hareb (NZL) 7.17
HEAT 2: Macy Callaghan (AUS) 11.10 DEF. Lakey Peterson (USA) 10.43, Bronte Macaulay (AUS) 9.90
HEAT 3: Vahine Fierro (FRA) 10.64 DEF. Carissa Moore (HAW) 10.00, Nikki Van Dijk (AUS) 8.34
HEAT 4: Keely Andrew (AUS) 12.20 DEF. Johanne Defay (FRA) 11.96, Stephanie Gilmore (AUS) 11.80
HEAT 5: Caroline Marks (USA) 13.50 DEF. Coco Ho (HAW) 11.73, Tatiana Weston-Webb (BRA) 9.70
HEAT 6: Courtney Conlogue (USA) 12.10 DEF. Malia Manuel (HAW) 11.50, Silvana Lima (BRA) 11.47