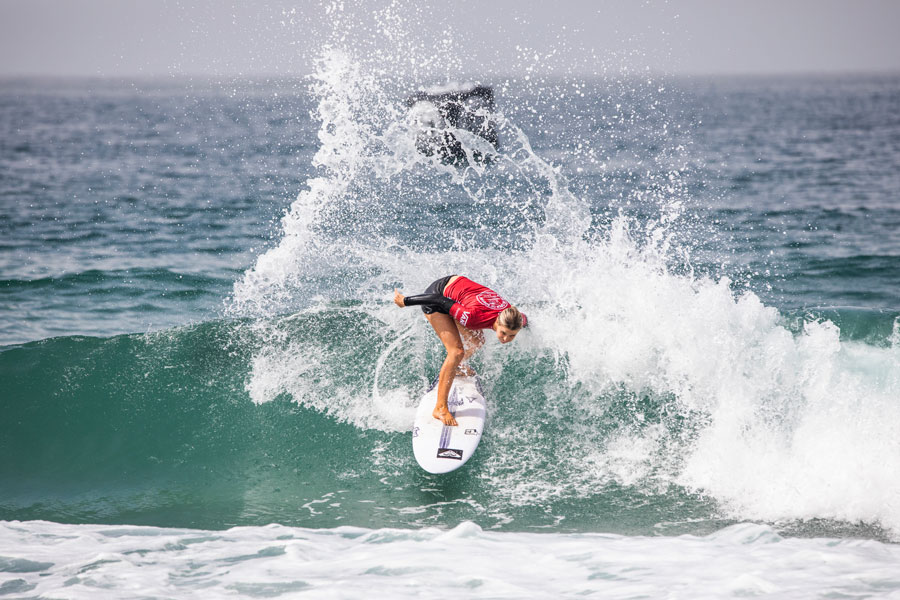 The Vans US Open of Surfing presented by Swatch, a World Surf League (WSL) Women's Qualifying Series (QS) 10,000 event, one of the largest action sports festivals in the world, smashed through their Round 3 bouts and the Vans Joel Tudor Duct Tape Invitational put on showcase of style and poise through tough afternoon conditions. Two-to-three foot (1 to 1.2 metre) swell found its way back into the Huntington Beach Pier lineup and world-class performances followed.
One of the QS warriors-turned-Championship Tour (CT) elite Bronte Macaulay (AUS) came out firing on all cylinders once again in Round 3. The Margaret River, Australia, native honed her home break's power into her performance and dropped an immaculate 17.10 (out of a possible 20) after building her scoreline from start to finish — finishing with an 8.83 (out of a possible 10) and 8.17. Macaulay isn't getting ahead of herself knowing the caliber of competition at hand, but came in from the water beaming.
Defending event winner Courtney Conlogue (USA) stayed on pace to repeat with another clutch heat win over potential threats Alyssa Spencer (USA), also advancing, and Tia Blanco (PRI) after starting with an early lead that she maintained until the final horn. Spencer's 7.33 start challenged Conlogue, but the newest addition to the Huntington Beach Surfing Walk of Fame held her composure before going directly to the induction ceremony.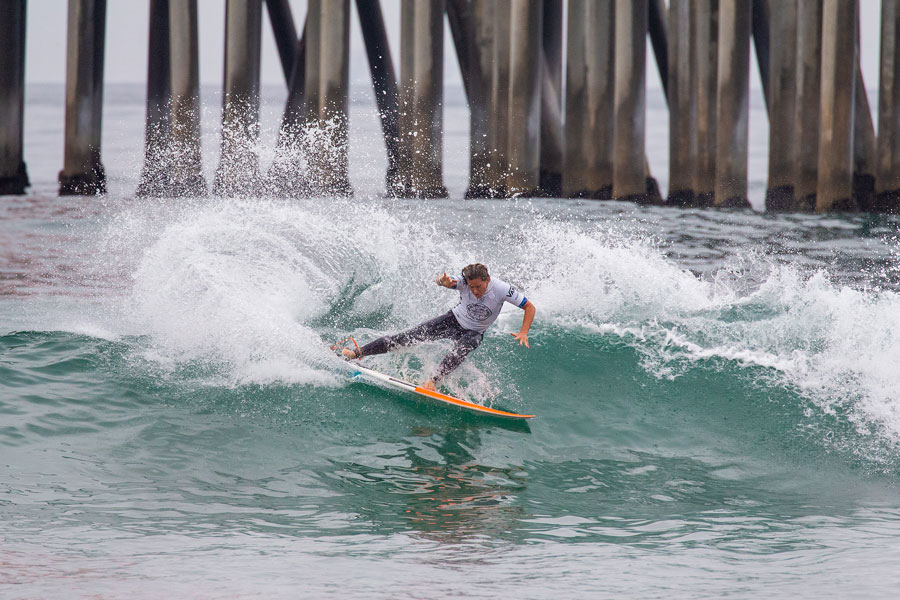 "I just love that hometown encouragement and have everyone on the beach — it's only 8am and the crowd's just alive,  we're just having fun. This week's all about embracing everything that's coming my way and just enjoying all that hard work I've put in. I feel so honored that the Surfing Walk of Fame is recognizing me for my achievements so early in my career and I know I have a lot more to give. The induction was an amazing experience with fans all around me and Swatch had made face signs of me which was really cool (laughs). Today was a really memorable one and not forgetting that anytime soon."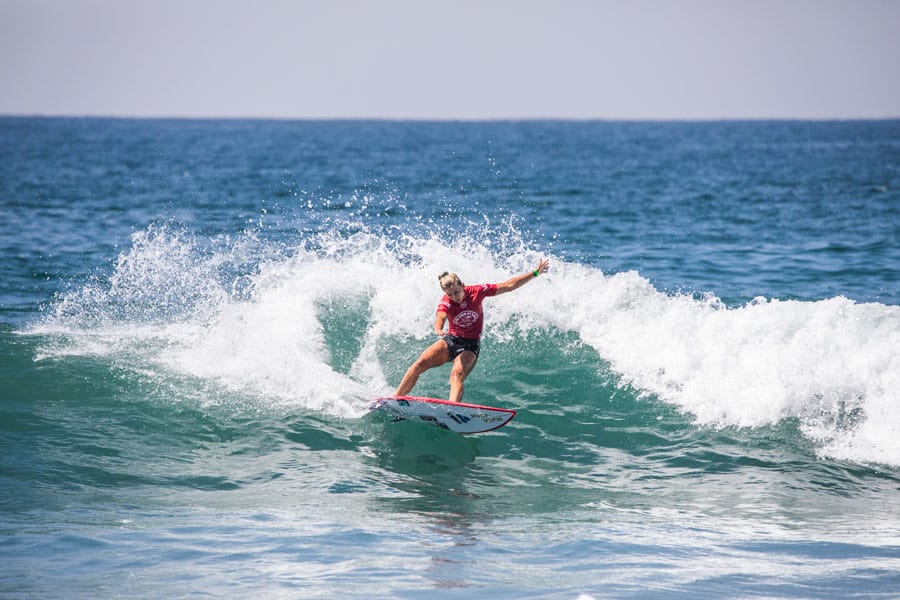 Fellow former Vans US Open victor, and the only competitor to win both the women's QS and Pro Junior, Sage Erickson (USA) found her rhythm in Round 3 and dropped an excellent 8.33 to solidify a spot into Round 4. Erickson's year has been filled with highs and lows, claiming 3,000 points in Australia to start the year and also losing first heat in Oceanside last weekend, but finds herself in a great position to reclaim a big result and make a charge toward re-qualification.
"The year I won I had to beat Courtney twice, Carissa, and then Tatiana in the Final and to be a champion you have to beat the best girls," Erickson said. "Oftentimes if you don't, you're not winning the event. But, I'm just happy to be catching waves and having fun competing. I've got a really fun crew here and each day is anew so I'm just enjoying them as they come."
Sage Erickson
Current QS No. 1 Isabella Nichols (AUS) continues her run toward all but solidifying a qualification spot by overpowering fellow compatriot Keely Andrew (AUS) and eliminating reigning World Junior Champion, current No. 3, Kirra Pinkerton (USA) before Tatiana Weston-Webb (BRA) topped reigning WSL Champion Stephanie Gilmore (AUS) to notch her Round 3 victory.
Also finding their way through, phenom Caroline Marks (USA) continued to show her experience at the iconic southside lineup and powering through heats toward a third Vans US Open title after back-to-back Pro Junior titles in 2015 and 2016 and is joined by the likes of Zahli Kelly (AUS), Malia Manuel (HAW), Nikki Van Dijk (AUS) and more.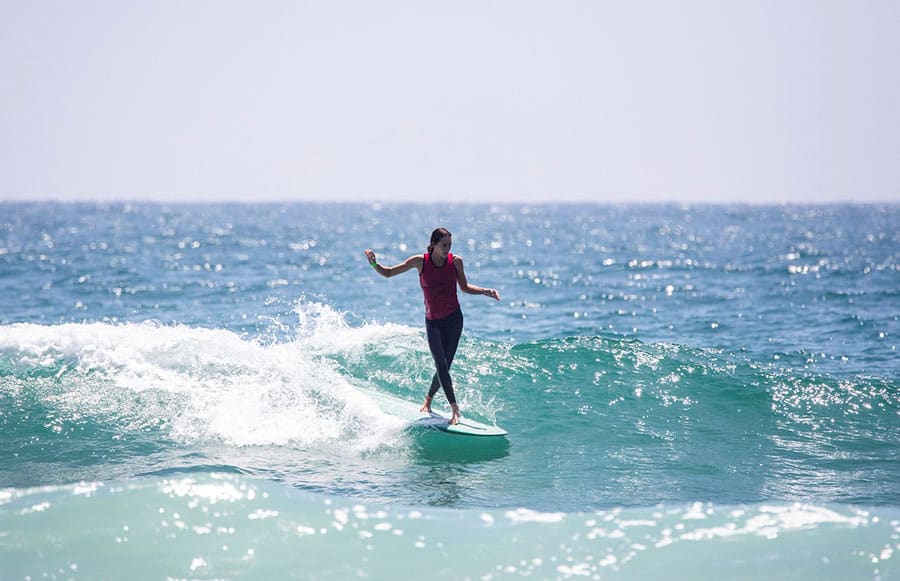 2017 WSL Longboard Champion Honolua Blomfield (HAW) was all smiles following her Quarterfinal and Semifinal victories of the Duct Tape Invitational. It was deja vu of last year's Final as Blomfield and good friend Kelis Kaleopaa (HAW) shared a ride together, Kaleopaa losing her board and Blomfield generously leaving hers while chasing down Kaleopaa's. Though it's all fun for Blomfield, her inner-competitor still shines through and has another win in her sights.
"Those girls I surfed with are some of my very best friends and they surf so amazing, all of them inspire me," Blomfield said. "It was just the best time ever out there. I would be so happy if Kirra (Seale) and I surfed a Final together since we pretty much grew up surfing together. With Kelis in the Final and Kirra, it'd be so cool to have another Hawaiian girl in there — I can't even talk just with how exciting that would be."
Blomfield's ideal scenario played out and Seale found her way to the Final alongside Quarterfinal standout Haley Otto (HAW) to make it an all-Hawaii affair to finish the event.
Vans US Open of Surfing pres. by Swatch Round 3 Results:
Heat 1: Caroline Marks (USA) 13.70, Zahli Kelly (AUS) 10.10, Summer Macedo (HAW) 9.20
Heat 2: Courtney Conlogue (USA) 13.60, Alyssa Spencer (USA) 13.43, Tia Blanco (PRI) 11.13
Heat 3: Isabella Nichols (AUS) 14.73, Keely Andrew (AUS) 13.00, Kirra Pinkerton (USA) 10.70
Heat 4: Sally Fitzgibbons (AUS) 11.63, Brisa Hennessy (CRI) 11.57, Minori Kawai (JPN) 6.30
Heat 5: Tatiana Weston-Webb (BRA) 13.66, Stephanie Gilmore (AUS) 13.33, Macy Callaghan (AUS) 11.60
Heat 6: Bronte Macaulay (AUS) 17.10, Mahina Maeda (JPN) 11.10, Hinako Kurokawa (JPN) 7.67
Heat 7: Sage Erickson (USA) 15.50, Tessa Thyssen (FRA) 11.74, Meah Collins (USA) 9.56
Heat 8: Malia Manuel (HAW) 13.60, Nikki Van Dijk (AUS) 13.27, Vahine Fierro (FRA) 5.17
Upcoming Vans US Open of Surfing pres. by Swatch Round 4 Matchups:
Heat 1: Caroline Marks (USA) vs. Alyssa Spencer (USA)
Heat 2: Courtney Conlogue (USA) vs. Zahli Kelly (AUS)
Heat 3: Isabella Nichols (AUS) vs. Brisa Hennessy (CRI)
Heat 4: Sally Fitzgibbons (AUS) vs. Keely Andrew (AUS)
Heat 5: Tatiana Weston-Webb (BRA) vs. Mahina Maeda (JPN)
Heat 6: Bronte Macaulay (AUS) vs. Stephanie Gilmore (AUS)
Heat 7: Sage Erickson (USA) vs. Nikki Van Dijk (AUS)
Heat 8: Malia Manuel (HAW) vs. Tessa Thyssen (FRA)
Vans Joel Tudor Duct Tape Invitational Women's Semifinal Results:
Heat 1: Honolua Blomfield (HAW) 11.94, Kelis Kaleopaa (HAW) 8.87, Summer Richley (USA) 8.30, Avalon Gall (USA) 6.10
Heat 2: Kirra Seale (HAW) 11.37, Haley Otto (HAW) 11.04, Victoria Vergara (FRA) 9.57, Karina Rozunko (USA) 7.90
Vans Joel Tudor Duct Tape Invitational Women's Quarterfinal Results:
Heat 1: Kelis Kaleopaa (HAW) 9.70, Summer Richley (USA) 9.50, Makala Smith (HAW) 7.70, Candra Jordan (USA) 7.20
Heat 2: Honolua Blomfield (HAW) 13.00, Avalon Gall (USA) 10.16, Hallie Rohr (USA) 9.40, Mele Saili (USA) 4.93
Heat 3: Karina Rozunko (USA) 12.84, Kirra Seale (HAW) 12.50, Kaitlin Mikkelsen (USA) 9.23, Erin Meza-Ashley (MEX) 6.34
Heat 4: Haley Otto (HAW) 13.50, Victoria Vergara (FRA) 10.36, Jennifer Smith (USA) 9.93, Justine Mauvin (REU) 9.16