Hailed as the UK's surf capital, Cornwall provides the goods when it comes to a buzzing surf scene, plenty of swell, crystal clear water and rugged coastlines.
Thanks to its location on the North Atlantic the county is a magnet for swell throughout the year which means there are surf spots a plenty along its 400 mile coastline. Here are our top 10 surf spots to visit in the beautiful county of Cornwall …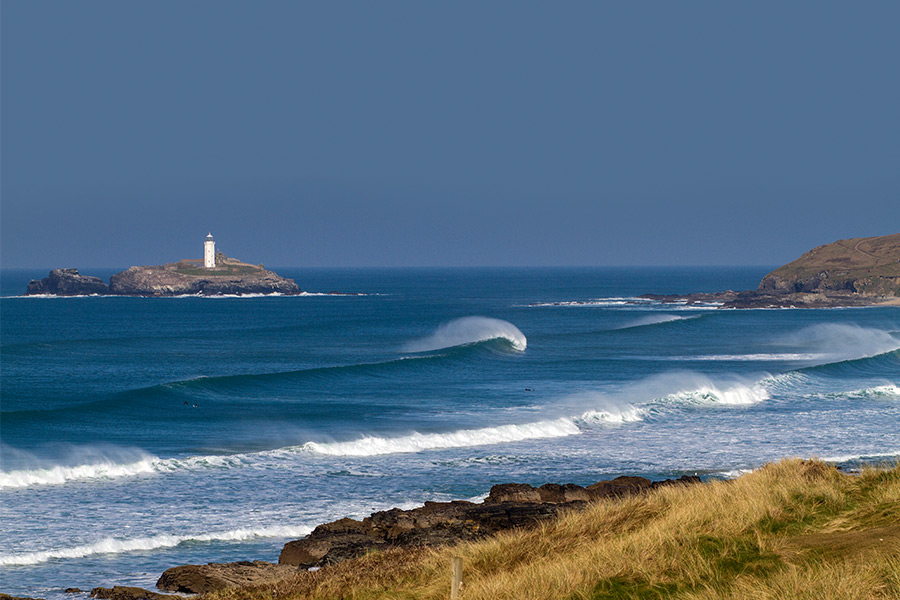 Gwithian / Godrevy
This wide, long beach serves up three miles of stunning golden sands and surfing conditions for all levels. These neighbouring spots are located at opposite ends of the beach, both west facing and exposed to the Atlantic which means consistent swell throughout the year. Godrevy does attracts more experienced surfers as the waves are larger here when the conditions are right. The area is home to the iconic Godrevy Lighthouse, known for its natural beauty and wildlife so eyes peeled for visiting dolphins and resident seals for a unique surfing experience.
Photo: Sharpysurf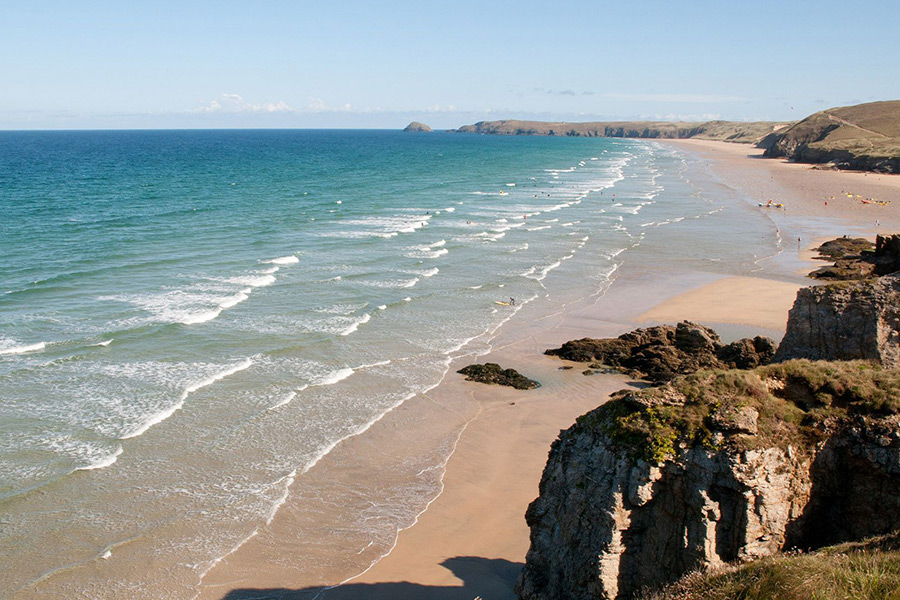 Perranporth
This popular beach break offers multiple peaks along the shoreline, providing a variety of wave options for all levels. A great spot for learning in the white water and practicing on green waves, it can get busy in the summer, but there are multiple take-off spots so crowding can be avoided. Low tide can be quite heavy on larger swells, but the waves get mellower as the tide comes in.
Photo: Visit Cornwall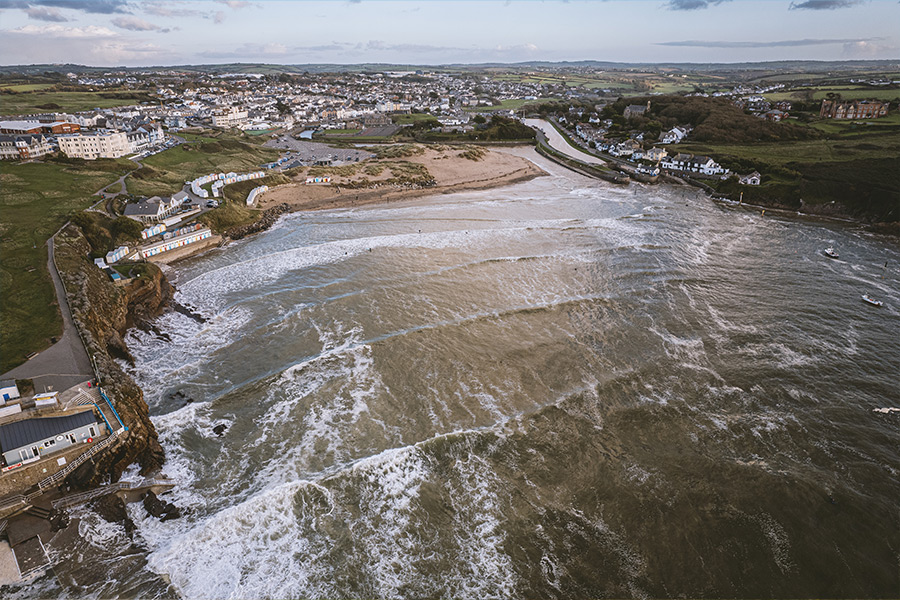 Bude
Located at the very north of Cornwall, the Bude area is home to some of Cornwall's best surfing beaches. The many accessible beaches are perfect for learners plus plenty of options along the coast for more experienced surfers. Summerleaze Beach, located right in Bude, is suitable for all and offers a more sheltered surf spot when the wind is up. Widemouth Bay, located just south of Bude, is a mile and a half of surfing joy. A popular beach with consistent waves and a sandy bottom, making it suitable for beginners and for intermediate surfers at high tide. For experienced surfers, Crooklets Beach, located in Bude itself, offers a mix of sand and reef breaks, with peak surf conditions at mid to high tide, easterly winds.
Photo: Nick Russill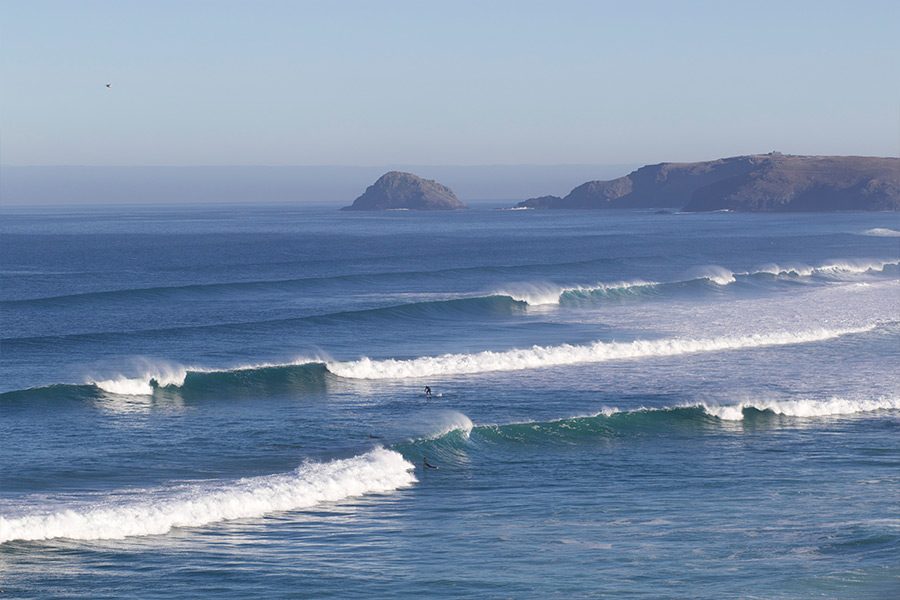 Watergate Bay
This stunning spot serves up consistent surf at all times of the year and works on most tides, although there tends to be larger swell in the winter. A beach break with plenty of space for everyone thanks to its multiple peaks, it has stunning coastal cliffs, beautiful sunsets over the surf and often a dolphin spot or two. A favourite with locals, visitors, beginner – expert surfers and even the pros as Watergate Bay hosts the 'English National Surfing Championships' and the Rip Curl Grom Search.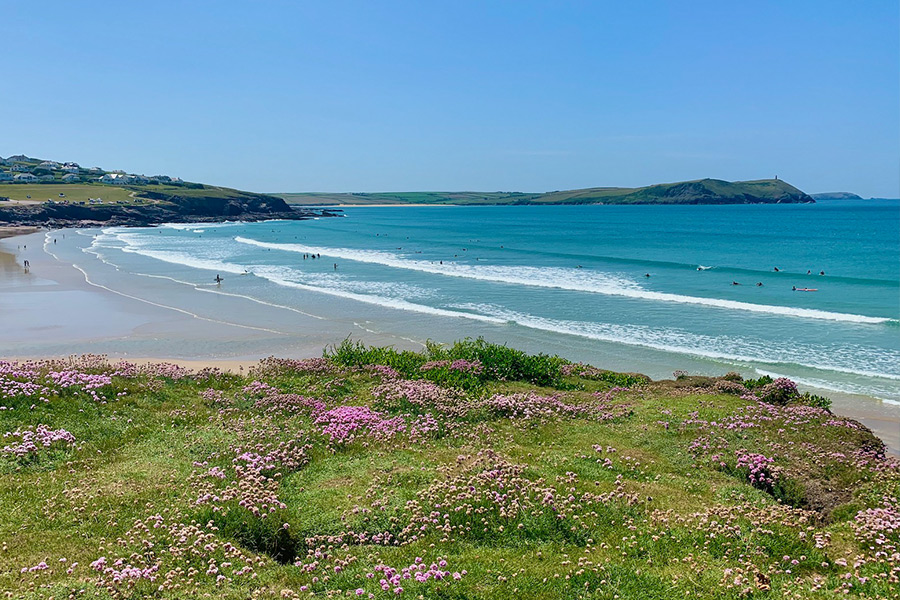 Polzeath
A great spot for beginners as swells hit a long flat beach and tend to be more mellow, but there are occasions when larger and more powerful waves arrive, especially during the winter months. Plus what it lacks in high-performance it makes up with shelter as often the headland protects the bay from the blown out conditions on more open beaches. Thanks to its beginner friendly status the beach is home to several surf schools, surf camps, and surfy shops. The atmosphere is often lively, with a friendly and inclusive vibe that welcomes surfers of all ages and abilities.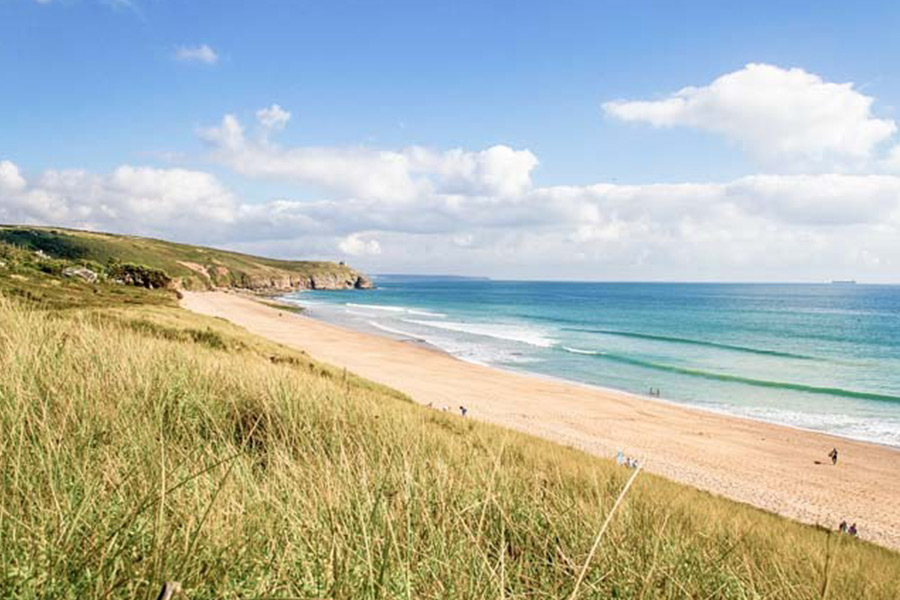 Praa Sands
Known for its beautiful sandy beach, spectacular coastline and scenic surroundings, Praa Sands on Cornwalls south coast serves up smaller waves on prevailing west swells than the north coast, and sheltered conditions with north west winds. While it can attract locals and visitors, it tends to have a more relaxed and spacious atmosphere, particularly outside of peak tourist seasons and weekdays.
Photo: Global Boarders Watersports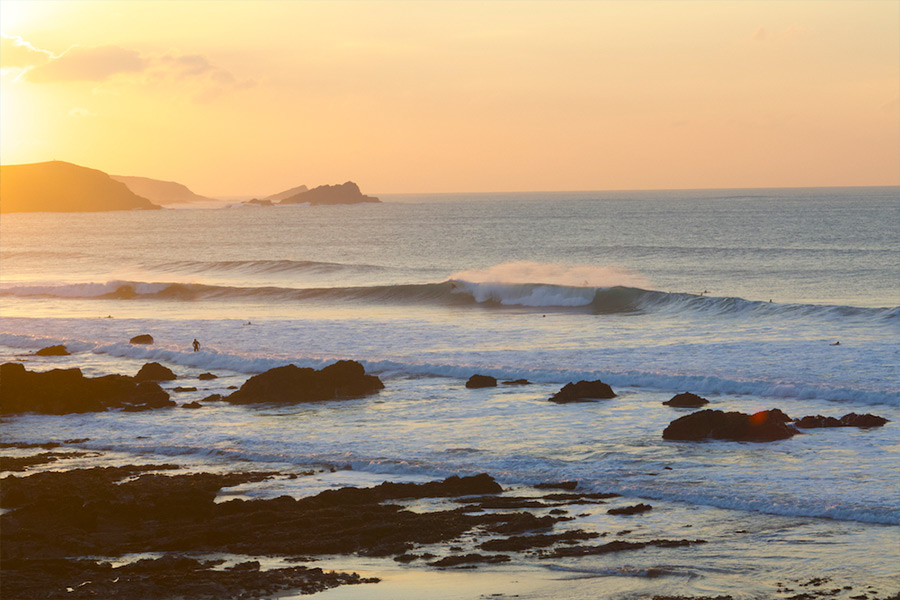 Fistral
Recognised as one of the UK's premium surfing destinations, Fistral Beach offers consistent waves and a vibrant surf culture. Its west facing Atlantic swell and 600-m long beach break combo means there are a variety of wave options for all. From powerful, hollow waves during larger swells for experienced surfers to more forgiving waves for surfers of different skill levels. Not forgetting the Cribbar, the UKs most famous big wave spot, when it gets really big! The lineup can be busy, particularly in the main surf zone, but there are usually enough waves and space to accommodate everyone. Surfing at quieter times, such as early mornings or during weekdays, can result in a more relaxed experience.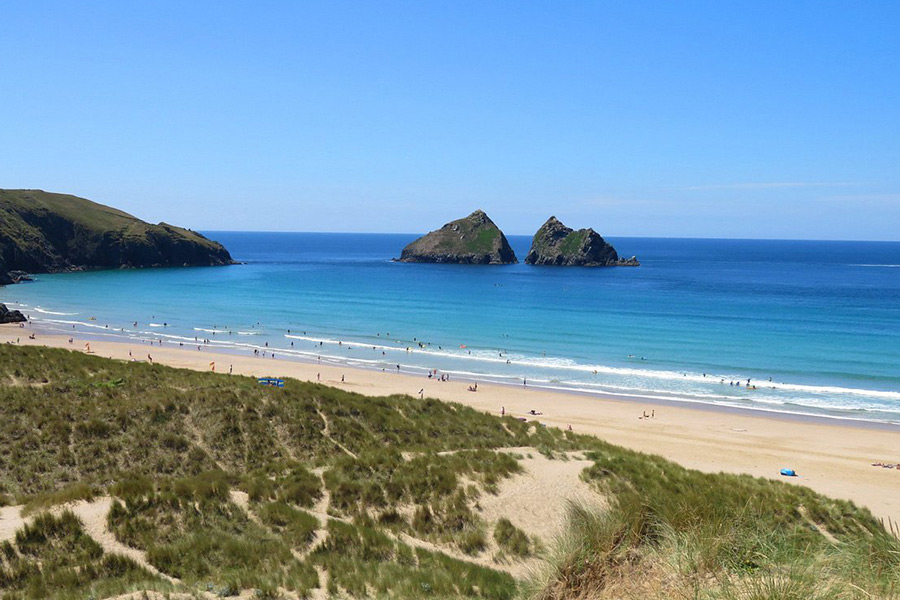 Holywell Bay
This beautiful spot is surrounded by stunning dunes, green common land and rugged coastline. A long beach break with consistent swell that works at any time of the year, best around 2-4ft surf at low to mid tide. Larger surf-able waves are more rare but the waves get bigger as you head to the north end of the beach. Conditions can be unpredictable so expect close-outs and watch out for rips. But when it comes together this is a beautiful place to surf with super clear water. Its raw beauty has also made it a popular spot for films and TV shows with James Bond, Poldark and House of Dragons filmed here, to name a few. It is a bit of a slog from the car park to the surf spots so be prepped for a bit of a stomp with your gear.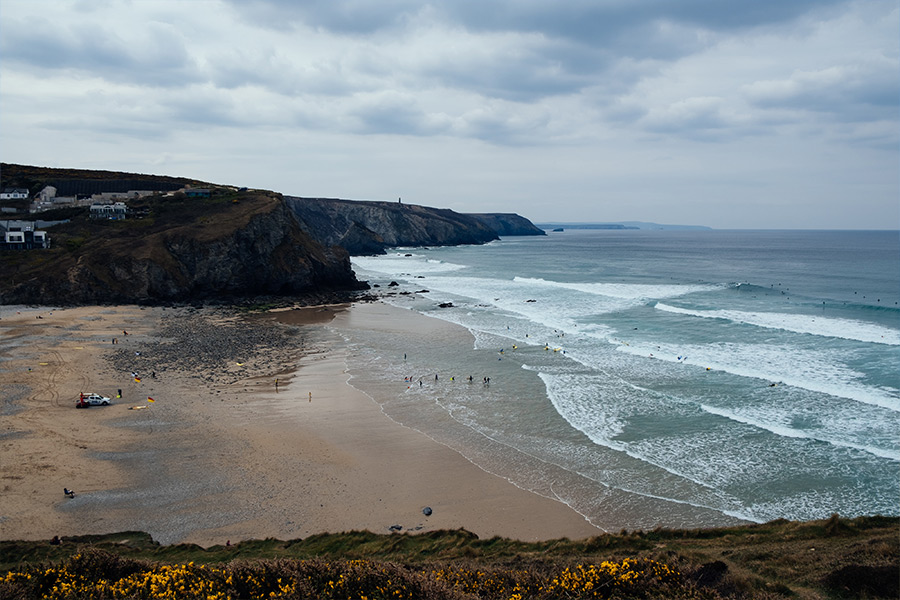 Porthtowan
Porthtowan can attract a lot of surfers, especially during peak surfing seasons and weekends. This area of outstanding natural beauty is popular with local and experienced surfers as when conditions are right, it works. It is open to all decent sized swells and can have powerful and hollow peaks and even a barrel or two. It is more suitable for experienced surfers, but that said, beginners can have fun in the white water and there are surf schools offering lessons if you want guidance.
Photo: Nick Seagrave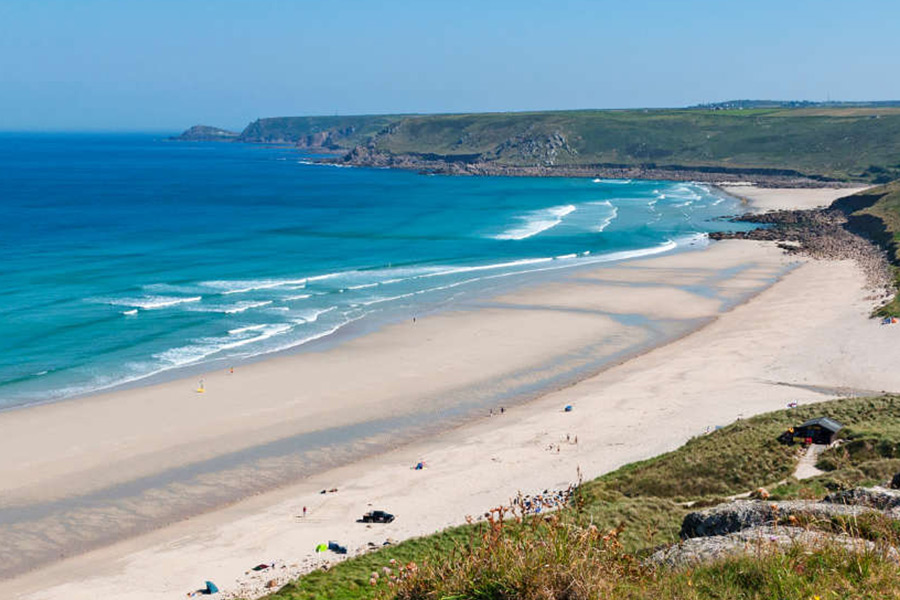 Sennen Cove
Sennen's golden sands and crystal clear waters are suitable for all levels of surfer, with smaller beginner-friendly waves to the left of the beach and bigger waves for the more experienced surfer to the right. Although located way down at the Southern tip of Cornwall, this tranquil village can get busy in the summer but the vibe is good and the scenery stunning. Parking can be an issue right down in Sennen Cove so if you don't luck out with a spot, expect a 15 min walk from Sennen town.
Photo: Luxury Cornish Breaks