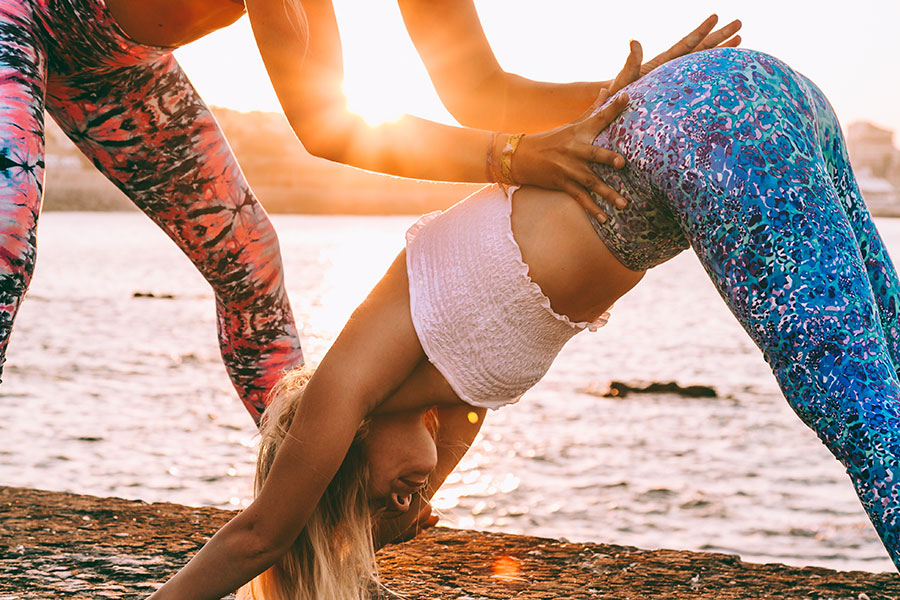 Exploring Cascais is a voyage of discovery. The whole coastline offers a seemingly endless amount of dramatic and ever-changing scenery, culminating in the extraordinary town of Sintra, an official World Heritage Site. Truly one of the most unusual and magical places to experience in Europe, the must-see places are undoubtedly the Pena Palace and Park (which many say was the inspiration for Disney's Cinderella castle) the mystical and symbolic Quinta da Regaleira Palace with its tunnels, magical grottos, fountains and gothic architecture and Sintra's highest point, the Moorish Castle which offers outstanding views across the mountains and down to the Atlantic. 
We spoke to The Salty Pelican crew to find out more …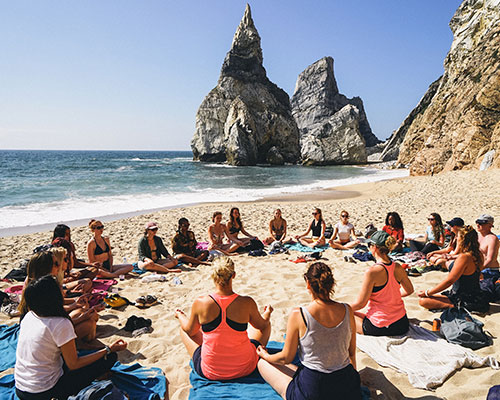 1. Exciting news about the renovation. How's the new camp looking?
Fantastic! The newly renovated retreat has been converted into a stunning traveller's meeting point, located just minutes away from all the best beaches and chill spots in the area. It's complete with a cosy lounge with board games, BBQ chill-out area, peaceful garden to hang out and unwind in our comfy bean bags after an active day of surf & yoga, sun loungers, tourist information desk, fully equipped guest kitchen and much more. 
2. Describe the surf?
Our surf school is run by a team of certified instructors who follow a very unique approach in teaching. They will make sure that you learn the proper surf techniques and have loads of fun while doing it. The unique geography of our location means we not only have rideable waves almost every day of the year but that we can almost always find a wave to suit everyone.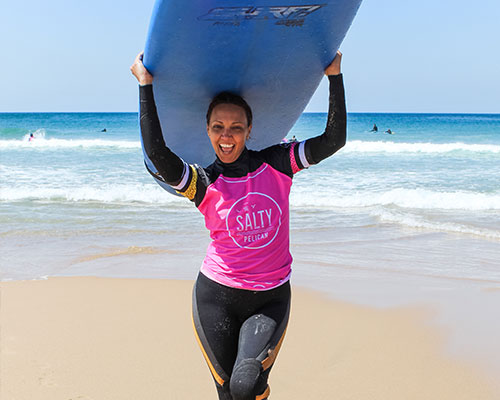 3. What's on the menu?
We love to bring all our guests together a few times a week to eat, drink and socialise after an active day of surf & yoga. So along with the daily healthy breakfast buffet, four evenings a week, The Salty Pelican dream team cooks up a yummy Seafood BBQ and also delicious Portuguese tapas nights along with locally sourced wine! Or you can cook up a storm in the new fully equipped kitchen.
4. Away from the surf, what can guests can up-to?
We have established a diverse range of activities which includes our daily sunrise yoga classes right by the seaside, afternoon Yin yoga in the nature park, sunset awareness and meditation hikes to the most amazing beach in all of Portugal, stand up paddle boarding and there's even rock climbing by the seaside for beginners to advanced, where you can hear and see the breaking waves while you climb.
Save 10% off your booking with code SURFGIRLPT