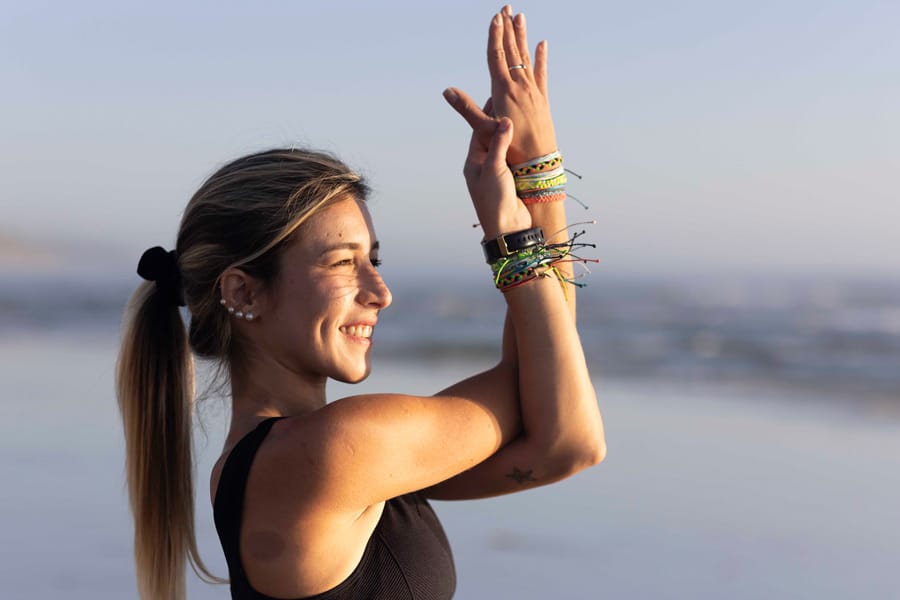 Laise, where are you from originally and how did you get into surfing?
I'm originally from a small town called Vitoria, the state name's Espirtio Santo and it's located on south west of Brazil. I started surfing when I was 13 years old and I went to the beach once with some friends from school and decided to borrow one of their surfboards and since then I never ever wanted to stop. I didn't have any surf lesson before and so I would gather all the tips that people suggested to me when I was in the water and with that I dedicated myself into improving which just kept me going on till nowadays.

Where do you live nowadays?
I'm currently located in Solana Beach, CA and I love living there because I'm so close to the beach which allows me to go surfing whenever I want. It's really the perfect place for me being so close to the ocean!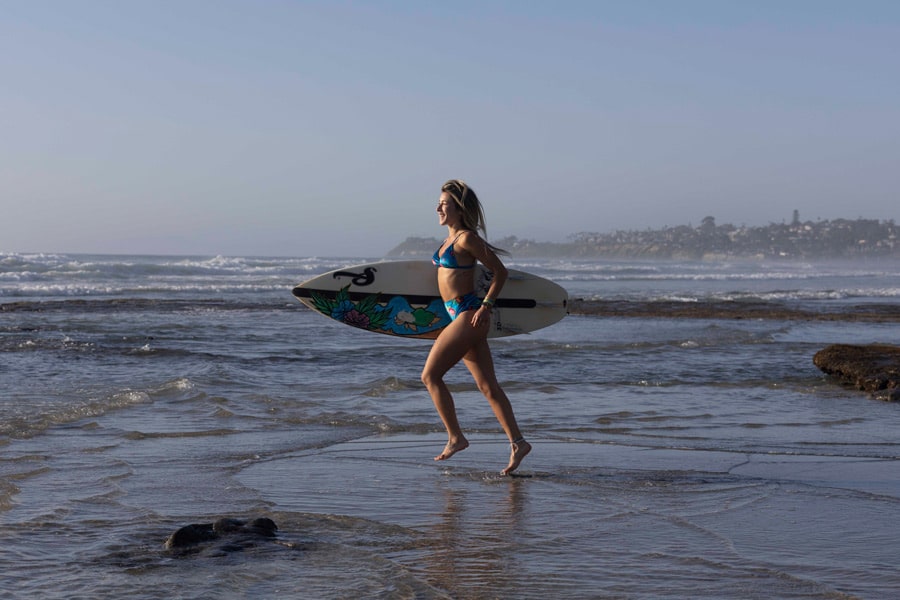 What do you love about surfing and where's your favourite place to surf?
Surfing has always been a true escape for me, it's for sure my happy place! I have fun with it and learn from it each time I get in the water knowing that the conditions are not the same all the time and so I assimilate it to my life and I try to get the best out of it! No matter how's the surf conditions I would always leave the water feeling a sense of ease in my heart. The deep connection with nature fulfils me with so much joy and gratitude and I just can't stop thanking God for being alive to enjoy all these many blessings. There's also a rewarding feeling of staying active and healthy that gives extra sparkle to my life. My favorite spots to surf lately has been Seaside Beach and Table Tops because of the convenience of just walking down barefoot and hoping into the water!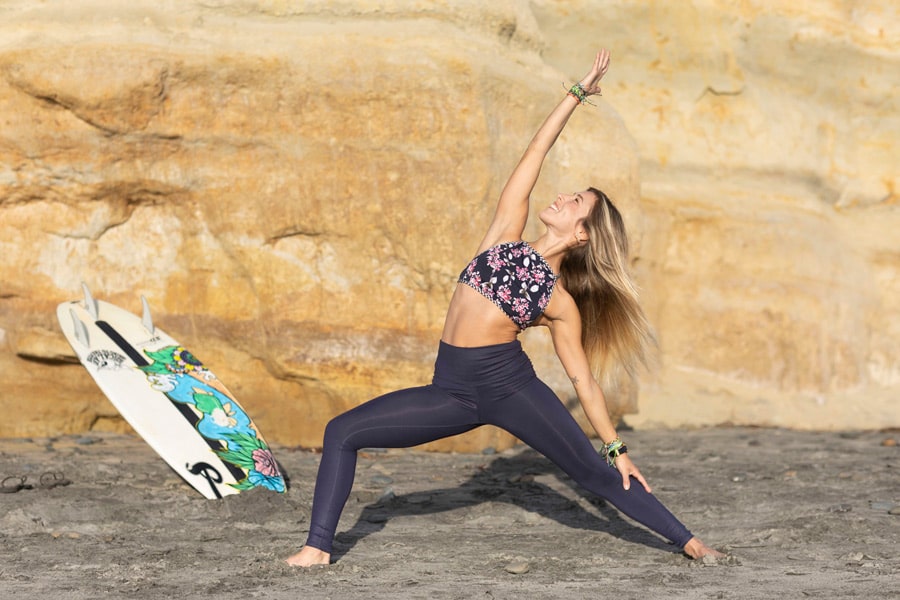 Your skate moves are pretty awesome, where do you like to skate and what are your top tips for becoming a good skater?
Thanks for the compliment on the skate moves!! 🙂 I started to skate because California was very cold sometimes for me to be excited to get in the water to surf, so I needed a similar rewarding feeling.. I started skateboarding and I fell in love right away! Literally ha,ha I met my husband at Encinitas skatepark a couple months after I started it, so he was my biggest influence! I love going on skate adventures with him to ditches, garages spots and anything fun we can find! We also have a two foot mini ramp in our backyard that is perfect to learn tricks on. 
If I were to pick three favorite skateparks it would be Ocean Beach, Rancho Penasquitos and Linda Vista. To become a good skater, you need to be very patient with yourself and be passionate about it. Just be assured that you love it, and so it will come naturally above with your dedication.
How important is yoga to you?
Yoga it was life changing for me! Back in Brazil over a decade ago I got into an accident while an acupuncture session went terrible wrong trying to fix lower back issues I carried at that time. Somehow the needle pierced my chest and I couldn't breath well at all. I ran to the hospital. I had a bilateral pneumothorax. Fortunately I didn't have to drain the air out because I'm a very active person so I just had to be patient and wait for my lungs to recover on its own. The shortness breath was terrible. I got very frustrated. Depressed. I had to take my life back to normal slowly for about three months later untilI I felt comfortable breathing again. After that, my life kept changing for the best. I learned Pranayama – breathing techniques to cultivate a good flow of the breath from my instructor in Brazil, the breath work are exercises to expand & cultivate a good flow of the breath. It was such a light in my life, great gift to get to know this amazing practice from him! Since that, I fell in love with the whole yoga world and I kept wanting to learn more and more about it. I moved to San Diego five years ago and graduated as a yoga teacher in 2018. My personal awareness grew so much and the uplifting methods of yoga just make every single day worth it for me! I am so grateful and absolutely passionate for it!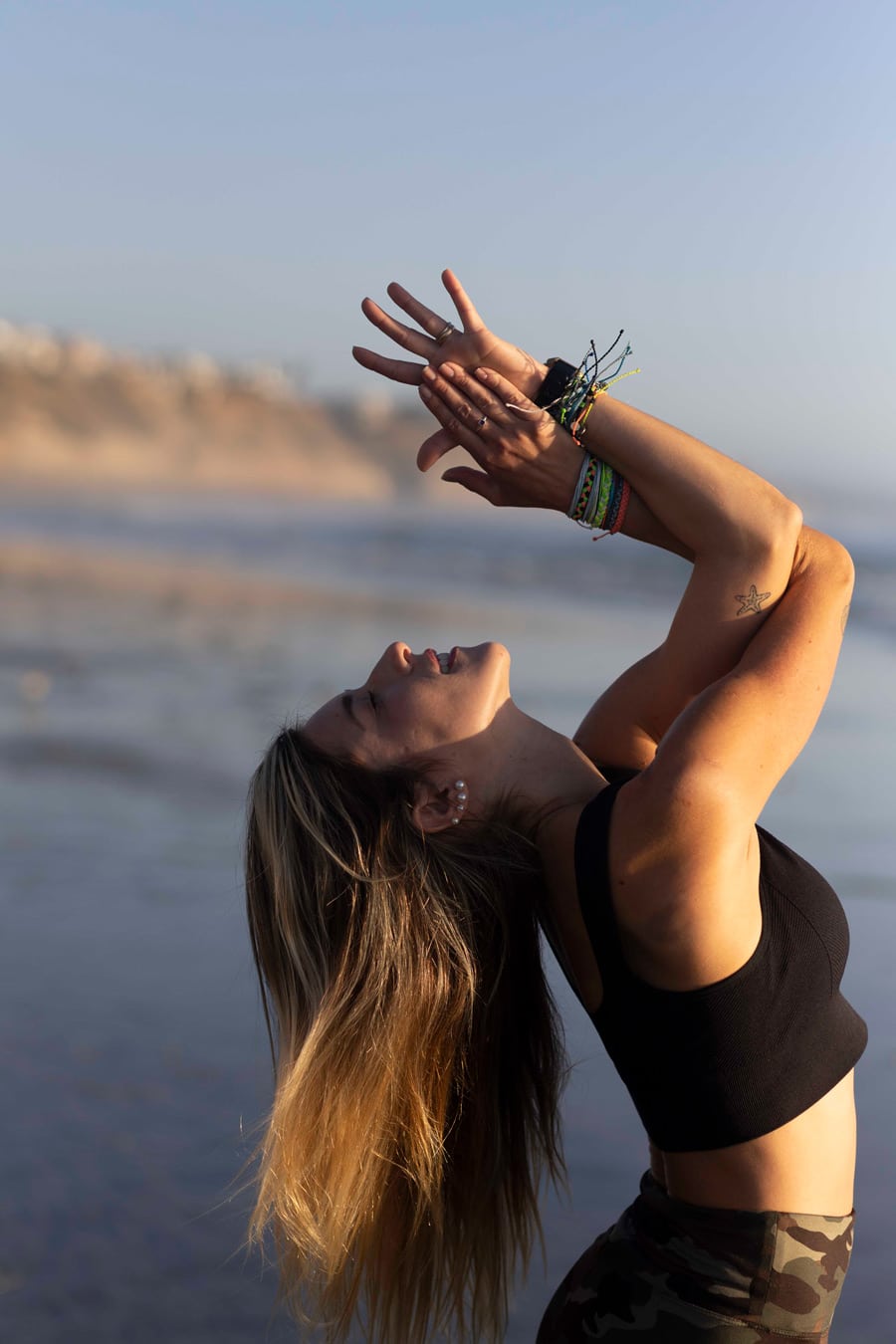 What do you include in your daily yoga practice?
I'm not too rigid about a specific routine but it comes naturally as life unfolds and I squeeze in whatever I can through my days. I normally practice Pranayama (breath work) and Krya (cleansing of the mucous) with a empty stomach in the mornings, following up with some Asanas (body techniques- balancing and heart openers are my big favorites) and meditation.

You talk about breaking old habits so what are your tips for personal transformation? 
I know it's not easy to break old habits but with persistency you'll get where you want.
At first I recommend acknowledging what's not satisfying you. From there you set an intention to change it. Be persistent with the new goal. Practice it daily and make it part of your days. Don't be too hard on yourself, make it fun and enjoy the journey of breaking the habits! Stay busy! I think it's the key to persist into the habits that you want to cultivate in your life.
I promise it's worth it every time you put that extra effort into what makes you happy!

What motto do you live by?
Be consistent in what makes you happy. 
Create the time for it, make the effort of showing up, trust in the journey.
Describe your life in five words
Love. Faith. Patience. Dedication. Consistency.