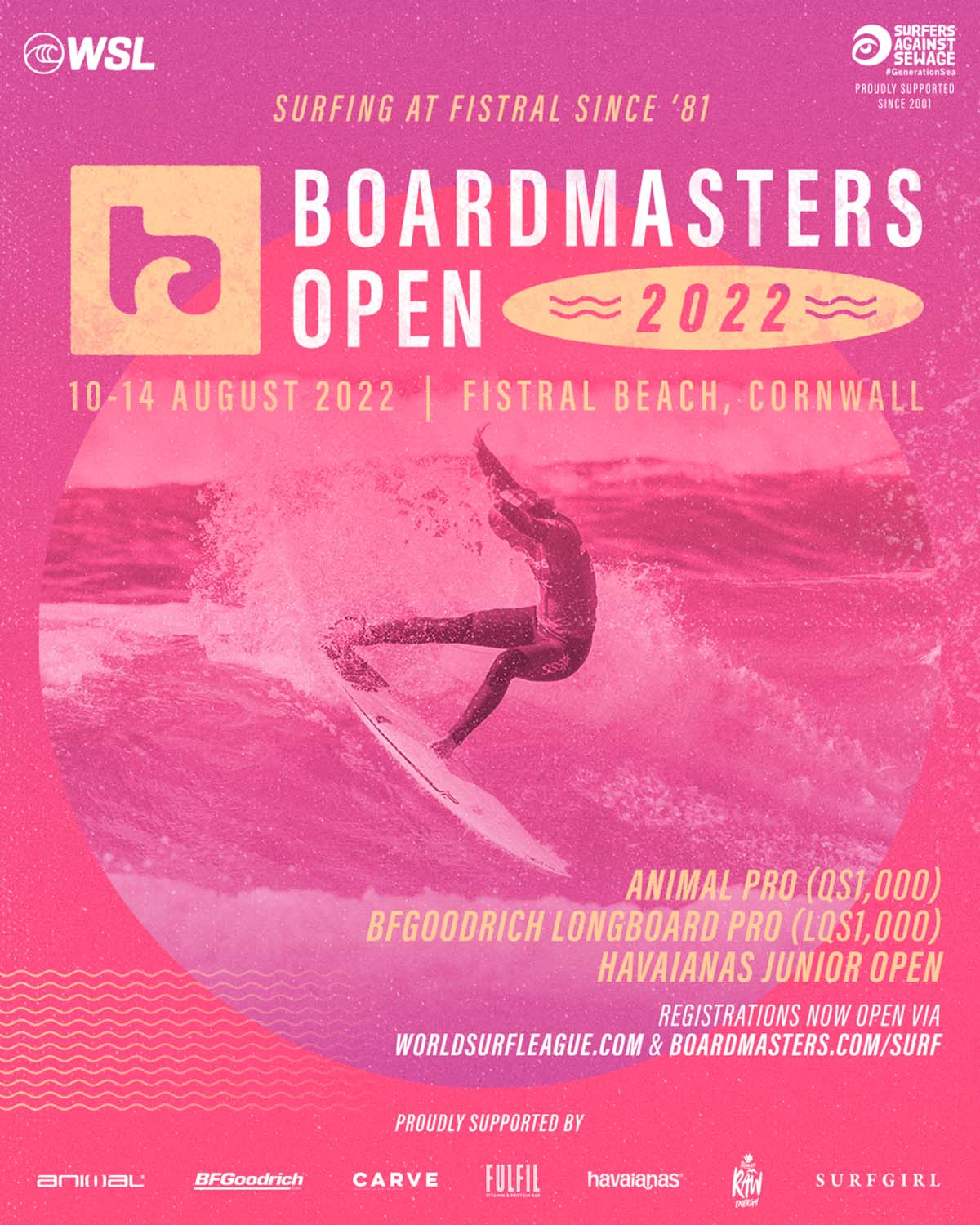 WSL comps make their welcome return to Boardmasters 10 – 14 August 2022 with the @animalUK Pro (QS1,000) and the @bfgoodricheurope LongBoard Pro (LQS1,000). Plus, the next generation of hotly-tipped groms will battle it out in the @havaianaseurope Junior Open 🏄 
Boardmasters began back in '81 as the UKs biggest pro comp, this year Boardmasters OPEN will play host to the biggest names in pro surfing as they take to the waves to battle it out for the coveted Boardmasters top spots across five exhilarating days. 
It's a pleasure once again to have the WSL return to Newquay for the Boardmasters OPEN; WSL competitions include the Animal Pro (QS1,000) mens and womens division and the BFGoodrich Longboard Pro (LQS1,000) mens and womens division. Athlete registration is open now at www.worldsurfleague.com
Plus festival-goers will get the chance to catch the next surfing generation of hotly-tipped groms in the Havaianas Junior OPEN, boys and girls division. Junior athlete registration is open now at boardmasters.com/surf
Festival goers can also sign up for Surf and Adventure packages to make the most of their time soaking up the best of what Cornwall has to offer. Surf packages cater for all abilities, with lessons available from Thursday – Sunday. Boardmasters works alongside established local surf schools and expert instructors including Fistral Beach Surf School, Escape Surf School, Westcountry Surf School and Blue Surf School to provide these lessons and get attendees in the water, with 2022 surf lessons fuelled by Fulfil.
Adventure packages are available to book too, including coasteering, kayaking, stand-up paddle boarding and snorkel SUP safari, perfect for anyone who loves the great outdoors. Leading local activity providers Newquay Activity Centre and Bare Feet Coasteer partner with Boardmasters to put these packages on. 
Fistral Beach will transform into a bustling Surf Village with the help of Boardmasters 2022 partners including Animal, BFGoodrich, Fulfil, Havaianas, Lidl, Sperry and many more – with lots of exciting surprises in store including Animal and BFGoodrich WSL pro surf competitions, the return of Lidl Mudder, the infamous Havaianas flip flop shower plus Fulfil's surf simulator. 
See you at the beach…