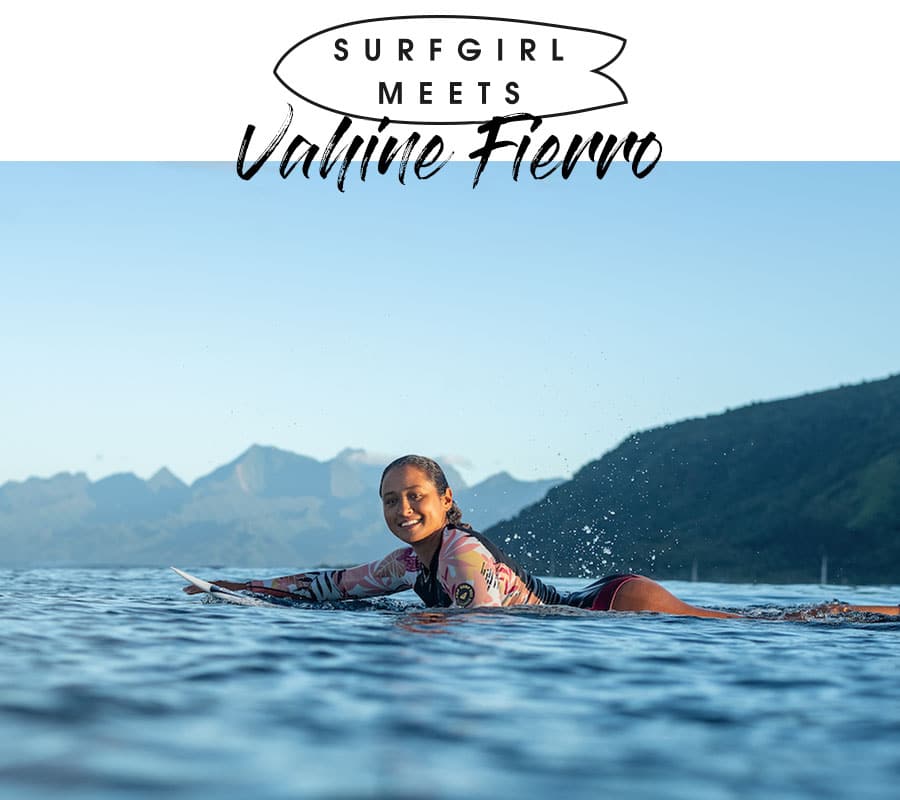 SurfGirl's latest cover star pro surfer Vahine Fierro leads an awesome life, living and surfing on a remote Tahitian island.
Name Vahine Fierro
Age 20
Home town Huahine – 30 mins by plane from Tahiti. 
Photos courtesy Tim McKenna
Vahine, it looks like you are living the paradise island dream, is it as amazing as it looks?
For me , my island is the one place where I feel the safest, the most comfortable and I love being in some ways remote from the outside world. 
Living in one of the most beautiful places on the planet where do you like to go on vacation?
It's actually the opposite. I travel all year so when I come home it's where I can take a break , restart and be in my favourite place in the world !!! But if I had to go on a vacation somewhere else it will be in Morocco I love Morocco so much it's a different vibe, the food is amazing and the people are super nice. 
How has the pandemic affected things where you are?
The pandemic affected everybody , on Tahiti they closed the borders really fast so the cases weren't too high but It affected people working and financially it's hard for everyone. 
What was it like surfing Teahupoo for the first time?
I surfed Teahupo'o at a pretty late age for someone that is from there! First time was at 15 years old and I was terrified. I think I approached it the wrong way and It just snowballed into anxiety in the water and it was not fun !!!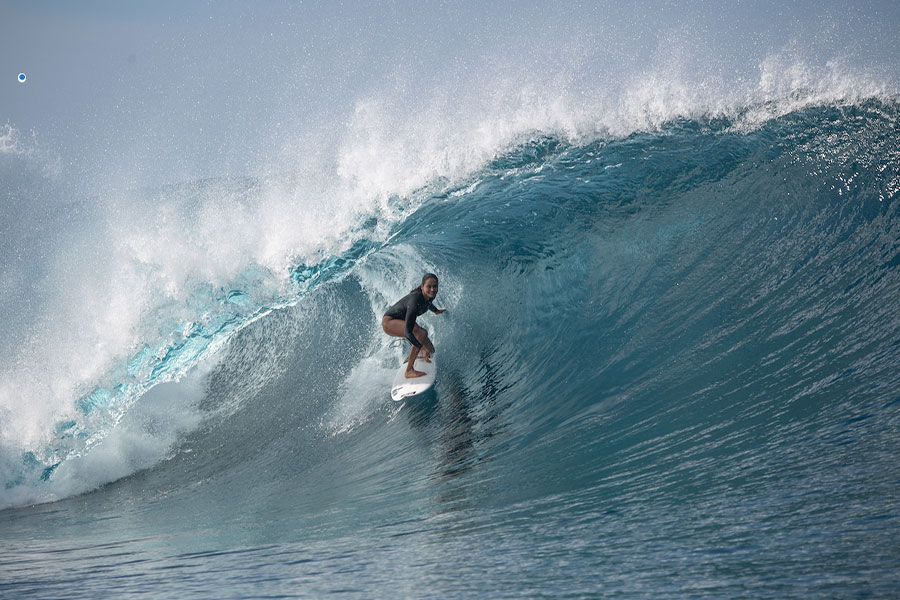 What's the biggest size waves you've surfed and how do you overcome your fears?
My biggest wave ever is probably 3 meters. I love having challenges and overcoming fear is one of favourite challenge. I'm actually scared all the time even in the smallest conditions. But I noticed that when I'm confident ,I trust myself,  it helps me a lot with that pressure fear factor! 
Where else have you surfed that you love and what's so special about it?
I surfed this wave on sister island of Tahiti, Moorea, I won't name it but it's a special place and I fell in love with the wave the second I saw it! Surfed it in June for the time on two day surf trip and it was a moment that I will still remember in 40 years! 

When did you get sponsored by Roxy and what's been your favourite moment with them?
Roxy picked me up when I was 16 and it was the best day of my life haha ! I was so happy. My favourite memory with them was when I wasn't even on the team yet. They came six months before I signed my contract to my island for a Roxy campaign shoot with Stephanie Gilmore, Monyca Oleogram, Bruna Schmit and me and my sisters. Were invited to go spend a day with them and It was one day I will remember forever! 
What's your fitness regime like and what kind of training do you do?
I love training, hiking, cardio, running, ginastica natural, dancing , strength training, apnee diving . I'm open to a lot of different training. I just feel like it helps a lot with my surfing as well. I train everyday or every other days depending on swells and how much I'm surfing because surfing is my priority first.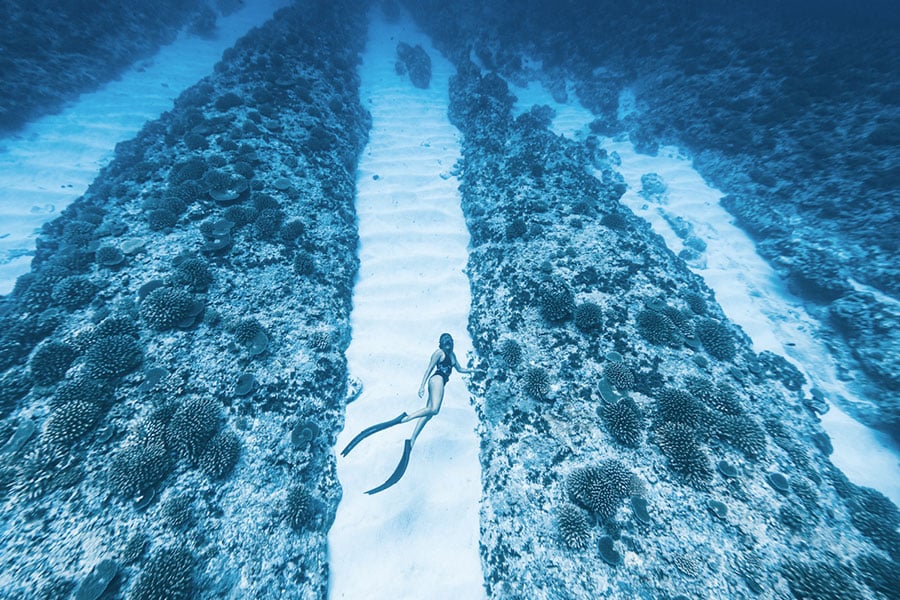 You won the World Junior World Championship, has that been one of the highlights of your competitive career so far?  Winning the world Junior title in 2018 was my best competition highlight for the moment. Very unexpected since I wasn't even suppose to be in it. Because I had to finish school ( my mom and dad were very strict about me having a good education and prioritizing school before anything else). So I didn't qualify for World Junior contest so I got in though a wildcard. And I was kinda the dark horse of the event because Nobody really expected me to win it and I had so much fun , just surfing and I was staying with the team manager of Roxy with all the Quiksilver boys and it was great.
What are your plans for next year and goals for the World Tour?
I'm kinda staying in the moment right now. I obviously want the tour to start again but I don't want to be looking too far away. But I'm excited for it to start again and to hopefully qualify for the tour and also I have a last chance to qualify for the Olympics 2021 for the french team so that would be exciting as well ! 
Do you feel women's surfing is in a good place right now?
Women's surfing is going in the right direction. Girls are charging bigger waves, launching bigger airs , pushing a lot limits and i feel like that's where the sport is heading towards bigger and better!!!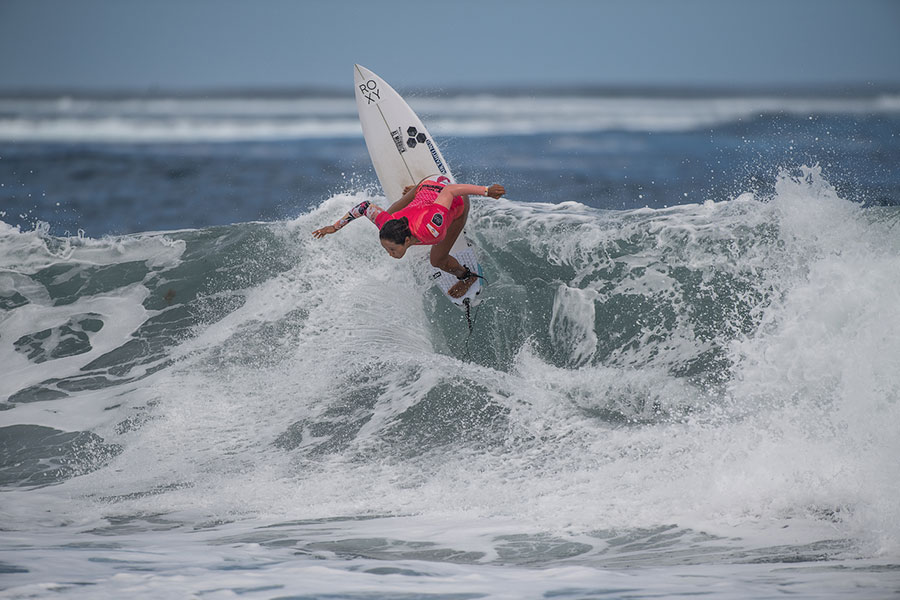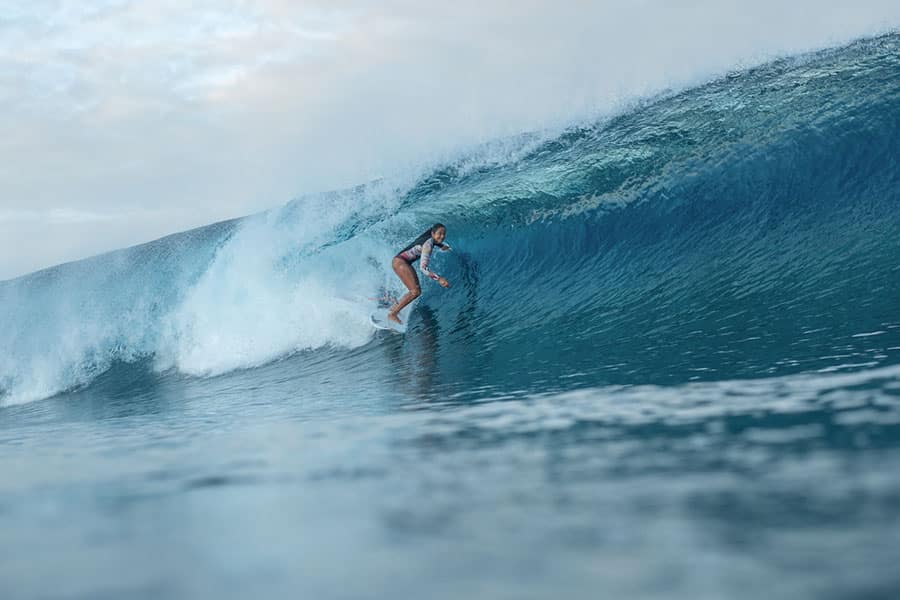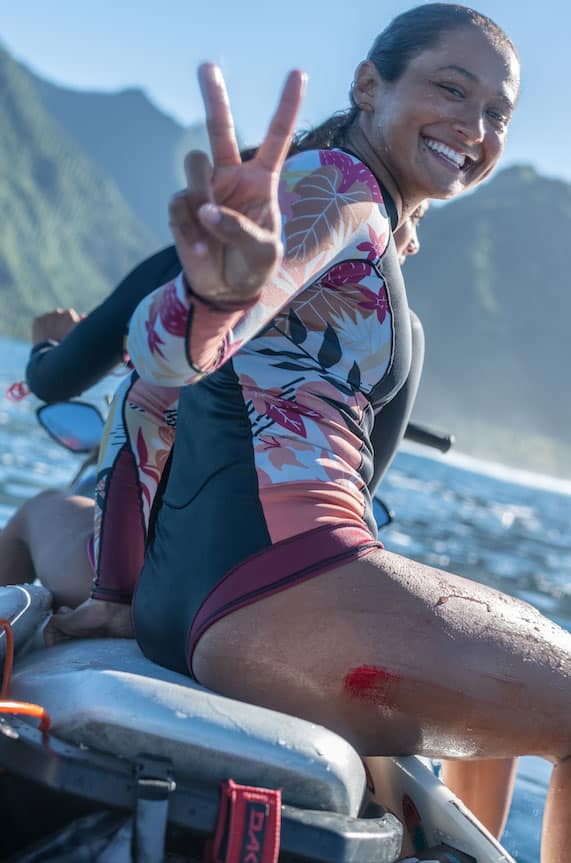 Who do you rate in the next generation of young female surfers?
I won't name anybody but the new generation is looking very scary (in a really good way)  and fired up. I actually one month ago, I had an event in Tahiti called the "Vahine Cup" and it's an only female contest where I invited Longboards, Sup, Boogie and surfing of course . So many young girls were ripping and it was so nice to see that Tahitian surfer girls are upcoming and the parents are supporting their little girls to chase their dreams. 
Who's your surfing inspiration?
My biggest surfing inspiration is Stephanie Gilmore. Period. She's the one that made me want to start competing and she does it in a such effortless way it inspires me even more. 
What motto do you live by?
The motto I live by the most at the moment is: "do something that makes you feel alive. "