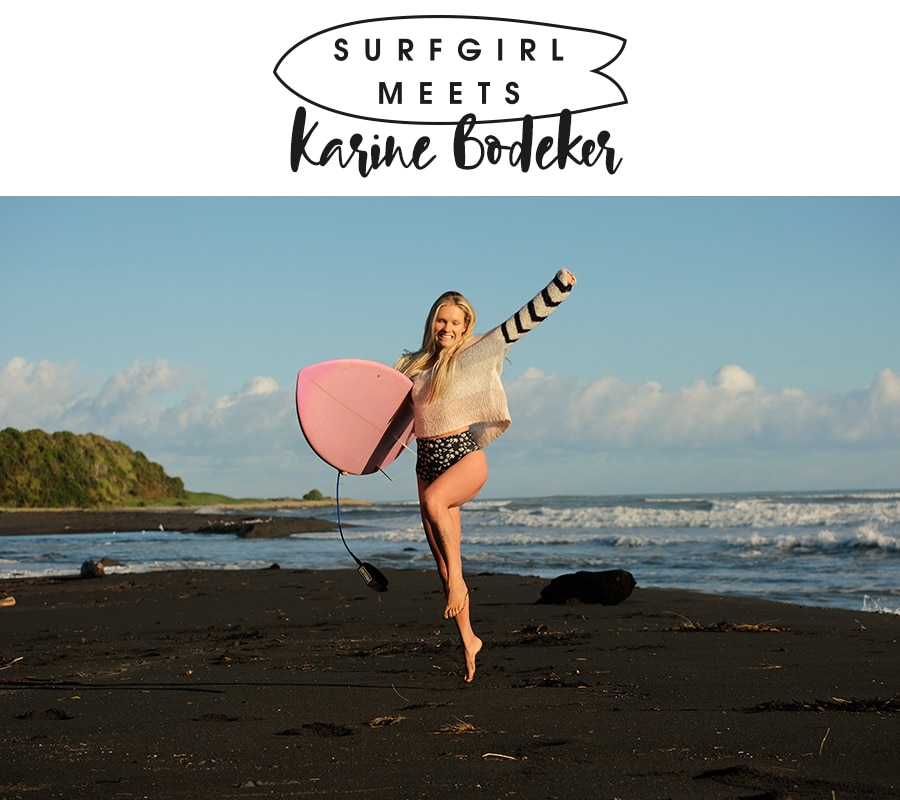 26 year old travelling Dutch surfer Karine Bödeker is currently living on the West Coast in New Zealand and describes her life during these strange COV19 times.
Photos by Johan Otterdahl Edfeldt and Laura Feller

Karine, describe a bit about yourself and when did you start surfing?
I grew up landlocked in the Netherlands and discovered surfing on my first backpack trip. From the start on I was stoked. I took a lesson from a surf hostel and from that day on you could find me on the beach everyday, practicing in the white water. I knew immediately I wanted to learn to surf. After this trip I had to go back to University to finish my last year of my Bachelor in Hotel Management.
During my last year of university I saved up money to go to Bali to learn to surf. I got my self a surfboard and surfed as much as possible. I fell in love with the surf lifestyle and continued my travels; my next stop was Australia where I lived in Byron Bay, the Gold Coast and Western Australia. After Australia I went back to Bali and travelled around the Philippines.
At one point I felt like I wanted to go back to Europe and explore closer to home. I ended up living in Portugal for two years. During this time I was working for Chicks on Waves, women only surf retreat. I feel like in Portugal I really learned to surf properly. The waves are fast, powerful and punchy, a good take off and being fast is very essential.
What's it like where you live now and what's so special about it?
I am currently living in Taranaki in New Zealand, there are so many surf spots around here and the waves are very consistent, it is hardly flat. It is very different than from other surf places like Byron, Gold Coast or Europe. I would say it is a bit rougher. The waves can get pretty solid and a lot of spots break on boulders. Getting in and out of the water can be tricky. But this means it is also less crowded. It is a great place if you are up for an adventure. The surf isn't always easy assessable. Little hikes on the beach or over farmland are all part of the game. For me it is really special that every one surfs, there are quite some older people who are in their late sixties who still shred. For me this is really inspiring. Also the vibe here is really nice and chilled. The surf here is very authentic and not commercial at all.
How has the pandemic affected you?
I stared my road trip in New Zealand in the beginning of January. I travelled around for a couple of weeks and settled for a bit in Taranaki where I am still living. I planned to travel more and go surfing on the south island and get my surf coach certification. Unfortunately I had to pause all of this and I am not planning too much because everything is so uncertain.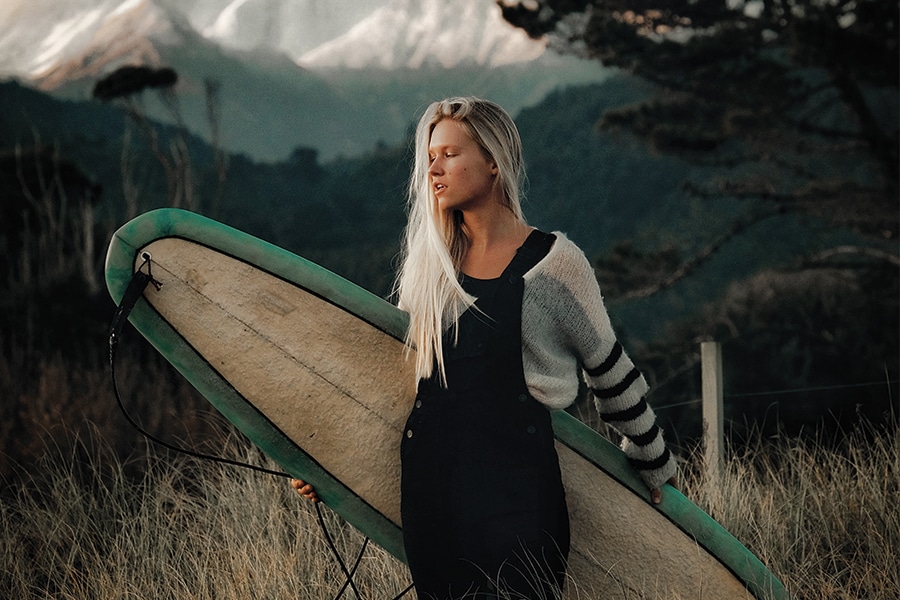 What was the lockdown like for you?
To be honest, lockdown wasn't bad for me. I am living in a house full of really nice people. We got all unemployed during lockdown, so we spend a lot of time with each other. Everyday we would go for a hike or bike ride or doing a yoga lesson. During the evenings we had big BBQ's or a fancy cooked dinner. Everyday we had yummy home made dessert. During this time I got really in to yoga. I was practicing everyday. This was my substitute for surfing.
Now lockdown is over and how great was it to go surfing again?
The first two surf sessions after lockdown was a bit of a struggle, But after that we had good surf for about five weeks. During this time I surfed everyday once or twice. This felt amazing!  My body got so sore from so much surfing but it felt so good because we couldn't surf for so long. I felt we got pretty spoiled with such a good swell for so many weeks.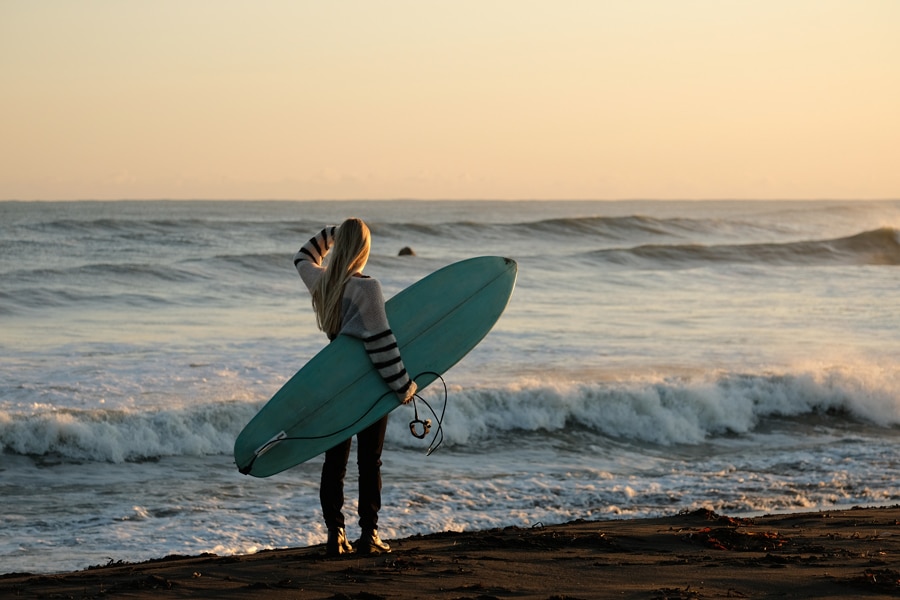 What do you plan to do for the rest of the year?
It is hard to make plans during these uncertain times. I just see how it comes. At the moment I am working as a chef in a vegan restaurant. This is something I really enjoy. For now I am enjoying this job and save a bit of money for a next adventure.
What are your favourite things to do in life?
My favourite things to do are of course surfing and traveling. I love to go on little adventures and road trips with friends or myself. Discovering new places and meeting new people is so exciting. I also really like to cook and do baking. I love hosting dinners with amazing food and wine and have long conversations.
Finally, what motto do you live by?
"
When you want something, the entire universe conspires in helping you to achieve it."  
Paulho Coelho.
Follow Karine @karine_travels