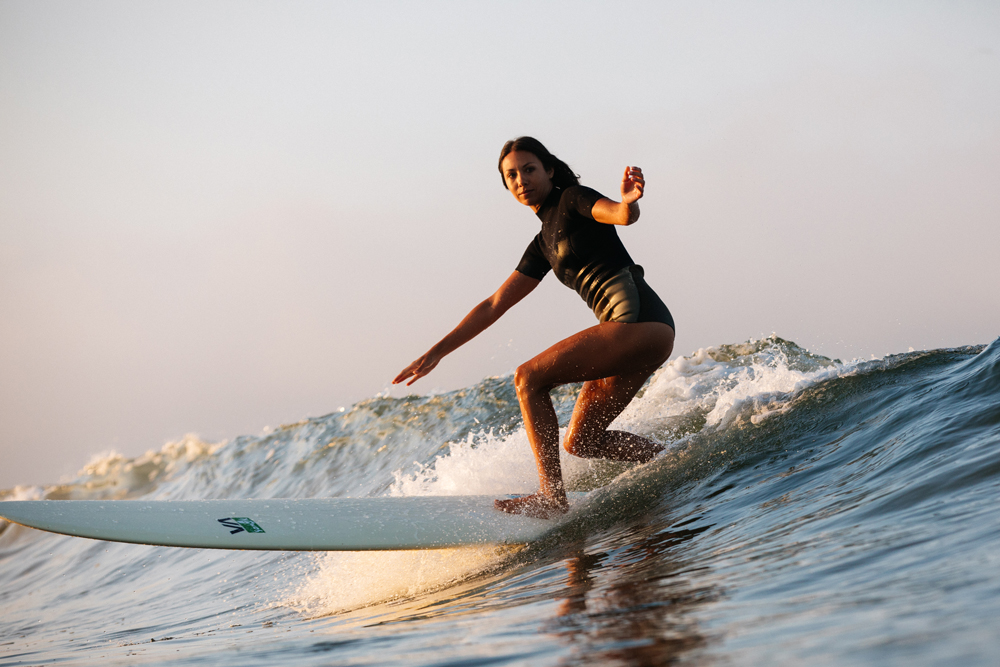 Words Corinne Evans
Across the globe are effortlessly stylish female surfers, carving their path in the wave riding world. One such surfer is Corina Rose Barnick. A California born longboarder, who I had the privilege of meeting while out in Cali a couple of months back, while hanging out Kelly's Surf Ranch (as you do!) I got chatting to Corina, about where we had surfed, the vibe in Cali and what she did for a living.
Calling home Long Beach, the 31-year-old surfer has been riding waves for 16 years and has married her love of surfing and photography, by working as a social media and digital marketing specialist. In her own words a "small wave connoisseur" which we think is an epic term, to be honest, I think I would like to use this term to refer to my style of surfing! Anyway, grab a cuppa and enjoy our Q&A with Cornia!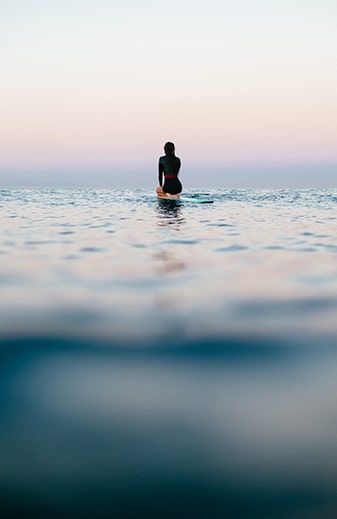 What was it like growing up and surfing in California?
I grew up in a small rural town on the Central Coast, about 20 miles inland from the beach. This was also in the early days of Surfline. Camera's and online swell reporting weren't 100% reliable, so most mornings, I would wake up early and either call the Coastguard to hear the pre-recorded report of the day's conditions, text a friend that lived at the coast, or make the drive and hope for the best. The area I grew up in is super scenic, with miles and miles of rolling hills, small farms and ranches and just lots of space to roam in general. I didn't start surfing until I was a teenager, so I would either surf before or after school, or on the weekends. If it were one of the latter, after surfing (or getting to the beach to realize the surf wasn't great), I would almost always go for a drive up the coast toward Big Sur. Most Californians and surfers will know that this stretch of coastline is some of California's most pristine, remote and beautiful, so exploring it became a huge part of my extra-curricular agenda. Surfing and scenic drives — that is the essence of my adolescence.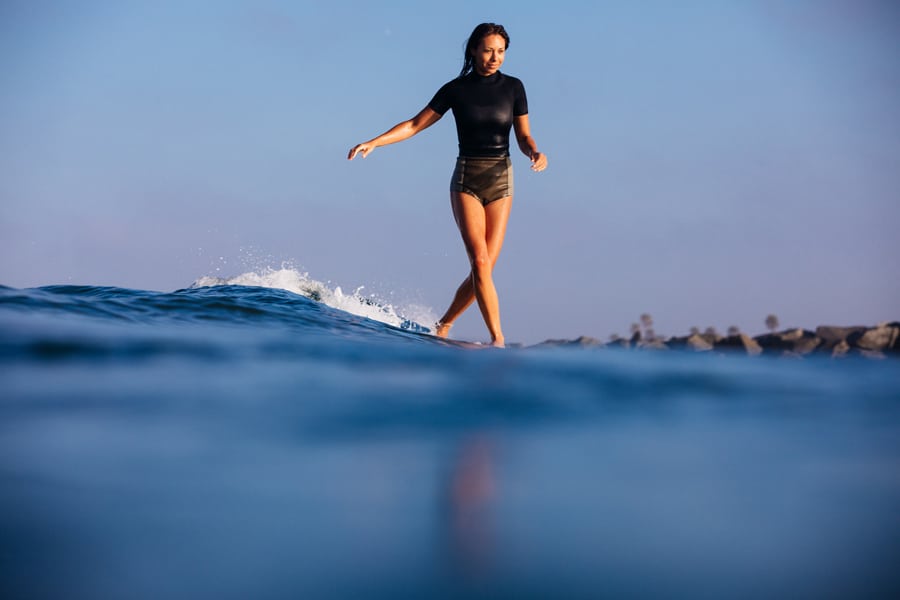 When's your favourite season to surf in Cali?
Fall for sure. It feels like nature's gift to surfers each year, when, seemingly the moment Labor Day hits and the masses have gone back to work and school after the summer holidays, the water gets warmer, the swells kick in, and the wind turns offshore. It's like a second summer, but better.

Your wave of choice when surfing your home county?
I love Blackies. Its combination of easy accessibility, wave quality and the fact that it feels like the central hangout spot for all my favourite locals makes it an all-around lovable spot. I also love that it seems to play tricks on surfers. By that, I mean that I've heard several people who live and surf in different areas say that they've never seen Blackies get good, and so they write it off. So, it kind of feels like a secret spot that's right out there in the open.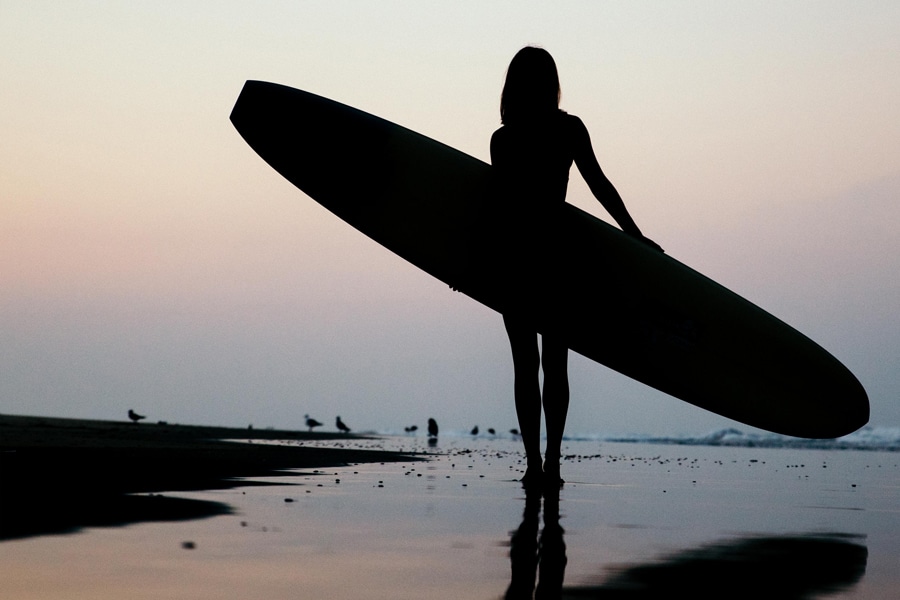 What's the women surf scene like over there?
There is a good handful of women that surf — and surf well — here in Southern California. I've been surfing in this area for the better part of the past ten years, and I'm still meeting girls in the water that I've never seen out before. It's refreshing and fun to see and brings a different energy into the water. I've always felt that surfing is kind of a badass sport for a girl to get into, so when I look around and see all different kinds of women out in the water, I can see a little bit of that common thread tying us together.
Has surfing taken you to some other amazing destination? Where's your favourite place you've surfed?
This is such a hard question! Over the years, I've been incredibly fortunate to have had opportunities to travel for surfing. However, if I had a pick a favourite place (this is so hard!), I would say Scorpion Bay. I have yet to surf a more perfect wave than that.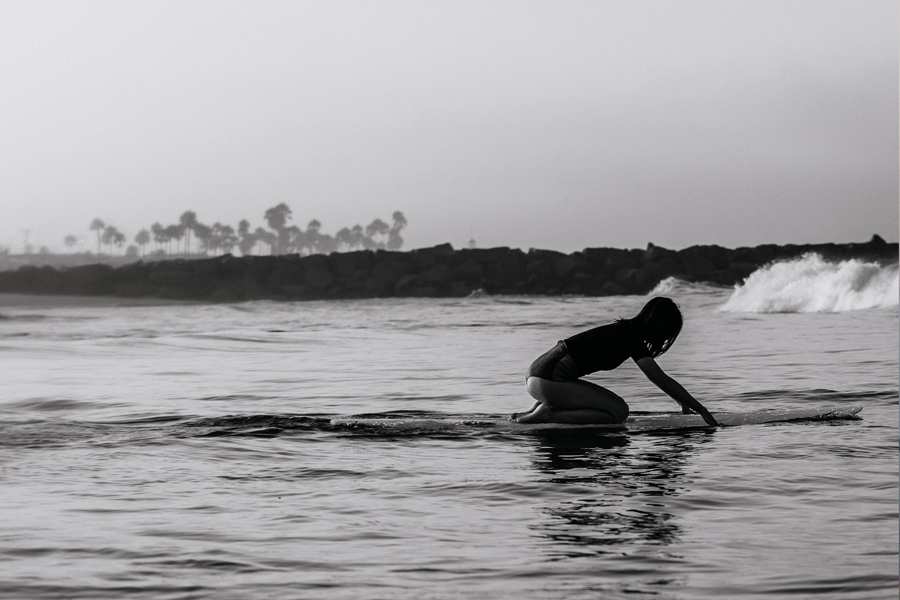 How did you get into surfing?
One of my older brothers had gotten into surfing when he was a teenager, and progressed to become super proficient and stylish. He is almost ten years older than me, so by the time I was getting into high school, he had moved to Southern California and was working in the surf industry and as a surf instructor. For birthdays and holidays, he would send my sisters and I gifts like surf-brand clothing and videos, and on a family vacation to visit him in Huntington Beach, he took us all surfing at Bolsa Chica. …and the rest is history. 😉
How has surfing shaped your life?
How has it not shaped my life? Ha,ha! From the moment that I stood up on a soft top in Huntington Beach, I knew that surfing was going to become a huge part of my life. From there, essentially all of my life decisions became centred around it as a main priority. Where should I get a job? Surf shop! Where should I live? By the beach! What would be a good career that allows flexibility and still lets me talk about surfing all the time and travel to amazing places? Surf industry! Who will my friends be? Surfers! And so on, it really has shaped or touched almost every decision that's been made along my life's path, and I am so grateful for that.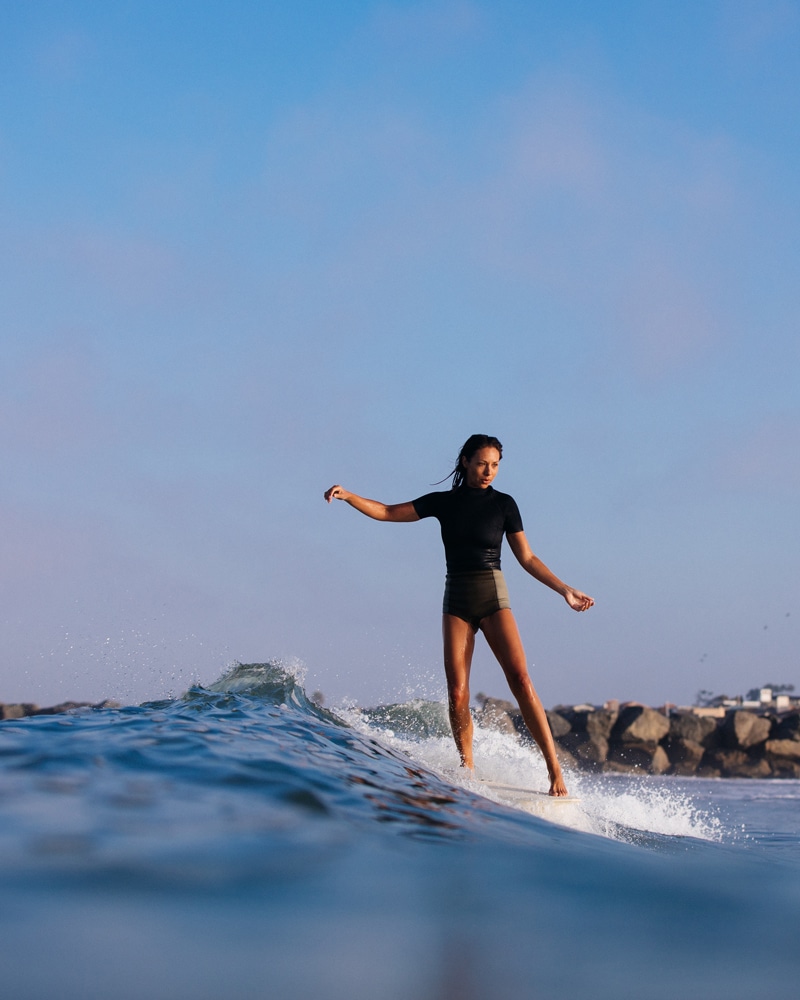 What's your board of choice?
I have a 9'4 log that I can't get enough of. It was shaped a few years ago by Santa Cruz-based fine artist Jeremiah Kille, and before that, I never knew what it meant to have a board that feels like it understands you. This one does just that.
Instagram: @corina_rose