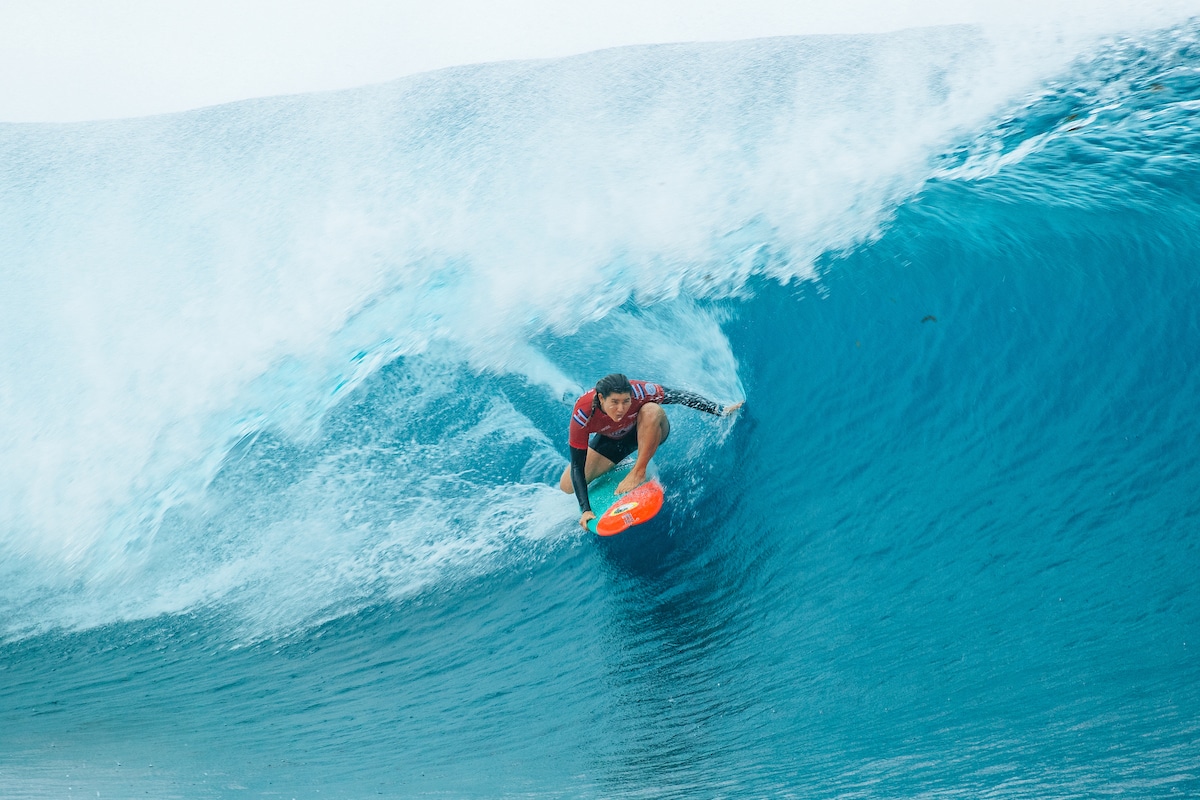 Brisa Hennessy kept her WSL Final 5 dreams alive with her heat win today. WSL / Poullenot
The Outerknown Tahiti Pro, Stop No. 10 on the World Surf League (WSL) 2022 Championship Tour (CT), has seen an on and off day of competition with changing wind conditions forcing a number of holds and the event to be put on standby due to deteriorating conditions. In between the squalls however, Teahupo'o began to awaken, with some solid five-to-six foot plus waves breaking, offering competitors in the women's Elimination Round some incredible tube rides ahead of of what is expected to be the day of the window, tomorrow at the 'End of the Road.'

A clutch performance from Brisa Hennessy (CRI) in Heat 2 of the Elimination Round saw her post the highest single wave of the round, pulling into a huge Teahupo'o pit to earn a 7.00 point ride to progress into the Quarterfinals. It was an epic show of commitment from Hennessy, who currently sits in fifth place on the rankings and needs a solid result here in Tahiti to guarantee her spot in the Rip Curl WSL Finals. Without that wave, she would have been out of the event, and possibly out of the WSL Final 5. The heat win eliminated 2022 CT Rookie Gabriela Bryan (HAW) from the event and from the race to the Rip Curl WSL Finals.
"It's an honor to be at this event," Hennessy said. "It feels like it's been a long time coming and the women that were here 16 years ago paved the way for us which is really inspiring and I hope to inspire more girls with being back here now."
"I feel like I could have been deeper on that one actually," Hennessy said. "All the locals have been telling me that you need to feel like you're taking off on a closeout, and it's true – I need to be doing that more often."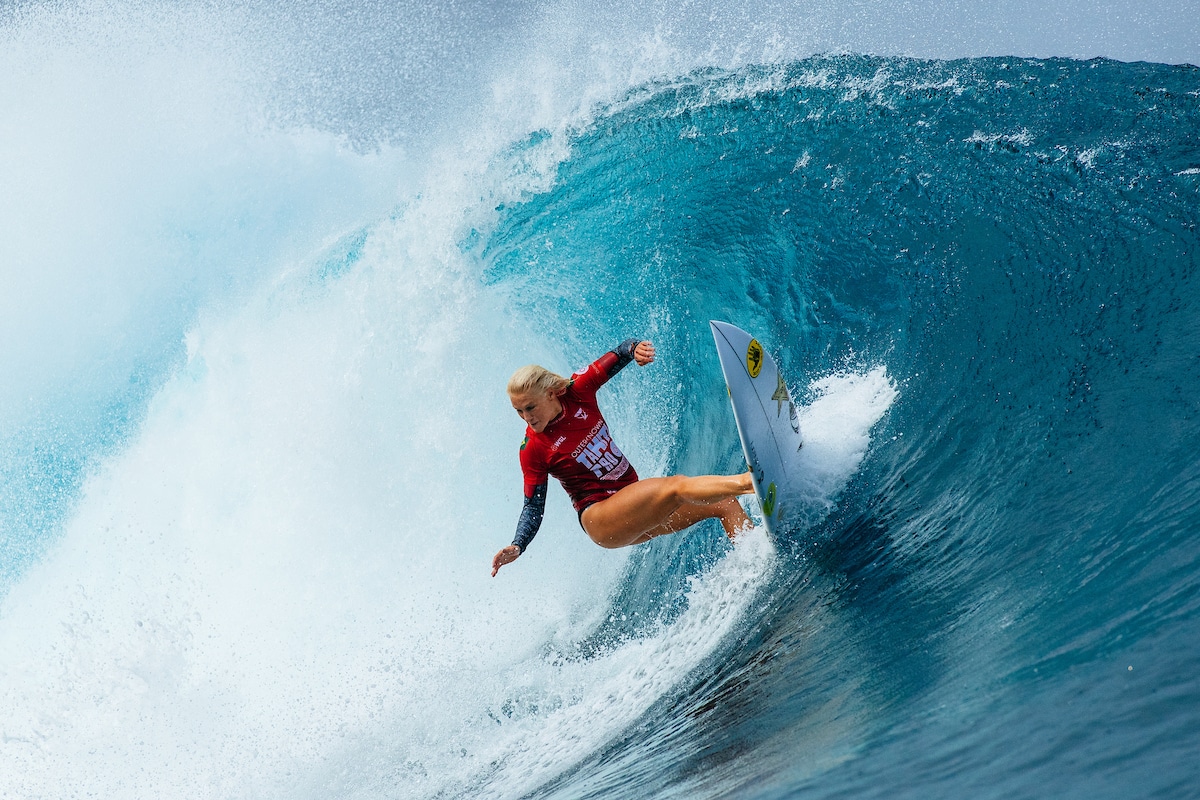 Tatiana Weston-Webb WSL/Poullenot
One of the event favorites who no one expected to see in the Elimination Round was Tatiana Weston-Webb (BRA), who snuck through her matchup with Isabella Nichols (AUS) to clinch herself a spot in the WSL Final 5. Weston-Webb struggled to find a rhythm in her heat but did just enough to progress into the Quarterfinals and lock in an opportunity to battle for her maiden World Title. The heat loss puts Nichols out of contention for a Final 5 finish and ends her 2022 CT season.
Another potential top 5 competitor who snuck through her heat was Lakey Peterson (USA), who kept her dream alive with a win over Tyler Wright (AUS) in Heat 3 of the Elimination Round. Peterson dug deep to thread one decent barrel and progress, leaving Wright out of Final 5 contention.
With Nichols, Bryan and Wright out of contention for the WSL Final 5, seven-time WSL Champion Stephanie Gilmore (AUS) was able to lock in her spot at Trestles as she looks to claim a record breaking eighth World Title.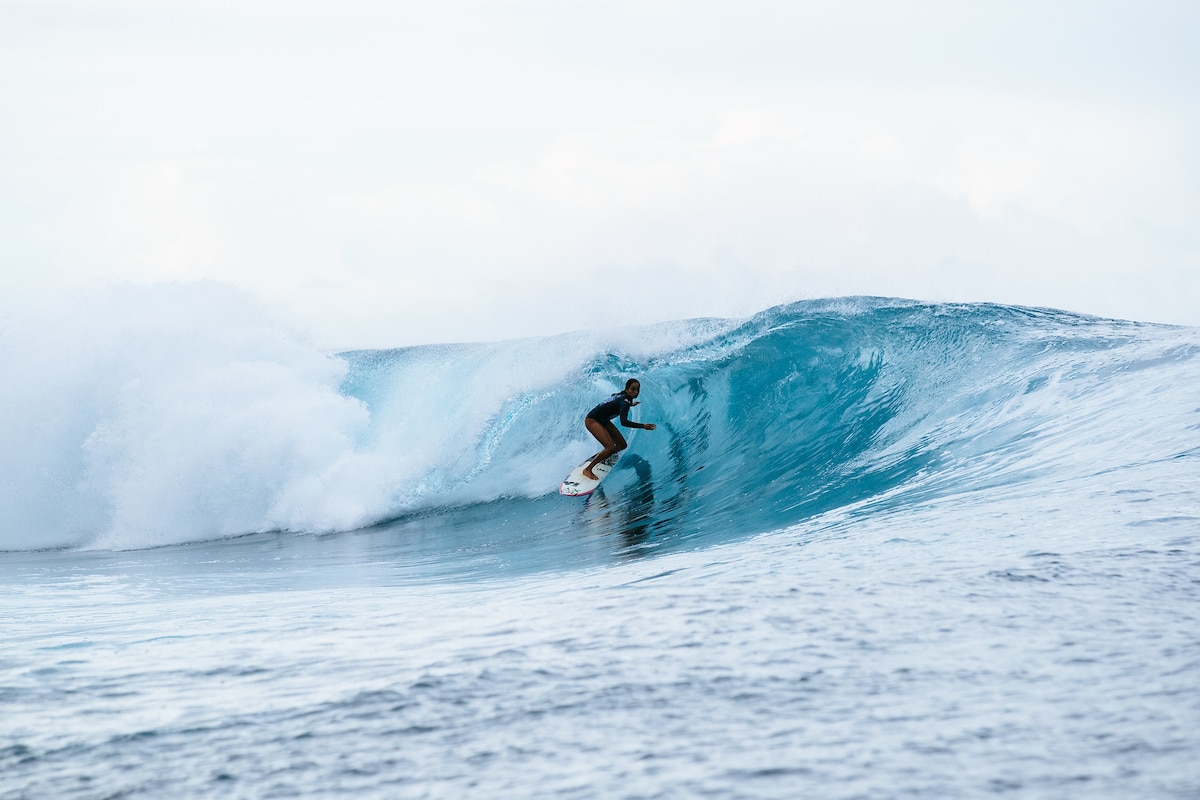 Vahine Fierro / Poullenot 
Mixed Results For Tahiti's Finest on Day 2 of Competition
Along with Vaast, Local Women's Wildcard Vahine Fierro (FRA) put on a solid display in her Elimination Round heat to dispatch current world No. 2 Johanne Defay (FRA). Fierro found time in the tube as well as turn sections to take a convincing win and progress into the Quarterfinals where she will take on five-time WSL Champion Carissa Moore (HAW) in what will no doubt be a heat to watch. Former CT stalwart and WSL Wildcard Michel Bourez(FRA) was unable to find a rhythm in his heat and will hope to re-group ahead of the Elimination Round tomorrow.

Outerknown Tahiti Pro Women's Elimination Round Results:
HEAT 1: Vahine Fierro (FRA) 6.60 DEF. Johanne Defay (FRA) 3.20
HEAT 2: Brisa Hennessy (CRI) 8.93 DEF. Gabriela Bryan (HAW) 5.33
HEAT 3: Tatiana Weston-Webb (BRA) 6.34 DEF. Isabella Nichols (AUS) 6.17
HEAT 4: Lakey Peterson (USA) 6.65 DEF. Tyler Wright (AUS) 6.37
Outerknown Tahiti Pro Women's Quarterfinal Matchups:
HEAT 1: Tatiana Weston-Webb (BRA) vs. Caroline Marks (USA)
HEAT 2: Stephanie Gilmore (AUS) vs. Courtney Conlogue (USA)
HEAT 3: Carissa Moore (HAW) vs. Vahine Fierro (FRA)
HEAT 4: Brisa Hennessy (CRI) vs. Lakey Peterson (USA)