Fitzgibbons' win today is her first CT victory since 2017 and her third in Brasil (2012, 2014, 2019). This season the Australian superstar has secured consistent results with four Final Series appearances, including two Finals. Fitzgibbon's win vaults her to No. 1 in the world, surpassing Stephanie Gilmore (AUS) and Carissa Moore (HAW) on the Jeep Leaderboard.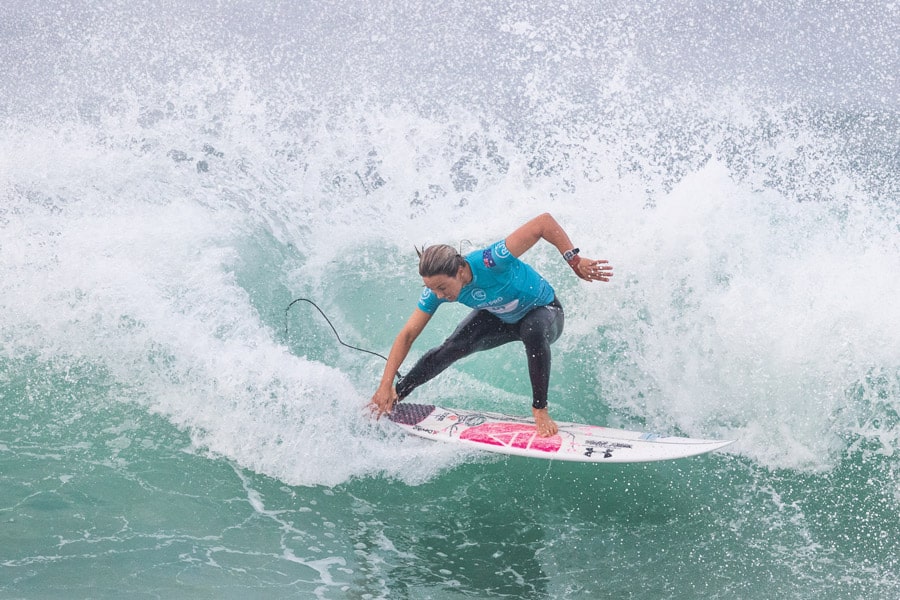 "It's definitely one of those feelings where you feel so alive," said Fitzgibbons. "The whole process of running down through the crowd cheering and paddling out is pretty sick when it all comes together. After all these years it's still special and to be in the Final with a friend like Carissa (Moore) is pretty amazing. It could've gone either way and it just went my way today, it was unbelievable, this is insane. I knew I needed something special at the end when that set wave came through. When I paddled in, I knew there was some opportunity and I just gave it everything. I just wanted to commit and everything just came together."
En route to her 11th CT win, Fitzgibbons eliminated Moore in the Final, good friend Keely Andrew (AUS) in the Semifinals, and Lakey Peterson (USA) in the Quarterfinals. The CT veteran has come runner-up to the World Title three times, and this could be a breakthrough year after her success leading up to the season's halfway mark. Moore put up some of the strongest performances at the Oi Rio Pro but missed her shot at the event win by just 2.07 points. Fitzgibbons closed the door of the Final with an excellent 8.67 (out of a possible 10), leaving Moore searching for the requirement in the final five minutes. Moore hasn't lost yet before the Quarterfinals this year but still continues the quest for a win in 2019. The three-time WSL Champion moves ahead one place to World No. 2, also advancing past Gilmore, who drops to No. 3.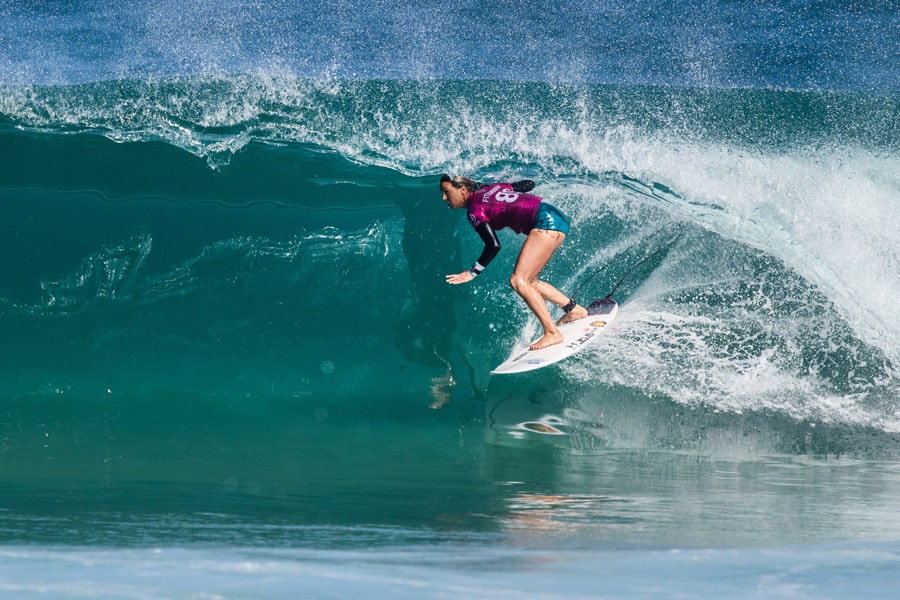 "It's been a really positive year and I'm really happy to make the Finals," said Moore. "It's a keeper event for me, but of course, it would've been great to win. I'm happy for Sally (Fitzgibbons) and I'm feeling good overall. Like I mentioned after my first round, I would've been happy just making it to the Semis, so second place is great. Saquarema has treated me really well, the waves have been fun but challenging and the crowd has been great, so it's been really good energy for sure."
10 World Titles were present in the second Semifinal matchup with seven-time WSL Champion Gilmore against three-time Champion Moore. As the defending event winner and World No. 1, Gilmore had all the momentum on her side heading into this event. The two exchanged incredible rides, starting with Moore's 7.50, but quickly followed by Gilmore's near-perfect 9.00. The lead went back-and-forth with Moore's second 7-point ride and then came down to the buzzer when Gilmore had one final opportunity needing a 6.30 to advance. The Australian put down two turns, but her 5.83 was not enough. Gilmore earned a third-place result in Brasil and now moves into the next stop on the WSL CT, where she is again the defending event winner. Gilmore will focus on repeating last year's success to stay on top of the world rankings.
The only Brasilian women left in the draw, Silvana Lima (BRA) and Tatiana Weston-Webb (BRA) lost to Andrew and Moore, respectively, in the Quarterfinals. Lima's low-scoring heat saw her miss the mark by only 0.78. Lima is now back to full-time competition after returning from a knee injury last season and needs to get some strong points on the board to climb back up the rankings.
"I'm kind of bummed because I could have easily won that heat," said Lima. "All I needed was a three to advance, but I ended up falling when the backwash hit the lip. But when it's not your day, stuff like that happens. I'm still grateful for a good result and now I'm looking forward to J-Bay which is a wave I like a lot."
Lima also commented on her full recovery from injury: "I feel great, confident and I feel like I've never surfed so well after all the preparation and training during my recovery and all the support I've gotten. Even though I'm the veteran on Tour and I'm 34-years old, it feels like I gathered all this energy from those seven months away from the Tour and I feel like a 16-year old grommet."
Oi Rio Pro Women's Final Results:
1 – Sally Fitzgibbons (AUS) 14.64
2 – Carissa Moore (HAW) 12.57
Oi Rio Pro Women's Semifinal Results:
SF 1: Sally Fitzgibbons (AUS) 7.63 DEF. Keely Andrew (AUS) 4.40
SF 2: Carissa Moore (HAW) 15.30 DEF. Stephanie Gilmore (AUS) 14.83
Oi Rio Pro Women's Quarterfinal Results:
QF 1: Sally Fitzgibbons (AUS) 14.17 DEF. Lakey Peterson (USA) 1.20
QF 2: Keely Andrew (AUS) 7.24 DEF. Silvana Lima (BRA) 6.46
QF 3: Carissa Moore (HAW) 12.33 DEF. Tatiana Weston-Webb (BRA) 12.04
QF 4: Stephanie Gilmore (AUS) 10.90 DEF. Courtney Conlogue (USA) 10.66
2019 Women's CT Jeep Leaderboard (following Oi Rio Pro):
1 – Sally Fitzgibbons (AUS) 32,580 pts
2 – Carissa Moore (HAW) 31,175 pts
3 – Stephanie Gilmore (AUS) 30,320 pts
4 – Courtney Conlogue (USA) 26,845 pts
5 – Lakey Peterson (USA) 26,050 pts
5 – Caroline Marks (USA) 26,050 pts