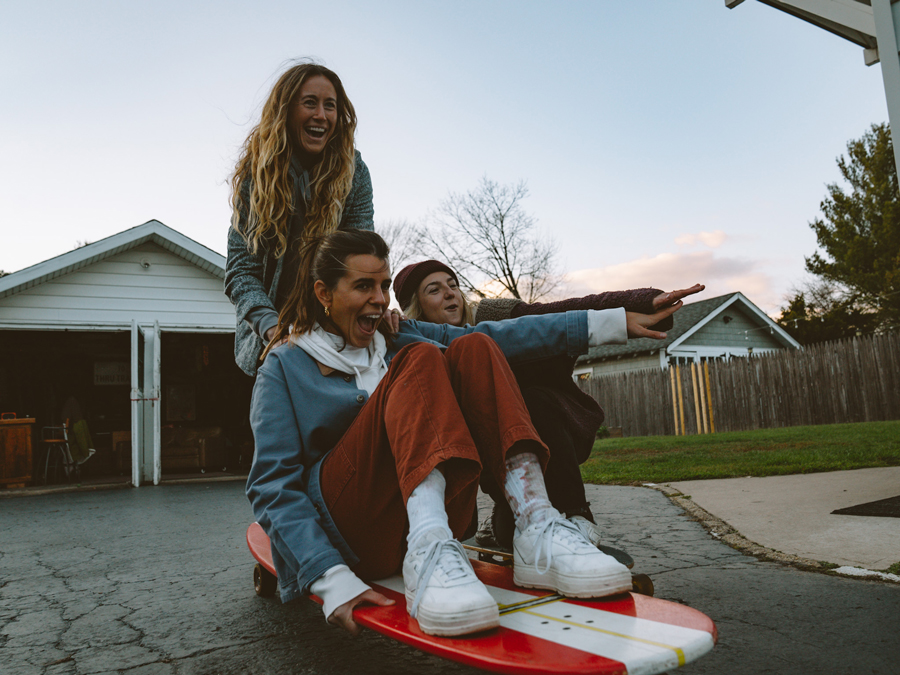 Above: Allie, Ava and Nico, the featured surfers hanging out in New Jersey.
Photos and Film Alyssa Malliae
Margaux Moses is producing a surf film shot solely in New Jersey to highlight and empower women riding boards through all four seasons, bringing light to the NJ women's surf scene. Her's our interview with Margaux about the new project.

Margaux, how did the idea for the project come about?
I was inspired to make this film with the hopes to expand the narrative and view of NJ surfing to include women's stories. I was born and raised in Southern California and moved out to NJ in late 2021, so I'm telling this story as a transplant who really has fallen for this place.
After a couple of big compounded sports injuries, I found myself in forced time off. I planned on getting back into my photography to stay connected to the sport and spend time with my surf friends. That evolved into the dream to see through this much bigger project after I kept attending surf premieres that only highlighted men and storm swells in the region. I was usually left feeling like New Jersey surf deserved to be celebrated in a more diverse way. My New Jersey life is so different but just as beautiful as my one in Southern California, my physical performance and relationship with the outdoors was made much stronger by the extreme changes the four seasons bring here.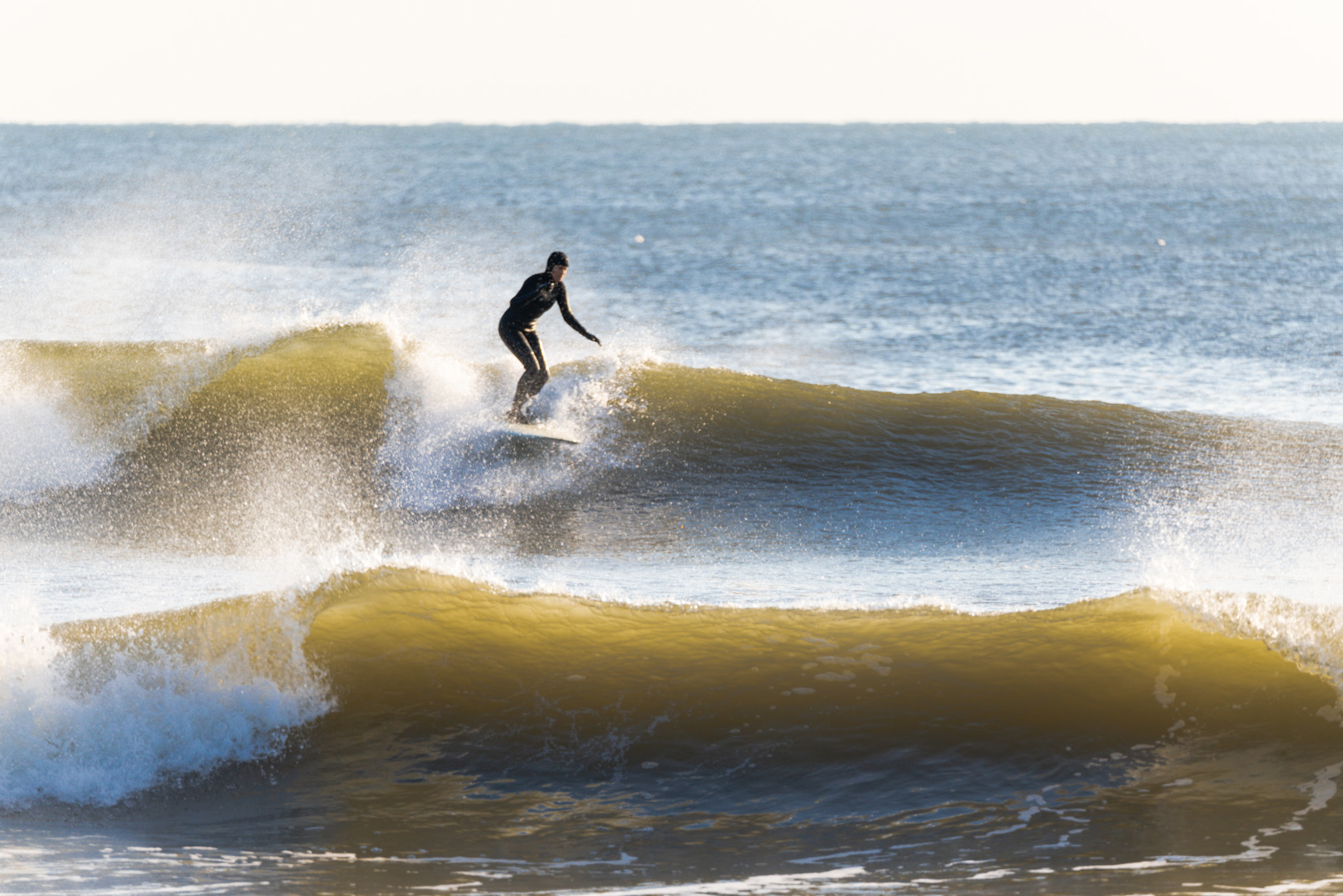 Above:  Down the line with Ava.
My goal is to tell a story that encompasses some of the amazing recreation available in this underrated state. I'm including different levels, experiences, and ages because we're not trying to compete with the pros, rather convey some of the positives surfing can add to your life. I believe women have a unique bond with water, waves, nature, and our experience pushing our bodies on boards. I want to inspire more people to participate in board sports, get outside and off their screens, and receive the medicine of nature.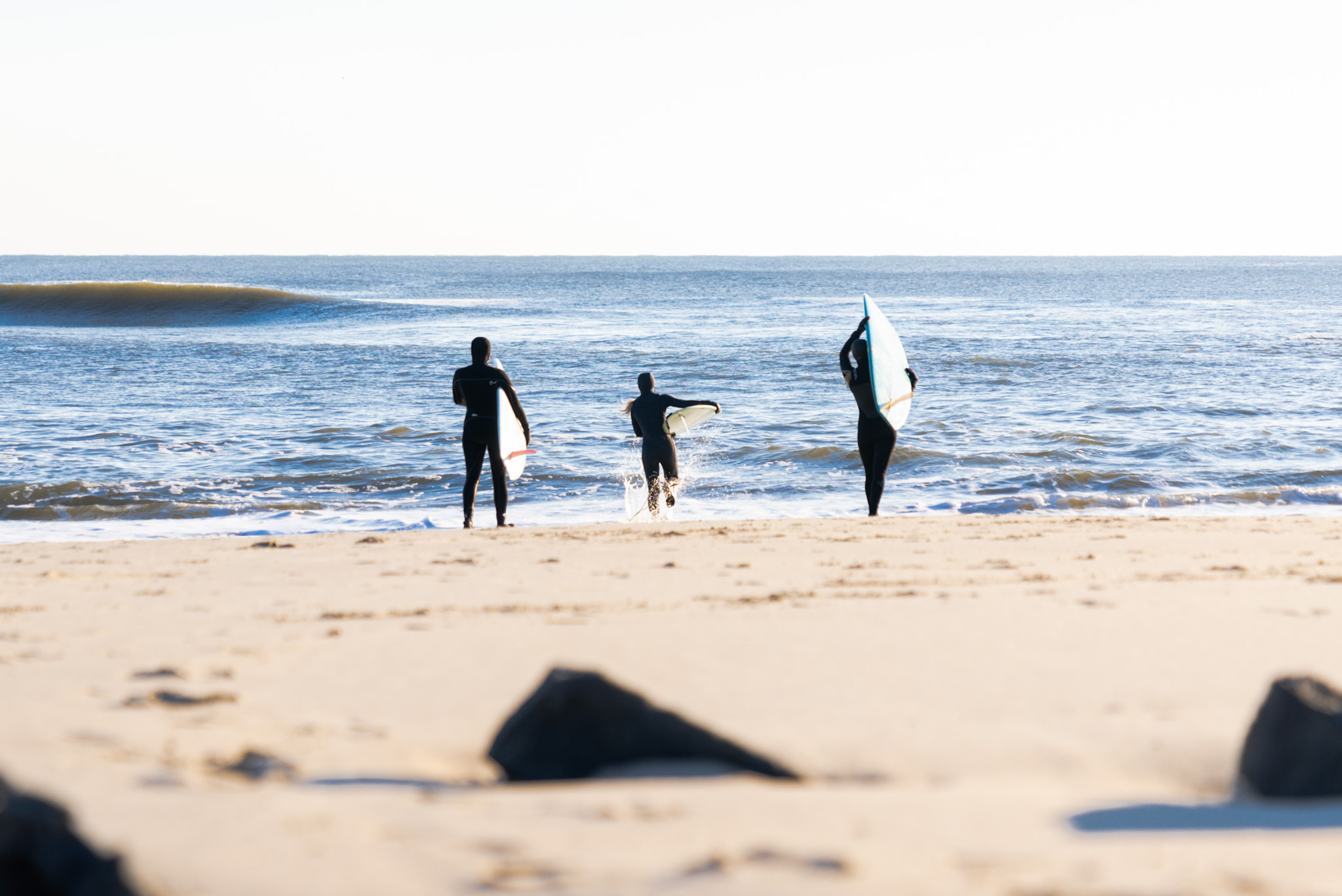 For those who don't know the area, what makes New Jersey special?
When New Jersey is firing the waves are insane – it's heavy, barreling, and fierce. There are wildly talented guys that surf those waves and as epic as it is to witness, it's also pretty intimidating, especially for people interested in learning to surf NJ.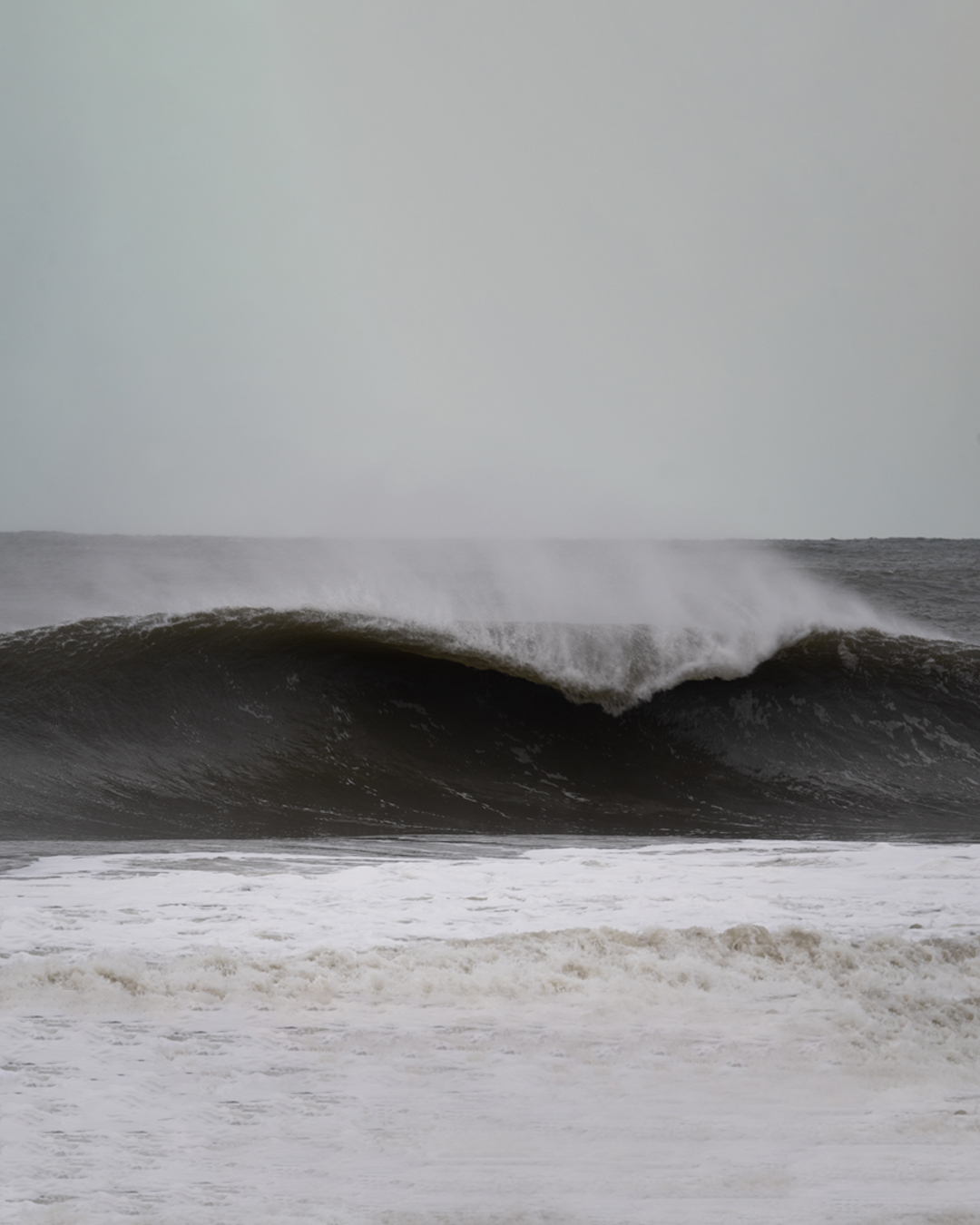 But the magic is there is truly so much availability to commune with nature here. You can hike an empty trail in the highlands at sunrise, then surf with the backdrop of NYC behind you, and be on the mountain to snowboard just over an hour later without leaving the state.
If you're up for it, you can rip in this region year round. The environment and conditions are so diverse, ranging from tropical temperatures and long boarding waves in the summertime, 8-10 foot days during hurricane season in the Fall, and leaving your house while its snowing to surf in freezing temps in the winter. In my opinion, if you surf year round in NJ, you can more or less surf anywhere you want to travel to.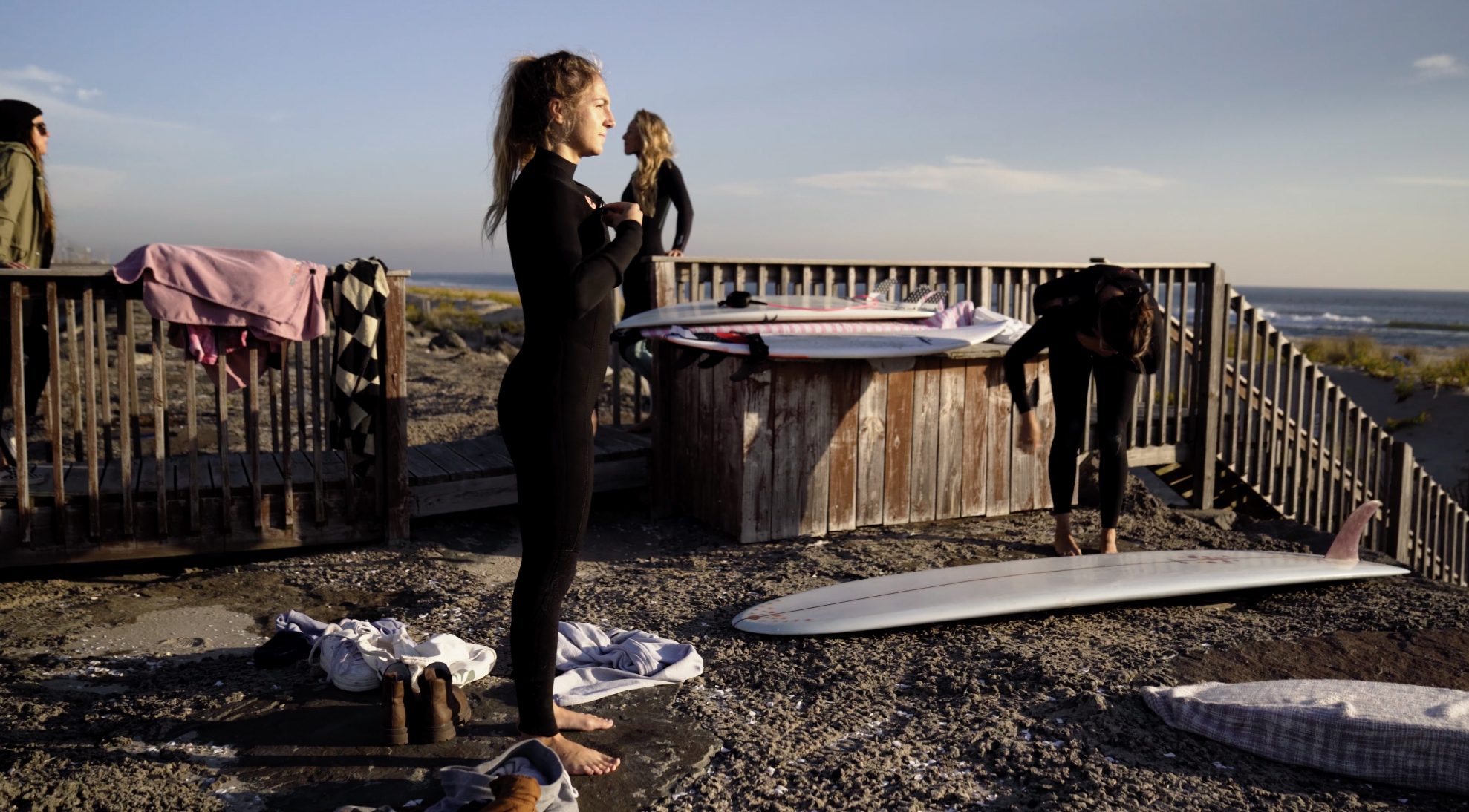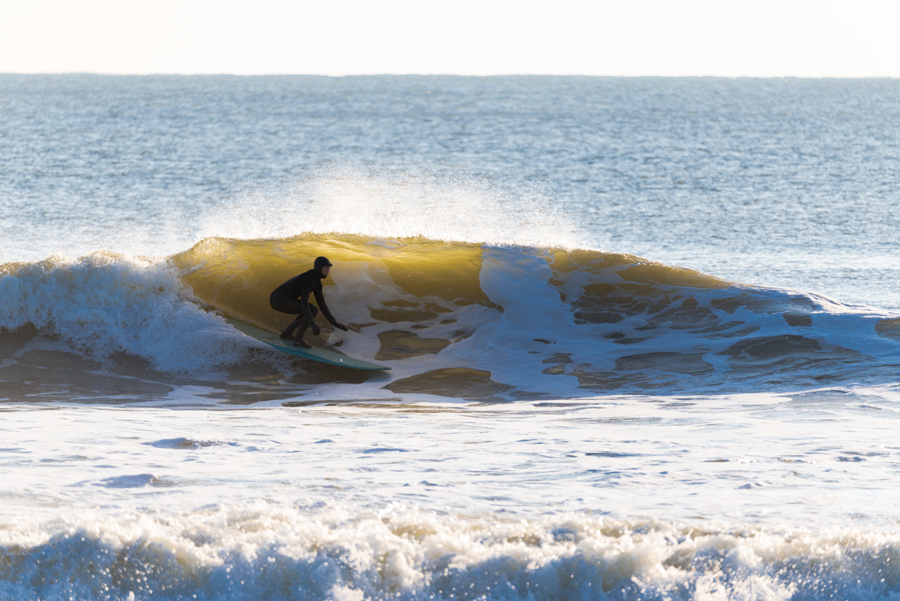 Above: Nico – 'Fall' colour palette. 
Who's involved in the film and how did you choose the team?
The team consists of myself (@margauxmolly) producing and directing, and Alyssa Malliae (@alyssaamalliae) filming and editing. Alyssa is New Jersey born and raised, a surfer, and a talented self taught filmmaker. We connected through instagram initially, and after meeting a few times for coffee I asked her if she wanted to help me make the film. We are both really passionate about highlighting the region and inspiring more women to get involved in the community.
I chose Allie (@alfrunk), Ava (@avaray), and Nico (@neeks.peeks) to create a narrative and consistency through the seasons, and because I think each of them has their own very special energy and personality. These women are really inclusive in the women's surf community and all bring their own style to the water. We're all excited to travel up and down the Jersey coast to meet more women to highlight and surf with in the film.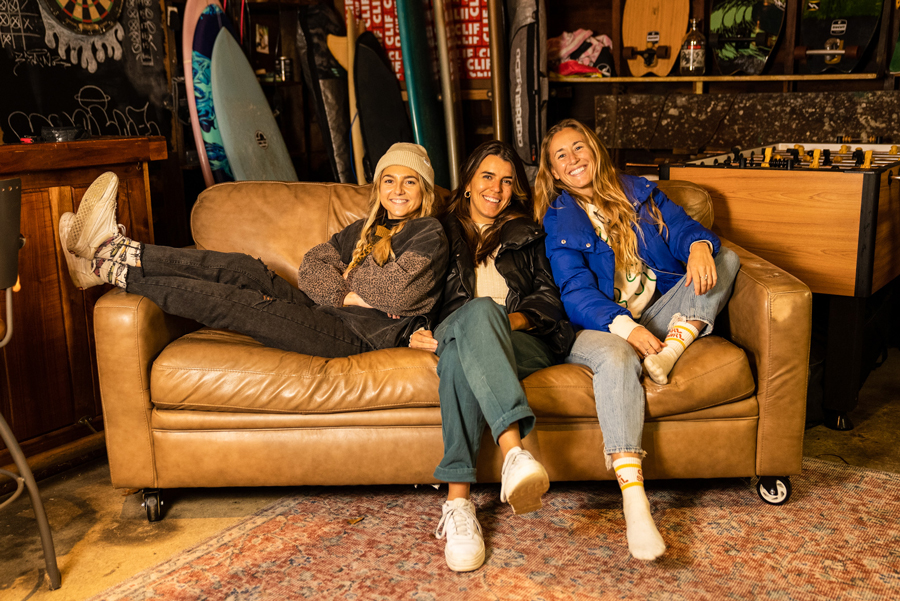 What's your experience of film making and have you done anything like this in the past?
My past career life was in film production. I come from a line of filmmakers, and was always interested in photography, lighting, and enjoyed being on sets. I started to PA when I was in high school, and moved on to production coordinate and production manage both low budget films and big budget commercials after college. I left production years ago to pursue my passions surrounding environmentalism and plant medicine. Having both film production, event management, and entrepreneurial experience have been hugely helpful in taking this on. However this is my first time directing and my first film project centered around surfing!
What is the high points of making a film about surfers and surfing?
Collaborating with other creative and adventurous women has been such a gift. There are candid moments we get on camera that really capture the full spectrum of emotions that happen from the sport that feels really special — the pure joy of a beautiful day and high wave counts, the realness of a frustrating day or an overcrowded lineup, the moments of celebrating each other, rooting for each other. It feels like we're doing the things that we love, with an extra layer of sharing important perspectives, conversations, and experiences. That purpose driven feeling is definitely up there. We all like to have fun and we're doing it!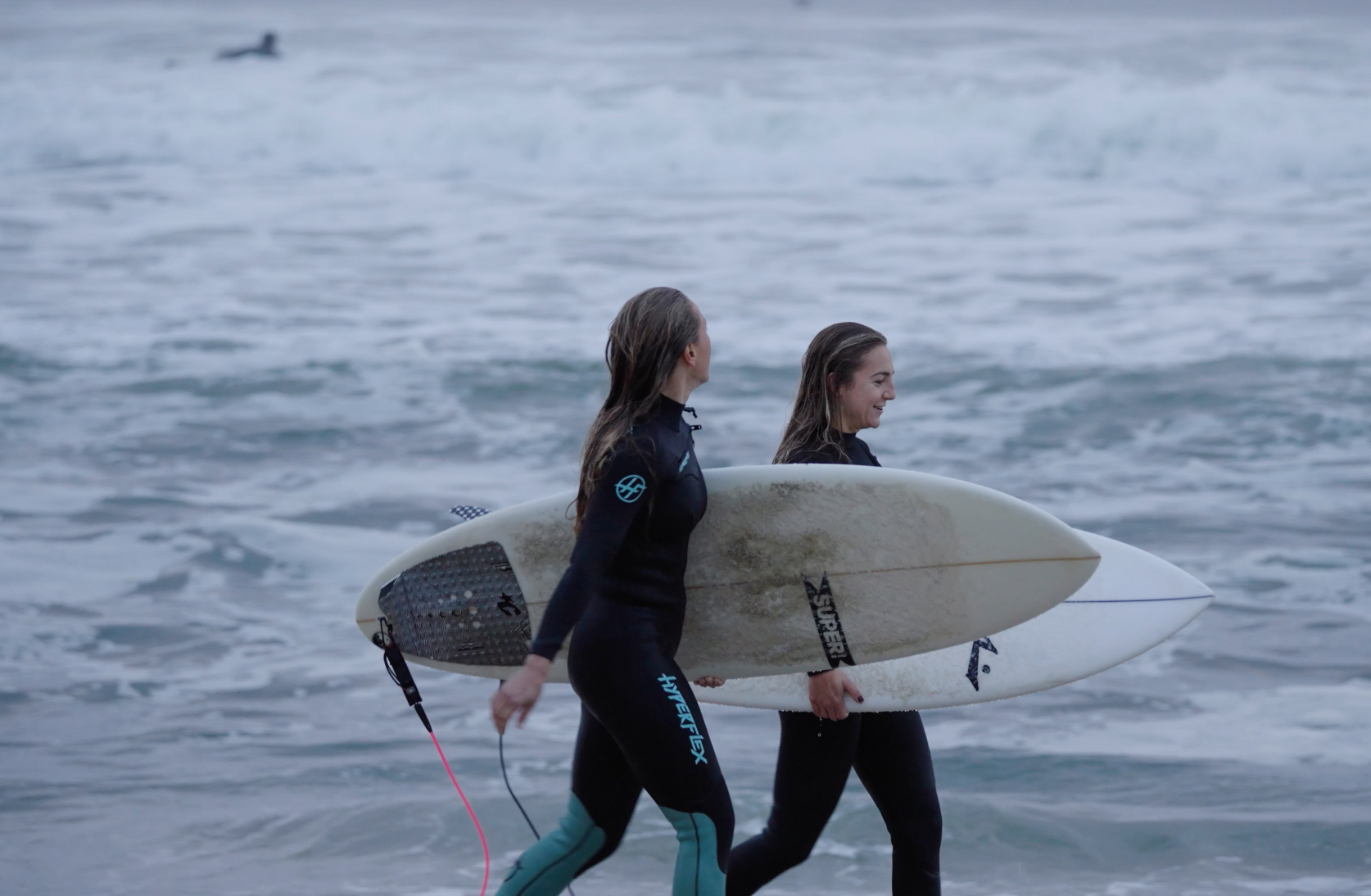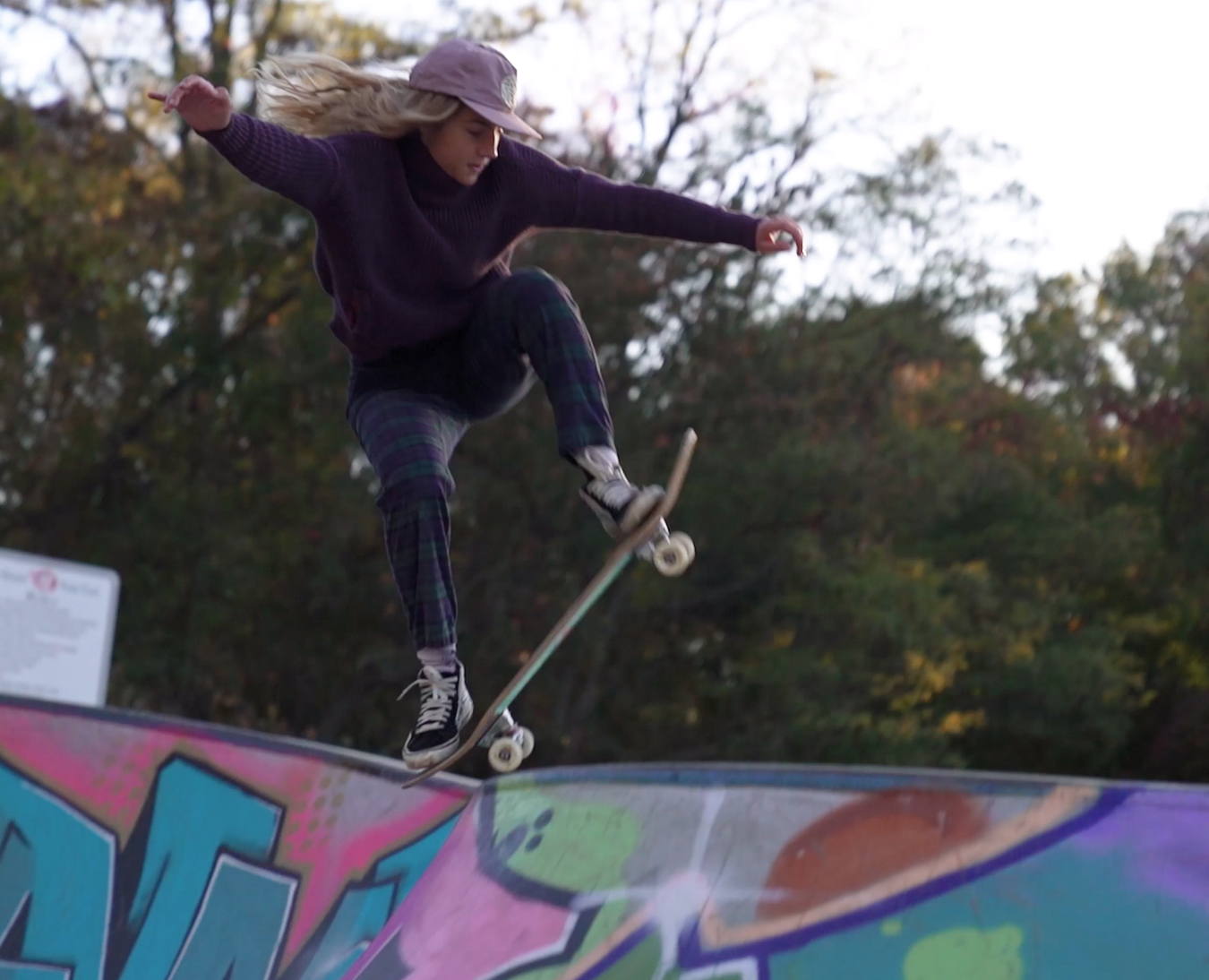 How hard/easy is it to make a film? What is the reality of funding a film like this?
One of the hardest things is scheduling — the combination of being at the mercy of the waves and weather, and coordinating the schedules of five very busy women around it. It is wildly time consuming to try to make it all work, make everyone happy. Faster than you'd believe it becomes a full time job to plan/produce as well as create outlines, decks, and go after sponsorships and fundraising.
In terms of funding, everyone including myself signed on to do this as a passion project with no promised outcomes. I used my personal funds for pre-production and startup costs trusting that we would find the right people and brands to help us complete the project. We are still looking for brand sponsors and I setup a Go Fund Me because we really do need a second camera and shooter, and money for travel expenses and post production. 
I've always operated with the mindset of desire over fear, and figure everything out as I go. It's a little scary to make the sacrifice, but you just have to start!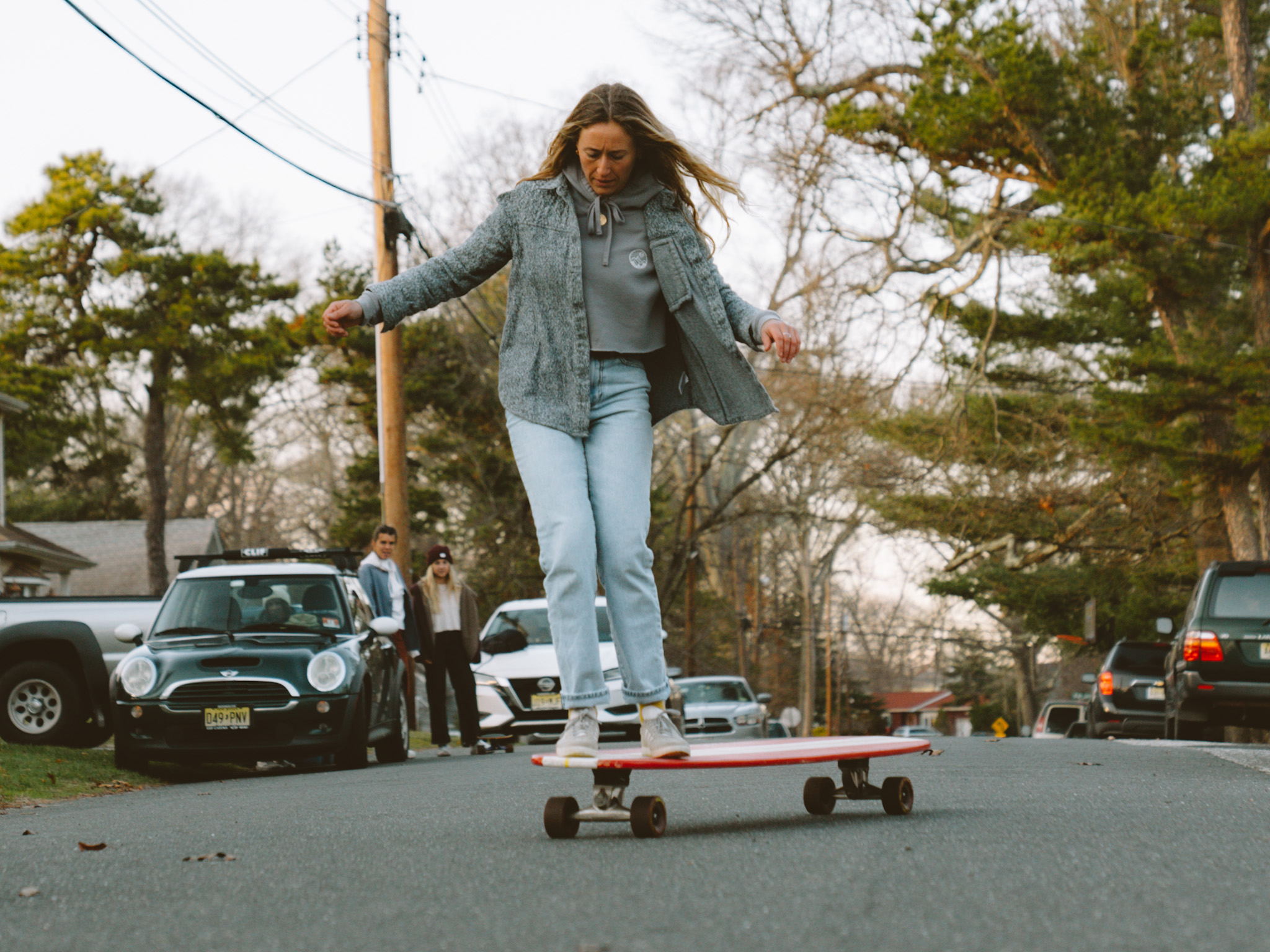 How will you be able to see the film when it's out and are you going to show it at the film festivals?
The project is unique in that I wanted to showcase the changing seasons, different regions of the state, and include surfing, skating, and snowboarding. So it's a long ambitious timeline, we started in September '22 and are filming through July '23, editing as we go. As of now the plan is to finish and premiere the film in New Jersey is August '23. I absolutely plan to submit to festivals, would love to tour it around if we have the resources! Eventually it will be available to stream online, follow @WMproductionco for updates!
Sum up the film in five words!
NJ Women Ripping Year Round.
Skate queens, above Nico cruising and right Allie .