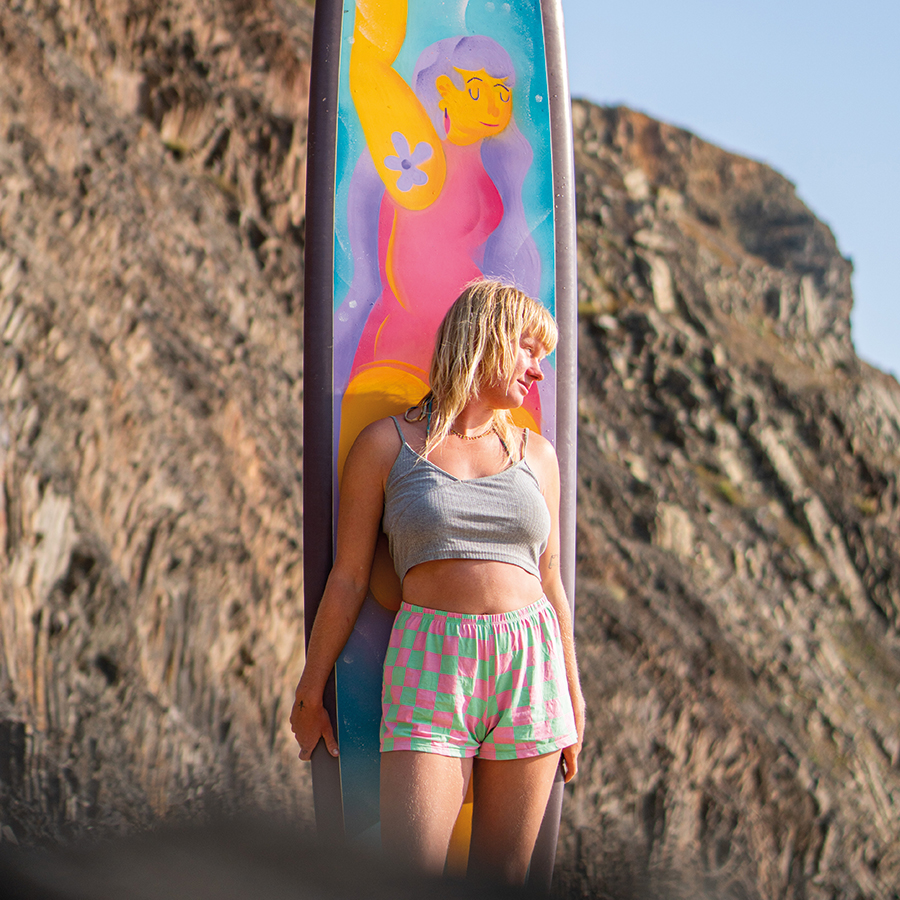 Reef have partnered with two beach-loving artists to design an exclusive set of sandals, each depicting the power of the beach's universal love. Here we find out more about the talented artists and their work which is portrayed on Reef's latest sandal collection, The Beach Loves All. 

Nanna De Jong
Nanna's playful artistic sensibility has been spotted on surfboards and camper vans along coastlines from the Netherlands to Portugal. Her love of vibrant colour is emblematic of the joy she finds as an active part of her community.
Nanna what do you love about vanlife?
I'm from the Netherlands but I love being in Portugal. What I enjoy most about vanlife is the feeling of freedom and being outside all day. I feel like I'm more connected with myself and what I need when I'm surrounded by nature. Also the community is so diverse with free spirits, surfers, digital nomads and people wanting to learn how to live more from the land. Another charm of vanlife is the back-to-basicness, which is at the same time also it's shadow side. When you have energy and feel good it's great, when you don't it's exhausting. When my father passed away last year, I couldn't live in the van anymore. I needed comfort, a heater, a shower and safety. The van was literally too small to grieve. This winter I've lived in a house at the beach which was amazing and revitalizing. From this week I will go back to living in my artwork on wheels again and looking forward to new adventures!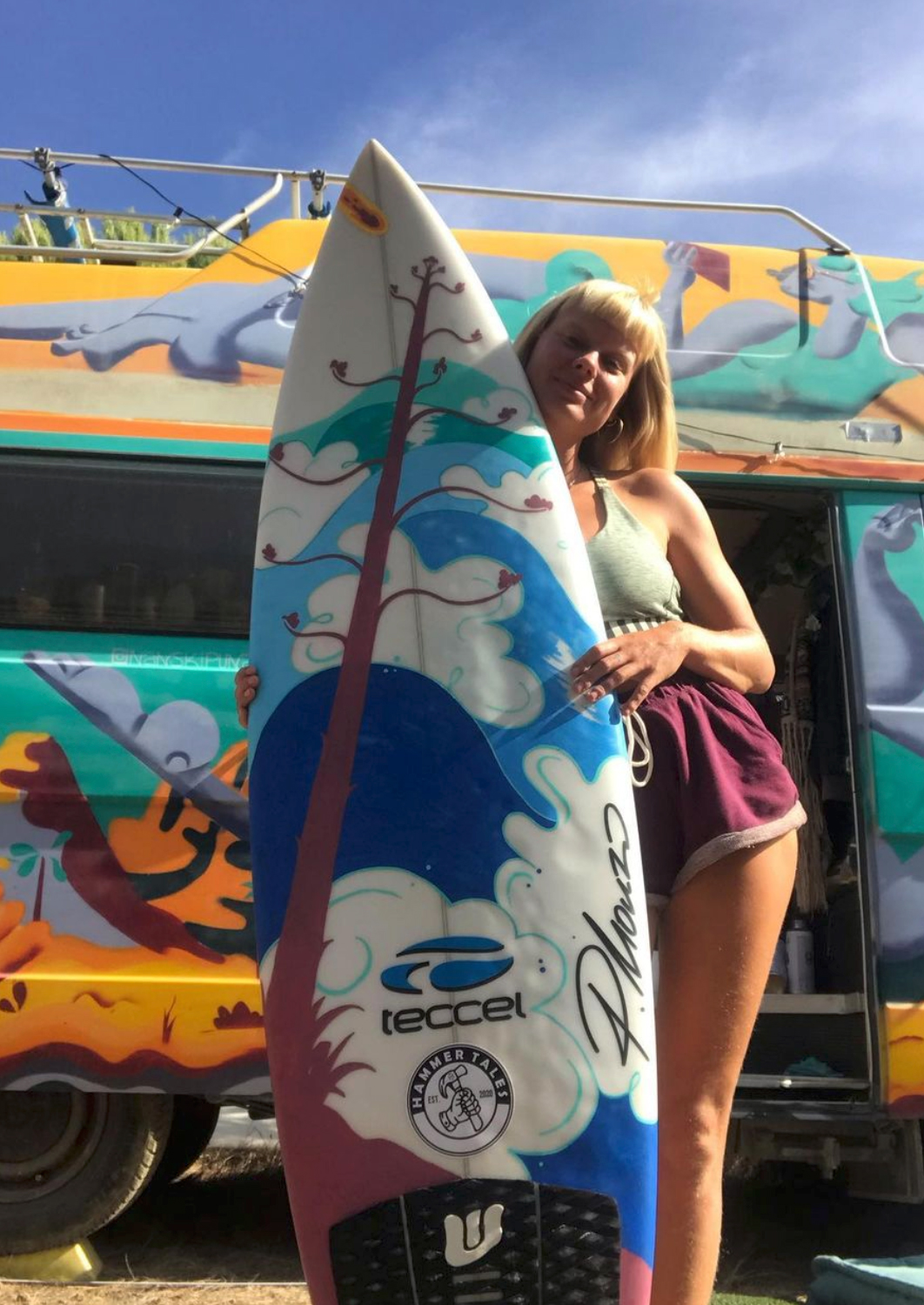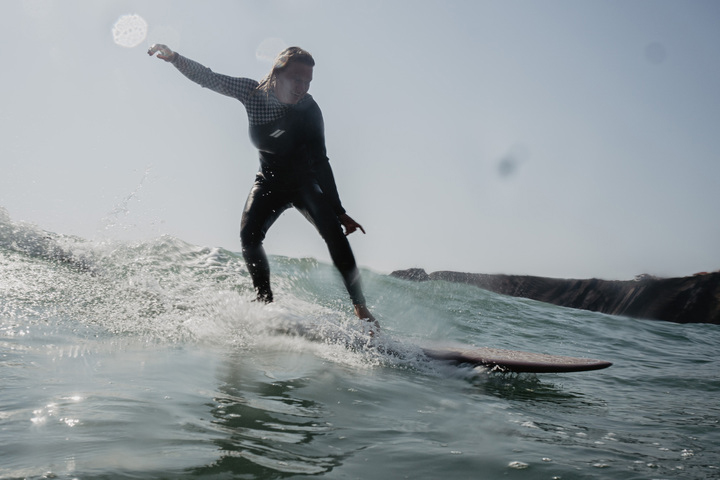 Where do you surf and what do you love about surfing?
I surf on the west-coast of the Algarve, Portugal. I'm only surfing since a few years but I fell in love with being in the water. The ocean is a mirror in which I see all my fears but also my strengths reflected. There is something magical and meditative to be found on the ripples of the sea!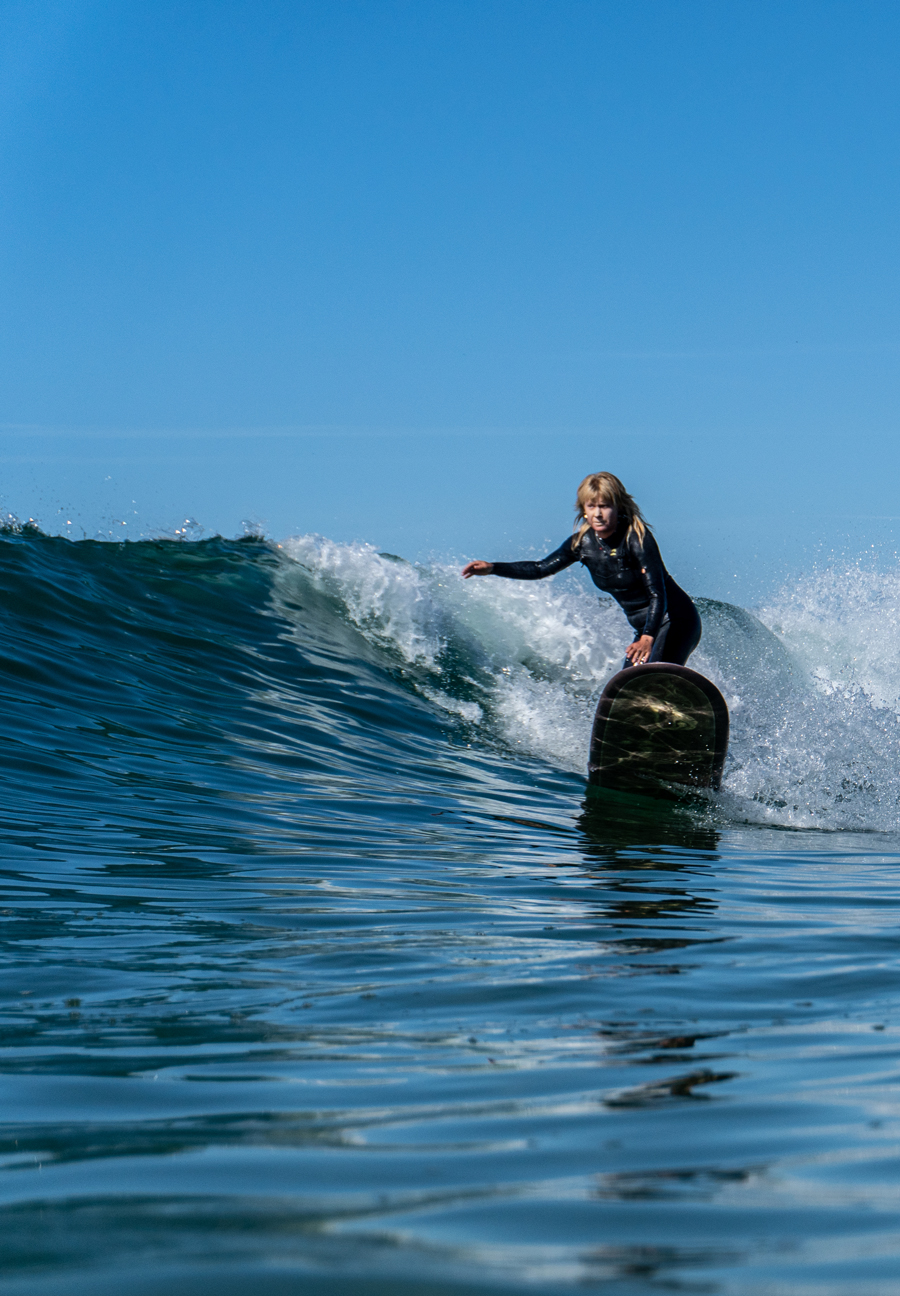 Describe your art?
My illustrations are colourful and playful but they always have something to say. I touch topics like feminism, off-grid living, sex-education and climate-change. Not by whispering but in bold retro type. The gradients in my work give a groovy touch but they also show you that not everything is black nor white and pink nor blue. As an artivist I want to inform and to celebrate. A small finger in the air but followed by a sommersault!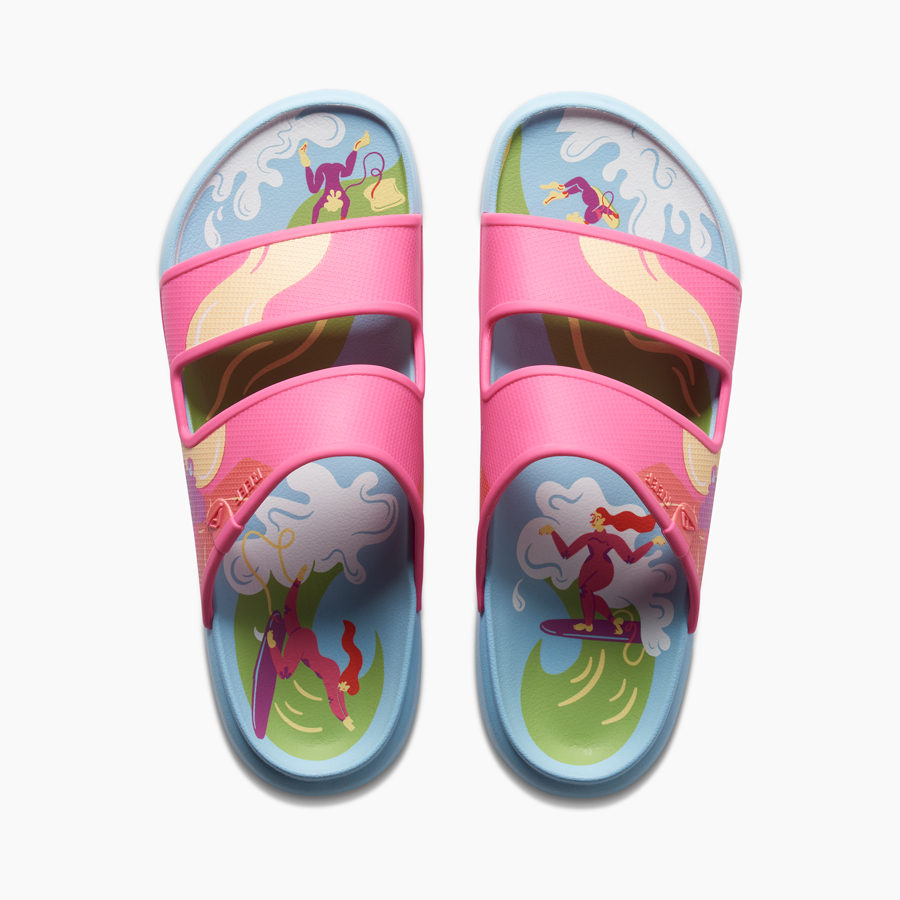 How stoked are you to have designed a sandal for Reef?
If you'd ask me a year ago what my dream job would be I would probably respond with: a combination of my love for the ocean, illustration and queer pride. I have created two different sandals, one is a "good" day, one is a "bad" day. By only focussing on the pro's and perfect pictures, we make the sport even more competitive. Surf for me is about play, fun and learning. We have to embrace the wipe-outs! Designing for REEF and to be able to walk in my own sandals is definitely a dream come true!

Rusted Indigo
Rusted Indigo is so inspired by the ocean, she's made it both her life and her living. She keeps her studio beachside in San Clemente, the place where she feels most inspired to express herself and be vulnerable. Kelly believes every wave she captures is both different and important, just like each of us.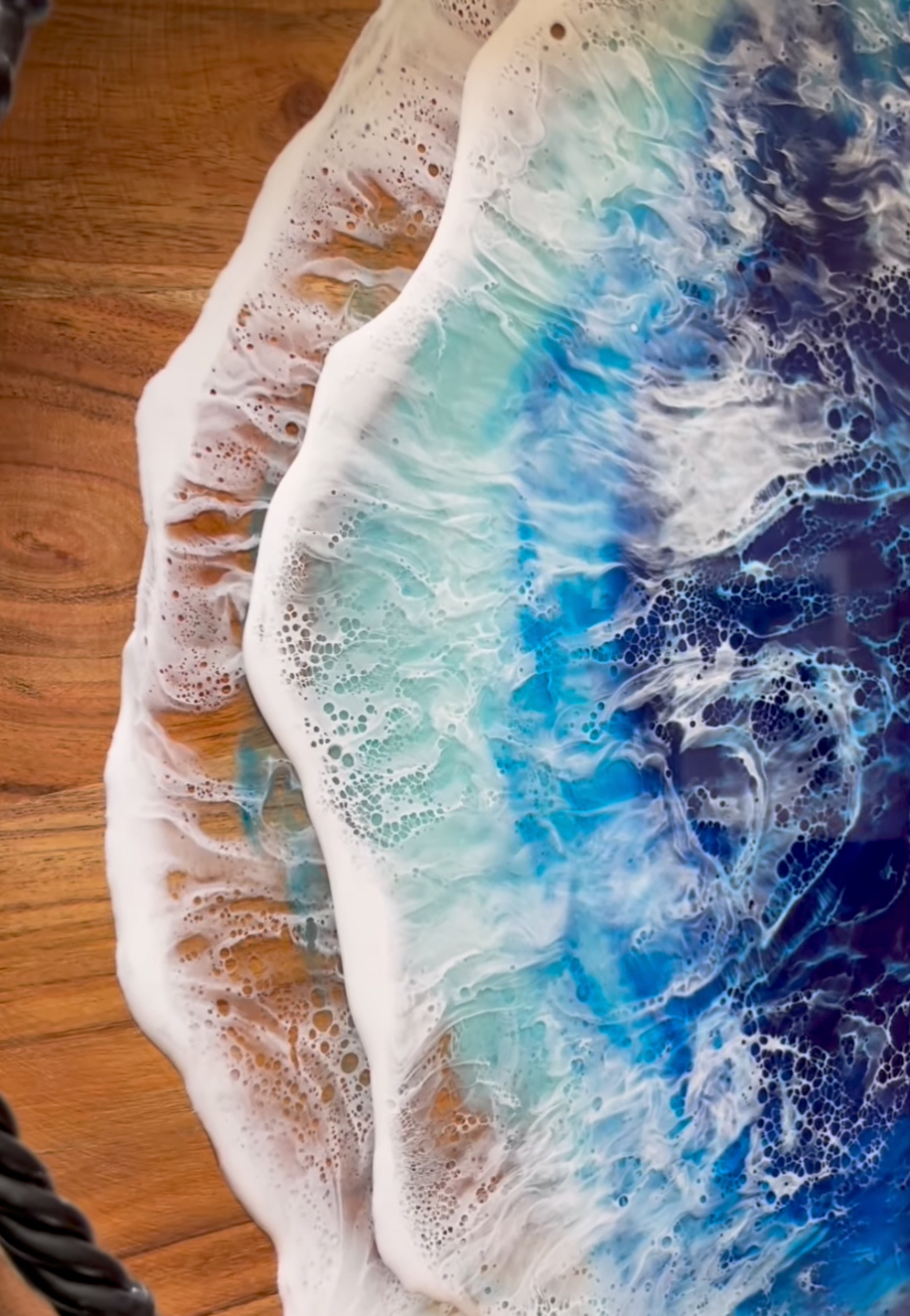 Kelly, where are you from and what's it like living there?
I'm from Michigan, but have lived in southern California for the last 16 years. I moved more south to San Clemente, California about 4 years ago and I love it! I'm about a two minute walk to the beach and have an ocean view from my kitchen window.  It's absolutely breathtaking being able to wake up to the ocean everyday.   

Your wave art is beautiful, how did you get into painting surfboards?
I went to art school in Michigan and I always knew I'd be doing art for the rest of my life.  I started my art career by making wedding signs and hand painting letters onto wood boards, but you can only paint words onto wood so many times before you get REALLY sick of it.  Once COVID hit, obviously no one was buying my signs anymore so I had to think of something new I could do.  Since I had a lot of time on my hands at that point, I was able to experiment with epoxy resin and ocean art and it became an obsession.  The surfboards have been a popular item so I just continue to make them in all sorts of colors, sizes and styles.  The awesome thing about doing epoxy resin wave art is that you never know how it's going to turn out, but it somehow always looks like the ocean.  I feel like you can never really mess up.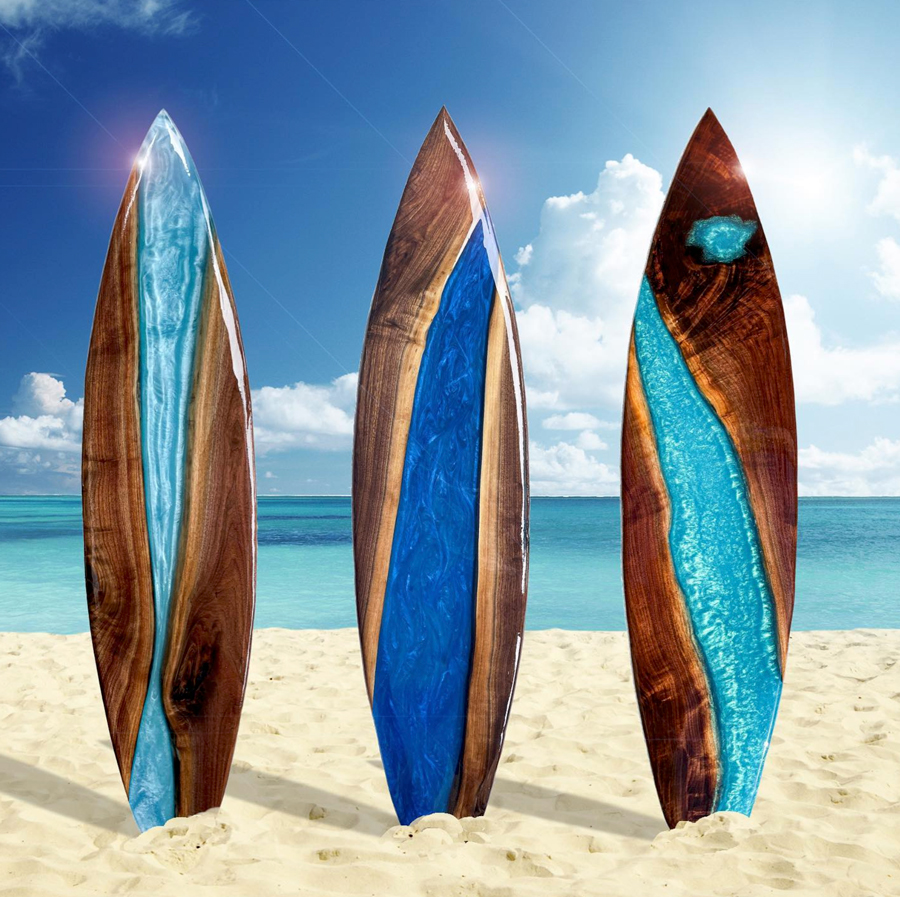 How does the ocean influence your art?
The ocean is so vast and ever changing and I feel like that's how my art is. Every couple years I feel like I'm always doing something completely different. I'm always inspired to branch out and try new techniques, colors, mediums and syles. I do feel like ocean/wave art is here to stay, but I'm always itching to try something new.
Tell us a bit about your new collection for Reef, how did that come about and what inspired it?
Reef came to me and wanted me to design a piece for a sandal.  At first I thought there was no way they'd be able to put the wave design on a sandal. Epoxy resin isn't like acrylic or oil paint, it's so fluid and the outcome is always different.  After a lot of thinking and brainstorming, I figured I'd take the shape of the actual Reef sandal and cut out a big sandal shape out of wood and use the colors of the ocean in San Clemente to design the shoe.  They were able to put that design on the flat part of the sandal and it turned out wonderfully.  My vision came to life and It is way better than I expected.