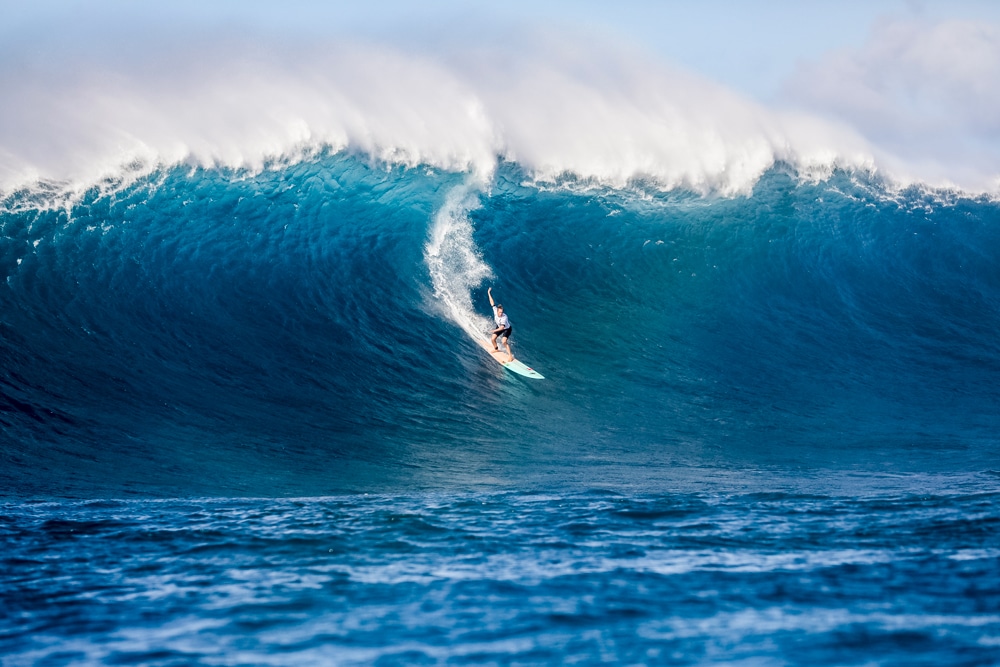 Paige Alms won the World Surf League cbdMD Jaws Big Wave Championships in 30-to-50 foot waves at the famed Pe'ahi surf break on the north shore of Maui, Hawaii. The Maui native swept the event earning an historic third victory.
"I'm so happy and stoked – pretty excited for a cocktail (laughs)," said Alms. "It was some super challenging conditions today. As soon as I paddled out in my first heat the wind was here and I knew the Maui glass was on. To do it three times is all a blur and I'm pretty baffled at the moment. I try to make smart decisions out here and I obviously got pretty beat up at the end of that first wave. I try and pick the good ones, I'm not out there to prove anything to anyone except myself. It's the ultimate feeling being on a giant wave, it's when I feel the most alive and so it's the double-edged sword. You're putting your body and life on the line to ride these wave but when you successfully ride one nothing beats it."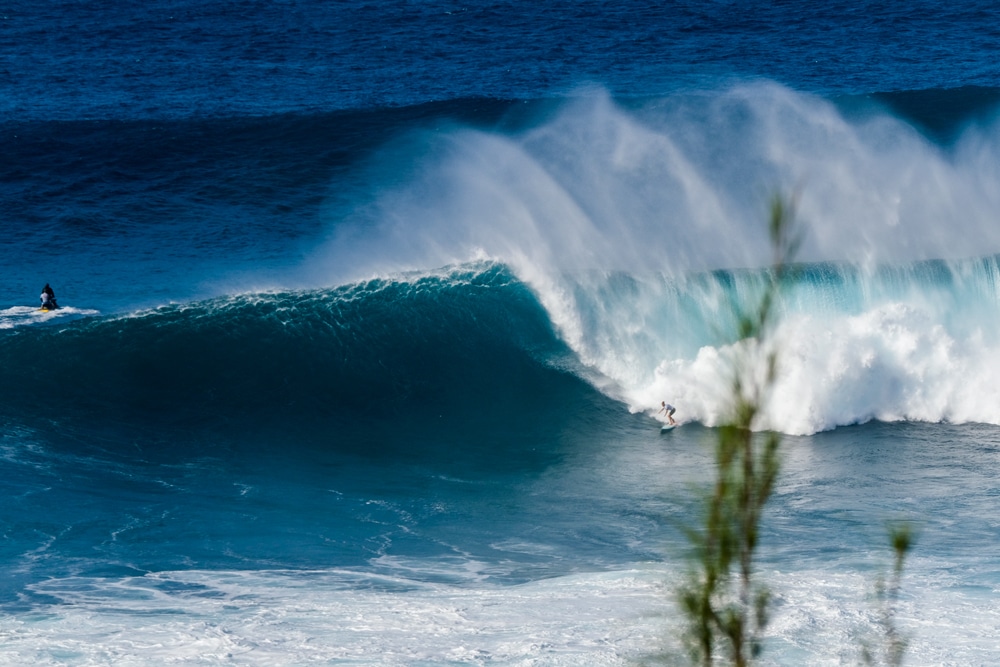 Above Photo: Paige Alms
The ocean came to life after a slow 20-minute start that Maui's Alms was able to scratch into and drop down the critical face before being swallowed by a mountain of white water. The 2016 and 2017 Jaws Challenge victor sustained a hamstring injury in the process but grabbed a backup jersey and returned back to the lineup. Fellow Maui native and one of the crowd favorites Annie Reickert made her incredible Big Wave debut at just age 18 and stunned those in attendance to earn a third-place finish behind runner-up Felicity Palmateer (AUS) who threw herself over the ledge into death-defying drops to put on a showcase throughout her performances.
"I think (showing up early) is partially a good thing and partially a bad thing," said Reickert. "I showed up and had hours to watch and study the surf and get advice from everybody. But the more you're out here the more the nerves get to you and get into your head so it was all just about paying attention to what the sets are doing and mentally staying prepared for what you're about to go do.
Above photo: Annie Reickert
"I'm honored to be out here. I didn't know what to expect and of course my goal was to make it to the Final and just give it my all as well as share the water with these inspirational people like Paige (Alms) who've I've always looked up to."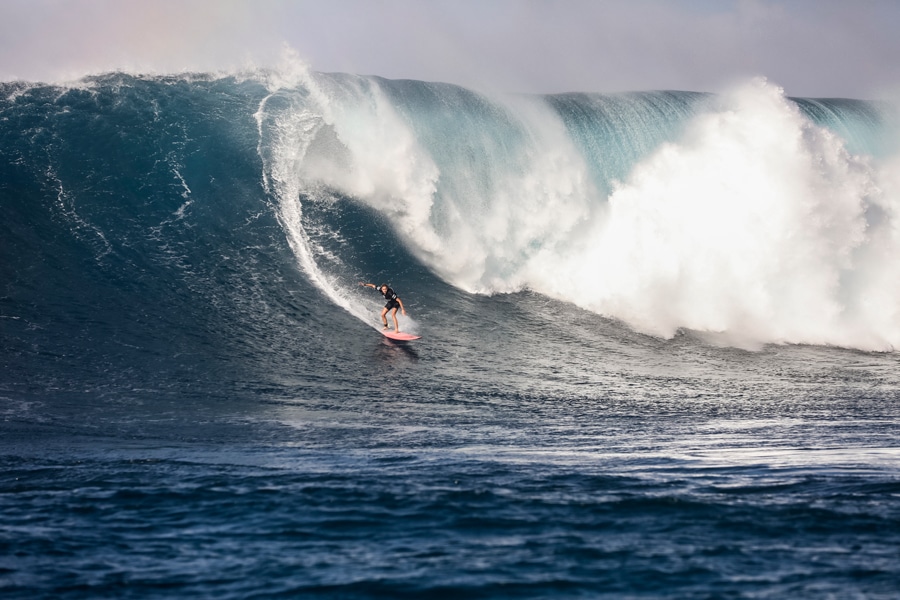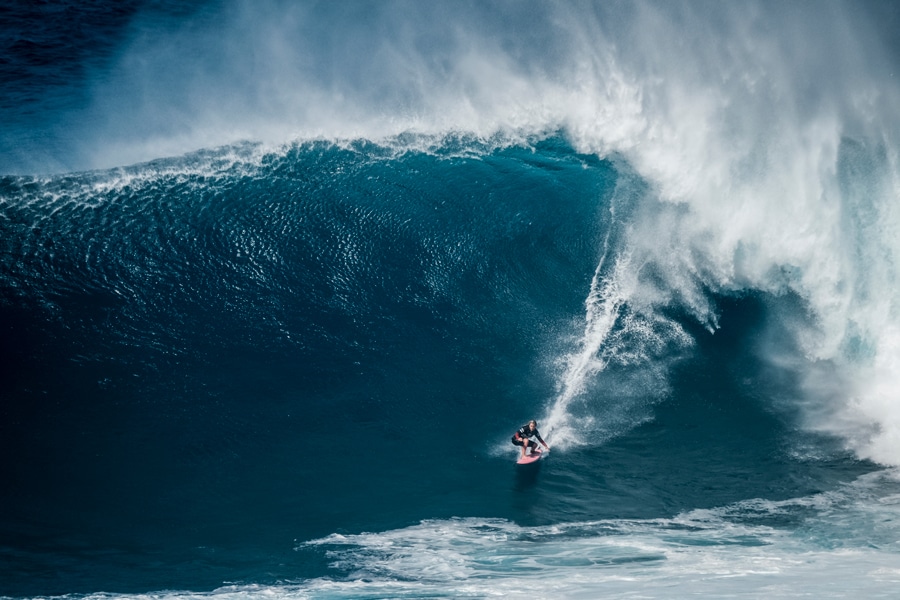 Above photo: Felicity Palmateer
The cbdMD Jaws Big Wave Championships is proudly supported by cbdMD, Michelob Ultra, Red Bull, and Alexander & Baldwin.
cbdMD Jaws Big Wave Championships Women's Final Results:
1 – Paige Alms (HAW) 12.34
2 – Felicity Palmateer (AUS) 5.43
3 – Annie Reichart (HAW) 9.13
4 – Keala Kennelly (HAW) 8.17
5 – Emily Erikson (HAW) 1.40
6 – Michaela Fregonese (BRA) 0.00
cbdMD Jaws Big Wave Championships Women's Semifinal Results:
Heat 1: Felicity Palmateer (AUS) 11.90, Keala Kennelly (HAW) 3.54, Paige Alms (HAW) 0.80, Justine Dupont (FRA) 0.71, Skylar Lickle (HAW) 0.00
Heat 2: Annie Reichert (HAW) 5.67, Michaela Fregonese (BRA) 4.46, Emily Erickson (HAW) 3.66, Bianca Valenti (USA) 0.00, Raquel Heckert (BRA) 0.00