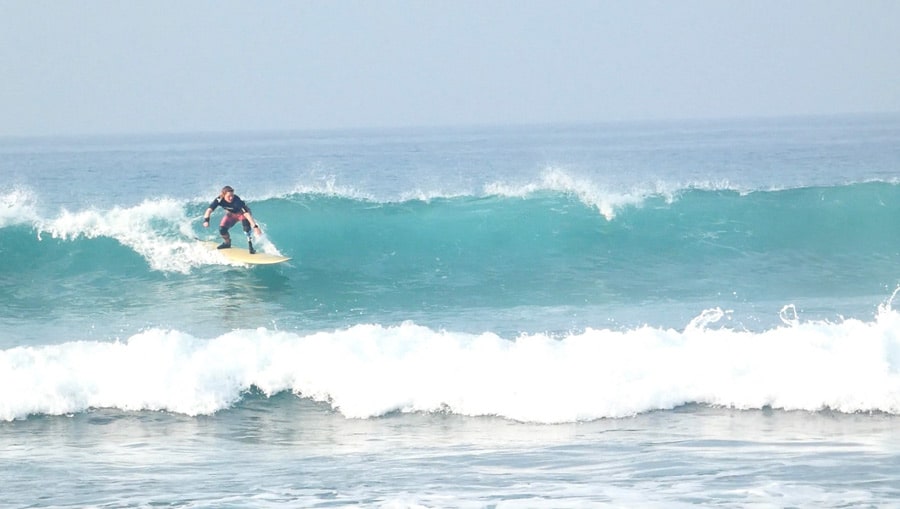 We chat to English surfer Zoe Smith, who after a car accident learnt to surf with a prosthetic leg and has her sights set on competing internationally.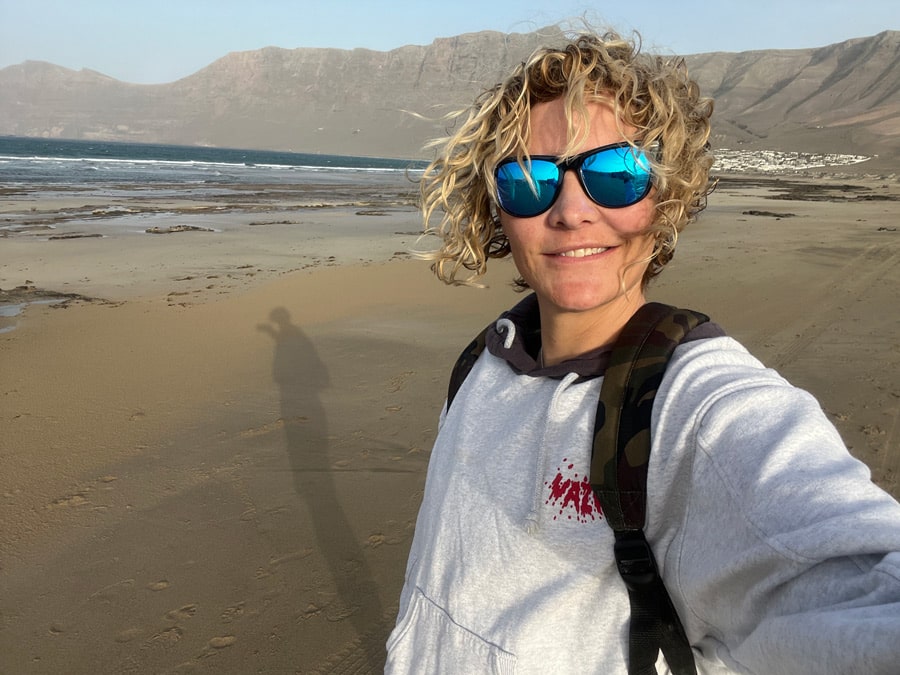 Hi Zoe, when did you start surfing?
I grew up bodyboarding but decided I wanted to take up surfing in 2021. I saw on Instagram a hashtag for an amputee surfer in the England squad called Pegleg Pennett. I started following him and honestly couldn't really believe that an amputee could surf the way he does. This guy surfs Nazare and Indo and I was obsessed with the idea of it.
So inspired I booked myself a lesson at The Wave in Bristol. It wasn't Nazare just yet but it was safe and a great and gentle introduction to surfing.
Initially it was tough as I didn't have a water leg so I was super slow and struggled to pop up. It was like surfing with an anchor attached to your body. However, I'd not been surfing long when I was approached by a couple of individuals from the England team and Surfing England to see if I'd like to join the England team. I accepted and was ecstatic and totally overwhelmed at the same time. I knew the ISA World Championships were coming up in December (a few months away) and so wanting to do myself and my teammates proud I set about training like mad to ensure I felt worthy of being a member of the team. After coming 2nd out of 4 in my first heat I finished 5th in the competition overall. I was one place off a medal. I wasn't disappointed I was stoked. It had been the coolest experience with the coolest bunch of people.
So how did you lose your leg?
I lost my leg in 2015 as the passenger in a car accident. I had my left foot on the dashboard. A car travelling the opposite direction turned suddenly across the road infront of us. We had no opportunity to avoid him and hit him side on. The air bag detonated and my left leg was broken beyond repair. I underwent a number of reconstructive surgeries to do whatever I could to save the limb but eventually there was nothing more we could do. Following my amputation I was walking gingerly on my prosthetic within six weeks although it took the best part of two years to fully recover.
I had some dark, sad days mainly plagued by pain and anxiety. I came out the other side though and feel emotionally recovered as well as physically.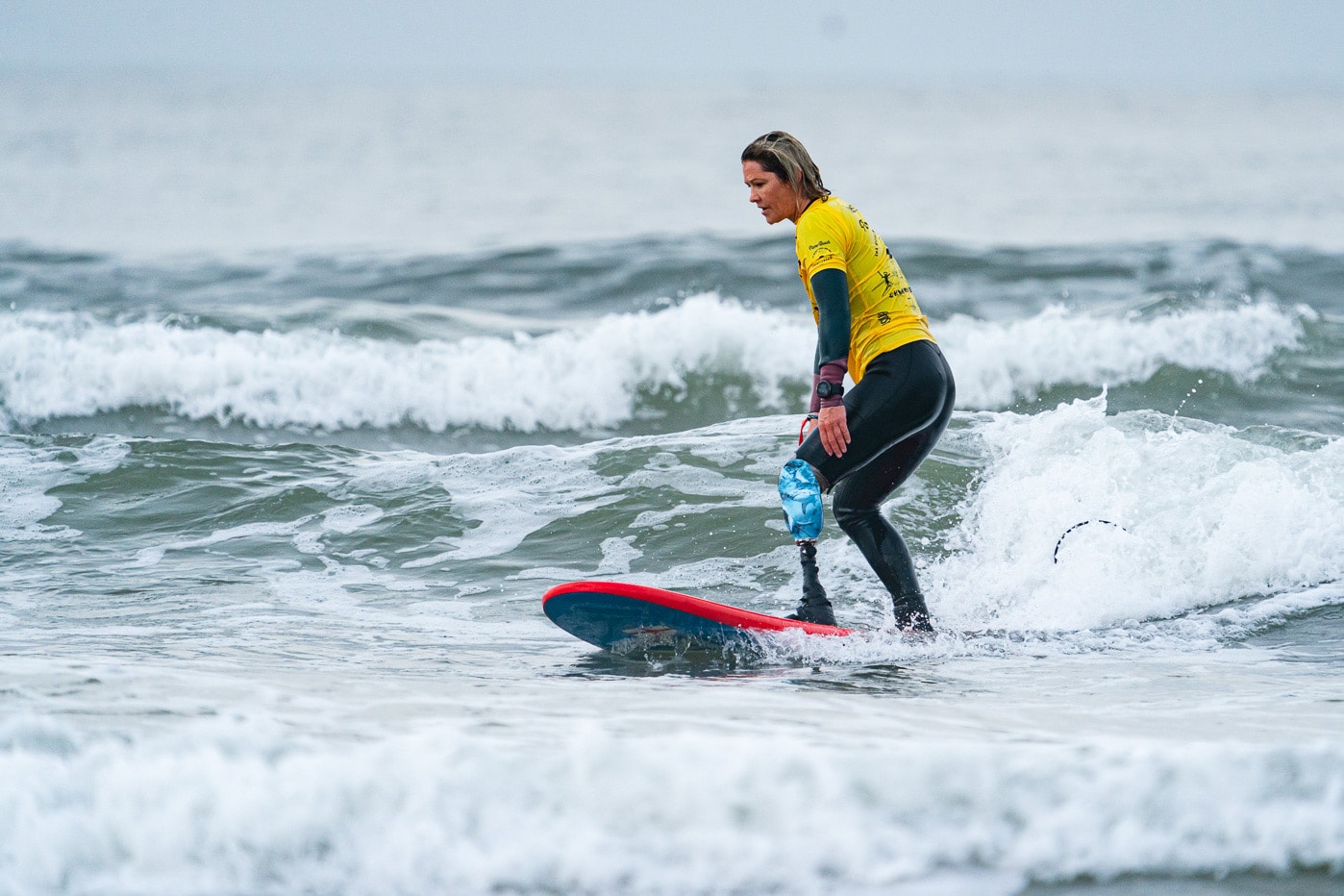 What are your main challenges?
As an amputee athlete my main challenge has been engineering and adapting a prosthetic that will allow me to move/balance in the water. Not only is it extremely expensive to own a water activity leg (my current prosthetic costs 10k) but practically there's a lot of adaptions to consider as well. The weight of the leg, it's manoeuvrability through water and finally it's capacity to stay firmly attached in powerful surf! It's an issue I'm still working on atm with my prosthetics team. Whenever I surf in different conditions different niggles present themselves so it's a real learning curve. My prosthetics team at Dorset Orthopaedics are currently looking at making me a bespoke footshell with some traction to stop me slipping on the board. They're offering to do this for me without cost and it's companies and individuals like that who make all the difference to adaptive athletes.
In terms of my biggest help it's been my friends on the team and also my friend Siobhan who I work with. She's shouldered a lot of the responsibility since my surfing journey begun and as an holistic therapist she's great at helping me with the hundreds of aches and pains I've acquired at the hands of the ocean. I'm lucky to have a lot of great people in my life although obviously they're all probably going off me now all I ever want to do is surf 😉

What do you love most about surfing?
Surfing i think is an expression of playing. It's exhilarating, fun, creative and leaves you always wanting more. It's addictive. I know everyone says it but the moment I caught my first green wave I was in love. That feeling you get when you've matched the speed of the wave and you're about to pop up is it for me. The anticipation and connectIon between yourself and the energy of the sea is intoxicating.
I love the challenge of pushing myself to get better. At the moment I'm feeling my balance and fitness improve and I really enjoy that. As an amputee I get a sensation of weightlessness and freedom riding a wave that I sometimes feel I've lost on land. When I lost my leg I never would have imagined I could swim in the ocean let alone surf so the sense of achievement is amazing. I appreciate every second of being out there. I feel incredibly blessed.
Tell us about the forthcoming Adaptive Surf Competition?
The next competition I am travelling to is the Access Surf Hawaiian adaptive surf competition. The comp is taking place on Queens Beach Waikiki and will bring together some of the worlds best adaptive surfers. I'm travelling with a few members of the English Adaptive team and I can't wait. Queens should serve up a lovely fat longboarding wave which suits me just perfectly. I love a cruisey ride! I'm taking my new 6'10 Phoenix Surfboard with me and I'm hoping to work some good turns and practice some dynamic movements.
We return home to the English Adaptive open in July at the Wave and in September I travel with Melissa Reid to the US Open and the Super Girl Pro in California. It's a fairly hectic and exciting schedule. I am carrying an injury at the moment but I'm hoping that it will improve or heal up a bit before Hawaii. Fingers crossed!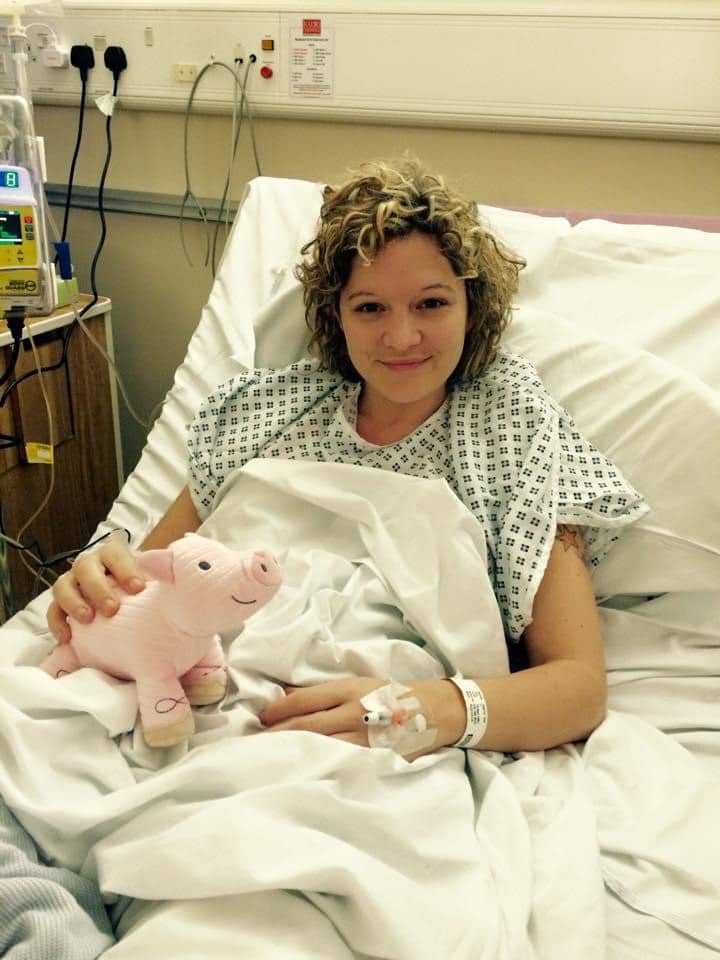 Zoe in hospital just after she lost her leg.
How proud are you to be part of the surfing team?
Surfing for England is my proudest achievement to date. Surfing as an able bodied person is very difficult but as an amputee it takes the difficulty to a different level. All of my team mates are incredible people with their own story of overcoming adversity. They have all truly inspired me. Some of the team were born with disabilities and have had different stories and challenges to someone like myself who acquired a disability following trauma. Every one of us approaches surfing with a positivity and enthusiasm unmatched. It's our therapy and our freedom. We also just have a lot of banter and enjoy surfing together.

How do you go about getting sponsorship for the event?
At  the moment I'm unsponsored which makes life hard. I've applied for grants from the wonderful guys at the Challenged Athlete Foundation and hope to have my grant approved next year. I'm self funded and working very hard to financially support myself for the tour. It's not just the cost of travel though. The primary outgoing is of course the cost of the water prosthetics and then covering life at home. I hope that through interviews like this, exposure of adaptive events and supportive businesses that adaptive athletes can be offered eventually the funding opportunities available to able bodied athletes. If I do well in the World Championships this year hopefully my funding will increase in 2023. My goal is to get a medal (I missed out by one spot last year) but time will tell.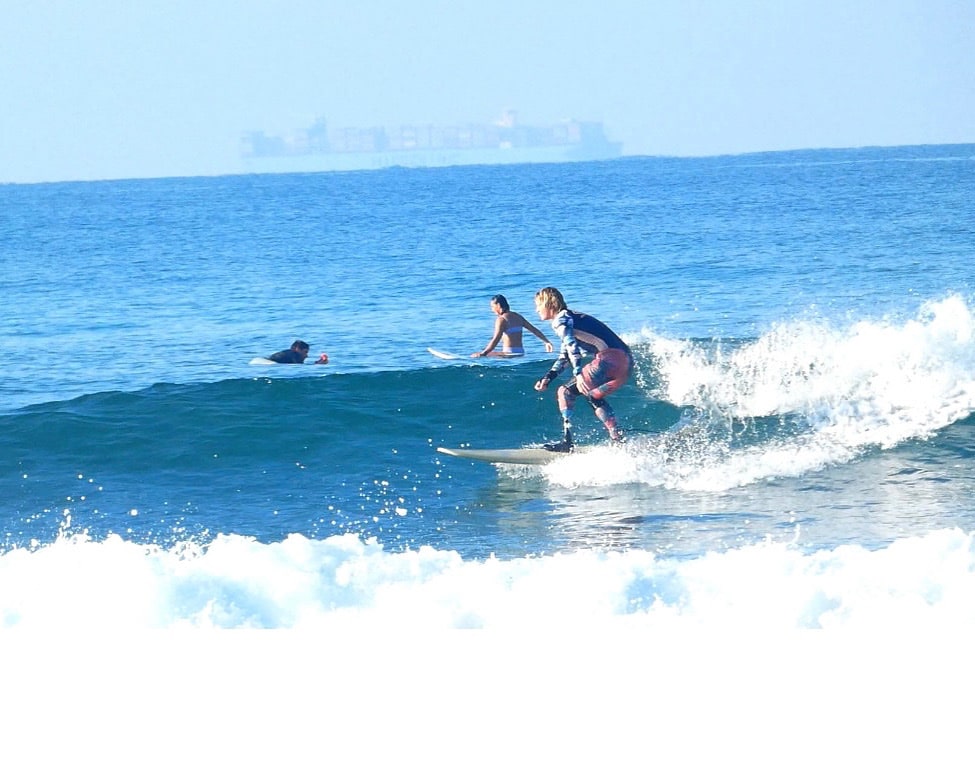 What would you like to say to anyone who's in a similar position to you and wants to begin surfing?
I would encourage any adaptive athlete to reach out to the adaptive team or one of the many organisations supporting adaptive surfers because it's a very welcoming and progressive community. The Wave in Bristol is set to launch their Adaptive Surf Club shortly and I hope that through exposure more amputees and in particular female amputees will see surfers like me and realise it could be possible. Approach your local Limb Centre to explore potential prosthetic options and utilise where possible funding. Watersports should be accessible to amputees!
Where do you see Adaptive Surfing being in five years time?
Adaptive surfing is growing quickly and The ISA has been working to manage the technical aspects of Para Surfing with the development of an Para Surfing Classification System and Rulebook that is still under development to improve the experience and opportunities for adaptive athletes. Ultimately we all want to see Para Surfing in the Olympics there are some incredible athletes competing already and the younger generation are also coming in hot.
If Para surfing hits the Olympics I'd love to be a part of that squad whether as an athlete or with the team in some capacity.
What do you love to do when you're not surfing?
I have two beautiful little pups who are always by my side when I'm not surfing. They make me laugh and smile and appreciate the finer things in life like cuddles on the sofa and walks in the woods. Their love for me is unconditional and mine to them too. They don't like me going surfing tho. They stand on the beach and scream. When I'm travelling my friends or family look after them. Everyone loves them so they are always showered in love and attention.
What motto do you live by?
Recently I was sat in Sri Lanka in the Ticket to Ride surf school chatting to a lad with a tattoo on his arm saying " make your own luck". He told me that his dad had taught him that. We got to talking about it. He told me how Kelly Slater says "the harder I train the luckier I get" in reference to his consistency in competitions. I totally agreed with the premise. Making your own luck and being the governor of your own story and fate is a really great way of viewing your capacity to change your horizons. You can influence and shape your experience if you own it. I guess all along I'd been doing that but the reference just really put everything so nicely into place. I've thought about that saying a lot since. Funny how little moments can be so impactful. Cheers Ruaridh Kidd of Ticket to Ride for you and your dad's inspiration and your tattoo inspo 🙂
Describe your life right now in five words
Fun, wild, free, untethered and bruised!
Follow Zoe's journey @zoe_smith_adaptivesurfer