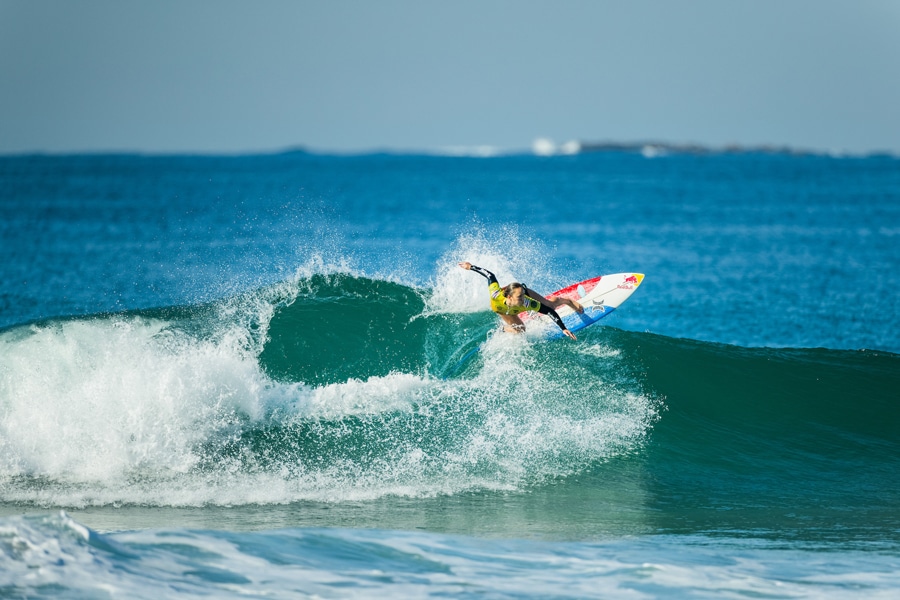 Carissa Moore looking sharp and heading into the quarters – Photo Dunbar WSL
The Rip Curl Narrabeen Classic presented by Corona, the third stop on the World Surf League (WSL) 2021 Championship Tour (CT), is now down to the Quarterfinals after witnessing big names fall out of the draw.
Johanne Defay Continues Strong Form, Takes Down Tyler Wright
Johanne Defay (FRA) continues to impress on the Australian leg of the 2021 CT, and it came at the expense of two-time WSL Champion Tyler Wright (AUS). Following her impressive 16.66 combined score (out of a possible 20) yesterday, Defay out-surfed Wright with an excellent 8.00 (out of a possible 10) and a 5.83 to Wright's 6.67 and 6.30. A former winner at Fiji's Cloud Break, today Defay reminded the surfing world that she is one of the best backside surfers on the CT.
"This feels so good and I had a little cry out the back," Defay said. "It's insane how much pressure I was feeling in that heat. A few times she went on the first wave and the second one was better, which was so good and the fact I was able to perform well on them just felt so good for me. I'm so, so stoked."
Wright now exits in equal 9th place, matching her results at Newcastle last week. After starting the season with a win, the eliminations are not ideal for Wright's World Title campaign on the road to the Rip Curl WSL Finals.
World Champions Carissa Moore and Stephanie Gilmore Looking Sharp for Quarterfinals
With Wright now out of the event, Carissa Moore (HAW) and Stephanie Gilmore (AUS) are the only two World Champions left in the women's draw. Moore, the current World No. 1 and reigning World Champion, eliminated Brisa Hennessy (CRI) with a 12.66 two-wave total in Heat 1 of the Round of 16. In Heat 7, Gilmore took down Sage Erickson (USA) with an epic display of fins-free surfing and will now face Courtney Conlogue (USA) in the Quarterfinals.
Keely Andrew (AUS) will come up against Moore in the Quarterfinals after taking out Malia Manuel (HAW) in R16, Heat 2. Andrew continues to prove she is a threat on this Australian leg and will look to improve upon her 3rd place result here in Narrabeen.
"I'm feeling good and am really proud of how I'm putting my heats together," Andrew said. "It feels so good to be getting some results and I'm really looking forward to the rest of the year. My coach Andy (King) noted before the heat that it was slow out there so not to bother waiting and to take what you can get. I've always found I have to prove myself on my backhand, so moving forward I really want to post an excellent score going left."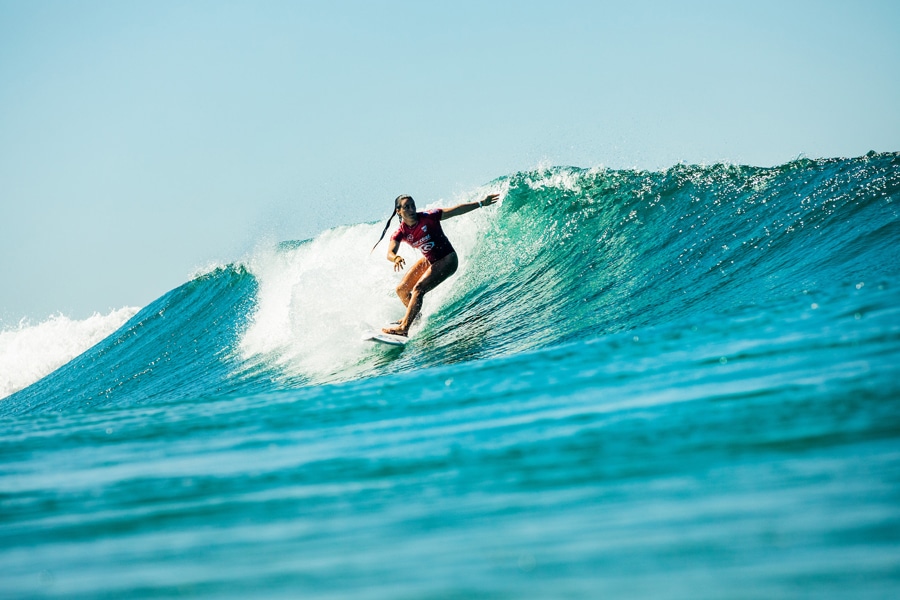 Joanne Defay impresses on the Australian leg of the world tour. Photo : Dunbar / WSL
Rip Curl Narrabeen Classic Women's Round of 16 Results:
HEAT 1: Carissa Moore (HAW) 12.66 DEF. Brisa Hennessy (CRI) 8.66
HEAT 2: Keely Andrew (AUS) 10.80 DEF. Malia Manuel (HAW) 8.97
HEAT 3: Sally Fitzgibbons (AUS) 14.10 DEF. Macy Callaghan (AUS) 13.73
HEAT 4: Tatiana Weston-Webb (BRA) 14.00 DEF. Nikki Van Dijk (AUS) 6.23
HEAT 5: Caroline Marks (USA) 11.43 DEF. Amuro Tsuzuki (JPN) 7.03
HEAT 6: Johanne Defay (FRA) 13.83 DEF. Tyler Wright (AUS) 12.97
HEAT 7: Stephanie Gilmore (AUS) 13.00 DEF. Sage Erickson (USA) 9.83
HEAT 8: Courtney Conlogue (USA) 14.33 DEF. Bronte Macaulay (AUS) 12.30
Rip Curl Narrabeen Classic Women's Quarterfinal Matchups:
HEAT 1: Carissa Moore (HAW) vs. Keely Andrew (AUS)
HEAT 2: Sally Fitzgibbons (AUS) vs. Tatiana Weston-Webb (BRA)
HEAT 3: Caroline Marks (USA) vs. Johanne Defay (FRA)
HEAT 4: Stephanie Gilmore (AUS) vs. Courtney Conlogue (USA)