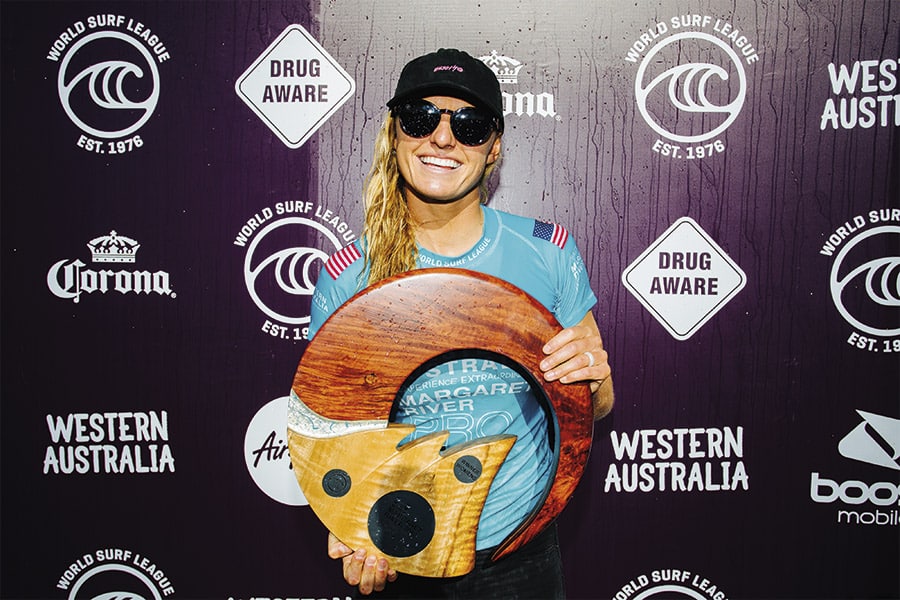 Lakey Peterson (USA) won the Margaret River Pro, the fourth stop on the 2019 World Surf League (WSL) Championship Tour (CT), in six-to-eight foot (1.8 – 2.4 metre) waves at Main Break. Peterson clinched her first win in the West by taking down Tatiana Weston-Webb (BRA).
With the first four stops of the season complete, the 2019 World Title race is starting to take shape heading into the year's halfway mark, the Oi Rio Pro. The 2019 CT rankings will not only decide the year's World Champions but will also determine the first 18 qualifiers into the Olympic Games Tokyo 2020, where surfing will make its Olympic debut. Peterson is gaining momentum with a move up to World No. 6.
Peterson Jumps Back Into World Title and Olympic Qualification Contention
Peterson's dominating performance comes at no surprise after her hard-fought World Title battle with Stephanie Gilmore (AUS) last year. Unfortunately for Peterson, the results did not go her way and she fell short of her maiden World Title, while Gilmore earned her seventh. After a slow start to her campaign this season, the American's victory vaults her back on track to win her first World Title and to qualify for the Olympic Games Tokyo 2020.
"This event has been a hard one for me to overcome," Peterson said. "I was so stoked that we waited for today and got some decent swell for the Finals. It was super windy, which made it tricky but that's all a part of this place and it makes the win even sweeter. After beating Stephanie (Gilmore) and Carissa (Moore) and making it through the Quarterfinals, I found some extra momentum and fire and had definitely figured it out at Main Break. It's been such an amazing event. Everyone has been surfing so well, especially in the Final. Tatiana (Weston-Webb) was surfing so well so a big congratulations to her."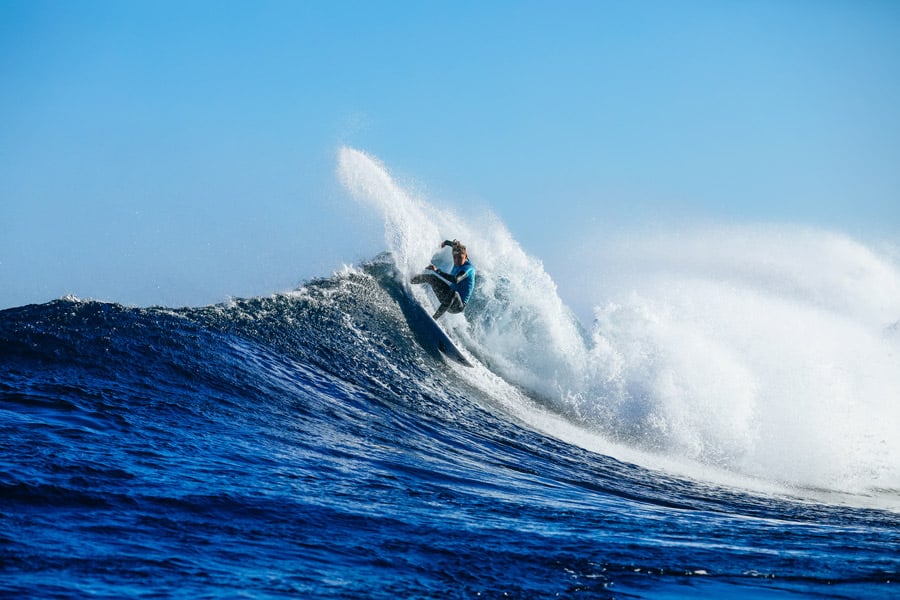 The win puts Peterson's winning tally up to four CT victories and marks her first victory in Western Australia. In sizeable Main Break conditions, the 24-year-old out-shined opponents Weston-Webb in the Final, three-time WSL Champion Carissa Moore (HAW) in the Semifinals, and Gilmore in the Quarterfinals. Her performance also set the bar with the highest heat total of the season so far, an excellent 18.83 (out of a possible 10).
"After a rough start to the season, the Olympic qualification has definitely been on my mind," continued Peterson. "I just need to have fun and enjoy myself because if I get too caught up in past results, it can hinder me a bit. My goal right now is to do my best and have fun with my surfing."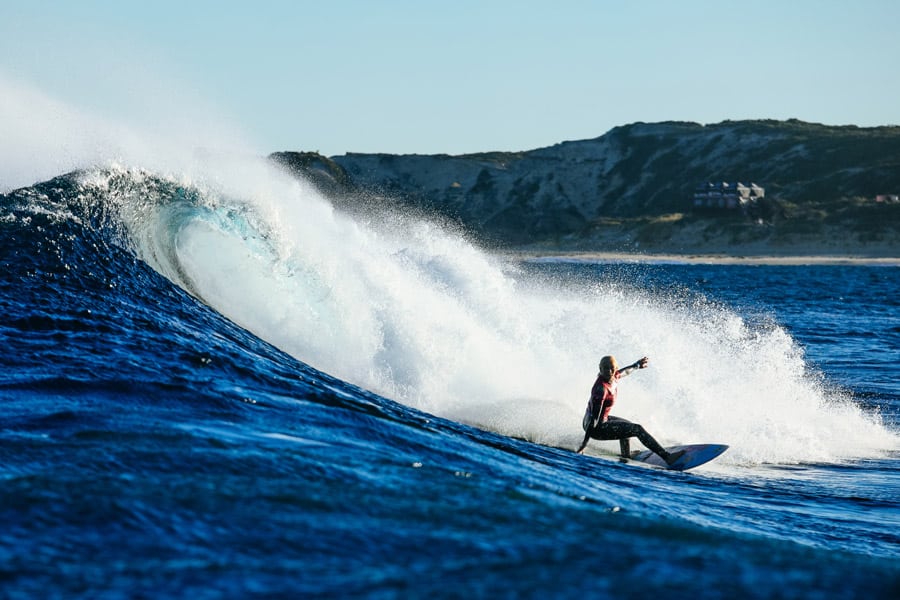 Tatiana Weston-Webb
Similarly to Peterson, Weston-Webb hadn't started 2019 the way that would be expected of her, coming into Margaret River with two ninths and a fifth-place result. The 2015 CT Rookie of Year was one of the form surfers of this year's event with her powerful backhand surfing matching the open walls of Main Break. Weston-Webb fell on a couple of her scoring waves, which brought her short of the required score in her seventh CT Finals appearance. Weston-Webb moves up one spot to World No. 9 on the Jeep Leaderboard and will now shift her attention to the Oi Rio Pro, in her home country of Brasil.
"I'm definitely really stoked with my result here," Weston-Webb said. "I think I was making things too complicated in my mind for the first three events. For this event, I just took it easy and took a lot of the pressure off. It seemed to work as I kept making heats and made it to the Final. I am really happy still and want to keep building momentum. It was great to come back to West Aus. It's naturally beautiful and has great waves, so it's good to be back. Now we head to Brasil, which I'm really excited about. I have a lot of things on and a lot of support so it's definitely one of my favorite events to head too."
Sally Fitzgibbons (AUS), 2017 Margaret Pro winner, fell to Weston-Webb in the first heat of the morning. Fitzgibbons held the lead for the majority of the 35-minute Semifinal until Weston-Webb's buzzer-beater ride turned the heat. Fitzgibbons exits in third, a strong result to go with her runner-up finish on the Gold Coast and two Quarterfinal exits at Bells and Bali.
Carissa Moore (HAW), three-time WSL Champion and two-time event winner, was ousted by Peterson in the second Semifinal. A close battle saw both surfers hitting the excellent range with Moore's 7.60 and 8.20, but Peterson narrowly advanced with just a 0.17-point advantage.
For highlights from the 2019 Margaret River Pro, please visit WorldSurfLeague.com.
Margaret River Pro Women's Final Results:
1- Lakey Peterson (USA) 13.33
2- Tatiana Weston-Webb (BRA) 10.40
Margaret River Pro Women's Semifinal Results:
SF 1: Tatiana Weston-Webb (BRA) 13.33 DEF. Sally Fitzgibbons (AUS) 11.67
SF 2: Lakey Peterson (USA) 15.97 DEF. Carissa Moore (HAW) 15.80
2019 Women's CT Jeep Leaderboard (following Margaret River Pro):
1 – Stephanie Gilmore (AUS) 24,235 pts
2 – Caroline Marks (USA) 23,440 pts
3 – Carissa Moore (HAW) 23,375 pts
4 – Sally Fitzgibbons (AUS) 22,580 pts
5 – Courtney Conlogue (USA) 22,100 pts