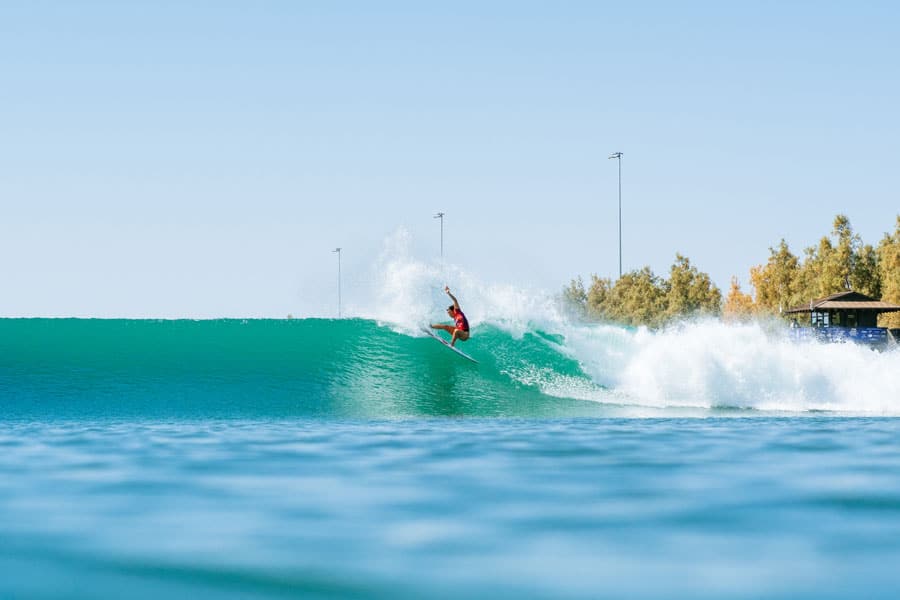 Joanne Defay / WSL
Johanne Defay (FRA)  has won the Jeep Surf Ranch Pro presented by Adobe today, the sixth stop on the World Surf League (WSL) Championship Tour (CT) and the final event ahead of surfing's Olympic debut in Tokyo next month.
Defay defeated the reigning four-time WSL Champion Carissa Moore (HAW) by less than half a point in a hard-fought Final. The pair of Olympic qualifiers traded eight-point rides but it was Defay's excellent 8.70 that sealed the win. The victory sees Defay move up from fifth to second place in the world and one step closer to securing her spot in the WSL Final 5. Defay's result today is the fourth CT win of her career, her best result of the season and her second Final at the Ranch.
"I'm really impressed with the level of women surfing here at Surf Ranch," said Defay. "Carissa, Sally, and Tati all did a great job. It's the first time I do two finals in a row, and I'm very happy with my results."
"Johanne was so ready to win,' said Moore. "She is truly the queen of the pool, always knowing what to do. She has very good timing, and it was really good to see her winning today."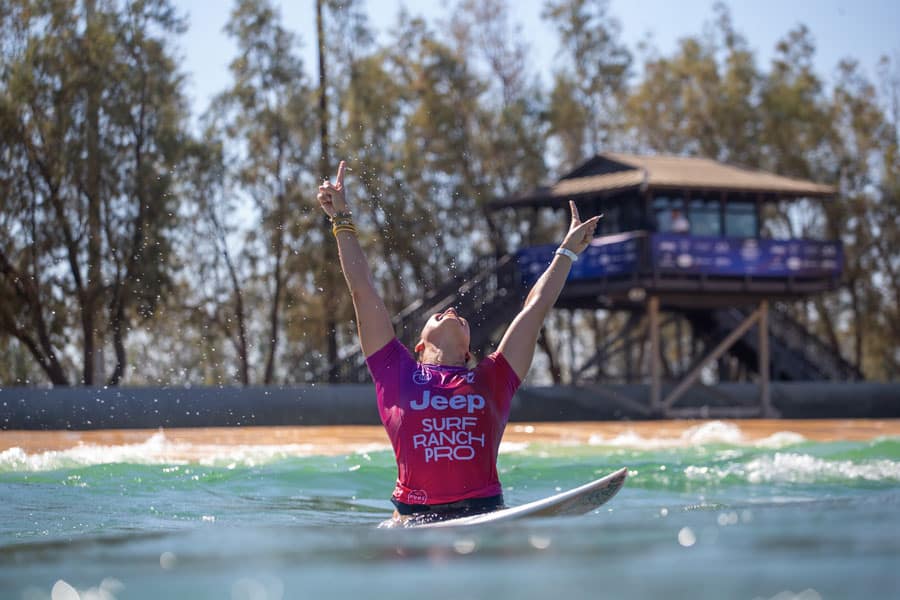 Runner-up Moore remains World No. 1 and has officially clinched her spot in the WSL Final 5 where she will compete for the World Title at the Rip Curl WSL Finals in September.
"It feels great," said Moore. "It was a big goal for me at the start of the year to make it to the top 5, to compete in the Rip Curl WSL Finals, so I'm really excited about it. It feels great to know I qualified, but there is still a lot of work to be done if I want to be the world champion."
Jeep Surf Ranch Pro pres. By Adobe Women's Final Results:
1. Johanne Defay (FRA) 16.63
2. Carissa Moore (HAW) 16.23
Jeep Surf Ranch Pro pres. By Adobe Women's Semifinal Results:
1. Johanne Defay (FRA) 16.07
2. Carissa Moore (HAW) 15.90
3. Tatiana Weston-Webb (BRA) 15.77
4. Sally Fitzgibbons (AUS) 15.33
WSL Women's Championship Tour Leaderboard Top 5:
Carissa Moore 43,855 pts
Johanne Defay 34,635 pts
Sally Fitzgibbons 34,270 pts
Tatiana Weston-Webb 33,625 pts
Stephanie Gilmore 29,390 pts