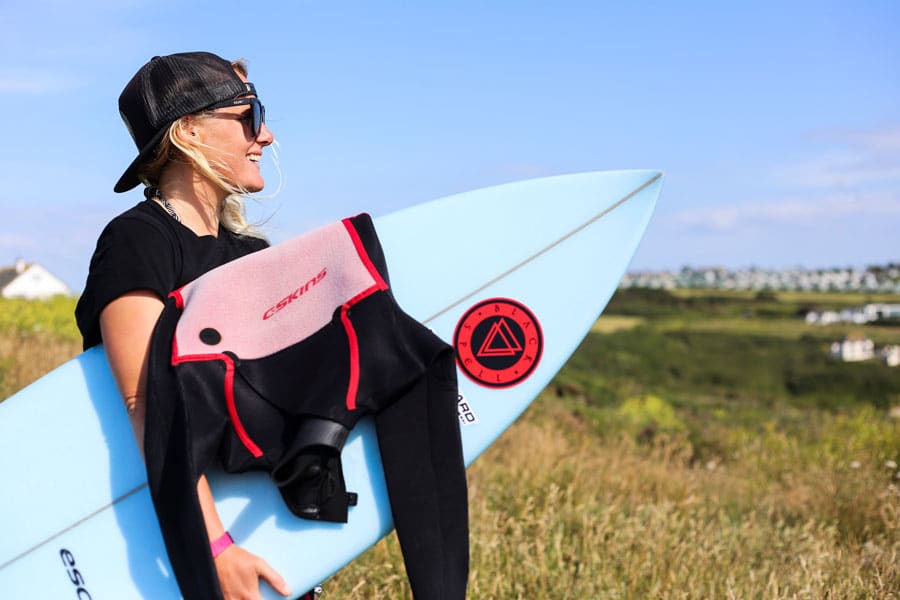 29 year old Allannah Brown is a freelance Surf Coach from Newquay In Cornwall and a Senior Surf Coach at Surf Sistas. She describes each coaching session as a couple of hours of pure joy!

As a child I was always outside from dawn to dusk, and then when I discovered surfing I knew within the first few weeks that I would base my entire future around the ocean. Becoming a freelance surf coach was kind of my natural path towards a surfing life and being around other ocean stoked people.
I first started surfing because I fell in love with Keala Kennelly. I saw her surfing on the extreme sports network, she had a mohawk and big baggie boardies and looked so cool. So I asked for a surfboard for my birthday and went to Tolcarne beach every single day and taught myself. I told my gran I was out dog walking with a friend.
I fell in love with surfing but I didn't know any female surfers so I made friends with the older locals in the water and they would call me into waves, it was quite a funny time really. Boys from my school would make fun of me and how I looked in a wetsuit, calling me 'man-child', but it fuelled my fire and made me want to prove myself and push myself harder. I knew I had as much right to be in the ocean as they did.
I started coaching when I was 17, did my lifeguard course and my BSA level 1 surf coach award. Since then I've surf coached in England, France, Morocco, Mexico, South Africa, Costa Rica, Australia, Indonesia and India. Surf coaching jobs don't always pay well but the experiences are amazing. It opens so many doors to go and explore different countries and actually spend a decent amount of time there, a couple of months, and really get to know an area and the people .. and of course surf really great waves.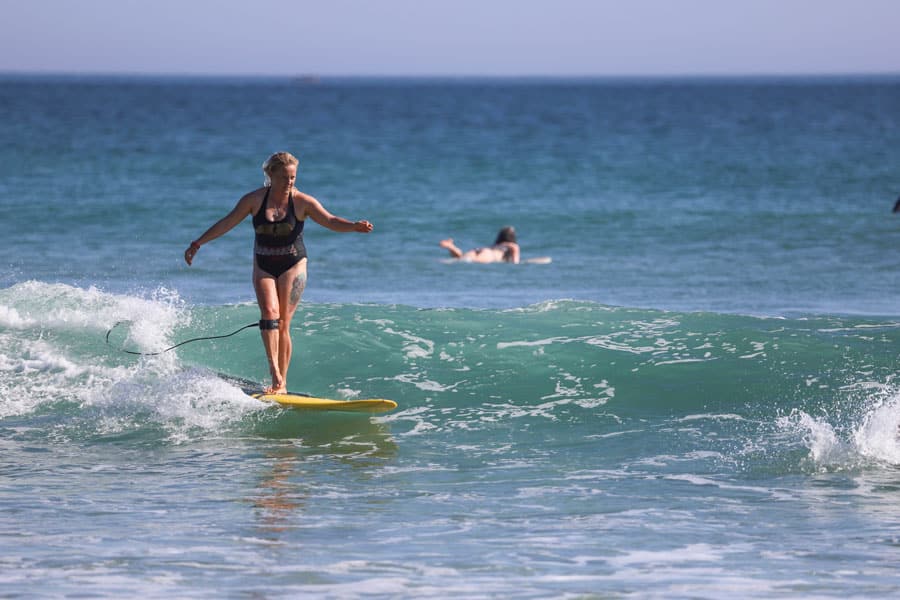 When I first started at 17 I knew within a few weeks this would be my job for a really long time. I love seeing how the ocean and learning something new has such a positive affect on people. You can take it for granted when you live by the sea, but so many people are landlocked or live in cities, and work really hard in stressful lives. Watching them start something new, out of their comfort zone, and then overcome hurdles and challenges, is really inspiring to me as a coach. It's rewarding to see people develop their self confidence and build self belief as a result of the experience we are able to create for them. Over the years I've tried some other jobs; developing film for Kodak, working on film sets, chalet hosting, gardening, working in a pasty shop. Probably my worst job was two weekends as a shot girl in a nightclub in a low cut pink top, hot pants and heels, I felt really uncomfortable and didn't sell anything as I was unapproachable.
Now I'm very very happy with my job, I work with a great bunch of friendly people who I'm really comfortable with. I wake up and I'm excited to go to work, I get to be in the ocean all day in a great environment with my friends and teach people something I love. It rubs off on students as we're all happy and the energy is high and vibrant. I'm usually travelling the world coaching on surf Sistas trips and then travelling in between. I see myself as a technical surf coach, I've been a little sponge over my 12 years working with so many other great coaches across the world and I hope I've soaked up the best bits so that I can give it all back to my students now. My experience means I can really analyse their surfing and provide constructive feedback, setting them up with achievable goals.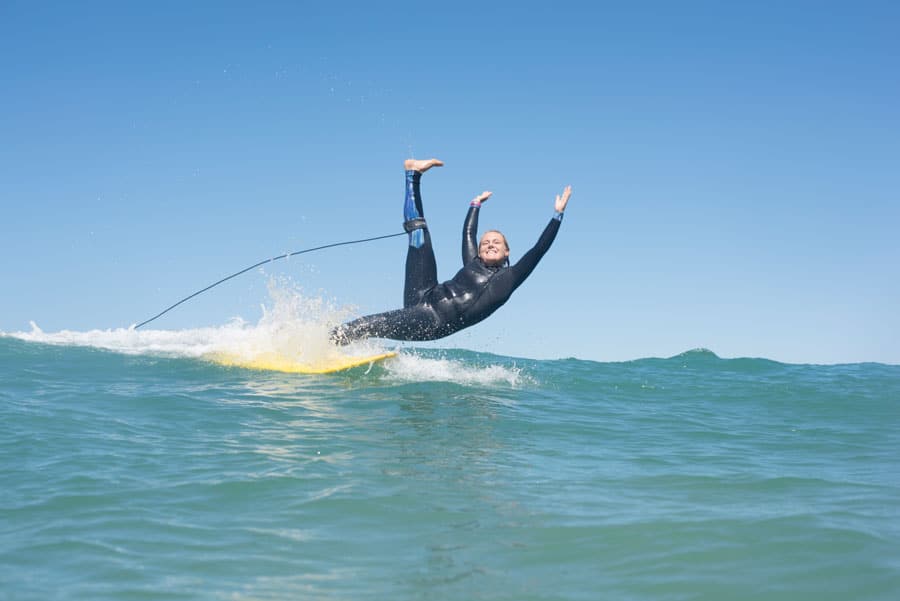 My role at Surf Sistas is great because we have students for a week, 5 days or a long weekend and I get to spend a lot of time with them in the water. I can really start to iron those bad habits out of their surfing, watch them progress and really benefit from the coaching. Many of them come back on different trips and we get to be part of their surfing journey.. it's really nice. This year Covid has massively affected my work and life. I usually spend most of my year abroad following the sun and waves trying to keep my hair blonde .. jokes. But I have to say it's been quite nice to surrender to the lack of control, and to be grounded at home with family and my boyfriend. I've started to really appreciate where I grew up and realise how amazing my home is. March, April and May brought sunshine, good waves and no crowds and walking and spending time at the beach brought back so many lovely memories. When I was a kid I always just wanted to travel and leave Cornwall so it was humbling to be grounded here. It's made me realise how important the ocean is to my mental health, seeing the vast expanse gives me that sense of freedom.

I should have gone to Indonesia, Canada and France so far this year but I'm just going with the flow and finding the positives in the small things each day. We've been busy at Surf Sistas and in Cornwall in general which has been great for us as surf coaches. I usually always have a trip lined up and the next flight booked and now I appreciate how lucky we have been to be able to travel. I'm so grateful for the opportunities I've had to experience all that I have. I just might have to buy a hood, some booties and gloves for this winter! I'd advise other women that want to become a freelance surf coach to go for it. It can be demanding on the body and mind for both you and your student, it brings up emotions and you might find yourself as a bit of a therapist as well as a coach. It's important to bring your A game to every session as it could literally change your student's life. In my 12 years coaching I've seen the transformative effect surfing has had on people's lives and I've had at least 2 students go home, sell their house, leave their job and follow their surfing dream. This brings me joy!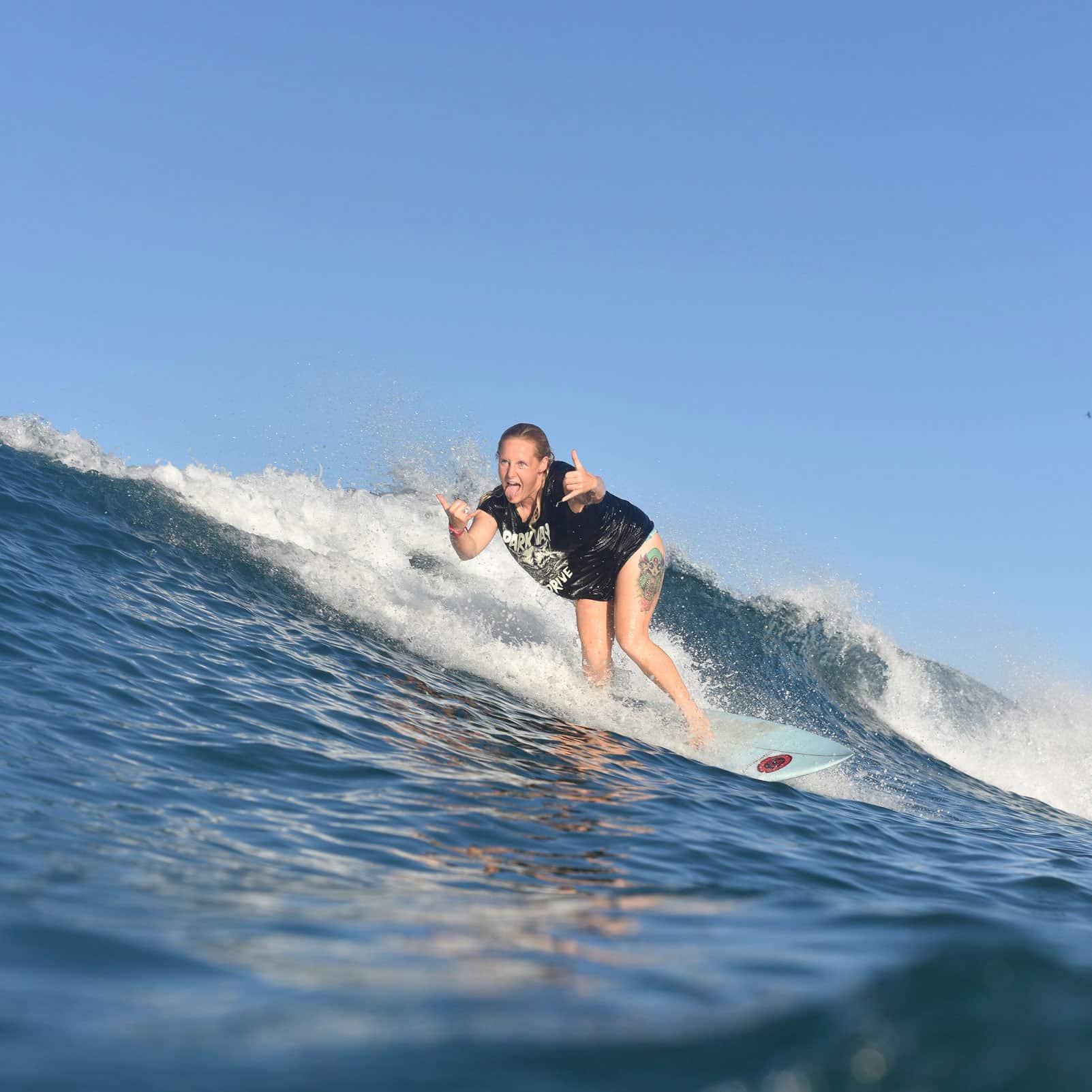 When I'm coaching I remind students that the ocean allows us to be children again, it's good for our brains, stimulating. Being with friends, old or new, taking party waves, enjoying wipe-outs, laughing. We surf to have fun not to be competitive or aggressive for waves, we surf to enjoy the ocean and learn something new, to be away from technology and immersed in nature. Surfing is a few hours of pure joy!