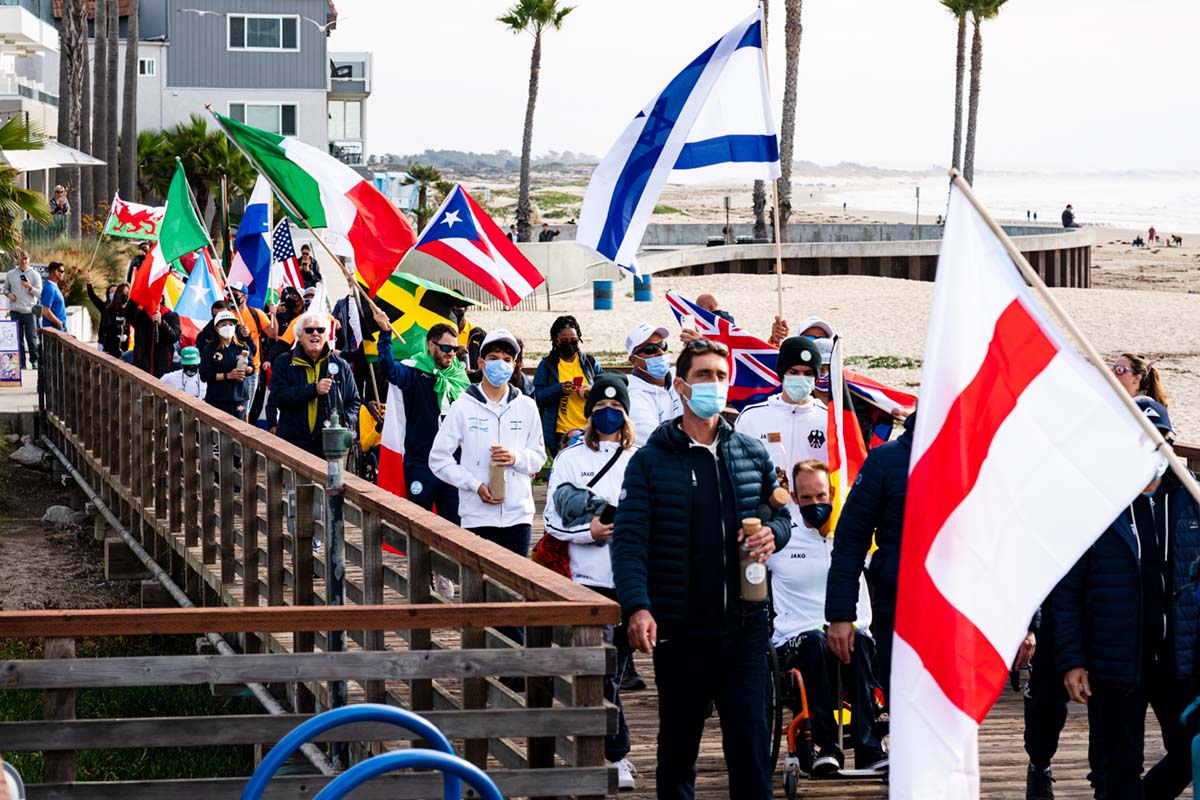 The opening day of competition at the 2021 Pismo Beach ISA World Para Surfing Championship saw pristine conditions and excellent performances from some of the sport's top stars.
The second heat of the day saw Men's Stand 1 defending champion, Mike Richards of Brazil, fight off strong competition from his teammate Jonathan Borba to notch up a massive heat total of 17.83. His numbers, the highest of the day, also included the single highest wave score, a near perfect 9.50.
Richards, who has developed his own technique for surfing without the function of his right arm, arrived hungry for victory, "I've been training hard and surfing here every day. I'm looking for a great result and I'm ready for the battle."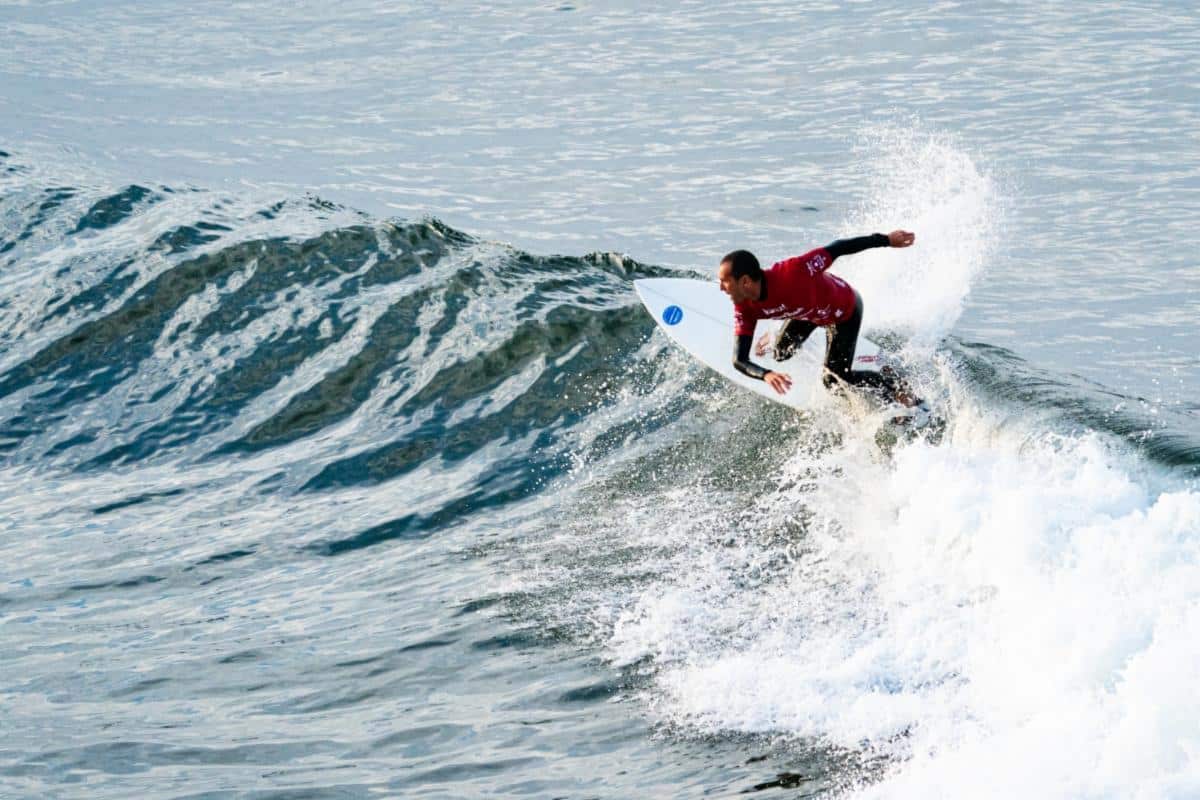 Mike Richards from Brazil showing his backside surfing skills Photo: ISA / Ben Reed
Three nations saw representation for the very first time on the international PARA SURFING stage today as surfers from Jamaica, Puerto Rico and El Salvador hit the water.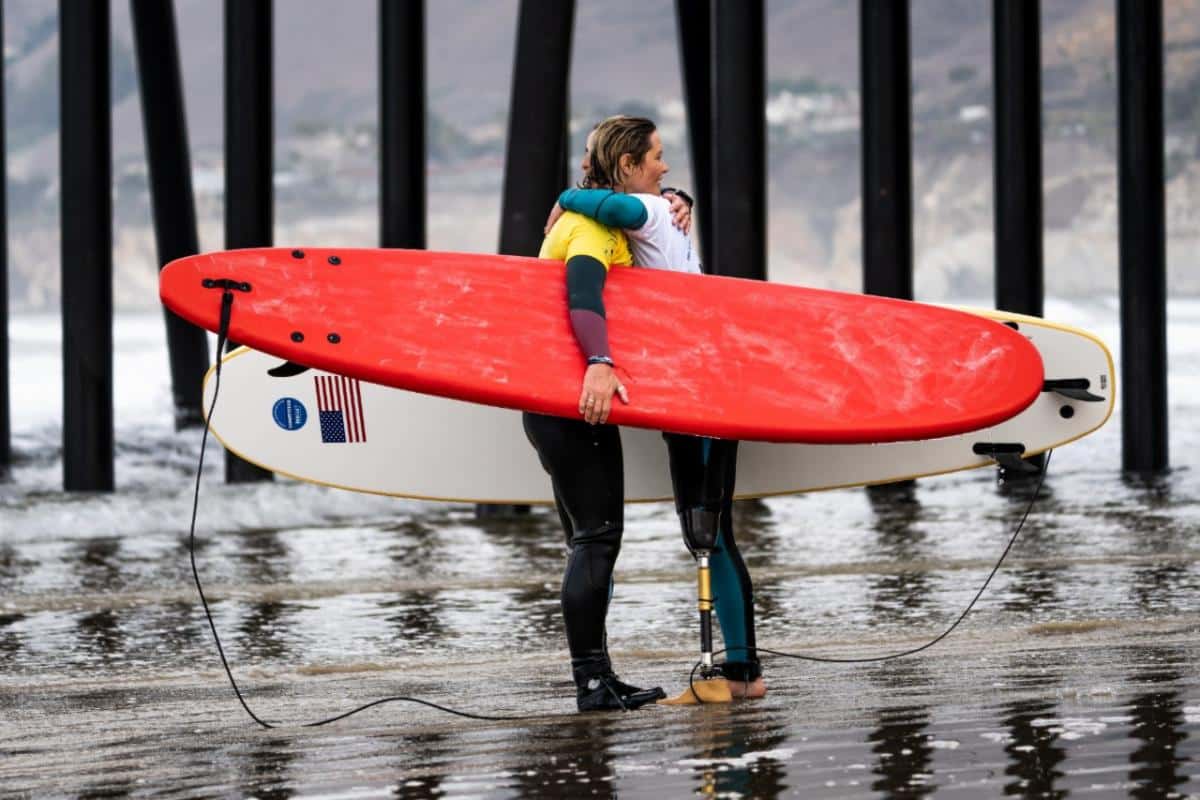 USA's Breezy Bochenek and England's Zoe Smith share a hug after their heat Photo: ISA / Sean Evans
Puerto Rico's Jeremy Butts was emotional after surfing his first heat. Thanking the ISA for hosting the event, Butts gave a nod to fellow competitor and two-time world champion Alcino "Pirata" Neto from Brazil for the motivation. A photo of Neto surfing Hawaii's famed Banzai Pipeline provided encouragement to Butts in hospital.
On his way in from the heat Butts told Neto, "When I was laying there, you were the guy, so thank you for that." To which Neto replied, "No, everybody's the guy, we're all the guy." A fitting tribute to the resilience of all para surfers represented here.

In the Men's Prone 2 division, the long-standing rivalry between young Brazilian Davi Teixeira and veteran para surfer Jesse Billauer of USA continued as they both posted scores in the excellent range. Davi put up the highest heat total for the classification with a respectable 16.17, looking to reclaim the gold medal after first winning in 2016.
Billauer won't be giving up the title easily. "I know everyone's out to get the champ, you always want to beat the champ," he stated. "Last year I won, I'm just trying to defend it. That's one of the hardest things to do, defend your title, because everyone's trying to take you out. But hey this old man, 42, still trying to take it to them. So they're going to have to beat me to take this third world title away."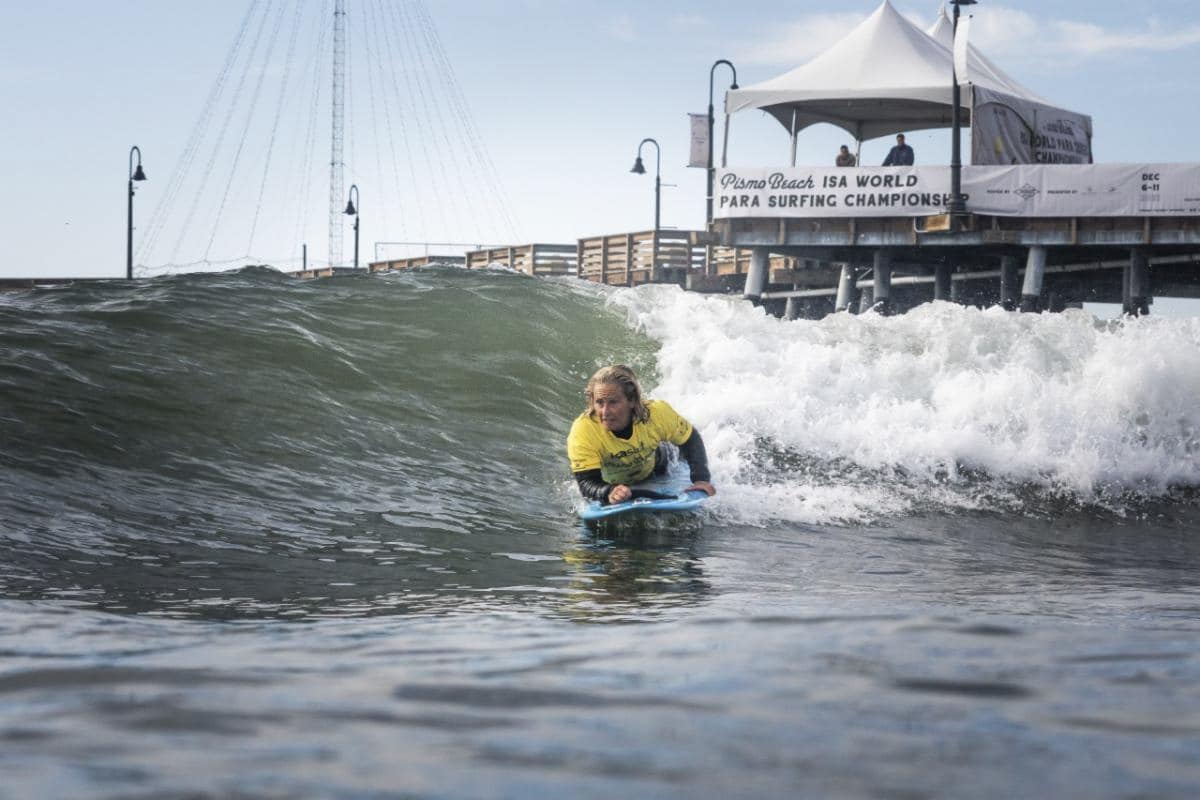 Australia's Samantha Bloom got the highest single wave score with 8.17  Photo: ISA / Sean Evans
The first excellent score for the women went to the returning champion Samantha Bloom from Australia. Sharp changes in direction defined Bloom's approach, her aggressive attack showing the judges exactly what they wanted to see.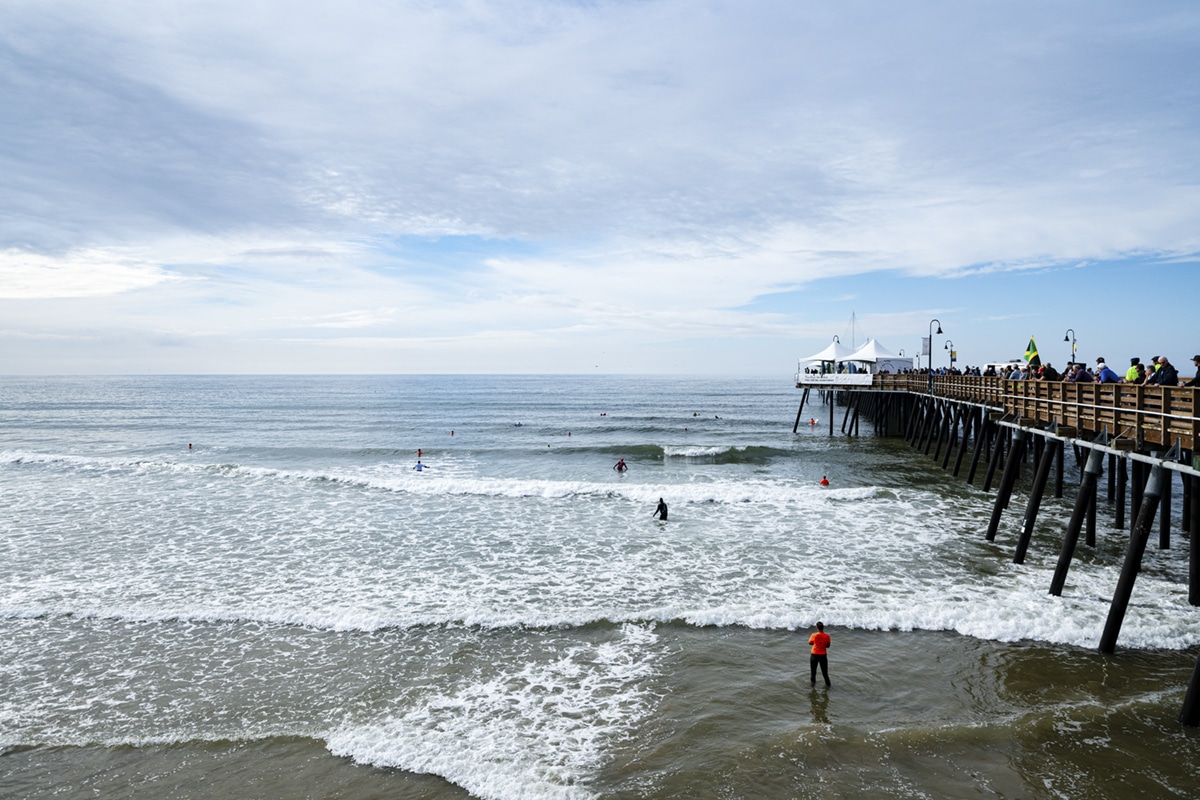 Working together with her husband Cameron Bloom and the legendary two-time WSL World Champion Tom Carroll, the couple have been developing her unique style. "Cam's always out there telling me, 'You've gotta dig your arm in!' So I've been training and training and training to dig my arm in because before I used to just use my weight."
A two-time ISA World Champion, Bloom started surfing again five years after an accident in Thailand left her paralyzed from the chest down. It has been a big year for the 49-year-old mother of three. The international bestselling book Cameron wrote about their experiences, Penguin Bloom, was adapted into a movie featuring Naomi Watts starring as Sam.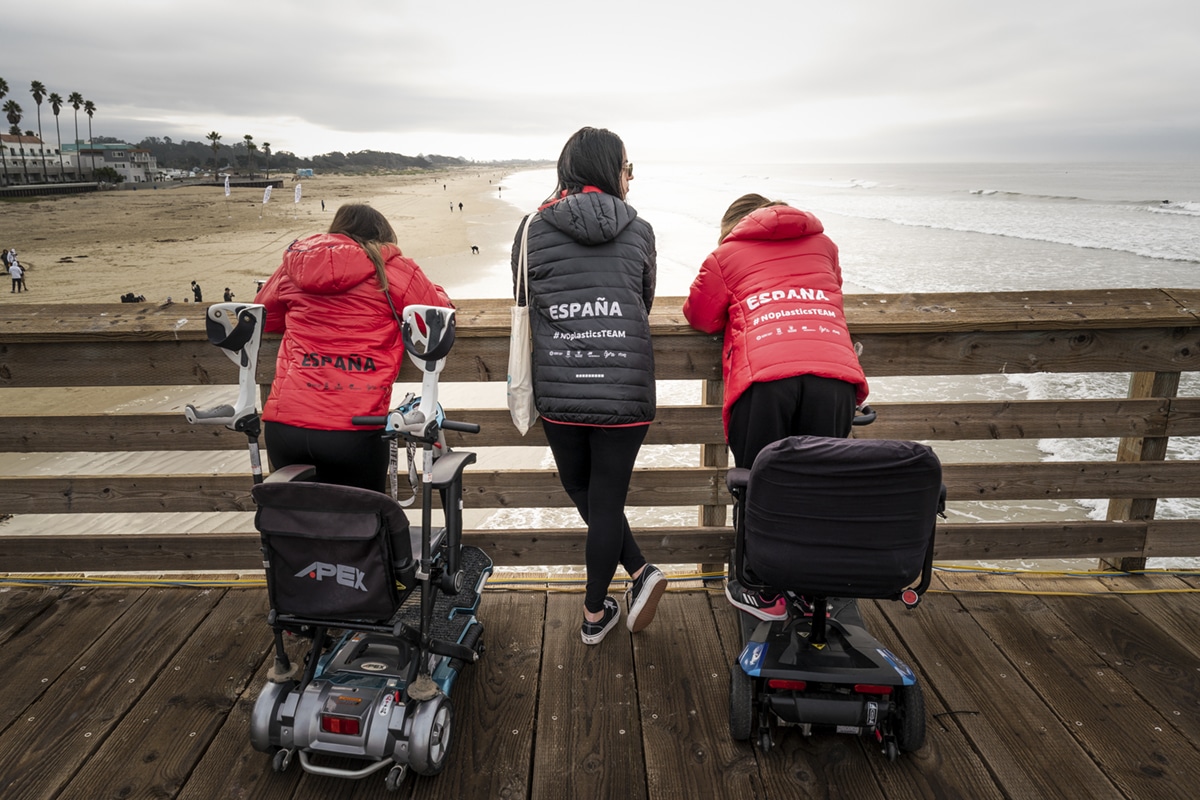 ISA President Fernando Aguerre on the day's performances:
"These amazing athletes showed today that they came to compete for gold with some outstanding performances," said Aguerre.
"There is always a strong bond between these surfers and teams, but they also showed that competition for gold will be fierce in the days to come".
"The unique spirit of Para Surfing is alive and well in Pismo with the Para Surfing community, showcasing the stoke and happiness that the sport can bring."
There were no eliminations in competition today as the round robin format allows each surfer to surf twice. The total of their best two waves, from either heat, will rank the competitors and a predetermined amount will advance based on those rankings.
The event continues Wednesday with divisions including Visually Impaired, Sit and Kneel entering the water for the first time.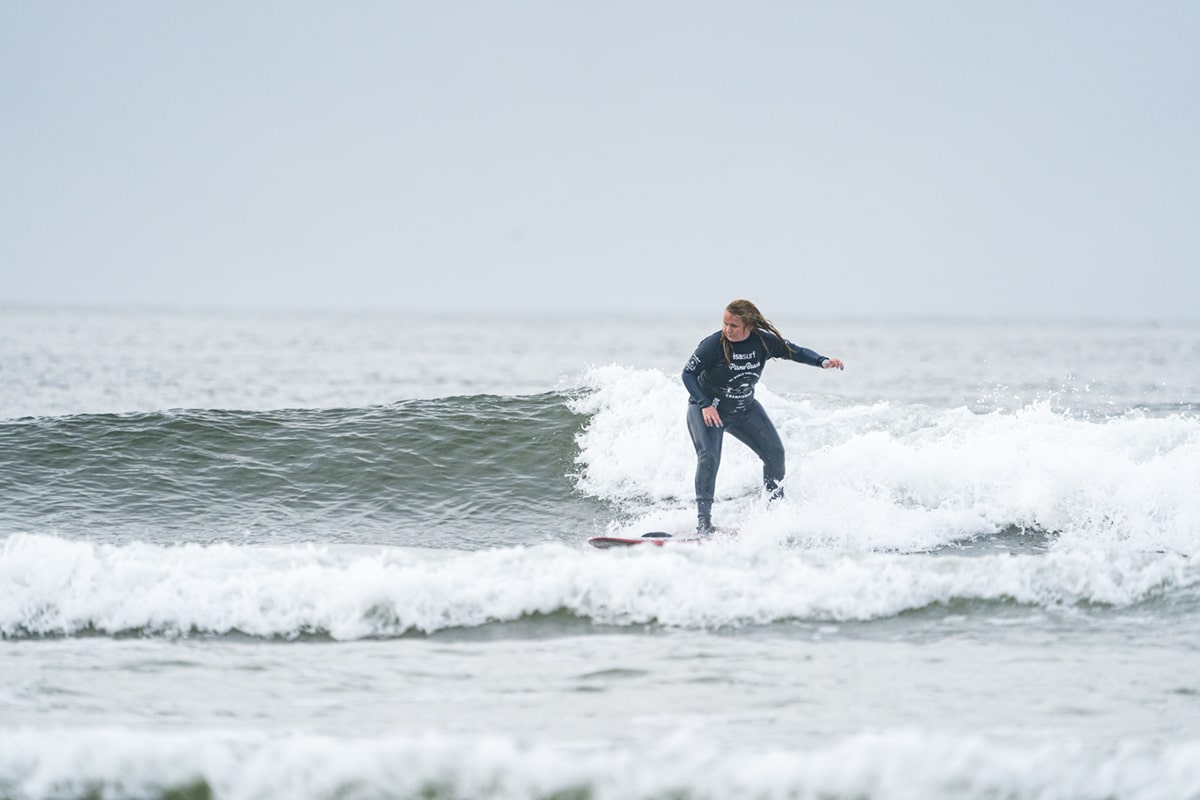 England's Charlotte Banfield above and Pegleg Bennett below  Photo: ISA / Sean Evans