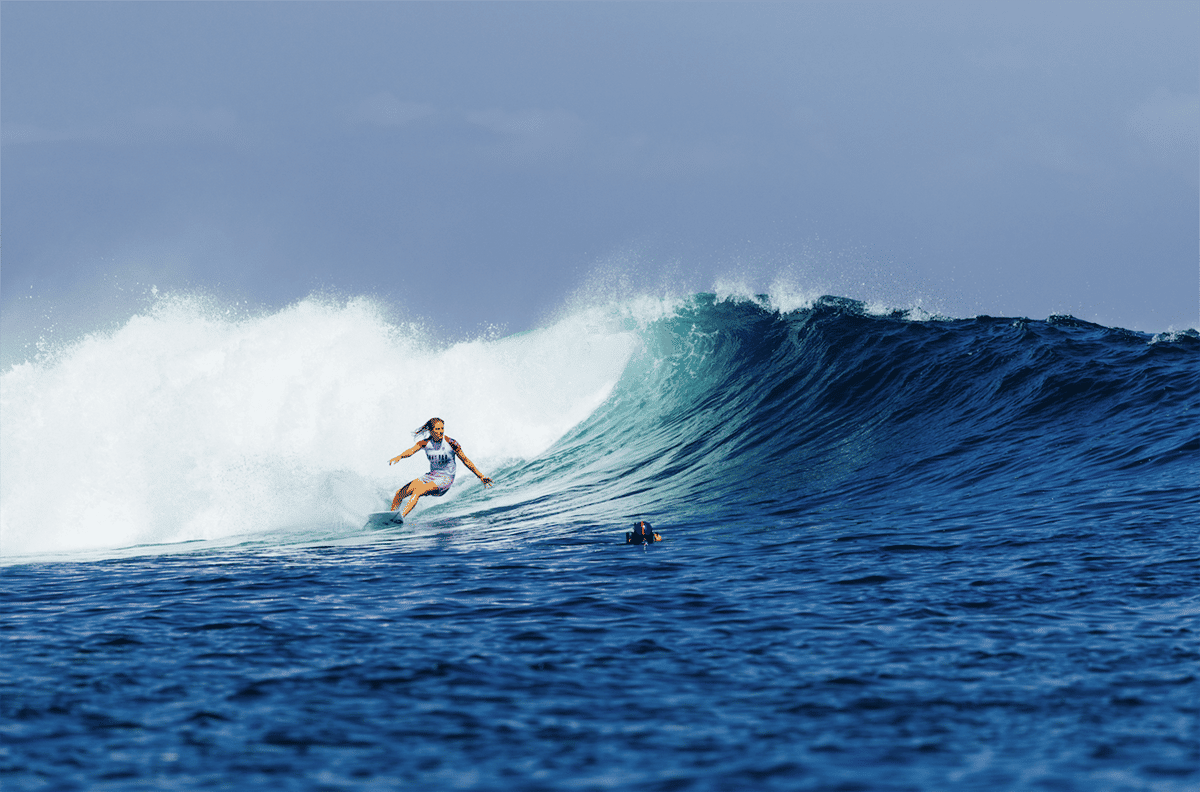 Stephanie Gilmore Photo: WSL/Dunbar
The Quiksilver/ROXY Pro G-Land, Stop No. 6 on the World Surf League (WSL) 2022 Championship Tour (CT) and the first competition following the Mid-season Cut, kicked off its opening day in super clean, three-to-five foot waves at the 'Money Trees' section of G-Land, the world-class left-hand stretch of reef located on the eastern tip of Java. The competition ran the women's and men's Opening Rounds on a fairly level playing field as it was the first time the current CT surfers had ever competed in this location, except for the 11-time World Champion and 1995 event winner Kelly Slater (USA).
World No. 1 Brisa Hennessy and World No. 2 Carissa Moore Continue to Lead the CT
The second heat of the day saw three of the event favorites in Johanne Defay (FRA), ROXY wildcard Bronte Macaulay (AUS) and current rankings leader Brisa Hennessy (CRI) matchup for in mid-tide conditions with turns playing the biggest part in earning competitors scores. With a slight wobble in the waves, all three competitors focussed on turns and the performances didn't disappoint, with less than a point separating the trio. Hennessy was able to clinch the win and progress into the Quarterfinals while Macaulay and Defay will battle it out in the Elimination Round.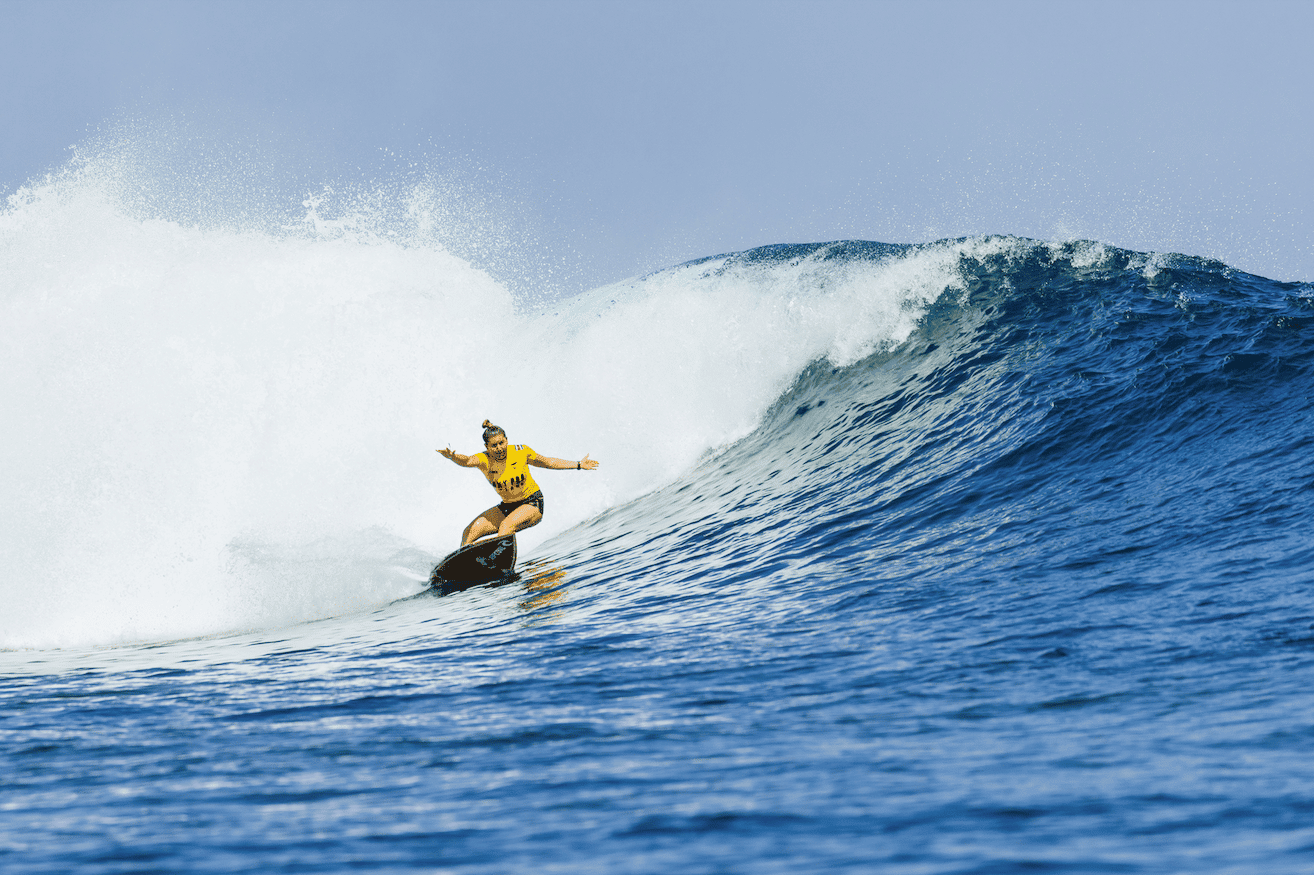 Brisa Hennessy Photo: WSL/Dunbar
"I think all the ladies are in the same boat here having a new experience," Hennessy said. "Getting used to things here at G-Land, how far out it is, being in the middle of the jungle, it's cool, just being able to disconnect and focus on yourself. I'm feeling really at home here. Growing up in Costa Rica, and spending time in Hawaii and Fiji, I feel like this place is a combination of all of those places. I'm just embracing all of the beauty here along with time with all of my fellow competitors. All the girls on tour are really rad and we are all really connected on land, then when we're in the water it's game time.
As the tide dropped, swell filled in and trade winds started to puff, G-Land began to show its potential with open tubes and long stretched out walls, much to the delight of five-time WSL Champion Carissa Moore (HAW), who found the first tube ride of the event. Moore tucked into a long tube before sneaking out for an 8.33 (out of a possible 10) to back up her 8.83, netting her an excellent two-wave total of 17.16, the highest of the opening day of competition.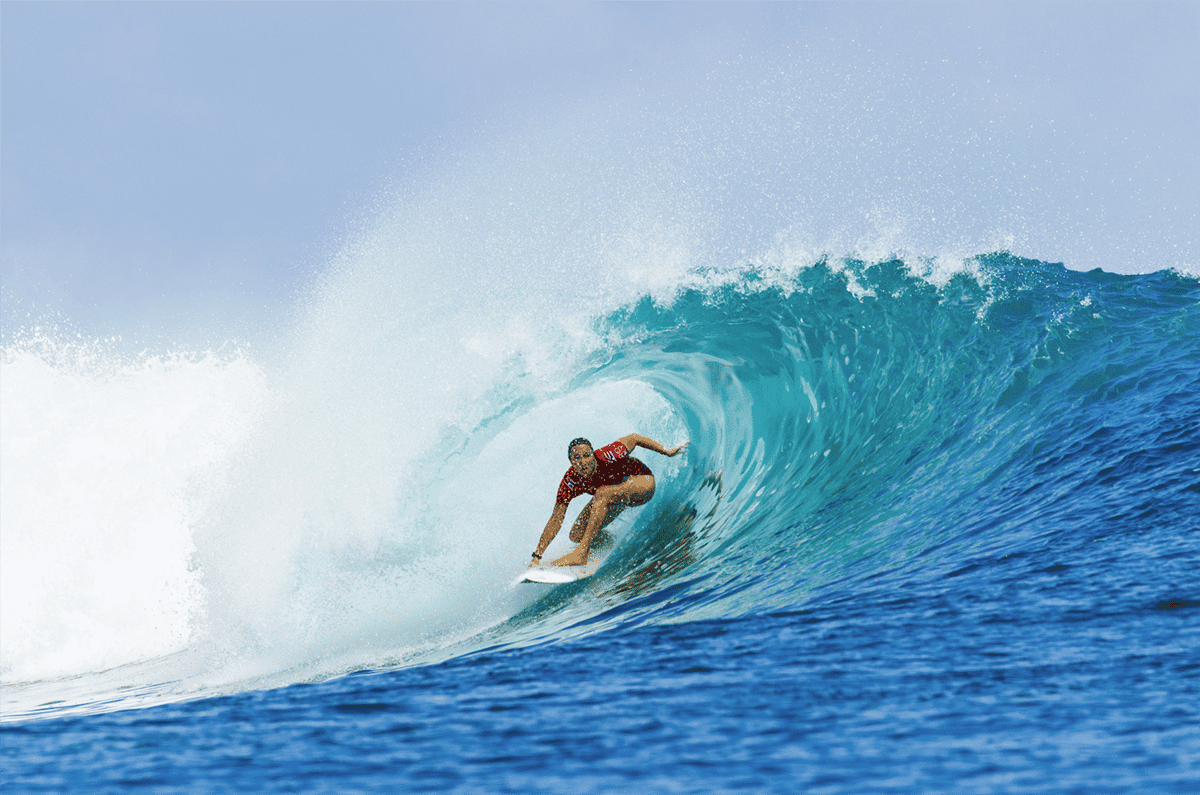 Carissa Moore Photo: WSL Dunbar
"That was super fun out there," Moore said. "I actually haven't had any barrels here in the practice sessions but I have been watching a lot of videos and seeing what it can offer so I was really excited to see that one stand up so I could just set my line and hope for the best. It's so fun to be surfing a left like this again. I feel like It might take me a while to get used to it but I'm feeling good and am excited to get back out there."
Stephanie Gilmore and Tatiana Weston-Webb Claim Critical Opening Round Wins
After finishing the 2021 season at the inaugural Rip Curl WSL Finals in fifth and second place respectively, no one expected to see Stephanie Gilmore (AUS) and Tatiana Weston-Webb (BRA) only just scraping in above the Mid-season Cut at the Margaret River Pro. Today at G-land, the pair got their season back on track, each booking themselves a spot in the Quarterfinals with impressive heat wins in the Opening Round.
In the heat immediately after Moore's tube ride, Weston-Webb (BRA) also found some shade from the Javanese sunlight, pulling into a long tube before coming out and gouging two massive frontside hooks to post an excellent 8.67, the third-highest single wave of the opening day.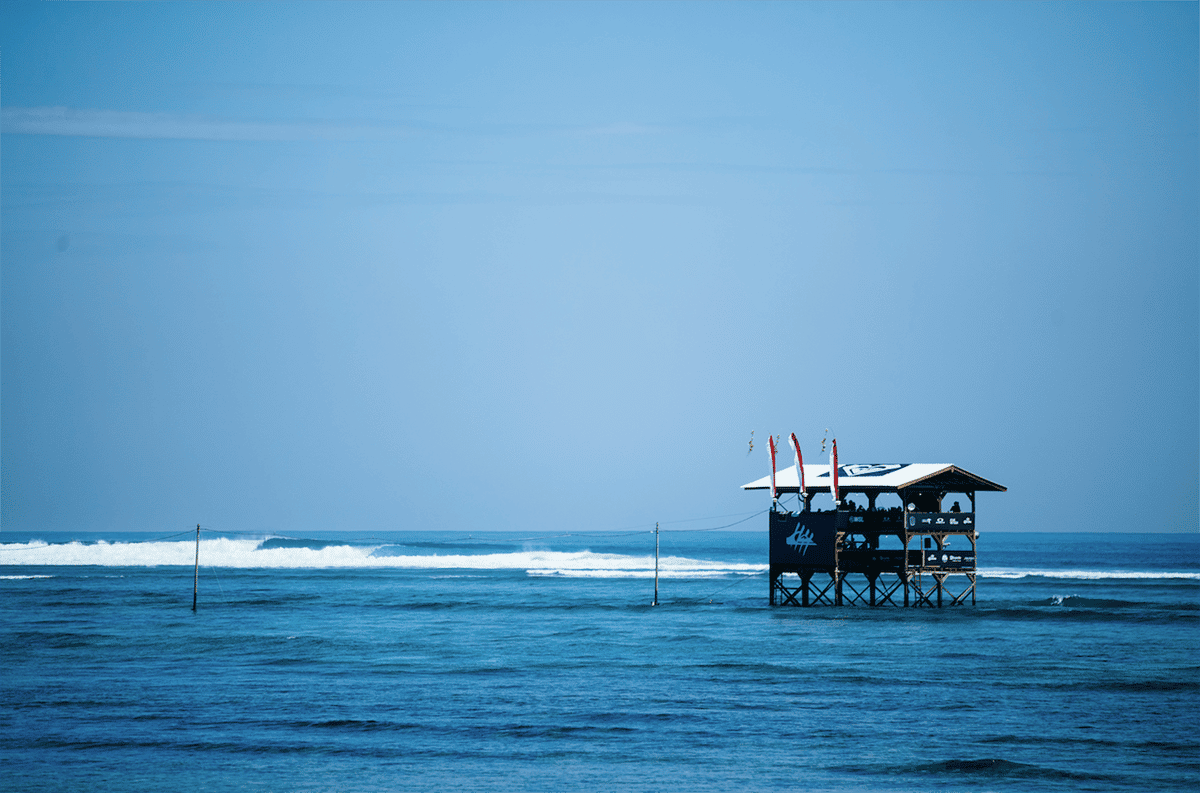 G-Land Photo: WSL/Sloane
The first-ever women's heat at G-Land witnessed seven-time WSL Champion Gilmore taking a narrow win over Isabella Nichols (AUS) and Californian veteran Courtney Conlogue (USA) in an all-natural footer matchup. Not known for her prowess in lefts, Gilmore was happy to get the nod in her opening heat at the ROXY Pro as conditions slowly improved on opening day.
"I couldn't really hear much out there and thought I was in third," Gilmore said. "I thought I'd just enjoy being out there not knowing what was going on and just come in and get the result old-school style then when I was paddling in I heard the score and was really happy. That was a really big win for me as my backhand isn't my strong point and I really want to get a solid result here. It's so cool to be here. I'm so glad ROXY and Quiksilver and WSL have been able to put this on. The conditions aren't the best at the moment but I think it will keep getting better all day. I don't think anyone cares too much at the moment if it's two-foot or ten, we're all just so happy to be here."
For highlights from the Quiksilver/ROXY Pro G-Land, please visit WorldSurfLeague.com.

ROXY Pro G-Land Opening Round Results:
HEAT 1: Stephanie Gilmore (AUS) 10.40 DEF. Courtney Conlogue (USA) 9.90, Isabella Nichols (AUS) 8.30
HEAT 2: Brisa Hennessy (CRI) 13.83 DEF. Bronte Macaulay (AUS) 13.27, Johanne Defay (FRA) 13.20
HEAT 3: Carissa Moore (HAW) 17.16 DEF. Gabriela Bryan (HAW) 15.04, Sally Fitzgibbons (AUS) 9.30
HEAT 4: Tatiana Weston-Webb (BRA) 15.17 DEF. Tyler Wright (AUS) 12.67, Lakey Peterson (USA) 9.16
ROXY Pro G-Land Elimination Round 2 Matchups:
HEAT 1: Tyler Wright (AUS) vs. Bronte Macaulay (AUS)
HEAT 2: Courtney Conlogue (USA) vs. Johanne Defay (FRA)
HEAT 3: Isabella Nichols (AUS) vs. Sally Fitzgibbons (AUS)
HEAT 4: Lakey Peterson (USA) vs. Gabriela Bryan (HAW)