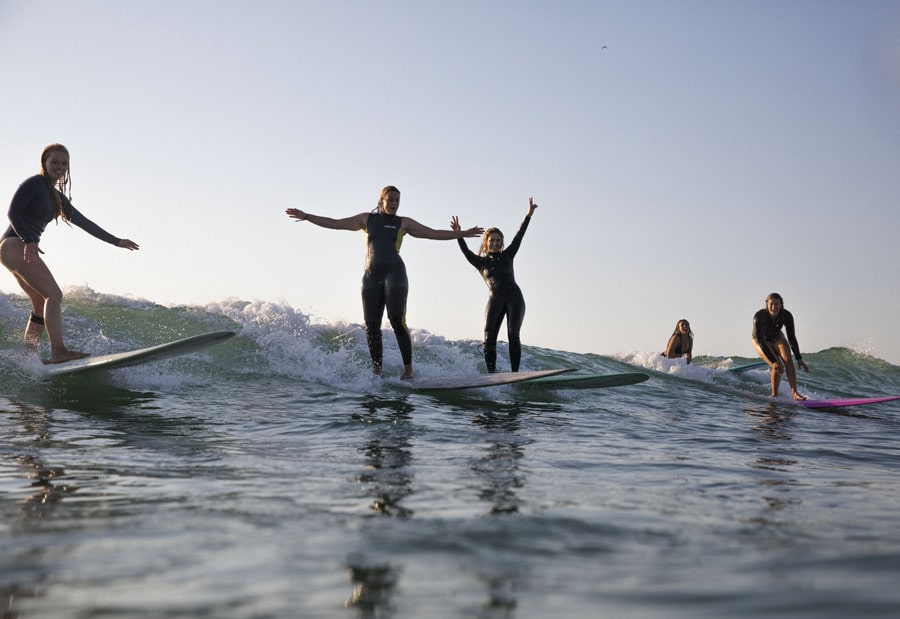 This summer has been epic in the UK, hot days and warm water, it's been one of the best for a long time. The warmer than usual temperatures in August meant wetsuits were abandoned for surf suits and bikini surfs, which isn't the norm in this part of the world.
During Boardmasters week, we had a heatwave and photographer Bella Bunce rounded up everyone up for a fun sunset session. We got the lowdown from the surfers.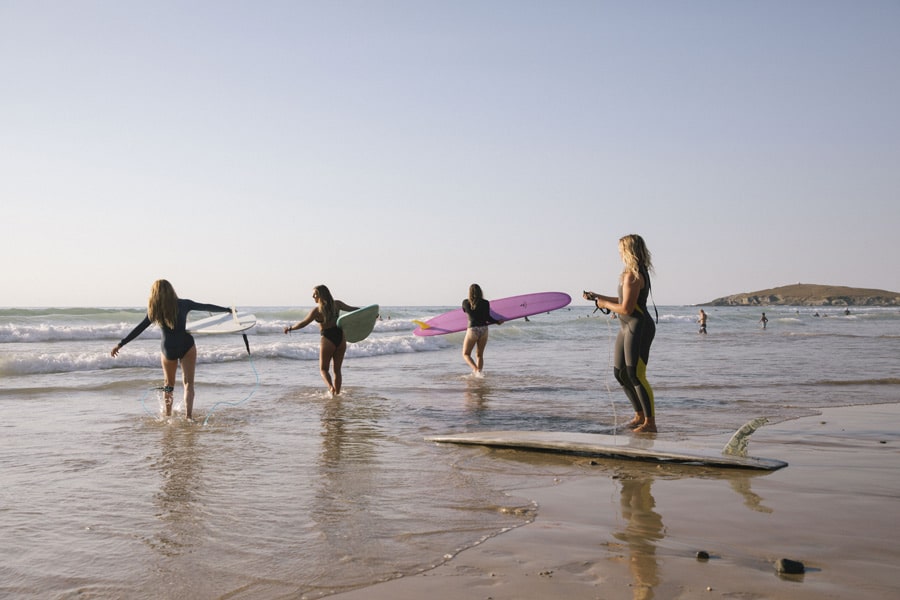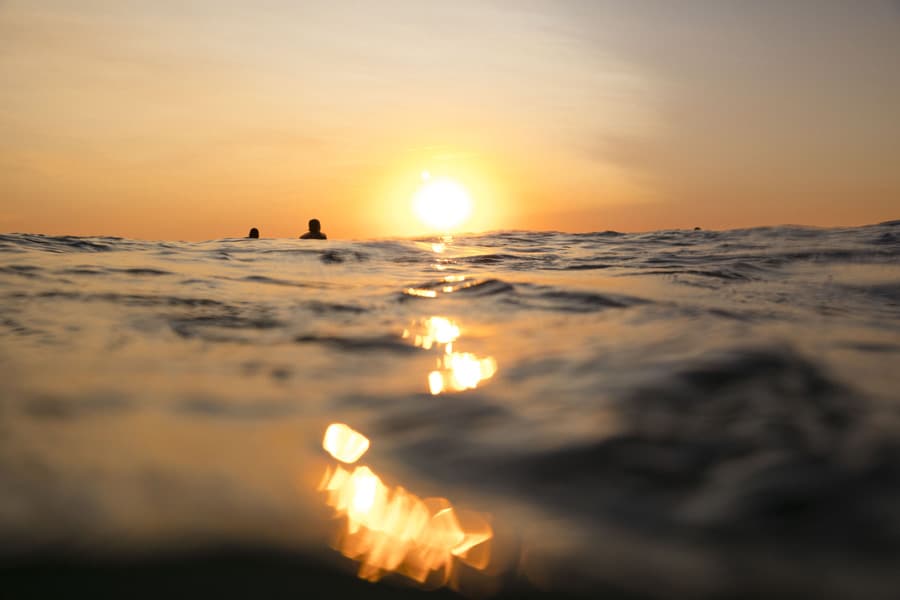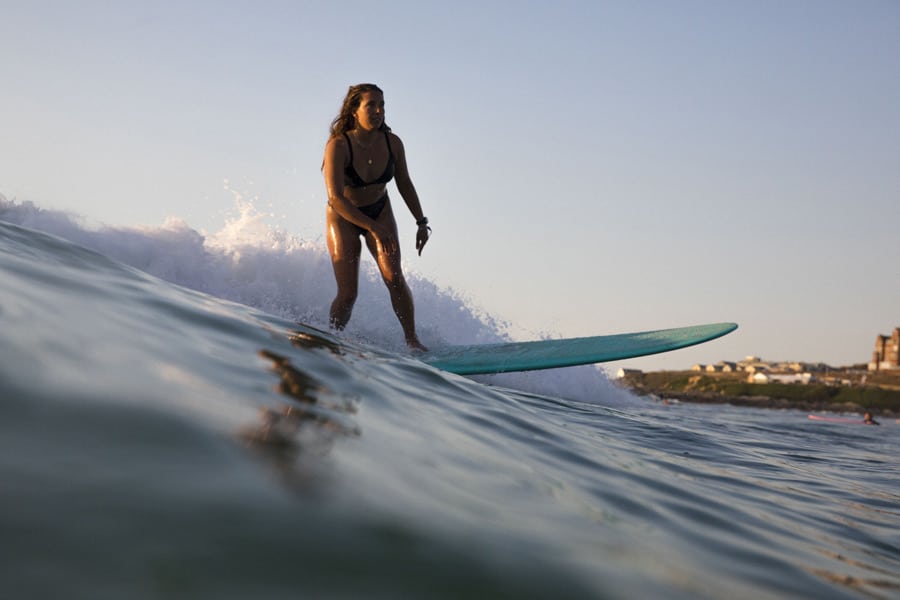 Name: Amelia Hewitson
Age: 23
Home town: Grew up in Watford but now live in Newquay
Local breaks: The breaks I surf the most now are Fistral and Watergate.
Fave waves? I love anything with a long wall on it, whether that's a good noseride section if you are longboarding or an open face to do turns on when shortboarding.
Best thing about this summer?
This one is easy. It has to be Boardmasters!! Such a fun weekend of surf, seeing friends and good music. It also helped that the weather was amazing for it as well!
Did you have a fun week at Boardmasters and competing in the event?
I had such a fun week at Boardmasters and it was great to compete in my first international event. It was great to see friends and to have fun waves for the comp as well. I finished in the semi finals which I was super happy with and it has given me a boost of motivation for the last few comp's of the season. It was great to see all the girls ripping as well in the final! I can't wait for next year!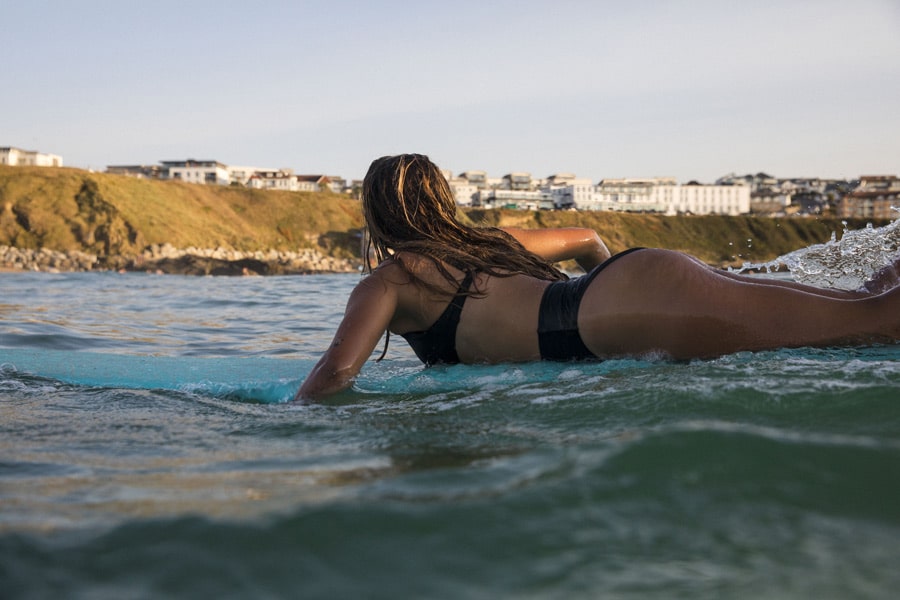 What was so good about this surf session?
It was so fun to get a group of us girls together on such a beautiful evening, most people were either in bikinis or some sort of shortie because it was so hot! The waves provided as well and we all got heaps of waves which made it so much fun!
Tell us about yourself.
I am someone who found surfing later on in life to many others. I started when I was 19 and fell in love with it straight away. I started just before going to uni in 2018 and now I work as a lifeguard in Newquay and love both short and longboarding.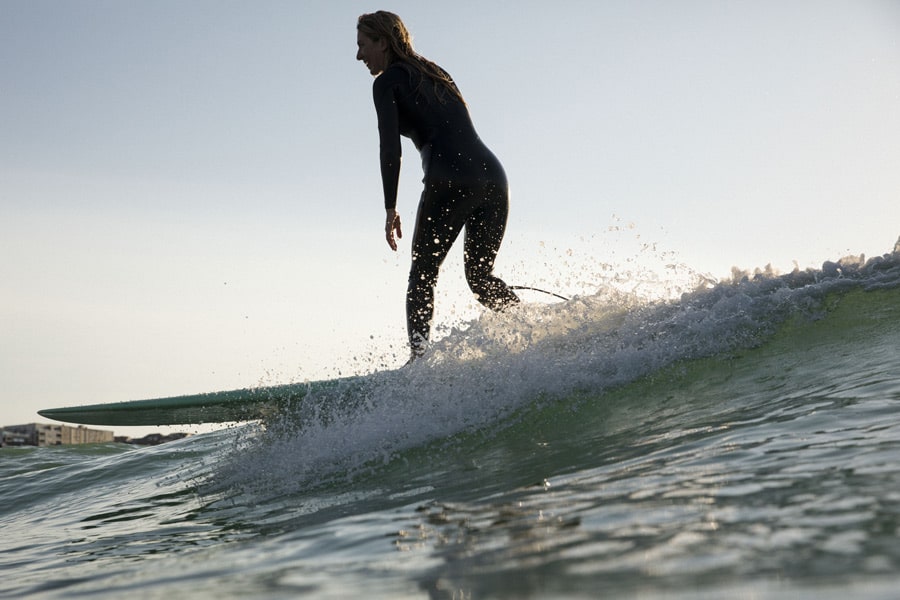 Name : Tehillah McGuinness
Age : 34
Home town : Corralejo, Fuerteventura and Newquay, Cornwall
Fave breaks?
When in in Fuerteventura most of the spots along the North Shore ( too many to mention) and when I'm in Cornwall then it's Watergate Bay. Also this summer I have been exploring Cornwall a lot more and have had some magic sessions at Sennen and Perranporth .
Best thing about summer?
The weather has actually reminded me of being back in the Canary Islands can you believe it! The heatwave just made everything better. I have been swimming so much, surfing as much as possible and even managed to have a few bikini sessions. I have also been exploring so much of the gorgeous Cornish coastline and have discovered so many uncrowded beaches!
Did you have a fun week at Boardmasters?
I had the best Boardmasters yet! Thanks to SurfGirl I got to cover the women's surfing at the contest and met so many of the amazing and talented female surfers from all over the world. The energy was just electric! The festival was also one of my favourite years as I got to see Kings of Leon in my hometown!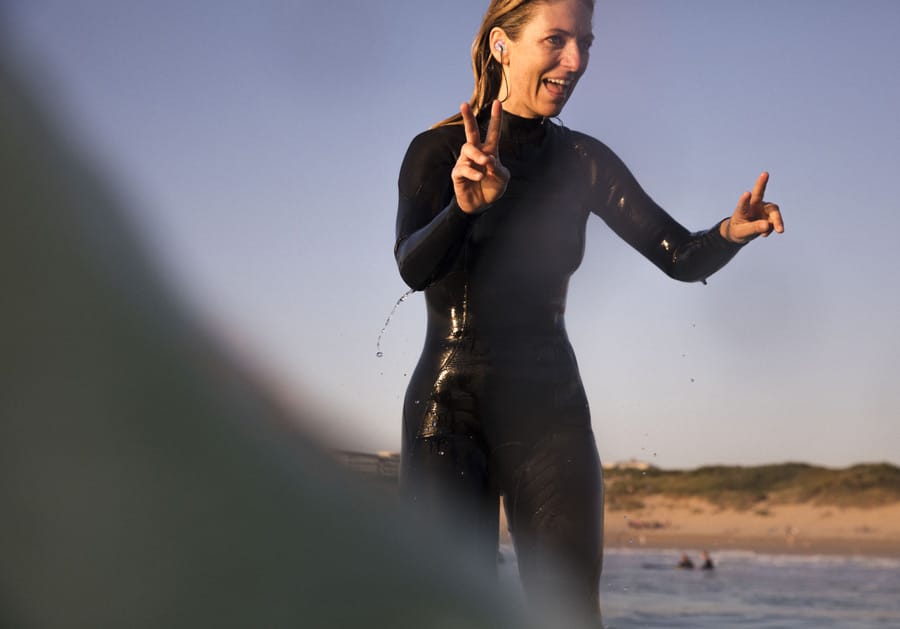 What was so good about this surf session?
The weather was so hot, warm water and just us ladies catching waves, cheering each other on and having so many laughs! It reminded me of bring a grom again:)
Tell us a bit about yourself.
Originally from South Africa and now living between the Canary Islands and Cornwall. Travel and adventure are in my veins, as is surfing and I love the freedom it brings to my life! Coming from a competetive background in both running and surfing I now share my passion for this through my business Ohana Surf and Fitness. I am also a presenter and one of the trainers for Surf Girl Premium!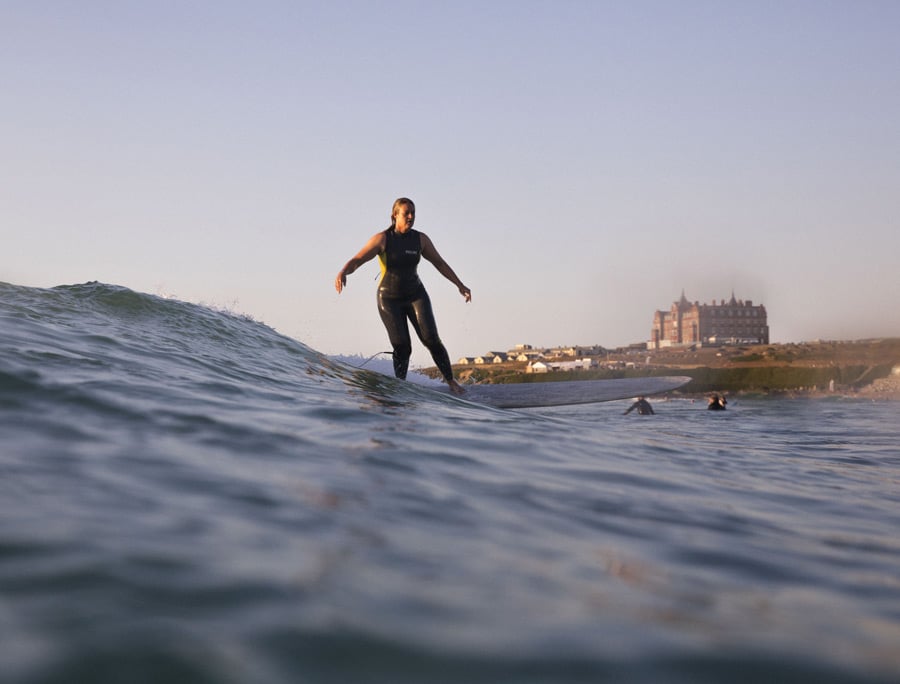 Name: Tina Beresford
Age: 37
Hometown: Newquay
Local breaks: Fistral Beach, Crantock, Watergate

Best thing about this summer?
Sunshine and no wetsuits.
Did you have a fun week at Boardmasters?
So much fun surfing with lots of amazing women from all over the world in the comp at Boardmasters.
What was so good about this surf session?
Love surfing and sharing waves with all the local girls too at one of the best times of the year. Warm waters and longer evenings.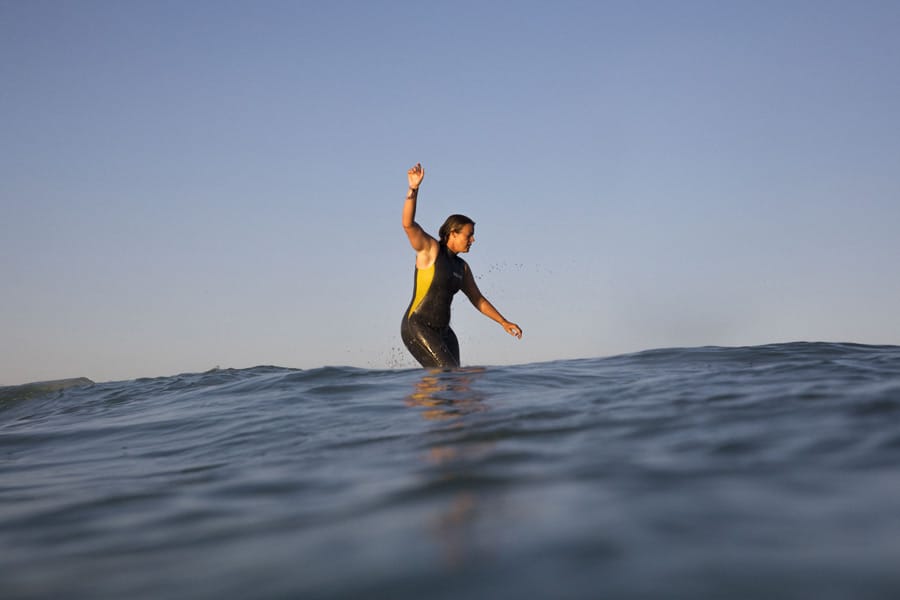 Tell us a bit about yourself.
My life completely revolves around surfing and the ocean. Over the last 8 years I've dedicated a lot of time to competing in shortboarding, longboarding and stand up paddle surfing in the UK and abroad. Now I'm mostly longboarding and starting to share my love of surfing with others by getting involved with surf coaching.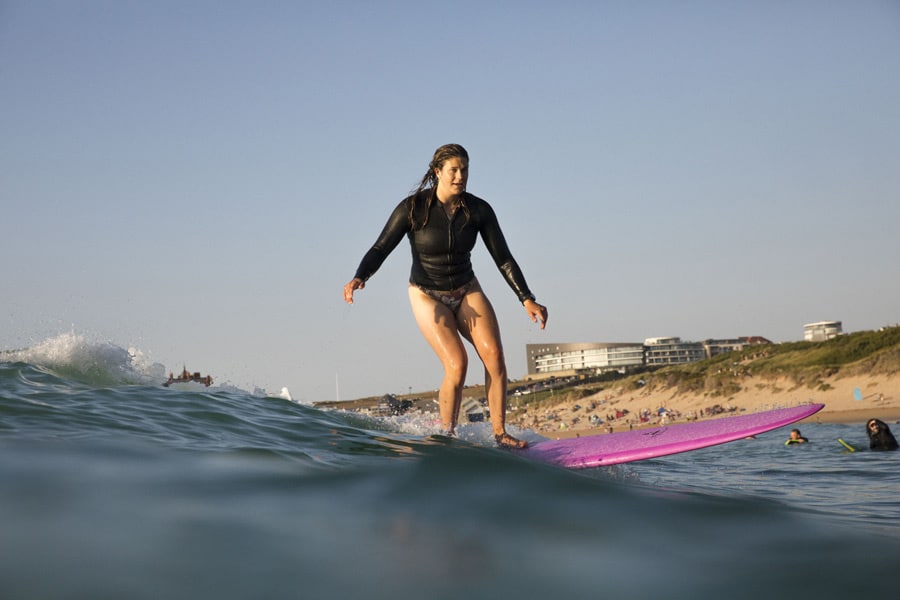 Name: Emily Currie
Age: 25
Home town: Bude
Local Break: Crooklets beach

Best thing about this summer?
I spent a week in France and it's was epic!
Did you have a fun week at Boardmasters and competing in the event?
Boardmasters is my favourite event of the year, combining the surf festival and music, it is always heaps of fun and it was great to reunite with friends that I haven't seen in a while. I had an awesome week despite not performing how I would've liked to.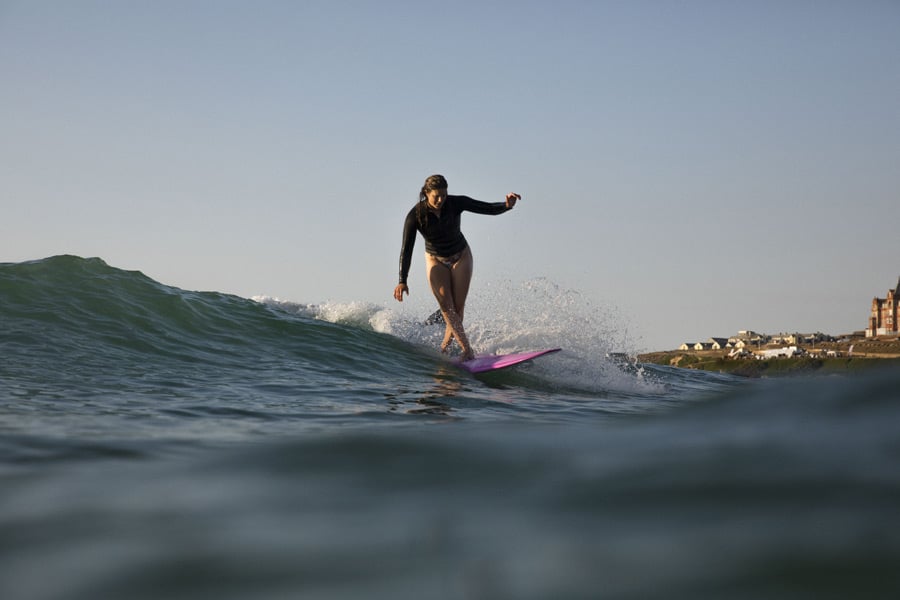 What was so good about this surf session?
Boardmasters can always be a hectic week so it was great to get in the water with a fun bunch of ladies, just relax and have a laugh!
Tell us a bit about yourself.
I love surfing, travelling to new places and eating good food. Outside of surfing, I enjoy playing golf with my friends and family and I am currently studying a Sports and exercise science degree at Plymouth Marjon University.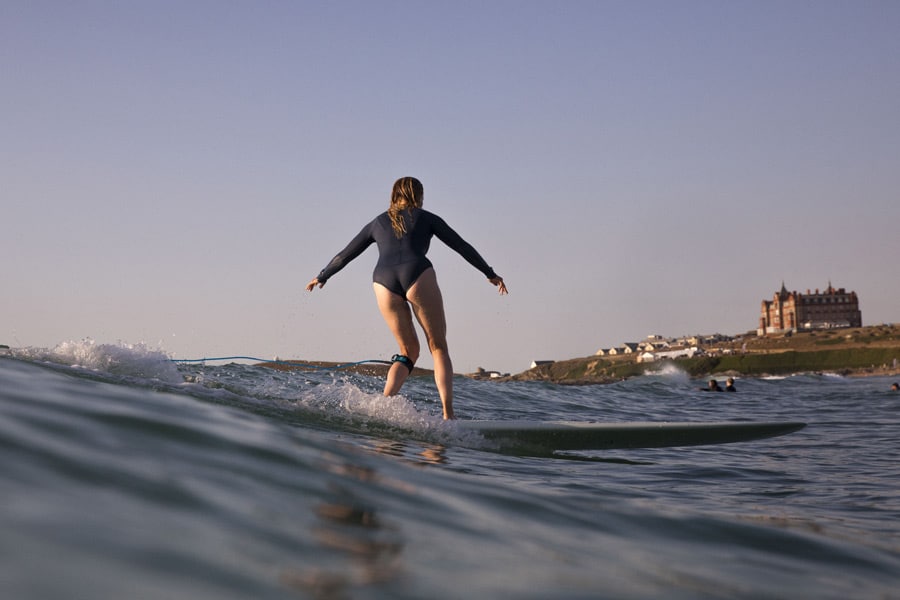 Name: Sophie Williamson
Age: 23
Local Break: Polzeath

Fave Waves to Surf: in Cornwall I love to surf Polzeath, Watergate Bay, South Fistral and Godrevy. The communities here are all really warm and welcoming and the waves here can be perfect for longboarding. My favourite wave I have ever surfed has got to be Stimpy's in Siargao, Philippines. I love Cornwall but surfing in crystal clear, warm water over a shallow reef is something else.
Best thing about summer so far?
The heatwaves have been amazing, and the water has been warm enough to go surfing in a bikini which is something I have never done in the UK before this year. The waves have been on the smaller side this summer but I've really been enjoying taking out my longboard so that hasn't been a problem for me.
Did you have a fun week at Boardmasters and competing in the event?
It was so much fun! I learned so much as it was my first competition and it was so cool to be surfing with some of the best in Europe. I was so glad for the opportunity to compete given that I have only been longboarding for only two years and managed to make it through to the semi-finals! The festival was super fun as always, and I can't wait to come back next year!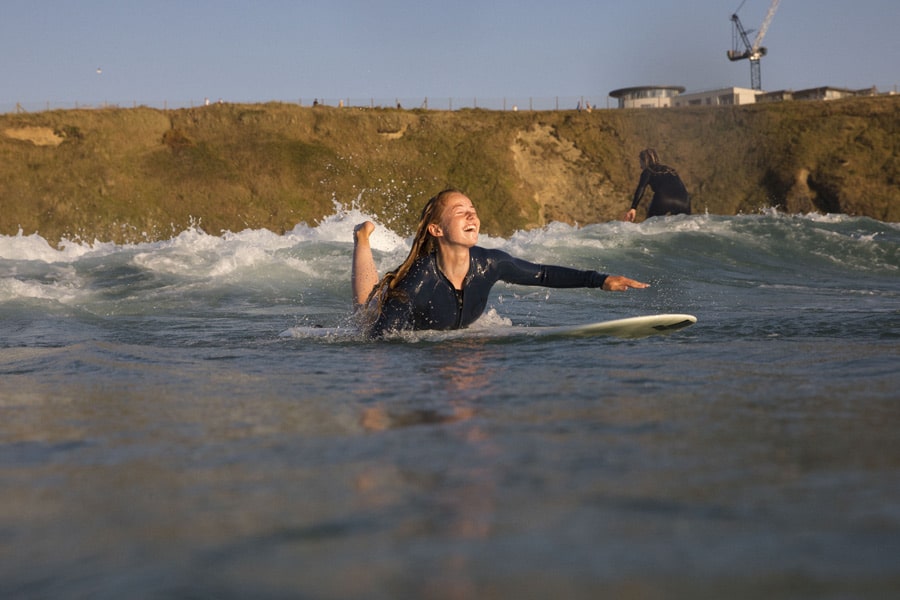 What was so good about this surf session?
It was so nice to be with all of the ladies as they are all super talented and fun to be around. Amelia and I have been friends for years and its always a laugh surfing with her, and Emily, Tee and Tina are amazing surfers who are masters at their craft. Bella took the photos and is an all around legend so we definitely had the dream team out there. The waves had been looking pretty during the day, so I did not expect the swell to pick up this much by the evening. A lot of the WLQS athletes were out in the water during the session and the amount of skill out there was next level.
Do you normally surf Fistral?
I surf Fistral frequently, but more so during the winter as summer traffic getting from Polzeath to Newquay is not the dream. My favourite place to surf has got to be Polzeath as everybody knows each other in the line up and nothing beats messing around with your friends in the water. I think so much of surfing is playing around and having fun. I think an environment where you are comfortable is key for that.
Tell us a bit about yourself.
Currently I am studying Geology at the University of Exeter, Cornwall Campus. I love cats, travelling and everything about the outdoors. I grew up in Exeter which was fairly landlocked, and got into surfing when I was in my late teens. I currently live on the north coast of Cornwall.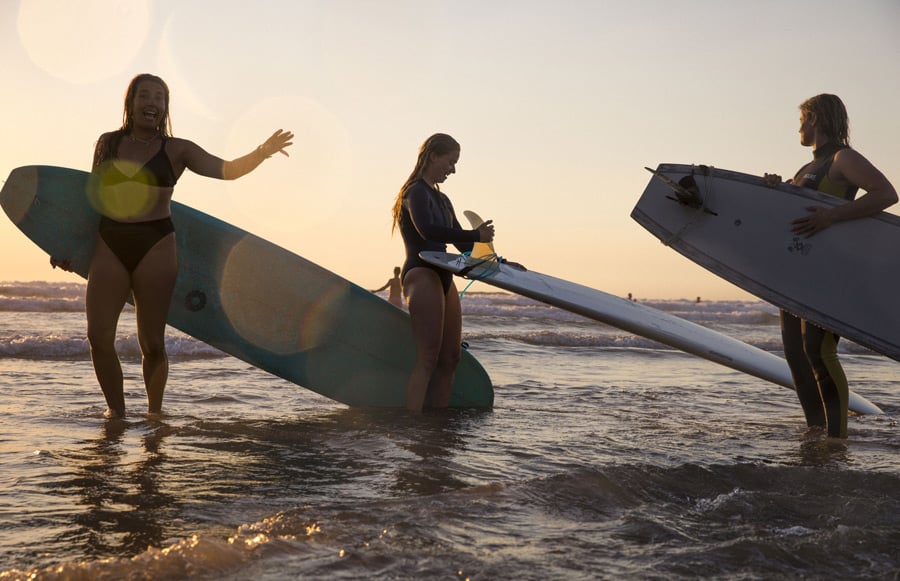 Photographer, Bella Bunce
What did you love about this shoot?
I loved how keen all the gals were to meet up for a shoot and play around in the sea with me. Also the sunset was insane!
Do you normally shoot at Fistral? If not where's your fave place to shoot?
I don't shoot at Fistral that often, due to crowds. But my favourite is Watergate, or other places on the North Coast in the summer and South coast in the winter. (Can't say specifics, got to keep some things a secret 😉 )

Did you have a fun week at Boardmasters?
Boardmastes was a lot of fun, It was so great to bump into so many familiar faces, either at the beach watching the girls shred or in the festival for a dance. So good to boogie and surf with everyone, that heat was killer though!
What was so good about this surf session?
The waves were a nice size and the water was so glassy, tinted with such beautiful sunset colours! An added bonus, the water was so warm, I was shooting for 3 hours in a shortie suit.
Tell us a bit about yourself.
I'm a freelance photographer, specialising in surf and lifestyle and blessed to work with great surf brands, being paid to shoot with my friends playing around in the sea. In any spare time, I am also surfing myself (mostly log) and I run a co-working space in Falmouth as a side hustle.