Circle of the Sun – Norway
Words by Lena Stoffel.
Photos and film by Inigo Grasset. Music Rory J Williams
Far north in the Arctic Circle islands spread out from the mainland. To the west there's winding roads, many bridges around fiords and steep mountains. The mountains mainly drop right down to the sea and the elements connect in a way that I've not seen it anywhere else in the world.
These elements are my playgrounds, my happy places. I find peace in the mountains and in the ocean. The connection to nature is something that inspires me strongly. Skiing and surfing are the most fun way to enjoy those elements, "surfing waves of water and surfing waves of snow" give me endless ways to explore nature in a crazy, fun way!
That's why I decided to pack up a camper van full of my equipment and drive north from southern Germany. My winter's as a professional skier are quite long, so it was a really tempting to still be in winter but also surfing amazing waves. After the season in the mountains, I'm craving the ocean and the waves.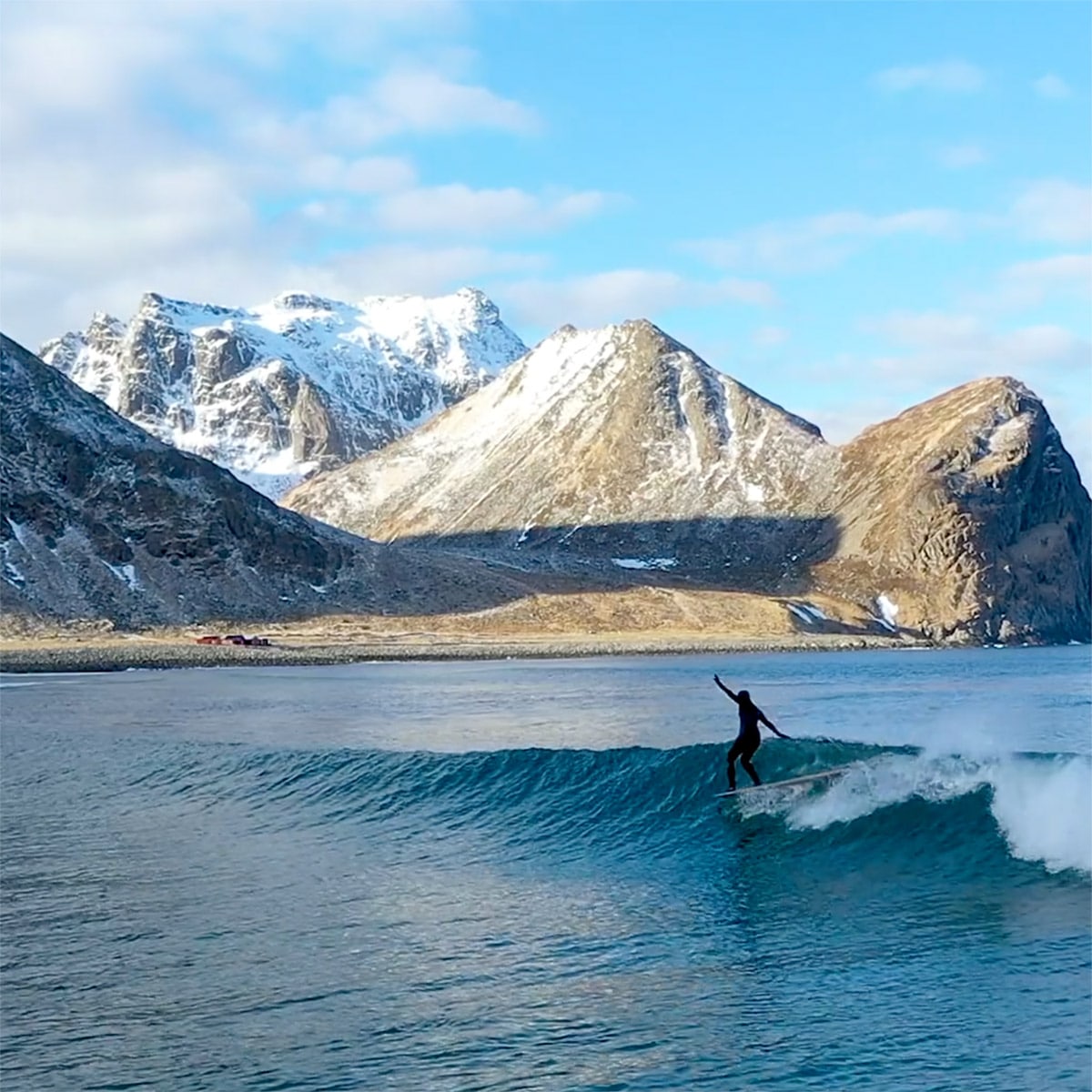 These elements are my playgrounds, my happy places. I find peace in the mountains and in the ocean.
The commitment it takes to organize a trip like this and actually drive for four days to come up here, took me a little while. I am lucky enough that I have friends who joined in! Friends who share the same passions and push me through my worries about the long drive, and what if the conditions don't work out, avalanche danger and  about the unknown terrain. But when you decide to go, you feel like the universe is providing and rewarding you with magic!
We arrived in Norway travelling through snowy mountains. We were welcomed by an amazing sunset. From then on I don't even know how to tell the story. We woke up in the mountains, enjoyed some amazing ski terrain and ended the day with a perfect sunset surf session. If that wasn't enough the northern lights (aurora borealis) lit up the sky above the ocean and the mountains.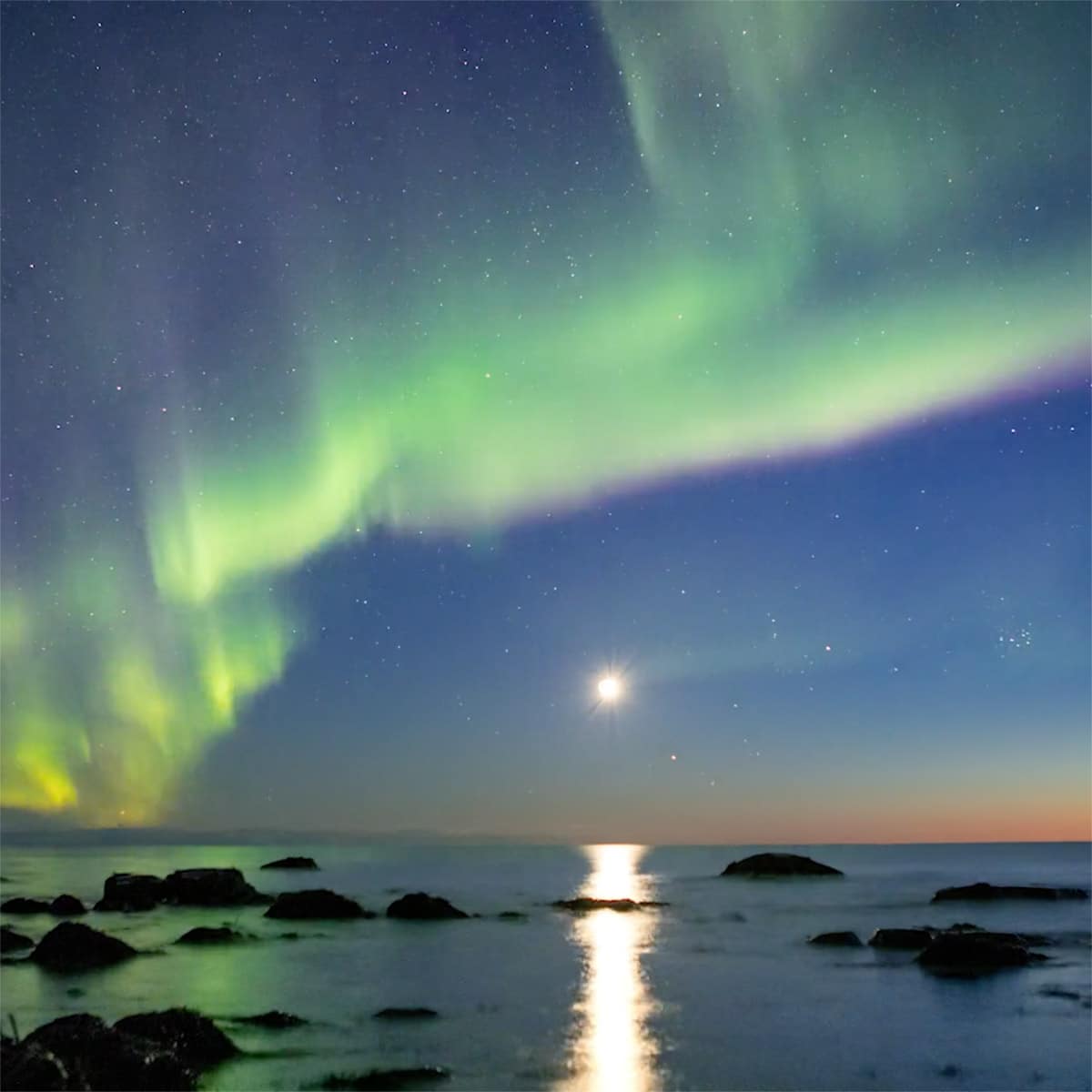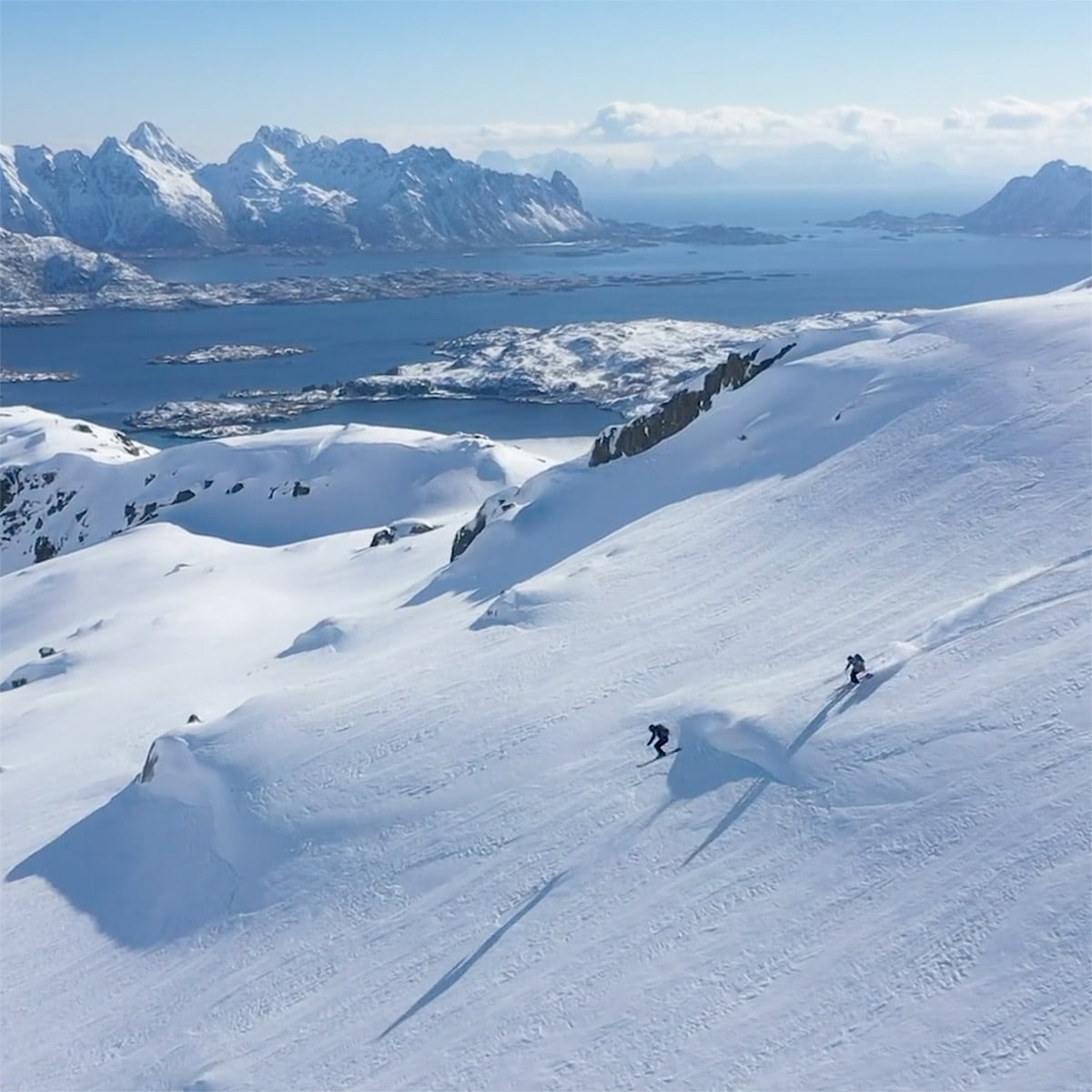 Surfing in the Arctic can be really harsh. Its cold, its windy and the sun doesn't have much power. However we were blessed with beautiful, perfect small waves and sunshine. It wasn't a hard decision to go surfing, as it was just insanely beautiful. Being able to change inside the RV which is equipped with a good heating it's actually not that bad to go surfing in six degrees water temperature and zero degrees outside temperature. The vibe in the water is amazing and all the local surfers were really friendly to us. It's a really warm vibe in the cold Arctic sea. For me it's an amazing feeling to be in those harsh conditions but feeling fine and good in the wetsuit. It makes you able to experience nature in a way that makes you feel very alive!
There are so many moments of that trip which stand out and where we had tears in our eyes. Surfing empty perfect waves with good friends in this surrounding, standing on top of the highest peak of the island on a clear day without any signs of wind, looking out to a sunset on a glassy ocean from the top, or the six orcas swimming pass our camp spot for the night… the northern lights going crazy above our van as if we could touch and grab them. Moments I will never forget. The craziest week in my life so far. Everything just worked out perfect. I'm still dreaming of it.