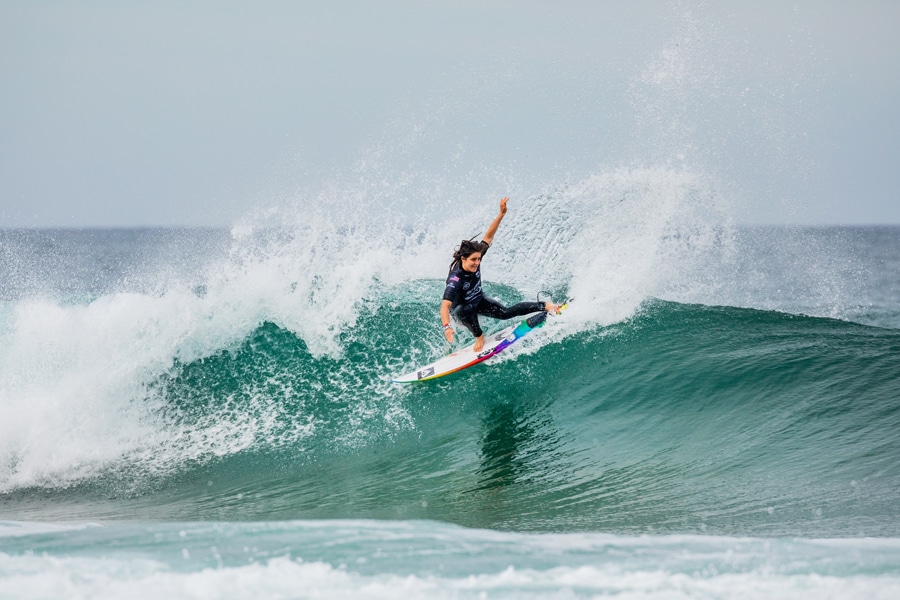 Caroline Marks – Photo WSL/Miers
Caroline Marks (USA) earned her third CT victory today after defeating fellow goofy-footer Tatiana Weston-Webb (BRA) in the Final, Courtney Conlogue (USA) in the Semifinals, and Johanne Defay (FRA) in the Quarterfinals. Marks displayed incredible poise and control on her frontside, gouging the bowling lefts of North Narrabeen. Known as having one of the best backhand attacks on the CT, today Marks proved her forehand is not to be underestimated either.
"I feel so emotional actually after everything that's led to getting here," Marks said. "I'm just so stoked. This is the sickest feeling ever. This has been really fun. It's been so sick to go left in an event. Narrabeen has been amazing, and I want to thank all the locals for letting us take over this epic wave for the week. I also want to thank my family, support crew, and WSL for getting me here. I'm over the moon."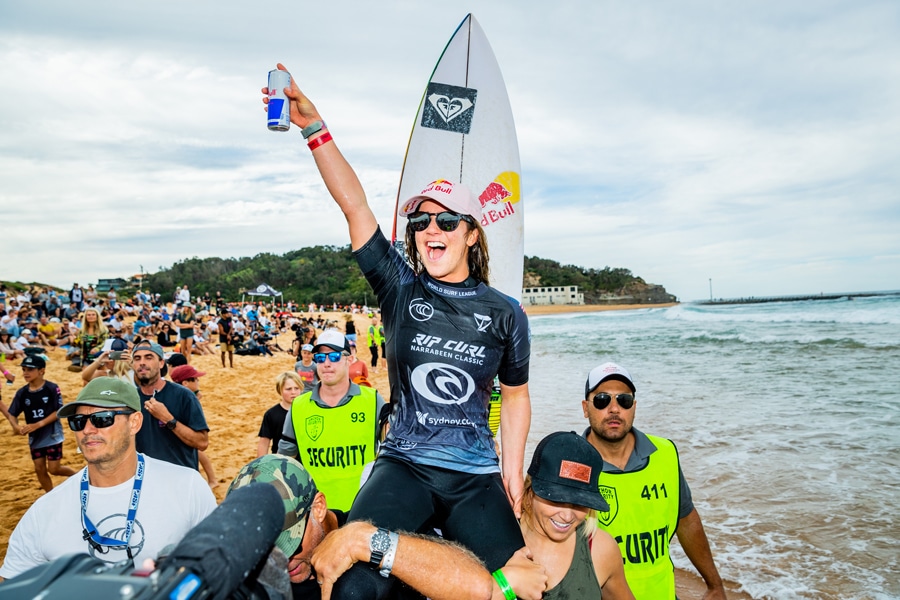 Caroline Marks – Photo WSL/Dunbar
Marks was the youngest-ever surfer to ever qualify for the CT when she was 15 years old and has taken the CT by storm. In 2019, only her second year on Tour, Marks came second in the world and became an Olympic qualifier for the United States. Now, with the new Rip Curl WSL Finals, Marks' win today gets her one step closer to qualifying in the Final 5, where she could win her maiden World Title at her home break at Lower Trestles in San Clemente, California.
Moore Falls to Weston-Webb But Retains Leader Jersey
En route to the Final, Tatiana Weston-Webb (BRA) took down four-time WSL Champion Carissa Moore (HAW) in the Semifinals and Sally Fitzgibbons(AUS) in the Semifinals. The Brazilian was unable to overcome Marks in her eighth Finals appearance, but her efforts move her up from World No. 5 to World No. 3 on the rankings, furthering her into the Final 5.
"Going left in an event for me is a dream come true for me," Weston-Webb said. "I was proud of my surfing this week in Narrabeen. Newcastle definitely wasn't my best result. Even though I felt like I surfed well there I felt like I didn't capitalize on my opportunities. Coming to Narrabeen was all about a change of pace and momentum for myself and just to show everyone that I've been working on my surfing a lot. Now we head to West Aus, which is a place I love, so I'm looking forward to keeping a roll going."
For the first time this season, Moore did not make the Final and was eliminated in equal 3rd place. Despite the Semifinal loss, the four-time WSL Champion is still in the top position on the rankings, thanks to her high placing in Narrabeen, win at Newcastle, and runner-up finish at Pipe.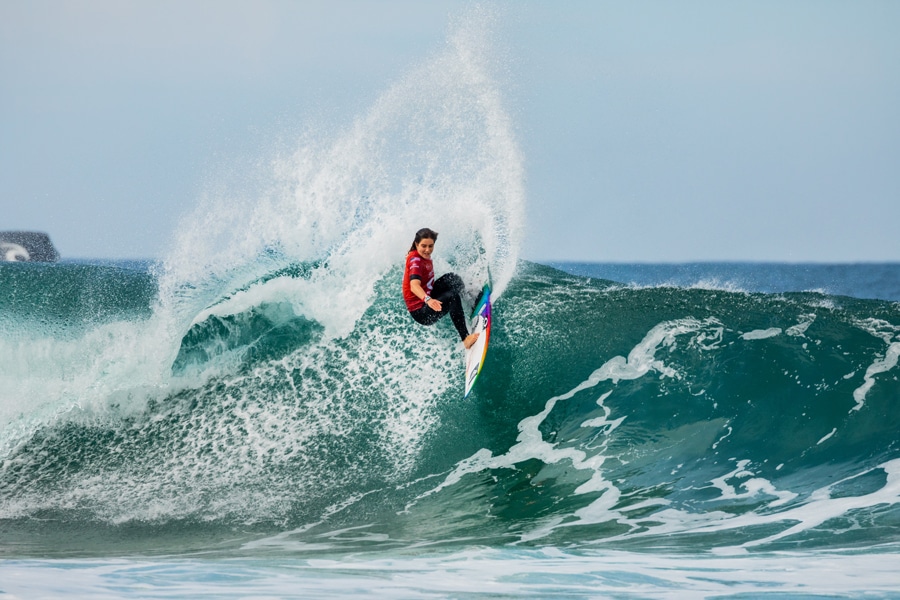 Caroline Marks – Photo WSL / Miers
Next Stop: Boost Mobile Margaret River Pro pres. by Corona
The next stop on the 2021 WSL CT will be the Boost Mobile Margaret River Pro pres. by Corona, starting May 2 through May 12. The event will be broadcast LIVE on WorldSurfLeague.com and the free WSL app. Also, check local listings for coverage from the WSL's broadcast partners.
Rip Curl Narrabeen Classic Women's Final Results:
1 – Caroline Marks (USA) 12.57
2 – Tatiana Weston-Webb (BRA) 11.34
Rip Curl Narrabeen Classic Women's Semifinal Results:
HEAT 1: Tatiana Weston-Webb (BRA) 13.90 DEF. Carissa Moore (HAW) 10.80
HEAT 2: Caroline Marks (USA) 13.60 DEF. Courtney Conlogue (USA) 13.57
Rip Curl Narrabeen Classic Women's Quarterfinal Results:
HEAT 1: Carissa Moore (HAW) 12.94 DEF. Keely Andrew (AUS) 10.16
HEAT 2: Tatiana Weston-Webb (BRA) 11.90 DEF. Sally Fitzgibbons (AUS) 10.40
HEAT 3: Caroline Marks (USA) 12.50 DEF. Johanne Defay (FRA) 10.46
HEAT 4: Courtney Conlogue (USA) 12.16 DEF. Stephanie Gilmore (AUS) 9.17
WSL Women's Championship Tour Leaderboard Top 5:
1 – Carissa Moore (HAW) 23,885 pts
2 – Caroline Marks (USA) 18,695 pts
3 – Tatiana Weston-Webb (BRA) 16,495 pts
4 – Tyler Wright (AUS) 15,220 pts
5 – Stephanie Gilmore (AUS) 14,235 pts