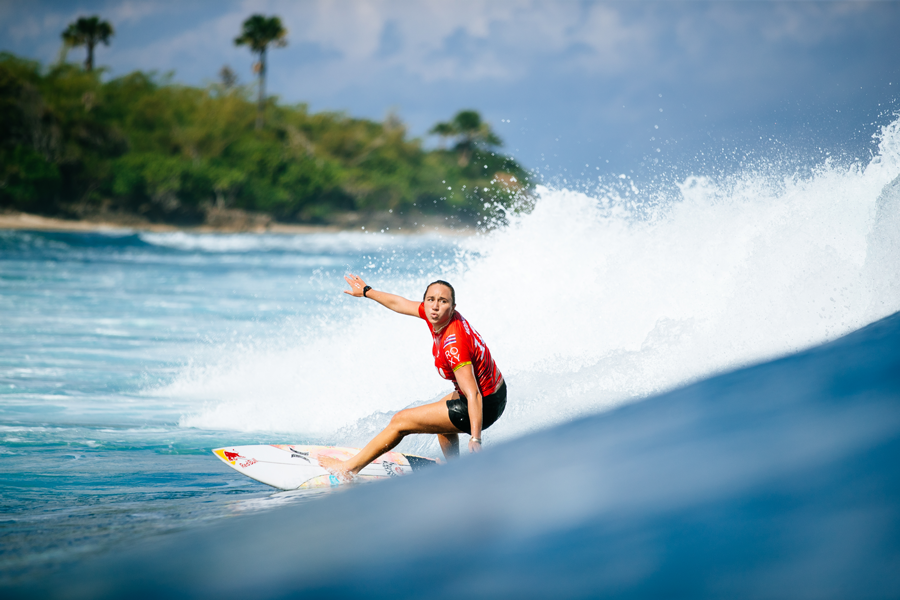 Ed Sloane / WSL
The World Surf League will crown their champions this weekend as the top five surfers in the world head to California to take on Lowers for finals day. Ahead of the exciting day we sat down with four-time world champion Carissa Moore who is heading into the event wearing the gold jersey sitting at number one in the rankings.
Interview by Beth Franklin
Carissa, you're heading to the World Tour Finals at the weekend, how confident are you achieving the win?
I'm really excited about getting the chance to compete at Lowers Trestles again in the final five. You know, I think my confidence is realistic. I'm feeling really good, it's been a great season. I feel healthy, my body and mind feel really good.
I've had a couple of days already surfing the venue, it's been really small but I think this week leading up to the start of the event its going to be really fun. There's a lot of swell and waves to work out any kinks so, I'm just really focused on trying to prepare the best that I can and give myself the best chance. I know all the girls, you know, they're in the top five for a reason so whoever I come up against it's going to be a tough battle.

How do you approach the World Tour Finals compared with regular tour stops?
There are a few ways to approach it, like feeding off that exciting energy. I mean it is the final event, the world title is going to be crowned, there's going to be a huge crowd, there's a lot on the line – how cool is that? Just to be a part of it is pretty rad, so I definitely want to feed of that energy but then also balance that out with treating it like any other contest. For me, I will be surfing three heats at the most which is what a final day at a normal event looks like. You have to win quarters, semis and finals, so yes there's that excitement and that positive energy but also just keeping it super simple taking it heat by heat, wave by wave, and making sure that I'm really focused on the strategy and doing what I need to do to give myself the best chance at succeeding.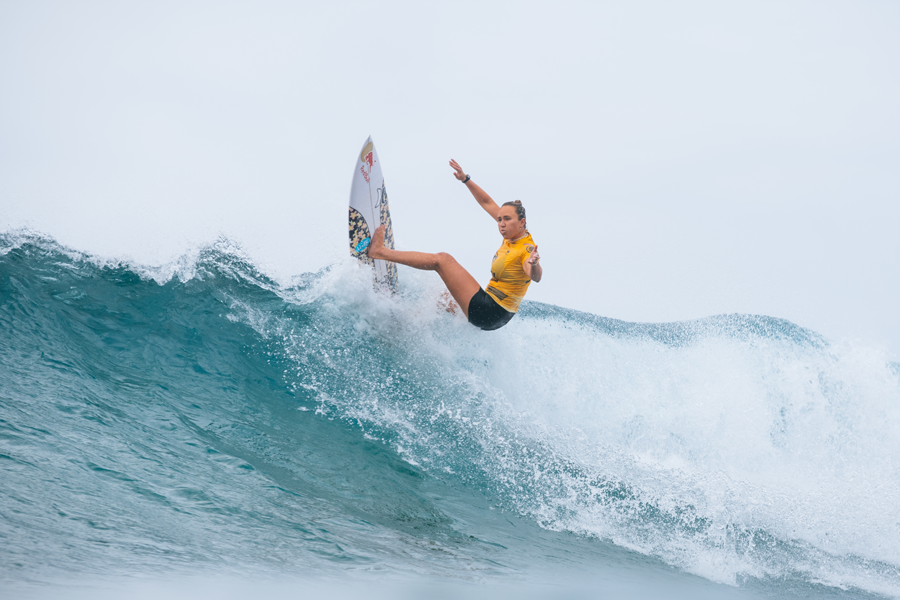 Can you share some insights into your preparation leading up to the contest? How important is mental preparation at a big event like this?
I think is mental part is almost bigger for me than the physical part at this point. I was at home for a week between Tahiti and coming here and we didn't have much swell to practice, so to check boxes and feel prepared I was doing some on land training but also spending time talking to my sports psych, journaling and mediating. Just making sure if there's anything that's bothering me is clear so when I hit the water there's nothing that's leaking in.
This week, being here is just about figuring out equipment, meeting with my coaches, looking at the line-up and getting a feel for the energy. Looking at what kind of manoeuvre best fit the curvature of the wave and what's going to score well. We have media obligations with WSL that we need to do ahead of time so doing all that too and trying my best to stay in my happy bubble before comp time.


As one of the most experienced competitors on the World Tour how incredible is it that young talented surfers such as Molly Picklum and Caity Simmers are in the Top 5?
It's really cool! I remember when I was the young one coming up, so its really interesting to be on the other side of things now and get a different perspective. When I was their age it was all new and exciting, there's really nothing that's standing in their way because everything is so new. It's been really inspiring, I've definitely been feeding off of that energy and I'm excited to have a day in the finals with them.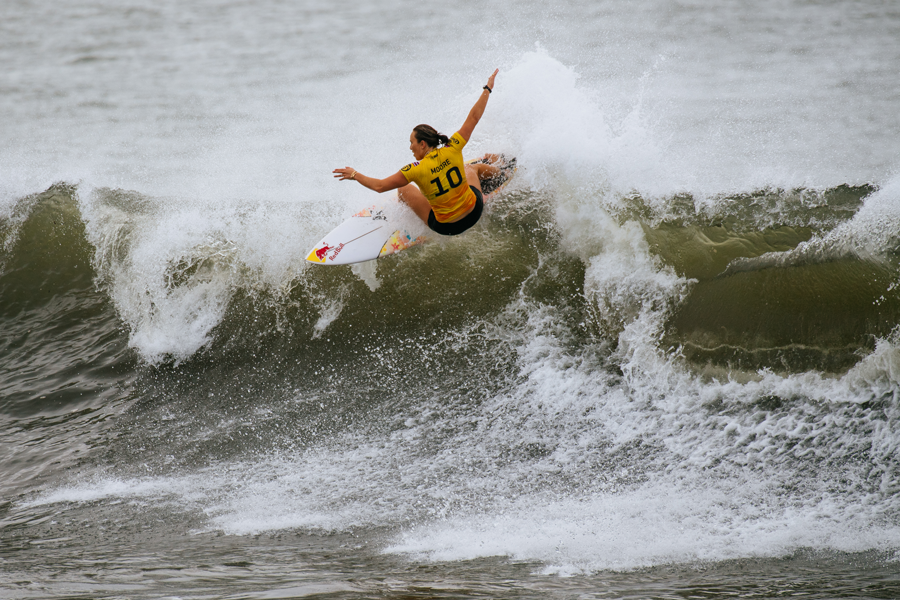 Pat Nolan / WSL
You've had a great season so far, what do you put that down to?
I think if I look at the season as a whole, there's been some really great events that have worked out with some wins and then there's been some not so great results. I think the ones that I have done well in, I feel really connected to the joy and love I have for surfing, and felt loved and supported by the people around me. I also didn't feel like I was too worried about the result it was just all about the process and performing my best. Then the times that I got a little bit caught up in worrying about what other people thought or needing a result was when it didn't work out.
I think that with every season you go through different things as it goes along and I've learned a lot along the way. I think that at this point in my career, 13 years in I'm just learning how to adapt, go with the flow a little bit and be a little bit more forgiving when it doesn't work out and try to learn from my mistakes. Just dust myself off and get back up fairly quickly. Having a good support team around me too, I wouldn't be able to do any of this alone, I have incredible people with me on the tour with my husband and my coach and my sister sometimes gets to come along. As well as all my family and friends who are staying up late when I'm half way across the world, sending text messages and encouragement really champions me when I'm not feeling my best. So I'm really grateful for the team, and all the sponsors that are behind me helping me live my dream.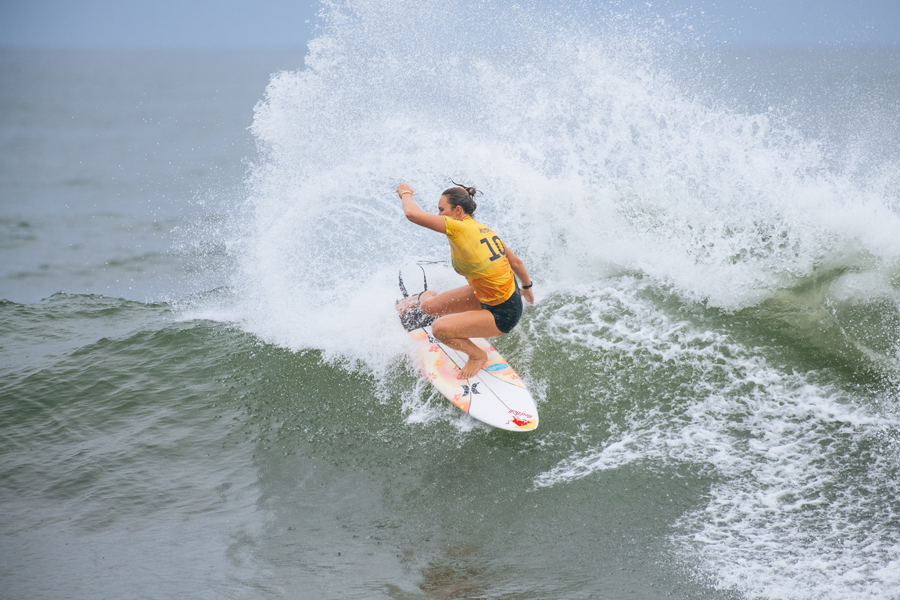 What keeps you motivated year after year to achieve your best and compete at the highest level?
My motivation has evolved every year, it hasn't stayed the same. When I first started out I really wanted to win a world title. I wanted to beat everyone and I wanted to be the best. I think thats still some of that, I'm still a competitor, but I think the motivation is more about how can I be a better version of myself and a better surfer than I was yesterday. How can I peform better, how can I share more joy when I ride waves, and how can I do things differently, so I've been really focused.
This year for example, we had Pipe and Teahupo'o added to our tour and those waves are big and scary and powerful. They're something I hadn't had to do before, and something I never really wanted to do, and I was like I want to push myself, I want to step outside of my comfort zone and see what I can do. So that's been really exciting for me, it's been uncomfortable, but its been really fun to see that if I do push myself. I have been able to get these incredible rides, that has been such a thrill. So, the whole idea of performing under pressure and facing my fears has been something that has really motivated me this season.
What will you be doing on the day to stay psyched?
I'm still kind of sorting out what that finals day is going to look like for me in the lead up and when I'm actually down on the beach, and in my routine of listening to my music and talking to my coaches and watching the line-up. But there's a few things that I was like I could probably do this better than last year, and want to make a few tweaks on how I approach the morning.
I always go for an early morning surf, just at the venue to get warmed up and get a feel for the ocean. Then I'll usually go home and have breakfast and rest. I really don't like to watch because I just feel like spending any energy on anyone else, it's out of my control, so I'll probably try and stay in a happy space probably surround myself and distract myself with people then head down.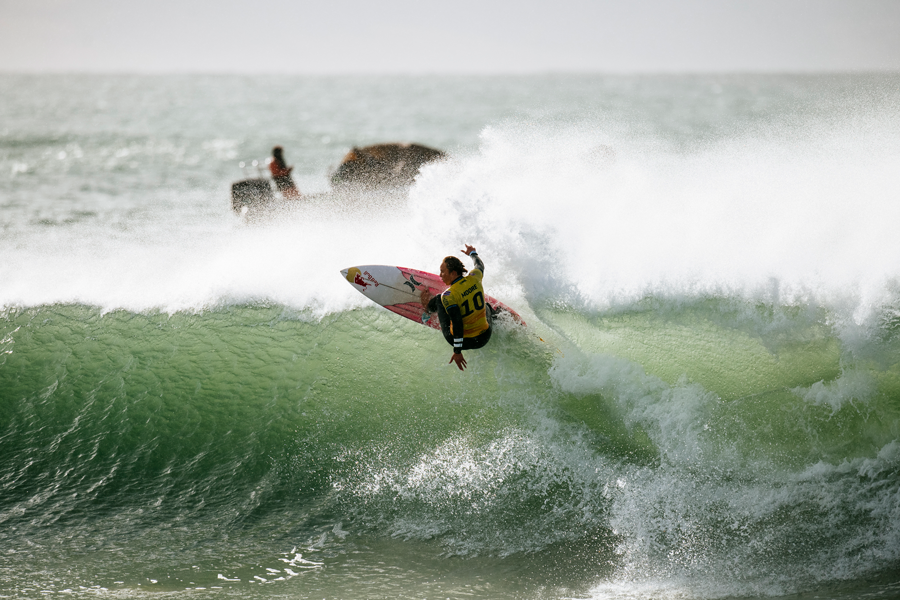 Beatriz Ryder / WSL
What tunes do you listen to?
I have a bunch of different music on my playlist right now, but there's always a little Billie Eilish in there. Oh, my sister found this great rendition of Colours of the Wind from Pochahontas by Tori Kelly.

Can you share some advice for aspiring surfers who look up to you and dream of competing at a professional level one day?
My biggest piece of advice for someone who's aspiring to take their surfing to the next level, or just start surfing, is don't be afraid to ask for help. For me, I wouldn't be where I am today without all the people that have loved and supported me along the way from family to friends to teachers to coaches. I think that mentorship, and leaning on people and community. There's so much you can learn from people that come before you with their knowledge and experiences. I think that's really helped me on my journey, and you're never too good to ask for help, you can always be better.
It's okay to make mistakes, I think thats another huge one, don't be afraid to fail and fall down because that is when I have learned the most on my journey, its from the shortcomings and I think it builds resiliance and character. That pressure makes diamonds, so just know that all those things add up and are guiding you to be the person and athlete you're supposed to be. I truly believe that everything happens for a reason. So trust and embrace the journey as a whole, it's not only about winning, it's about all the little steps it takes to get there.