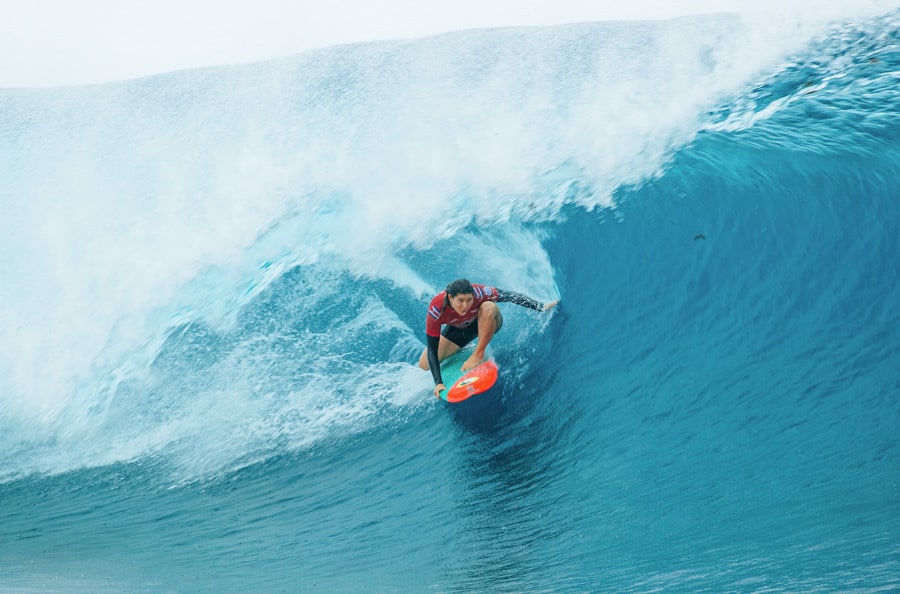 Brisa at Teahupo'o. Photo WSL / Poullenot
The WSL Final 5 is set and it's on to Lower Trestles for the second-ever Rip Curl WSL Finals. Brisa Hennessy made the Top 5 and here's our exclusive interview with her.
Interview by Beth Franklin.

Following on from an amazing result at the first women's Tahiti event in 16 years, SurfGirl had the chance to catch up with the one and only Brisa Hennessey ahead of the highly anticipated final event of the World Surf League 2022 season.
Aside from her incredible competitive surfing, Bris Hennessey radiates a joyous energy that seems to rub off on everyone around her.
Whether it's a post heat loss analysis or celebrating a win, Hennessey always comes across as present, grateful, and positive.
Five minutes into our conversation I realised my impression of her from interviews and social media was spot on, and it only got better from there.
Read on to find out more about how Brisa is feeling going into the event, and of course that wave at Tahiti…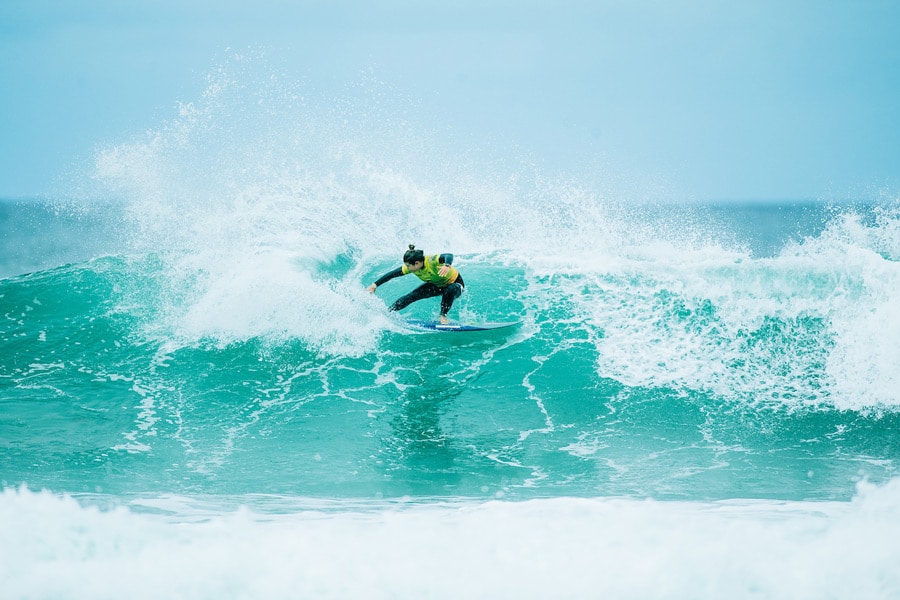 Bells earlier this year. Photo WSL/Sloane
Congratulations on making the final five, I was watching from home and so excited to see you make that final five at Tahiti!
Thank you so much, that means a lot. So, you were the one that sent that wave!
Can we talk about that wave in Tahiti? It was incredible – how did that feel?
It was crazy. I just felt like, no matter what, win or lose or making the top five, I wanted to end on a crazy wave. That was kind of my goal.
I didn't want to just end the season just making it, you know? Or just making it with a couple small scores, like I went to chopes to try to get barrelled.
So that was my biggest goal and I felt like I manifested it. I have a lot more to learn out there, and it's exciting to see how the women are progressing out there, it's super inspiring. I'm so grateful that that wave came to me.

It was so exciting to see the women back at Tahiti – did this event feel particularly special?
100%. I remember growing up as a little girl, I always thought of chopes as this mythical, untouchable wave. I honestly never thought I would ever get the opportunity to surf there.
To be honest, I was pretty scared when it was announced. But I felt like it was time for us to get the opportunity to go out there. This was an amazing group of women that have really set the bar so high, on all levels of surfing.
How are you feeling going into the final five, and the trestles event?
Honestly, I'm kind of still pinching myself. At the beginning of the year, I came from a rough 2021, and I fell off tour. I really had to gather myself, dig deep and find a new Brisa.
I feel like you're constantly redefining yourself on tour as well. But to just have things fall into place the way it has was an absolute dream.
I've grown up looking up to these girls like Carissa, Tati, Steph and Johanne. They're such amazing role models for the sport and for me to have the opportunity to be in the mix with them is the ultimate dream come true.
I honestly don't think little Brisa would believe me at this time. It's special for me, I'm just grateful for the opportunity.
It seems like you have your mindset and balance locked down! How do re-evaluate your mindset, and stay positive?
I definitely do not have it locked down at all (laughs)! I feel like maybe it looks like it from the outside but like all of us, I'm trying to figure it out.
I think for me, it's just really letting go of expectations. It's always said on repeat about being in the present moment, but to actually do it.
I'm pretty quiet, and I think in some ways a lot softer on land. And I didn't want that to contradict who I was in the water. You know, I am a competitor that's who I am, that's my love. And I have that within me, I have that firey side, and it's been a work in progress of finding that balance within myself.
That is really refreshing to hear, thank you for that. You've had an amazing season; can you reflect on that?
It was interesting for me because I came from being an underdog, and I still am an underdog, but then as the year went on and I realised I was in this top five race, it was a struggle for me.
It was a different feeling to be the one that was running away instead of being the chaser, so it was a different role I had to shift in to and I'm still learning to embrace it more. I remember Rio was very clear to me as I felt like I belonged on tour for the first time ever.
Nothing is ever concrete with your mental state, but it's always concrete on why you're doing it, and your love for surfing.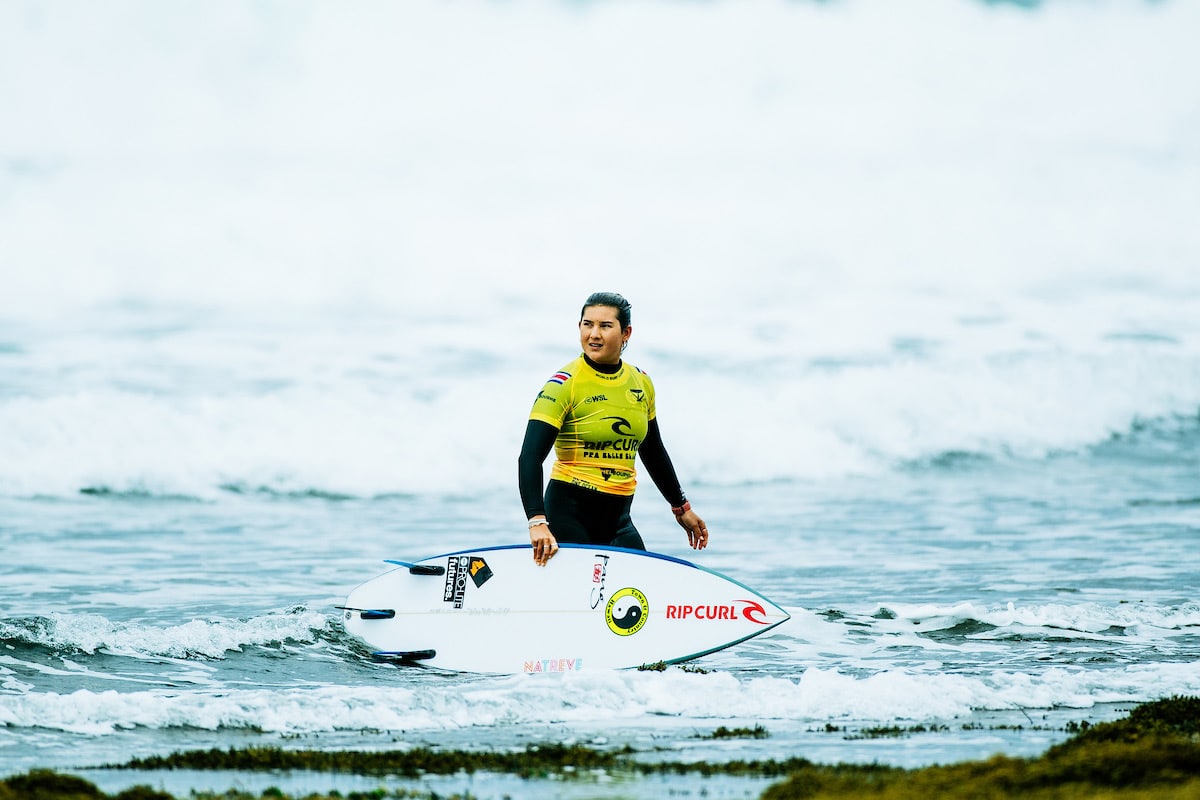 What events have stood out to you most this past season?
Pipe was a big learning experience for me, and I feel like because I came into it with a lot more of an open heart and mind that I gained a lot from that event.
From there we went to Sunset, and I kind of just let go. I really tuned into my love for surfing and why I do it. So, I think Sunset was a special one for me because it's a wave I grew up surfing when I was little.
Sunset, and I have a love hate relationship, and it's a scary wave but it makes you grow, and I was open to growing at that event. And it really worked out for me.
What advice would you have for young girls hoping to get into surfing – professional or not?
I think just being patient with yourself, and the journey. Advice I still take to-this-day.
Every experience you go through is building you up to be stronger and create this unbreakable wall within you. Now it might not feel like that but it's all about being patient and gentle with yourself.
It's a long road but make sure you're doing it for the love of it, dig deep and ask yourself 'am I still having fun?', it's so important to still have that drive and reason for why you want to get in the water.
Trust the journey, don't compare yourself to other and be gentle and kind with yourself every day.

Following the momentum from Tahiti – where do you see women's surfing going?
Oh man! I see it going crazy places. Seeing the whole progression of women's surfing, it's crazy to see how far we've come and to honour the women that came before us and paved the way.
I feel like the progression is going to be insane, girls are going to be getting the heaviest barrels, charging the biggest waves and I think really putting ourselves on the map amongst the guys.
What is your pre heat hype song or ritual?
Right now, I've been listening to Lose Yourself by Eminem. Before a heat, I make sure I breathe, I have a good breakfast and do whatever takes me to a good happy place that day.
What is your favourite place to surf in the world?
Swimming Pools in Fiji.
What is your favourite pre or post surf snack?
Definitely sushi, and sweet potatoes are my go-to fuel forever. Before, a contest I'll eat like five sweet potatoes, they are the best energy source!