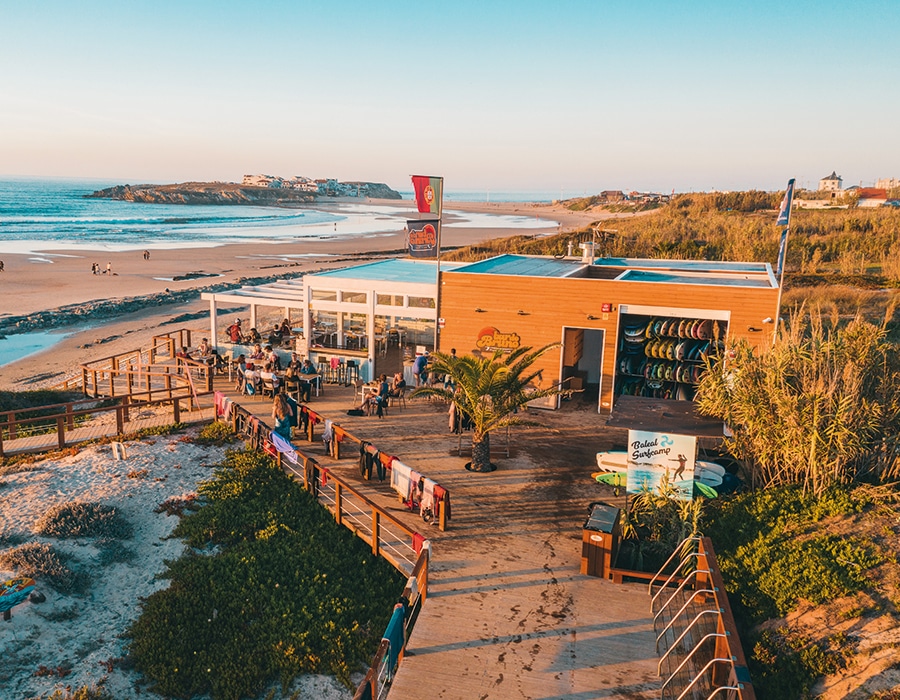 A surfers paradise
Baleal Surf Camp nestles among the dunes overlooking one of Europe's most dramatic and beautiful surf spots. For 20 years it has been a destination for surfers and beach lovers from across the globe. It's secret: first-class accommodation and surf tuition combined with an all-inclusive beach-party vibe that few who visit once can resist returning for.
The camp, founded in 1993, was Portugal's first and has a rare but welcome 'old school' focus on customer service and the environment. Novices mix with experts; a clean beach is as much a priority as clean waves, and good music, food and company underpin both the family-run business and its wider location.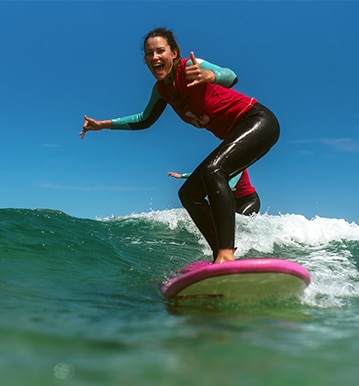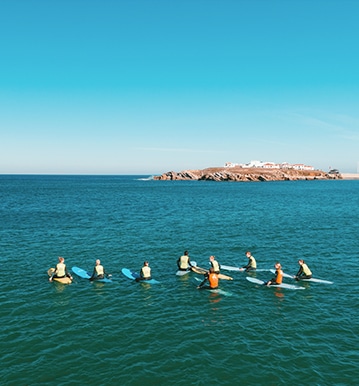 Europe's most flexible and consistent surf location
Baleal itself sits on the northern edge of the Peniche Peninsula, about an hours drive north of Lisbon and is the centre for surfing in the area. Over the last few years, it has won international attention after becoming an established stop on the ASP World Tour.
There are waves for experts but also plenty of shelter and security for novices. It's one of those rare places where, on one beach, the waves can be head high and barreling, while five minutes away from its a mellow longboard day. In short, there is nearly always a wave for everyone.
Tell us about your surf and yoga weeks?
Yoga is a great complement for surfing and surfing is a great sport to have a go at if you practice yoga. Many surfers practice different yoga styles and maybe not so many yoga fans have tried surfing, that's why we organized various weeks mixing Yoga & Surf. This Yoga and Surf retreat will include a week sleeping in Hostel accommodation and lots of great surf tuition mixed with yoga practice. Most of the surfing classes will happen on the surf spot located 200 m from your accommodation. The yoga exercises will take place at the private villa's backyard; the ocean music will be your back-drop. Peace of mind is guaranteed!
Is there surfing and yoga for all abilities available?
Yes, our surf camp is open to all ability levels — whether it's your first time on a surfboard, or you've been surfing for a few years and want to take it to the next level. If you're an intermediate yoga practitioner, our yoga teacher will adapt the tuition individually with some more advanced exercises.
What's your local surf break like?
Cantinho da Baia is the name of our local surf break, and it is one of Portugal's most stunning beaches and is uniquely positioned from a geographical perspective, offering ideal conditions for both beginners surf lessons and good options for experienced surfers with several surf spots just a few hundred meters apart. Taking advantage of the perfect location for surf classes, our surf camp and surf school is based exactly on the best learning surf spot and most consistent in the whole Peninsula of Peniche.
When the guests aren't surfing or practising yoga, what can they get up to?
There are a lot of different activities to do besides surfing. Depending on your preferences, the choices are wide… When you're surfed out, just chill with a beer and watch the action from our exclusive beach base. The area is famed for its seafood, which is delivered live and fresh to the port of Peniche each morning. The local restaurants are excellent, serving fish and meat dishes that put most big-name city chefs to shame on both quality and value. The wider area has some unusual attractions. If the surf is big, why not drive up the coast to watch the action at Nazaré, where it was recorded the biggest wave ever surfed? There is also Óbidos, an immaculately preserved medieval town, and Buddha Eden, a stunning country estate and winery packed with a mind-warping array sculpture, ancient and modern. After that, if you still have some energy left, you can always go dancing in one of the beach bars close by.