Words by Beth Franklin
Here's what some of the Women's Championship Tour's best competitors think of the opportunity to honour women all over the world for International Women's Day. 
The Women's Portugal Pro presented by Rip Curl has just finished with Tati Weston Webb taking the win. The conditions have not been easy for the surfers, with Portugal delivering on its reputation for strong winds and currents, however, the women brought their A-game, delivering big hacks, stylish carves and even the odd tube ride.
Watching these incredible women perform on the waves is always a great watch, however, eagle eyed fans may have noticed during the contest that their favourite surfers weren't wearing their usual jersey's.
That's due to this contest falling close to International Women's Day and the World Surf League creating the opportunity for all competitors to wear the name of a woman who has inspired them most to honour the global event.
SurfGirl caught up with some of your favourite competitors during their early heats and we asked the women who they were choosing to honour for International Women's Day, and what they thought of the radical progression we have seen in competitive surfing over the past few years.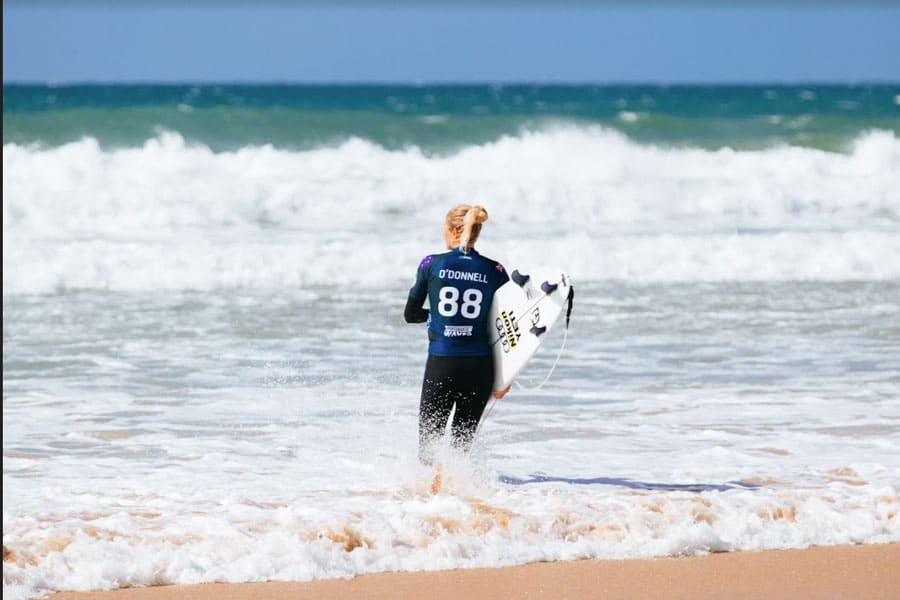 Stephanie Gilmore
You're wearing Phyllis O'donnell and being honoured by some of the competitors. What are you thoughts on the WSL putting this on and the progress of women in surfing?
Yeah, it's really cool! I'm really proud to be a part of the World Surf League, and everything they're doing for women in surfing, and also leading the way for so many other sports around the world to push for equal pay and stuff like that.
So yeah, for International Women's Day I chose Phyllis O'Donnell. She was the first ever World Surfing Champion in 1964. I chose her because she paved the way for women like myself.
Courtney Conologue
You're wearing Lisa Anderson on your jersey – could you tell me why you chose to represent Lisa for International Women's Day?
Obviously, I grew up admiring and looking up to Lisa. And gosh, she is an icon of women's surfing. I started surfing when I was 4, and when I was watching her she was winning world titles and I would always get the surf magazines and I'd look to see the results and I'd see Andy Irons and Lisa Anderson winning events.
She won four bells and four titles consecutively, and she moved to California to my adopted hometown Huntington.
I would go out surfing Huntington Pier and she would be out there. She was always so positive and encouraging and gave me opportunities to compete at X-games where she was my coach. She always gave me a chance and believed in me. I'd call her at like 4:30am before school started sometimes.
She is an icon, but she always really touched my life in a positive way and that's why I picked her. She's very humble and has a lot of grace.
What's your thoughts on the WSL putting this on and your thoughts on the progress of women's surfing?
Women's surfing is evolving so rapidly. I feel like the athlete's are elevating the level, the waves that we're riding are bigger. The things we're doing are more critical. I feel like we are where we are because of the ones that came before us, the ones that chartered the way with the belief of the tour, and World Surf League supporting.
Especially with putting us at great locations this year. I feel like it's giving us the opportunity and the platform to elevate ourselves. I'm just really grateful to be in the position I'm in, in the time I'm in and being able to empower the next generation. If we're doing things right, the next generation after us will be better. Which is gnarly, but amazing at the same time. You always got to keep up with everyone and you're elevating them but they're elevating you.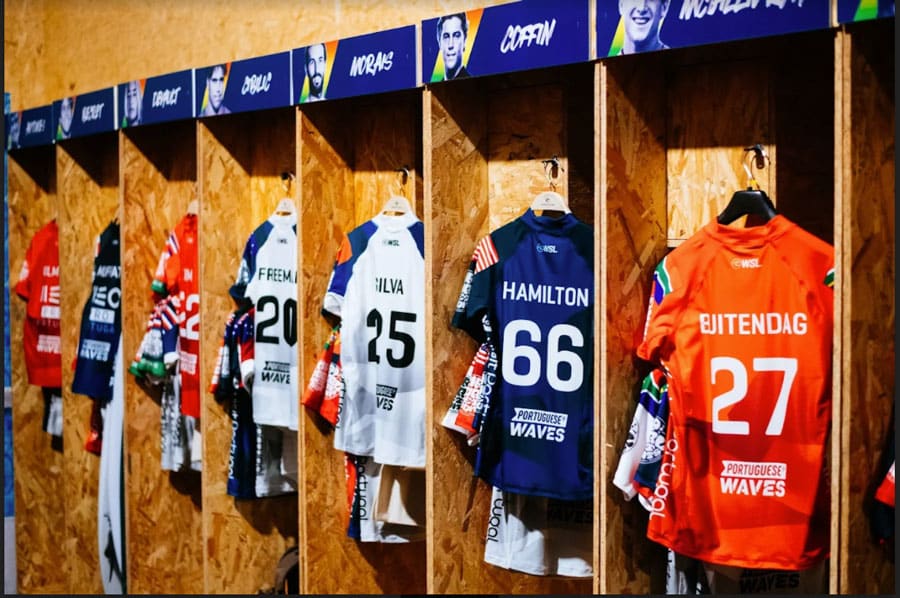 Lakey Peterson 
You're honouring Billie Jean King this contest, how did you come to that decision, and your thoughts on the progress of women in surfing?
I chose Billie Jean King because well number one I'm a huge tennis fan and she's just done so much for women's sport in general. She fought for equal prize pay for ladies in tennis and I think it really correlated into other sports. So, I just look at her as such an icon.
It's cool to see all the girls getting the chance to represent someone at this event. There's so many amazing women who have come before us and set the bar high and fought for out equality. They pushed us all to be our best.
Tati Weston Webb
I'm hoping you could tell me a bit about your choice to honour Michelle Kwan? 
There were so many inspirational women on my list that I wanted to represent. But I chose Michelle Kwan because my earliest memory of watching an event or competition was her at the Olympics.
I just remember it being so beautiful, and wonderful to watch. That's what inspired me to be an athlete and wanting to be in the Olympics myself.
What are your thoughts on the WSL putting this on, and how you think the progression of women's surfing is going?
I think the WSL is doing an amazing job with pushing for women's equality. For example, having equal pay and having the same stops on tour as the men. It's giving us the chance to elevate our surfing in the heats and progressing us more. I'm really grateful for that and to be a part of the generation is incredible.
You guys are at the forefront and pushing for radical change. What would you say to the young female surfers out there hoping to make it as a professional?
I would say continue to believe in your dreams, and hard work really takes you as far as you want to go.